Golf Australia's June Visionary of the Year winner is Andrew Cartledge, PGA Professional of Ballarat Junior Golf Academy in Victoria for his collaborative approach towards creating opportunities for girls.
Here's Andrew's story...
"It's not all me," said Andrew Cartledge, PGA Professional of Ballarat Junior Golf Academy.
"I believe my story is a good example of what can be achieved anywhere in Australia with the support and guidance of a proactive local district committee. If you invest, create a supportive environment and pathway girls can flourish in golf.
"Moving to and starting coaching in the Ballarat area 12 years ago, I wanted to fill the space for junior golf and in particular girls."
Cartledge's aim really came to fruition when he took a role that enabled him to solely focus on junior development running his Academy at Ballarat Golf Club in 2019.
"I felt like it should be my role to steer junior development, not only at the club, but across the district," he said.
"Plus, it was evident that junior girls where underrepresented and were not offered the same support and opportunities as their male counterparts. So, we made it an aim to establish a supportive setting and seamless pathway for the girls."
Collaborative working with other local golf clubs
Cartledge has not only serviced Ballarat Golf Club over the past three years, but two smaller clubs in the area - Buninyong Golf Club and Mount Xavier Golf Club.
"The advancement of this work in the junior space has been a credit to Ballarat GC and Ballarat District golf," he said.
The collaboration between the three parties is a mutual win for both smaller clubs and large across the Ballarat district.
With the aim to attract and retain more girls to his Academy, Cartledge established a pathway to guide girls through.
Which was enhanced by him utilising national girl-focused programs - MyGolf Girls and The Australian Golf Foundation Junior Girls Golf Scholarship.
"In terms of attracting and retaining girls, creating a girls-only environment is critical," Cartledge said.
"Whilst boys are happy to come and just play, golf alone is not enough of a factor to keep most girls playing. Friendship is key. I guarantee that mixed clinics do not work as well as girls-only clinics.
"For this reason, the scholarship program has been brilliant, as it specifically meets the needs of girls to stay in golf.
"It is because of these girl-focused programs, that the percentage of girls involved in our Academy is increasing."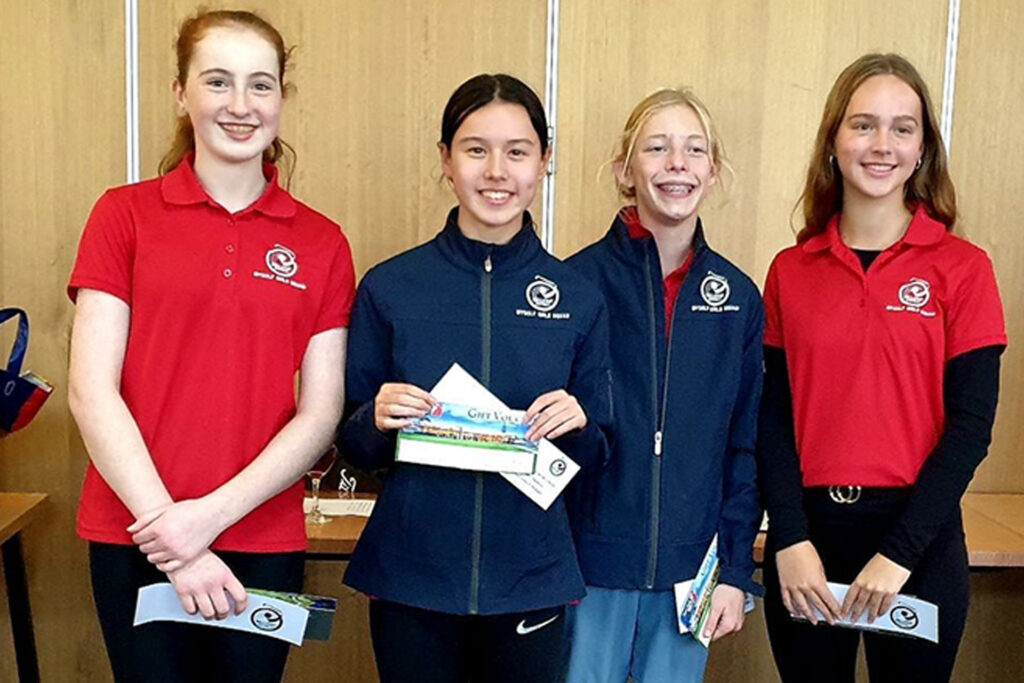 Using Community Instructors
To keep up with the extra girls, and juniors in general (140 per week in fact), Cartledge works with three Community Instructors (CI).
"If you want to build something on a large scale, you can't do it yourself," he said. "I approached local golfers who have a good personality and love kids to become a CI. The skills these people have accumulated through their own playing experience is priceless.
"I have only been able to grow the Academy from 80 juniors per week to 140 with the support of Community Instructors, they assist me each week to run clinics.
"It has been a great opportunity for two of my past juniors who came through our junior pathway and are now keen to pursue a career in golf."
The work Cartledge has progressed across numerous facilities has been steered by two guiding words - consistency and reliability.
"Too many programs are run on an adhoc basis and don't allow the opportunity for beginners to reach their goals," he said.
"I believe it is key to run programs on a consistent basis (term-by-term), and that girls are supported to be involved in competition play."
To support girls in to competition play, Ballarat District golf and Cartledge developed the Ballarat District Girls Development Squad.
"This is the final steppingstone in terms of getting girls playing regular competition," he said.
"Whilst the main aim in the AGF scholarship program is to equip girls with a handicap, after one year, these girls can then progress into the squad and be supported and linked up with regular competition play.
"We aim to engage around 20 girls in the squad each year. The girls gather each fortnight with Angela Tatt, another resident PGA Instructor.
"One challenge a lot of larger clubs have is course access as they are busy, especially on weekends when girls and juniors in general can play. Working across three clubs has enabled us to get our juniors and girls out playing in competitions on a regular basis."
Transitioning into club membership
The Academy coordinates MyGolf Junior League and Junior Pennant with alongside Andrew Milligan of Sports Central in Ballarat and Tony Collier, PGA member.
"We rotate these events, as well as other district junior events and MyGolf clinics between the clubs so giving up tee-times is not too onerous on any one club," Cartledge said.
"The Ballarat District have shown tremendous leadership with not only girls, but all of our juniors. Committee members have worked well to educate our golf community and clubs about the importance to work together to enable junior golf to flourish."
In addition, Cartledge has played a pivotal role connecting those in his Academy to transition into club membership all whilst working with clubs to ensure relevant memberships are on offer.
"Depending on where the child lives, goes to school and where their friends are, I will take them to the relevant golf club and assist them to sign-up," he said.
And for those girls aiming to take the next step towards higher level golf, Cartledge's operation also feeds into high performance coaching through his work with the West Victoria Academy of Sport.
Part of his motivation behind this role was to provide a high-performance pathway for many local girls who had previously been starved of such an opportunity and he has been able to grow the uptake of this opportunity to girls who were not represented in the program historically.
Whether it's striving to be recruited by the West Victoria Academy of Sport or play at a local club, Cartledge simply believes that golf is the best thing a young person can do.
"I just want as many girls and children in general to be involved in the sport and am aiming to create a culture where they will enjoy golf throughout their lifetime."
Key Learnings and Advice
"Girls and juniors need to be supported throughout their whole golf journey, from clinics to competition and as far as they want to pursue their golf. They need the opportunity on a local level to achieve their goals."
"The best way to attract and retain girls is to offer girls-only programs." Find out more about MyGolf Girls here and the Australian Golf Foundation Scholarship program here.
"We can't lose girls and juniors by only offering programs on an adhoc basis. Golf needs to be offered on a consistent and reliable base."
"Think big. As a PGA Professional are you servicing your entire district? To get the most out of your offerings, work with your local District Association."
"Community Instructors are a great asset to expand and grow your clientele. Identify local golfers who are passionate about golf, have a friendly personality and love kids." More info here.
Learn more about Visionary of the Year and read other monthly winning stories here.
Andrew Cartledge's prize
Andrew Cartledge wins a $500 Drummond Golf voucher and is now in the running to win up to $10,000 worth of products from the latest Callaway REVA product range, designed specifically for women. Golf Australia's Visionary of the Year will be voted upon and announced towards the end of the year.
Nominations for the remainder of the year are still open. Click here for the nomination form.
Read the original article via Golf Australia's website here.