Day Two of the 42nd Curtis Cup saw Team USA's take a five point advantage into the final day singles matches at Merion Golf Club
It was a frustrating Day 2 for GB&I who were determined to close the points gap before heading into the final day at the 42nd Curtis Cup at Merion Golf Club. It looked like GB&I might sweep the Americans in the three afternoon foursomes matches, but USA managed to get a split – one win, one tie and one defeat – to keep its five-point advantage.
GB&I Team Captain Elaine Ratcliffe said:
"The result in the end perhaps does not show the golf that was played out there. Golf is very fair, but golf is also brutal, and I would say at the moment I would put it closer to brutal, how I feel for the players and the manner in which it just slipped through our fingers."
Going into Sunday's eight singles matches, the USA, who have an 8½-3½ lead, needs only 1½ points to retain the Cup for a third consecutive time, while GB&I needs seven of the eight points available to regain the Cup it last held in 2016.
Given recent history, it will take a Herculean effort from GB&I. In the last two Curtis Cups, the USA has produced 14½ of a possible 16 points in singles, including a record 8-0 sweep in 2018 at Quaker Ridge Golf Club.
Rachel Kuehn, who picked up a clutch point for USA in foursomes with partner Amari Avery, said:
"We don't take anything for granted. No matter how we finished today, we're still not across the line. I think the goal tomorrow is to go out and win all eight singles matches. The goal is not to hit that 10 or 10½ mark [to retain the Cup]. That goal is to win all eight and to walk off with everyone feeling good. I think everyone is aware that the GB&I team is very talented and they are very capable of coming back on us."
Curtis Cup Day Two afternoon foursomes
Team USA saw that competitive side in both sessions on Saturday, but especially in foursomes. All three GB&I sides led at the halfway point, and two of those matches saw four-hole advantages. Only the veteran team of Hannah Darling, of Scotland, and Annabell Fuller, of England, held on for a win, defeating Jensen Castle and Latanna Stone, 2 and 1. Darling clinched the victory with a 13-foot birdie on No. 17.
It was the first victory for either player in the Match. Darling, a first-team All-America this past season for the University of South Carolina, and Fuller, a University of Florida standout who made the cut in last year's AIG Women's British Open and qualified for last week's U.S. Women's Open Presented by ProMedica, were a combined 0-5 going into the match.
"I don't know how to describe it, but the fact that it's come this late [in the Match] is honestly … a bit annoying," said Darling of finally getting on the board. "But we got it done, and to almost have the momentum in our favor now going into [Sunday], that's huge."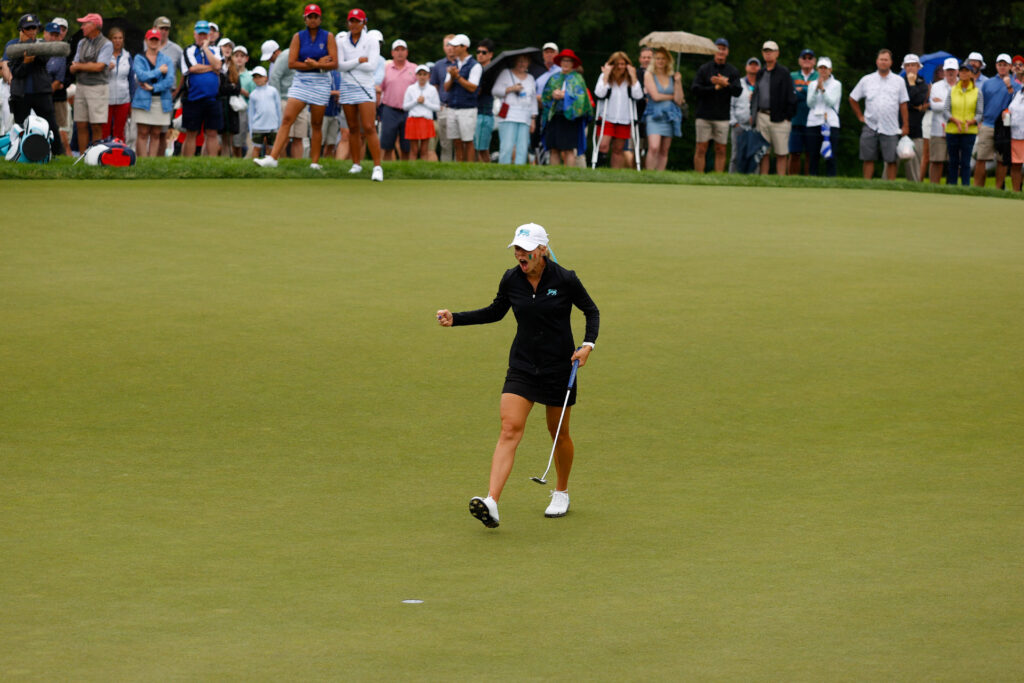 The GB&I tandem of Wake Forest standout Lauren Walsh and Ohio State transfer Caley McGinty, who earned the lone point of the morning four-ball session, looked like it would have a perfect 2-0 day when it took a 4-up lead thru 11 holes against the Stanford University duo of Rose Zhang and Rachel Heck. But they discovered that beating the No. 1 and 4 players in the Women's World Amateur Golf Ranking is no easy task.
Zhang and Heck, fresh off winning an NCAA title for the Cardinal in late May, chipped away at the deficit with birdies on 12, 13 and 16. The sides tied the par-3 17th with bogeys before a winning par on No. 18 earned the duo a huge half-point.
"You're not trying to do any crazy math," said Heck, the 2021 NCAA individual champion. "You're taking it one hole at a time. It's not good to think ahead and think how many holes you have to win. Rose and I were playing well, I know they were playing well, so we just had to be patient out there and wait for things to go our way."
Avery, a rising sophomore at the University of Southern California, and Wake Forest rising senior Kuehn didn't have as big of a deficit to erase against Emily Price (Kent State) and Amelia Williamson (Florida State). Avery made a difficult 15-foot birdie on eight to win their first hole of the match. She later converted an eight-foot birdie putt on 16 to give the USA tandem a 2-up cushion.
Despite a bogey on 17 when the USA side failed to get up and down from a greenside bunker, Kuehn, whose mother, Brenda, played in two Curtis Cups in the 1990s, delivered a clutch approach shot to the middle of the 18th green. GB&I, now likely needing a birdie to get a tie, failed to get up and down for par, and Avery's lag putt from 30 feet was enough to secure a 2-up victory.
"You always have to expect it's going to be a tight, hard match," said Avery, now the only player on either side to be 4-0. "Honestly, I love that. I never want it to be easy. I want to fight hard for my win."
Curtis Cup Day Two morning four-balls
Mother Nature threw the Match a curve ball on Saturday when glorious sunshine from Day 1 was replaced by overcast skies, cooler temperatures and intermittent rain, the kind of conditions – minus the wind – GB&I players see virtually all the time back home.
But even the change in weather couldn't change the fortunes of the visitors. Just like in the afternoon foursomes, GB&I had a good opportunity to win the morning four-ball session and cut into what was then a four-point deficit.
The USA somehow managed two points to build its margin to 7-2.
Walsh and McGinty set the tone for a possible rally, registering eight birdies in a 10-hole stretch from No. 5 in closing out Kuehn and Castle, 5 and 4. It matched the largest margin of victory in four-ball, a format that began in 2008 when the competition switched from two to three days.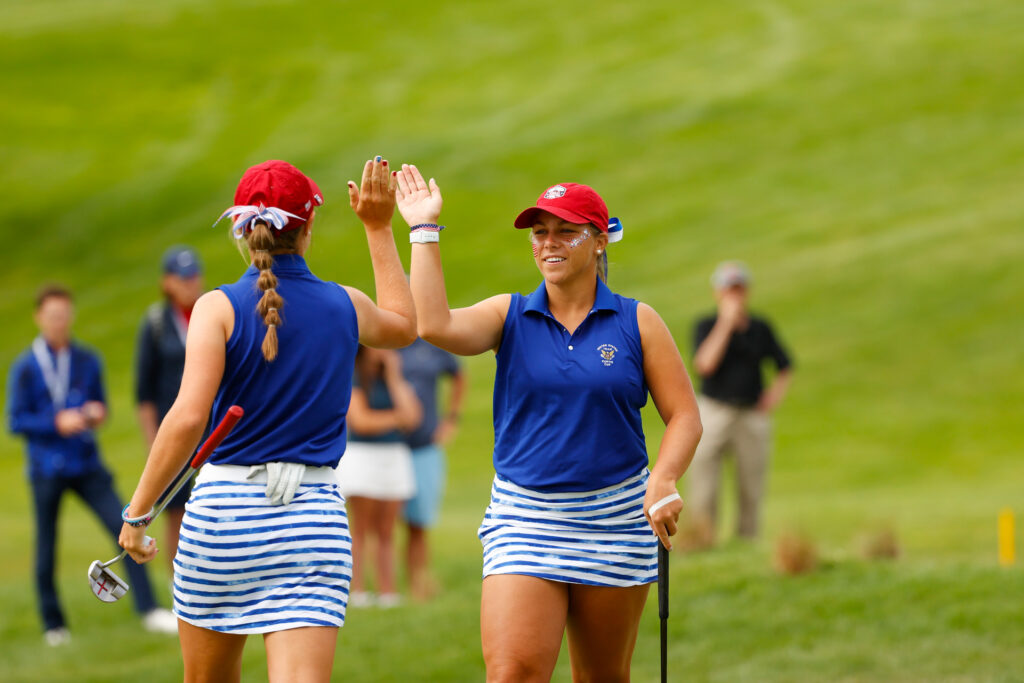 Walsh, who is Kuehn's roommate and best friend at Wake, birdied 12, 13 and 14 to close out the match.
"I think the thing in four-ball is to make sure we give ourselves two chances [at birdie]," said Walsh, "and we did that well. That gives you freedom on the greens to hole a putt."
But GB&I's hopes were short-lived. Avery and fellow 18-year-old rookie, Megha Ganne, held off Darling and Fuller, 2 and 1. It was Avery who closed out the match with a clutch 5-foot par putt on No. 17 after she was a bit frisky with her 30-foot birdie attempt. Darling had a chance to keep the match going, but watched in disbelief as her 4-foot par putt lipped out.
Avery and Ganne, an incoming Stanford freshman, improved to 2-0 as a team.
"Once you get into a zone, the whole rookie-veteran thing goes out the window," said Avery. "It's just who can hit the ball the best and like I have said multiple times, we mesh really well together."
Stone, a rising senior at Louisiana State University, and Wake Forest graduate student Emilia Migliaccio looked all but defeated when Florida State rising junior Charlotte Heath holed a 15-foot birdie on No. 15 to give her and 2021 British Women's Amateur champion Louise Duncan a 2-up lead. Undeterred, Stone knocked her approach to the par-4 16th to 3 feet for a winning birdie. She then converted a clutch 10-foot par putt on the par-3 17th hole to tie the match.
Instead of getting a half-point or losing a full point, the USA earned a full point when Migliaccio was the only player to reach the 402-yard 18th in regulation, and her two-putt par secured a come-from-behind, 1-up victory.
"I'm just so ecstatic," said Stone. "I'm just so proud of us."
Nothing is over until the last point, or half point, is won and GB&I's Annabell Fuller has a fighting spirit which we're sure the rest of her team has too, she said:
"I think we waited a little bit too long to get our first win on the board, but I mean, we're all going into tomorrow with our head held strong and our whole team wants this more than anything, and especially after last year it being so tight [until Sunday single]. I know we want it more than the Americans and we're all going to play our hearts out."
Due to pending weather, tee times for Sunday's singles session have been moved up several hours. The first match will now go off at 7:30am EDT with Peacock streaming the entire session until its conclusion.
Results from Saturday's Second Day of the 2022 Curtis Cup Match, played at 6,130-yard, par-70 Merion Golf Club.

FOUR-BALL
Caley McGinty and Lauren Walsh, GB&I def. Jensen Castle and Rachel Kuehn, USA 5 and 4
Amari Avery and Megha Ganne, USA def. Hannah Darling and Annabell Fuller, GB&I 2 and 1
Emilia Migliaccio and Latanna Stone, USA def. Charlotte Heath and Louise Duncan, GB&I 1 up

FOURSOMES
Caley McGinty and Lauren Walsh, GB&I vs. Rachel Heck and Rose Zhang, USA halved
Amari Avery and Rachel Kuehn, USA def. Amelia Williamson and Emily Price, GB&I 2 up
Hannah Darling and Annabell Fuller, GB&I def. Jensen Castle and Latanna Stone, USA 2 and 1
View the live scoring for the 42nd Curtis Cup here.
View Sunday Pairings and Tee Times here - where Louise Duncan will take on Rose Zhang in the first singles match.
Watch live coverage from Day Three via Sky Sports Golf YouTube here - coverage is due to start at 1:30pm BST.