USA retain the Curtis Cup with a convincing 15 1/2 to 4 1/2 victory of GB&I at Merion Golf Club
With the Team USA holding a commanding five point lead heading into the final day at the 42nd Curtis Cup, it seemed GB&I would need a Miracle at Merion to win. Starting the day with biblical amounts of rain was probably not quite what the visiting team were hoping for.
The skies did finally brighten at 11:15am, nearly four hours after the scheduled start time. USA only needed 1½ points to retain the Curtis Cup whilst GB&I had a tall ask of seven of the eight points available.
GB&I came into the three-day competition brimming with confidence. Six of the players returned from the five-point loss 9½ months ago at Conwy Golf Club in Wales, and seven had U.S. collegiate experience. But when the side failed to hold leads in two of the three foursomes matches on Saturday afternoon, a possible 7-5 deficit turned to 8½-3½.
USA didn't take any chances
USA Captain Sarah Ingram wasn't taking any chances in the singles matches, putting out world number one and 2022 NCAA individual champion Rose Zhang, Kuehn and world number four Rachel Heck in the first three matches.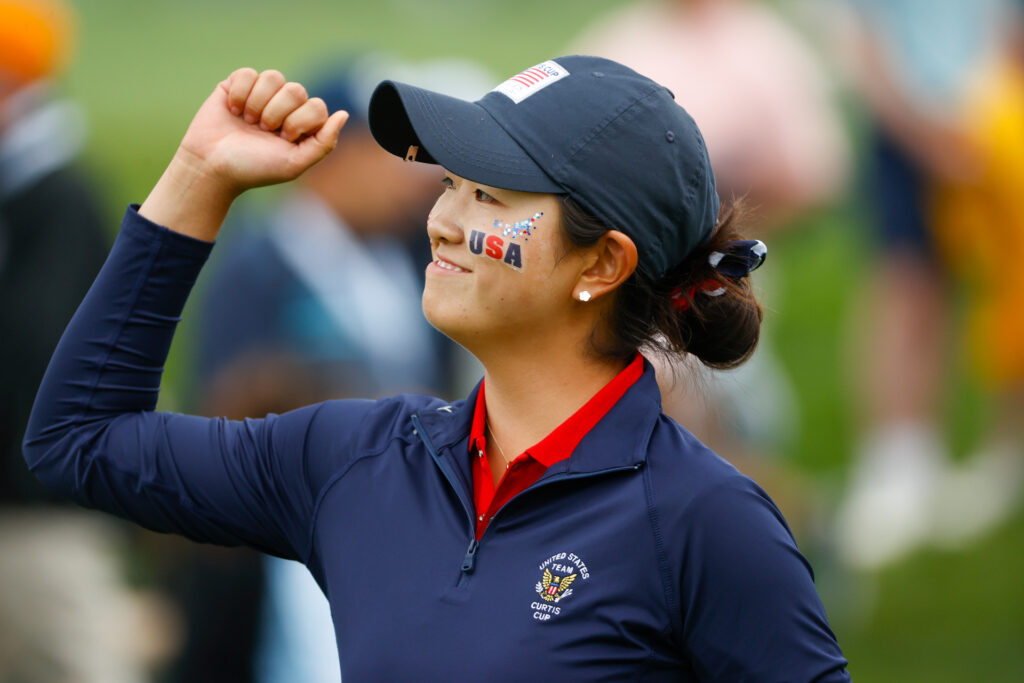 Zhang delivered with a 7 and 5 triumph over 2021 British Women's Amateur champion Louise Duncan, of Scotland. That moved the USA within a half-point of retaining the Cup.
Kuehn and Heck jockeyed all afternoon to decide who would get the clinching point. Kuehn prevailed by 15 minutes when she closed out Caleb McGinty, 2 and 1.
Not long after, she was hugging her Mum, Brenda, a two-time Curtis Cup player who also secured the clinching point in the 1998 Match at The Minikahda Club in Minneapolis. Rachel got the rare chance to repeat.
"I don't think [clinching] crossed my mind," said Kuehn. "The only goal was to go out and win my match."
Heck closed out Kuehn's Wake Forest roommate, Lauren Walsh, of the Republic of Ireland, 2 and 1, and moments later, Wake Forest graduate student Emilia Migliaccio defeated University of Florida standout and three-time GB&I Curtis Cup competitor Annabell Fuller, 6 and 5.
More points for USA
Jensen Castle, the reigning U.S. Women's Amateur champion and a University of Kentucky standout, edged University of South Carolina first-team All-America Hannah Darling, of Scotland, 2 and 1. Darling came into the week as one of the GB&I stalwarts but went a disappointing 1-4.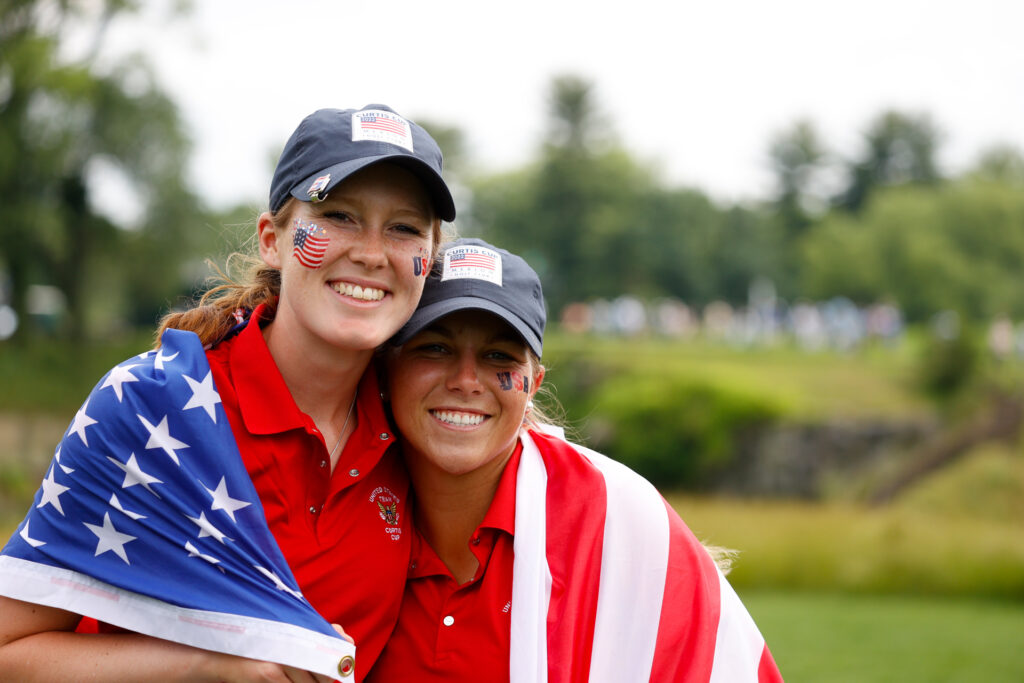 Louisiana State University standout Latanna Stone, one of three first-time players for the USA, had the most dramatic victory when she stuffed a mid-iron approach to the 409-yard 18th hole to 2 feet for a winning birdie and a 1-up decision over Florida State star Charlotte Heath.
Incoming Stanford freshman Megha Ganne, of Holmdel, N.J., who travelled to Wales last August as an alternate after being the low amateur in the 2021 U.S. Women's Open at The Olympic Club, never trailed in beating Florida State's Amelia Williamson, of England, 2 and 1.
Price wins solitary point for GB&I
GB&I avoided its second 0-8 defeat in singles when Kent State graduate Emily Price played the equivalent of one-under-par golf – with the usual match-play concessions – in beating Avery, a rising sophomore at the University of Southern California. Price had faced Avery twice in foursomes this week and finally defeated the talented 18-year-old 4 and 3. She closed out Avery with a five-foot birdie on the 15th hole.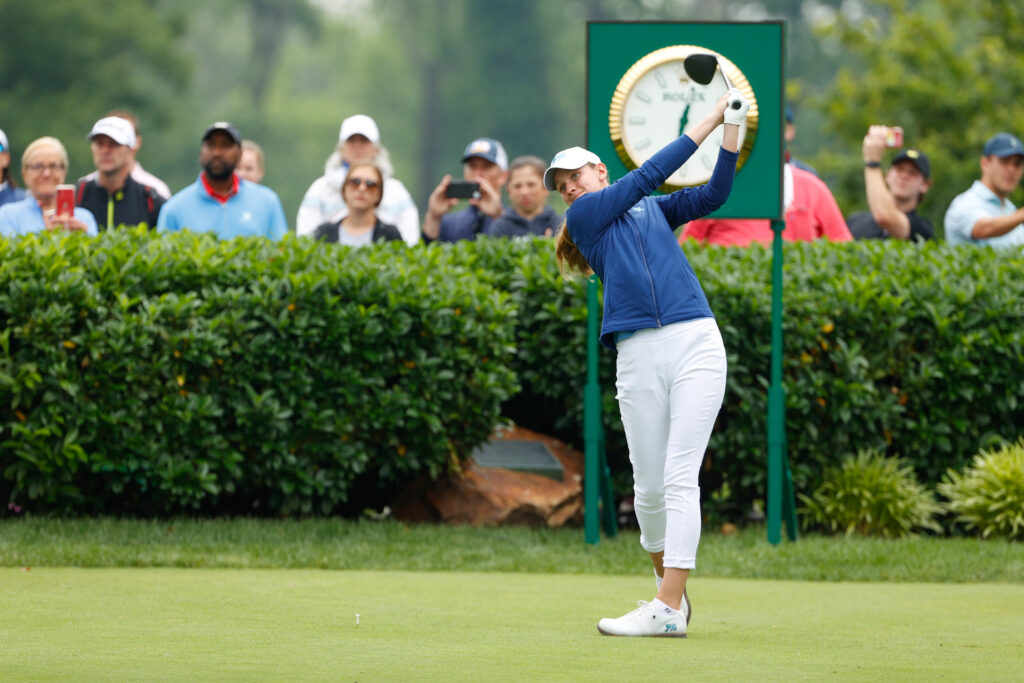 "Amari is one of the best players in the world, let alone the United States," said Price, who is headed to LPGA Tour Qualifying School in August. "I came out today and wanted to stick to my processes, and I did that and just played really, really well."
Summing up her second Curtis Cup victory, Zhang said:
"To be able to be a part of this amazing team and come out with a team win, we were not only representing ourselves, but we were representing our country, and we were representing each other. I feel like this win just shows the camaraderie and the amazing ability that we had within ourselves. It couldn't have ended any better."
Results from Sunday's Third and Final Day of the 2022 Curtis Cup Match, played at 6,130-yard, par-70 Merion Golf Club.
SINGLES
Rose Zhang, USA def. Louise Duncan, 7 and 5
Rachel Kuehn, USA def. Caley McGinty, 2 and 1
Rachel Heck, USA def. Lauren Walsh, 2 and 1
Jensen Castle, USA def. Hannah Darling, 2 and 1
Latanna Stone, USA def. Charlotte Heath, 1 up
Emilia Migliaccio, USA def. Annabell Fuller, 6 and 5
Megha Ganne, USA def. Amelia Williamson, 2 and 1
Emily Price, GB&I def. Amari Avery, USA, 4 and 3
FINAL SCORE
USA def. GB&I, 15 ½ and 4 ½
43rd Curtis Cup - 2024
The 43rd Curtis Cup Match will take place at Sunningdale Golf Club in Ascot, England, in two years. The dates of the three-day event in 2024 have yet to be determined.  The 2026 and 2030 Curtis Cups are headed to Bel-Air Country Club (June 12-14) in Los Angeles, and National Golf Links of America (June 12-14) in Southampton, New York, respectively.
View the final scoring for the 42nd Curtis Cup here.