Aboyne golfer Carmen Griffiths wins the Scottish Women's Amateur Championship, whilst Eilidh Henderson claims the Clark Rosebowl.
The 2023 Scottish Women's Amateur Champion is Carmen Griffiths (Aboyne), after three days filled with upsets and surprise eliminations. In a final stunning head-to-head, Carmen Griffiths pipped Rachael Livingstone 6&5 to the title.
Griffiths' last major win in Scotland was at the Scottish Girls' Am in 2021, but she has also won the Dutch International Junior Open (2022) and had some success in Collegiate events in the USA.
Griffiths' two stroke play rounds were slow and steady, but two double bogeys didn't give a clue as to the form she would find in the match play rounds, gaining confidence as the tournament heated up.
Runner-up to the trophy was Rachael Livingstone (Baberton Golf Club) whose tournament run was also a story of improvement, after carding 76 (+5) and 75 (+4) in the first and second round stroke play.
Tournament favourite Lorna McClymont broke her run of consecutive championship wins, when – despite an excellent -3 result (69 and 71) and a total of 8 birdies across the first day – she was knocked out after Round 1 of the match play by Megan Docherty. Docherty went on to fight the good fight to Round 3, but was beaten 7&6 by an on-form Griffiths.
In another tournament upset, defending champion Cameron Nielsen was knocked out in the first match play round by Katy Alexander (4&3), despite climbing seven spots on the leaderboard in Round 2 stroke play by carding an excellent 72 (+1).
Conditions couldn't have been better at Ladybank, bright sunshine flooding the stunning Fife course. Scottish Golf would like to extend its warmest thanks to Ladybank for hosting the Scottish Women's Amateur in 2023.
Commenting on her win, Griffiths said:
"It feels amazing to be Scottish Champion, I didn't really expect it, coming back and not having played on home soil for almost a year since last summer, so it's really nice to get the win. Eagling to win against Jennifer Saxton, is the toughest match I've had in a while.
"Today I had some big wins and yesterday was a bit closer ... the toughest thing was being patient with Jen, when I won was the only time I was up in the game, I was dying most of the time but I brought it back on the last few holes. I think after the game with Jen I brought a lot of confidence from it, we've been playing for the last few years in County stuff together so we know each other quite well and to be here was a big confidence booster for me."
Clark Rosebowl
The Clark Rosebowl was contested in the final by Eilidh Henderson and Freya Russell (Royal Troon), Henderson clinching a home win for Ladybank Golf Club, 2&1 in the end.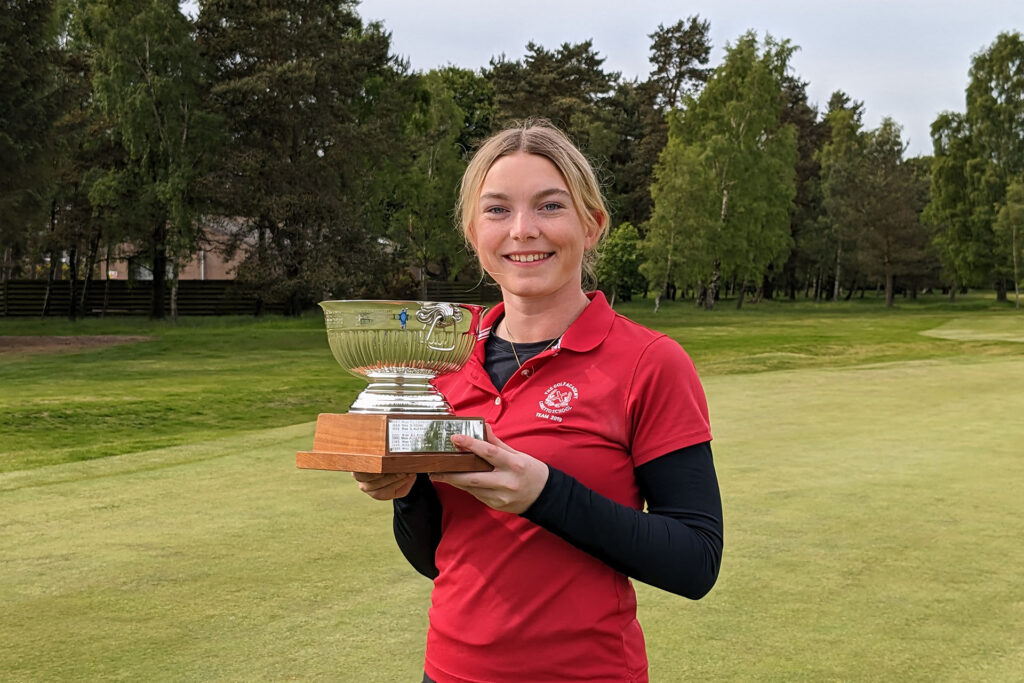 Eilidh Henderson, Clark Rosebowl Champion for 2023 said:
"It feels great to have won today, especially being a member at Ladybank, I felt so comfortable playing this week and it was really nice to have lots of members out supporting, so I'm really happy with myself."
Tournament Director Max Smith added:
"It's been a few days of drama, with some strong favourites leaving the field early, but we know that golf is unpredictable and that's part of the reason these tournaments are so exciting, you never know what you're going to get. We've had amazing conditions and it's been a pleasure to be here and watch such excellent play. Thank you to Ladybank Golf Club for being such accommodating hosts." 
View full details from the Scottish Women's Amateur Championship on the Scottish Golf website here.