Securing the best win in her career so far, Carmen Griffiths is the new Scottish Girls' Amateur Championship
Aboyne's Carmen Griffiths claimed the biggest win of her career when she beat Hamilton's Katie Graham 4&2 in the final of the Scottish Girls' Amateur Championship at Strathaven.
The 2019 European Junior Vagliano Trophy team member came into the championship in second place on the 2021 Scottish Girls' Order of Merit and she showed why she is currently ranked only behind Curtis Cup hopeful, Hannah Darling, on that list with a series of impressive victories in her march to the final.
Not all plain sailing for Griffiths
The new champion's toughest match came in the second round when she was taken to the 18th hole by fellow Scottish international, Rachel Foster, from Prestwick St Nicholas but she then beat Parkstone's Alice Webb 6 & 5 in the semi-finals before proving too strong for Graham in the afternoon.
Graham had previously knocked out top seed, Forfar's Robyn Fowlie, in the second round and then beat Shrewsbury's Isla McDonald-O'Brien 6&5 to earn her place in the final.
Griffiths went ahead as early as the second hole of the final and was three ahead after ten holes before Graham clawed one back on the 11th. Griffith increased her lead again with wins on the 12th and 14th and though Graham won the 15th that reprieve proved to be short-lived when Griffiths sealed victory on the very next hole.
Griffiths, who is heading to the University of Louisville on a golf scholarship, said:
"I'm absolutely over the moon. This has got to be my best win so far. I've come close a couple of times so it's nice finally to get over the line.
"I played very well this morning against Alice and again this afternoon. It was tighter than the score suggests, so I'm just glad to come out on top.
"It's something I'll remember for a long, long time."
Scottish Girls' Net Amateur Championship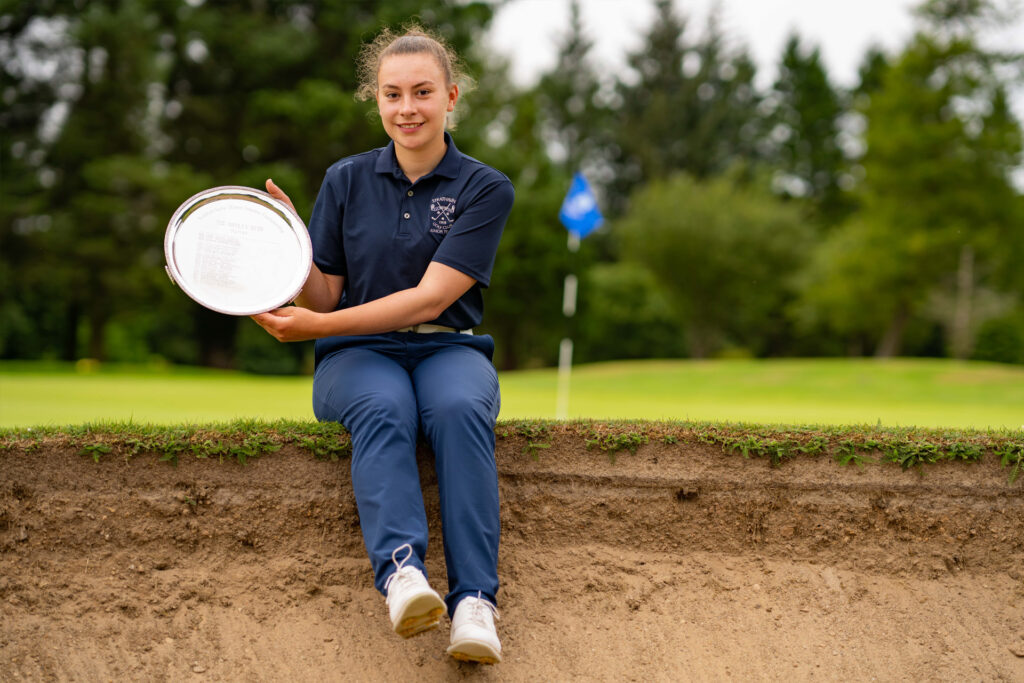 Lindsay Main claimed a popular victory on her home course in the concurrent Scottish Girls' Net Amateur Championship.
The Strathaven player beat Elderslie's Ava Graham 2&1 in the semi-finals and then collected the trophy following an emphatic 7&6 triumph over Paisley's Katie Dunn in the final. She was pulled back to two up when Dunne won the seventh but then won five successive holes from the eighth to clinch the trophy.
The 16-year-old said:
I'm really chuffed. I didn't really expect to win. I wanted to try to qualify for the match play and then see what happened after that.
"Winning is very special and it's even better to do it here at Strathaven.
"That was great."
See the full scoring from the Scottish Girls' Amateur Championship here.