40 by 40 Blog 9. Emma second stop on her trip to Northern Ireland is Malone Golf Club in Belfast
Five years ago I decided to look into my family history and ended up going down a bit of a rabbit hole. I don't remember how, but I came across The British Newspaper Archive website and after a couple of searches, decided to buy an annual subscription.
By this point through talking to family and looking through census records, I had a pretty good idea of the names and relationships of close relations. My Grandma is now 98 and grew up in St Andrews, so my main hope had been to find some great golfing connection to the home of golf.
Now I appreciate you are not hear to read about my life history, so I won't bore you with it but once I started searching through the newspaper archives, some interesting results came up.
My Grandma's father (Captain William Low) and grandfather (Dr William Low) were both members of the Royal & Ancient Club! Although my Grandma never played golf (she moved to London when she was 11-years-old), her father and four aunts were golfers.
Amongst the clippings, I found that G.A.L.F.A. - General Accident Fire and Life Assurance Corporation (now Aviva) played annually for the Dr William Low Cup at St Andrews in the 1930s.
It's difficult to find out much more, the Royal & Ancient archives didn't throw up anything but both Williams must've been well regarded as the flag was flown at half-mast when they died.
The Royal & Ancient connection was obviously very exciting but my research also revealed that Grandma's Aunt Dorothy had married an Irishman and moved to Belfast. Where in 1937 she became Lady Captain of Malone Golf Club.
Here are a few clippings below, she is Mrs F. D. Acheson...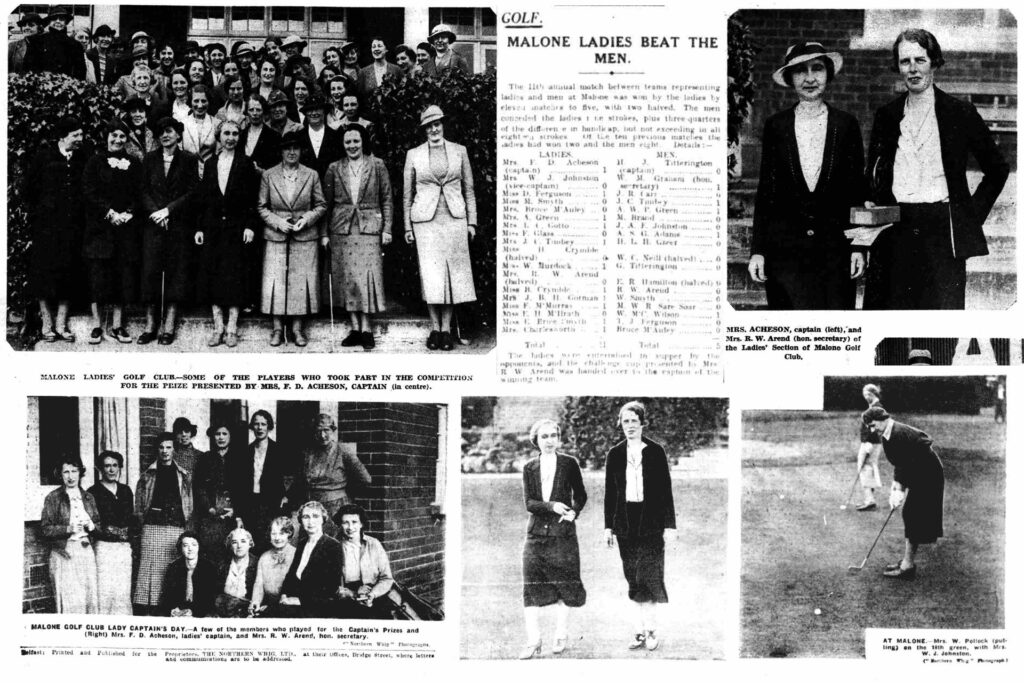 40 by 40 - a trip to my golfing roots
Fast forward to this year where I embarked on the 40 by 40 challenge. As far as possible, I wanted to make sure there was a women's or girls' golf connection to every round I played. Slightly selfishly, I thought that Malone would be a perfect location due to the family connection.
In March I emailed the General Manager Paddy Dean in the hope he wouldn't think I was being too bold with my request to come and visit. Thankfully he did not and he gave me the opportunity to not only visit but to play the course with Lady Captain Edythe Wylie and fellow member Jane Wells (pictured at the top of the page).
It was with excited anticipation that I arrived up the long driveway to the golf club and was greeted by Paddy. I should state at this point that the club had moved location since my Great-Great Aunt was Lady Captain, so the clubhouse wasn't where she had spent her time as a member.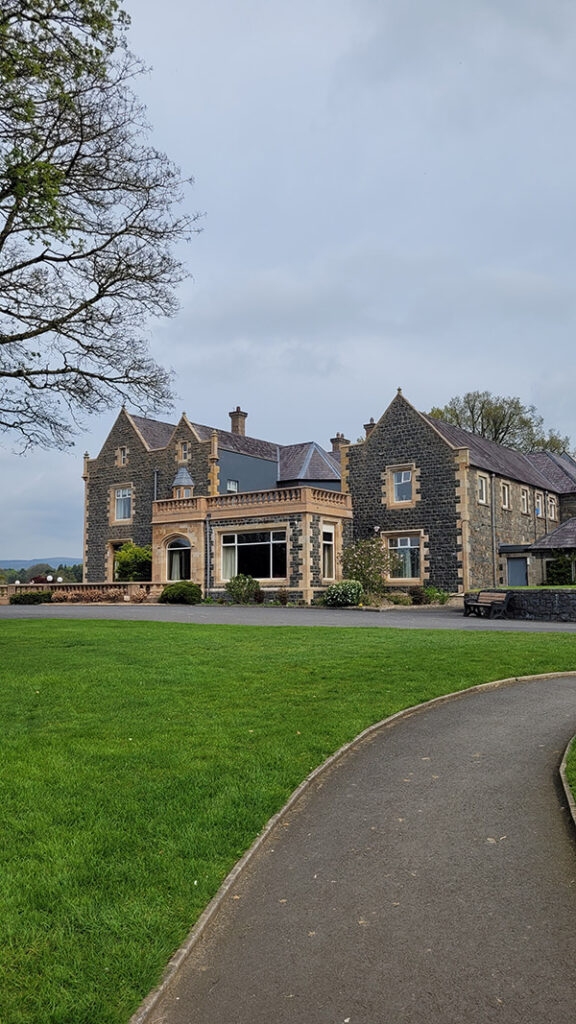 After a quick tour and a cup of coffee, I had the slightly surreal moment of seeing her name on the Lady Captains board. A definite photo opportunity and one to share with my family.
The Course - Drumbridge
I was grateful to current Lady Captain Edythe Wylie and fellow member Jane Wells, who were to accompany me around the course. As with my trip to Galgorm Castle the previous day, I was able to hire a set of Callaway clubs and a fully charged Motocaddy trolley.
The 27-hole course is set amongst 330 acres of wooded parkland which has a 20-acre trout lake that is visible as you play the back nine (Ballydrain) and you also have a view from the clubhouse.
There are three nine hole courses but for the Championship course you combine the Drumbridge and the Ballydrain.
An elevated 1st tee gave me a little bit of confidence and thankfully there wasn't a crowd watching by the clubhouse. It's hard to see from my photos but I thought that the front nine was quite undulating in places and that having a trolley (electric preferably) is the easiest way to navigate the course.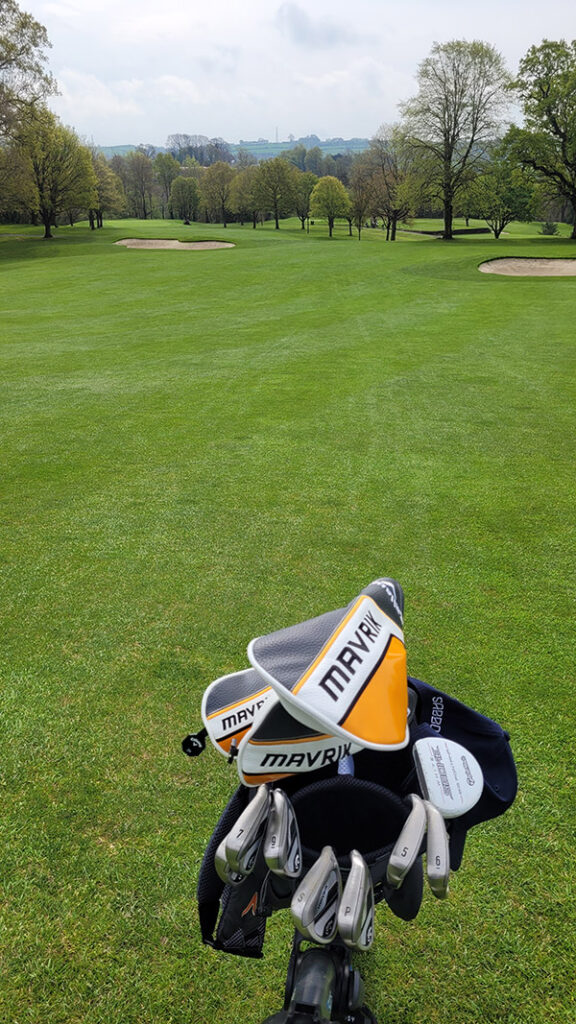 The course itself was in fantastic condition after many weeks of rain. Green lush fairways that weren't squelchy, greens that ran pure but had some tricky reads in places.
Nothing worse than a double bogey graced my front nine (which is very good for me) and my playing partners commented that they didn't believe my 29.4 handicap index.
Edythe and Jane told me all about the club and the time that they had been members there. The overriding feedback was that the club has a really friendly and welcoming environment and that they wouldn't want to play anywhere else. They also mentioned that they have a strong junior section and that number of girls playing at the club had increased but there was always room for more.
The Course - Ballydrain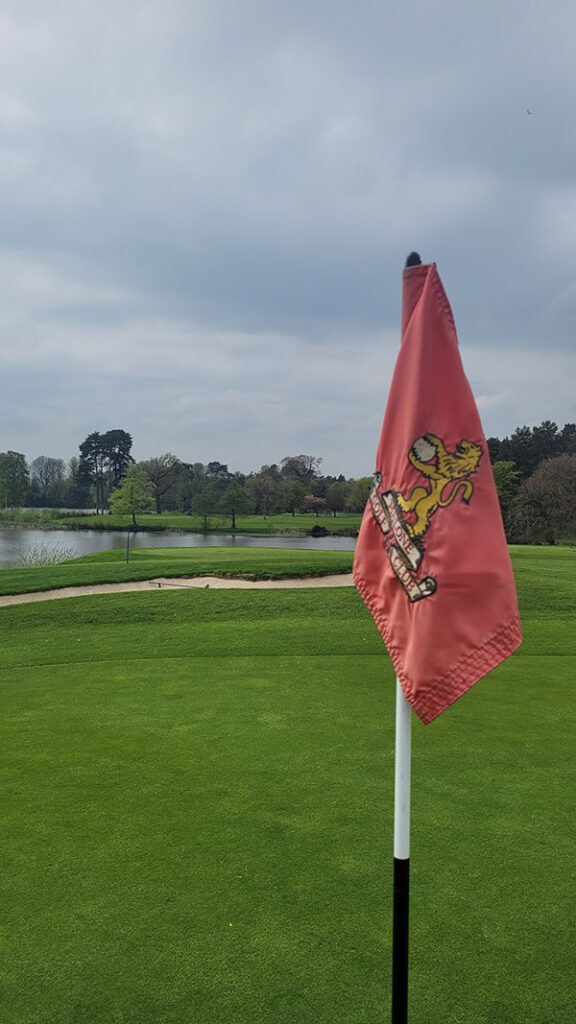 Refuelling at the pro shop with a chocolate bar and drink, we headed onto the 'back nine'. It definitely had the feel of starting a new nine holes, rather than just carrying on where we left off. The Ballydrain nine had views of the trout lake from every hole. With each hole you got closer to it until you got down to the water's edge on the 15th.
On the Malone Golf Club website it states:
"Beware the 15th where the tee shot to a tricky undulating green is over water all the way. Also the 18th is daunting where almost any ball to the right of the green is water bound."
My game had started to unravel on the Par-5 14th (the 29.4 handicapper was back), so I am not sure I was ready for the water! An inviting hole with bunkers around the back. I wish I could say I was able to play a sublime shot but my first two attempts ended in the water. The third was safe in a bunker at the back but the thought of thinning it back into the water meant that I picked up!
I also proved the second part of the comment above on the 18th with my final ball going right as if magnetized to the water.
Although I had lost my ball, the walk up 18 with views of the clubhouse and the lake was breathtaking. What a joy it must be to have this as your closing hole.
Before I left, I got to go back into the clubhouse and have a look through some of the books and information that has been put together on the club, whilst having a delicious late lunch. I didn't see mention of Mrs F. D. Acheson specifically but it was lovely to gain more insight.
A wonderful day and a fantastic opportunity for me to get back to my golfing roots.
40 by 40 - Round 9 ✅
I definitely think this will go down as a highlight of 40 by 40. Having the chance to be at a club where a family member had played such an important role over 85 years ago. Obviously, I didn't know her but my Grandma has spoken fondly of her Aunt Dot.
I cannot thank Edythe and Jane enough for their hospitality and kindness on the day, along with Paddy, welcoming me to their golf club. Malone will always be a special place and I hope to return one day.
Next up is a course closer to home, in fact only 20 minutes down the road. I head to Gaudet Luce for a charity golf day in aid of the Afriyea Golf Academy in Uganda.
40 by 40 is also helping to raise awareness of the fundamental work that is carried out by the Golf Foundation to get more children active in golf across the UK. As well as raising funds for this fantastic charity via our JustGiving page.
40 by 40 Headline sponsor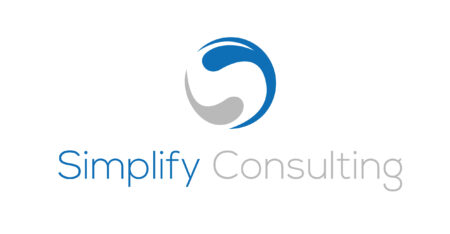 Thanks to Simplify Consulting who are the headline sponsor of 40 by 40. Put simply, they are practitioners in financial consulting. They are experts in Operating Model Design, Project Delivery, Operations & Process Optimisation and Risk Management across Life & Pensions, Wealth Platforms and Asset Management.
40 by 40 supporters