40 by 40 Blog 2. Emma heads to Bedfordshire and Colmworth Golf Club to meet Mum and Daughter owners Julie and Tilly.
To say I was excited is a bit of an understatement. As I navigated my way to Colmworth Golf Club in Bedfordshire, there was a growing anticipation of what I was going to find.
In my previous job, I had worked on the social media accounts for sustainable golf brand OCEANTEE. That is where I first came across Colmworth. A refreshing face in the golf club space, years ahead of their time when it came to sustainability and there was such a homely feel to their social media.
From the moment I saw their Instagram feed, I wanted to visit but, unfortunately, the moment never came, Covid, a new job here at Women & Golf, I just couldn't find the time. That is until we launched 40 by 40.
Admittedly I should have chosen a warmer time of year but on a slightly damp and chilly morning on the 1st March, I drove in past the Colmworth sign that stated "people & planet friendly". Feeling welcome from the start, I was sure I was in for a treat.
Not your standard clubhouse, not your standard golf club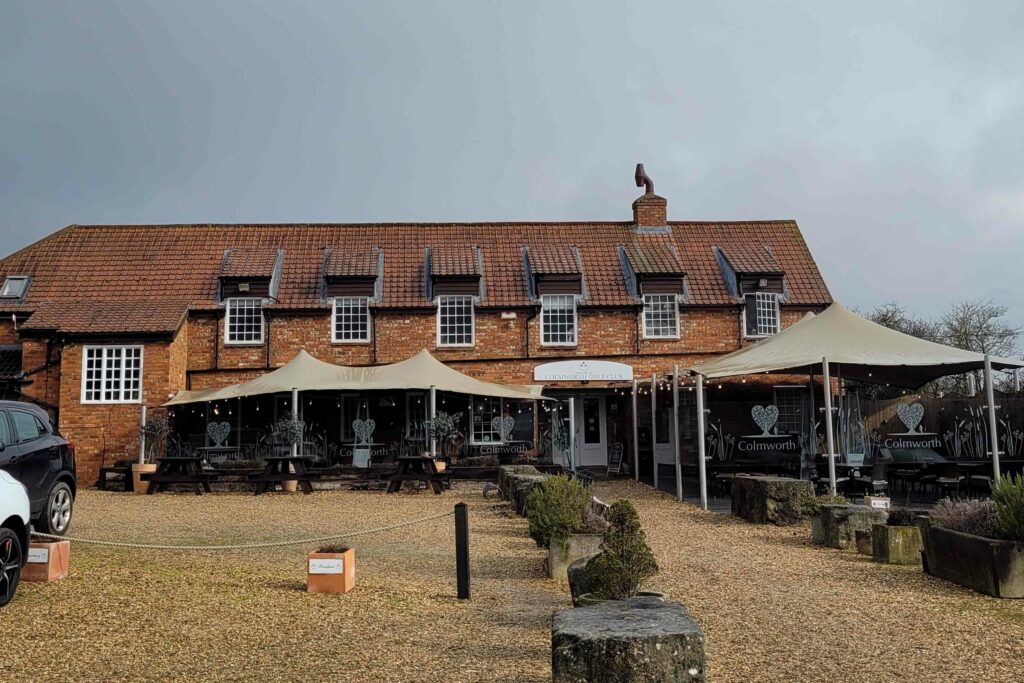 As I parked up and got ready to go in, I didn't have that usual feeling of dread that you can get at some golf clubs. Where's the entrance, am I wearing the right clothing, will I be eyed up suspiciously by members?
If you look at the picture of the clubhouse, you definitely get a more country-pub than intimidating golf club vibe. Although it was chilly, there were a couple of cyclists outside and as I went inside and into the cosy feeling café, I felt very relaxed.
I met Tilly, co-owner of Colmworth, who I'd be playing with, as well as our other playing partners, both mutual friends to Tilly and I – Jay from the Amateur Golf Collective and Trick Shot extraordinaire Geoff Swain. We had a brief chat over coffee where I also met the other co-owner Julie, Tilly's Mum.
Looking outside at the weather, I would've been happy just to stay inside and chat all morning but I did actually have to play some golf in this 40 by 40 challenge!
A course with recycling at its core
We headed out onto the front nine. Colmworth has an 18 hole course, which allows you to play nine, 12 or 18 holes, plus a par 3 pitch and putt and a floodlit driving range.
The course itself was built over 30 years ago by Tilly's Grandad (Julie's father) on a piece of farmland. He had his own salvage business and used his knowledge and desire not to waste to carefully use landfill to sculpt the golf course, making it more interesting and challenging.
His foresight created a haven for native plants and trees plus it has allowed local wildlife to thrive whilst also creating a space for golfers to enjoy.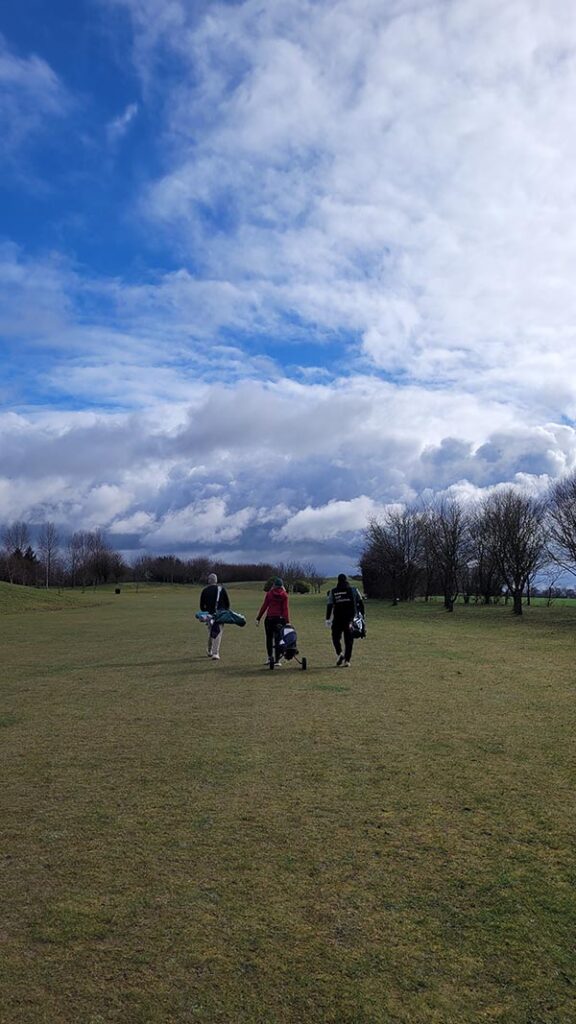 As the rain came down, I was taking it all in. Ok, this course wasn't a Royal Birkdale or Sunningdale but it really was something special. As we teed off the temporary second tee, Tilly explained how she had been out on the digger to build and reshape the new tee box. After a steep climb up to the third tee, she told me of her plans to re-route and make the tee box more easily accessible.
Tilly's love, passion and enthusiasm for Colmworth and the environment was infectious. No task associated with making Colmworth potentially the most sustainable golf course in the UK was too much for her. She pointed out the new solar panels on one of the barns (which she had fitted), talked about the reuse of water across the course, their biomass boilers, reclaimed sand on the course. The list went on, including their plastic tee amnesty.
I'd like to point out that Tilly wasn't boring me to death here, I was asking lots of questions and feeding off how proud she was of the business.
The skies did brighten up a little but unfortunately, it had no effect on my golf game which was pretty mediocre. I didn't think it could have got any worse than the Everything in Sport Women's Golf Networking event I had been at the previous day.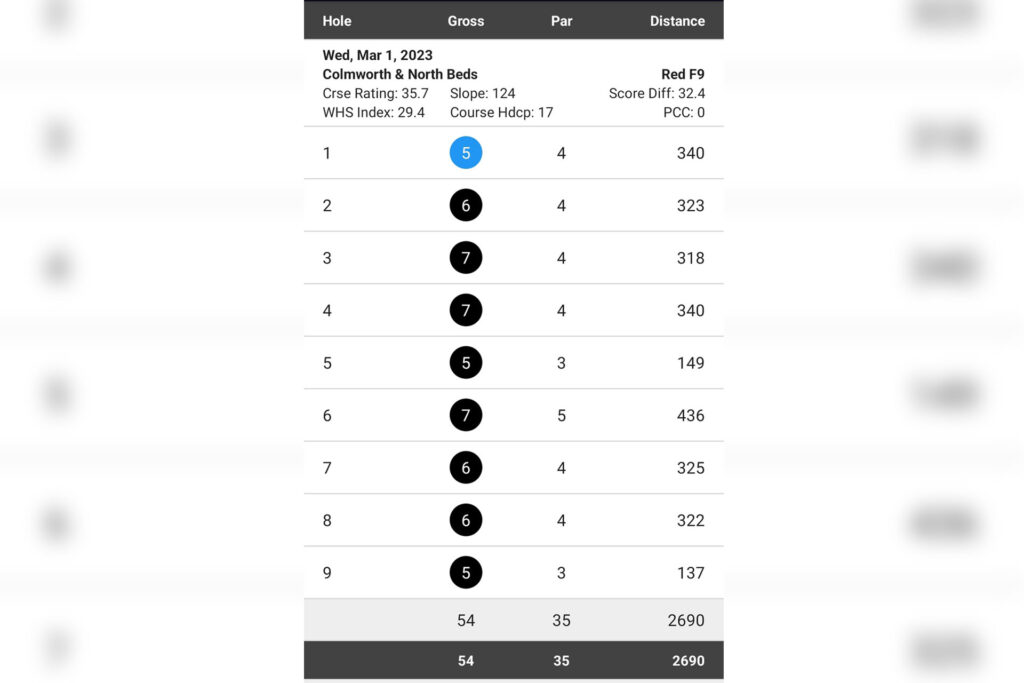 As I nervously added my scores for iGolf into my EG app, I turned my attention back to the course. As with any course you haven't played before, it was great to have someone there who knew the lay of the land. Saying that Colmworth was easy to navigate.
You can head in after nine holes but the signature hole at Colmworth is the 12th, another hole you can also finish on, so we played on. (Much to Geoff's disappointment because he was looking forward to cake! See below)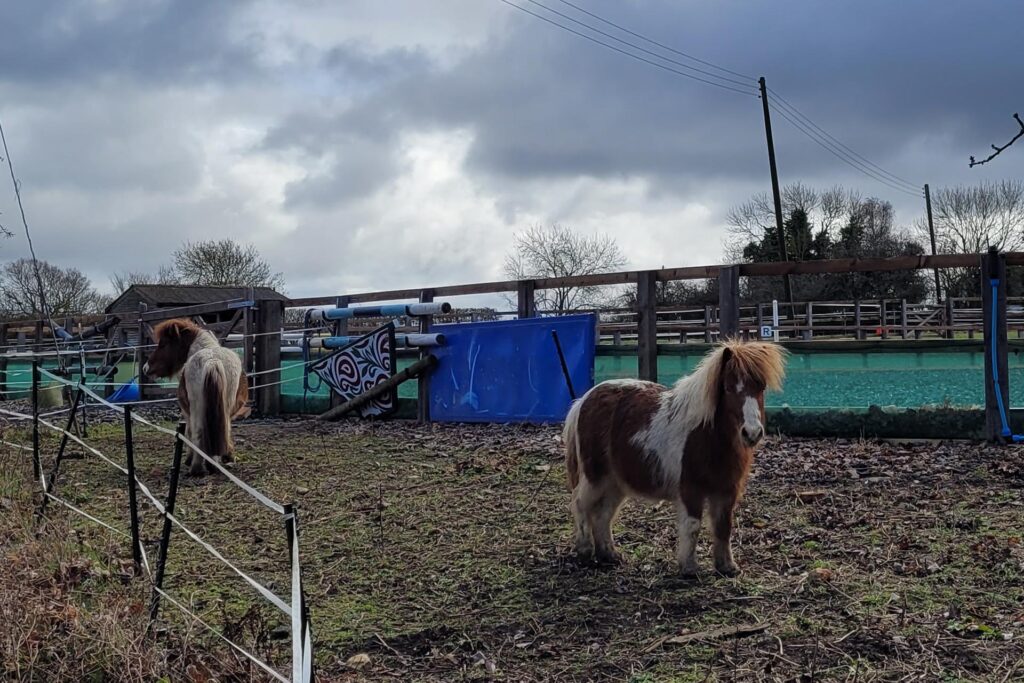 An added highlight is behind the 11th green where Tilly's ponies KitKat and Smartie aka "The Floofs" galloped over for a head scratch. I was told that they often make visits to the clubhouse too!
If we weren't finishing on 12, but fancied a refreshment, it was the first time I had seen the ability to order food via a QR code and pick it up on the 13th tee.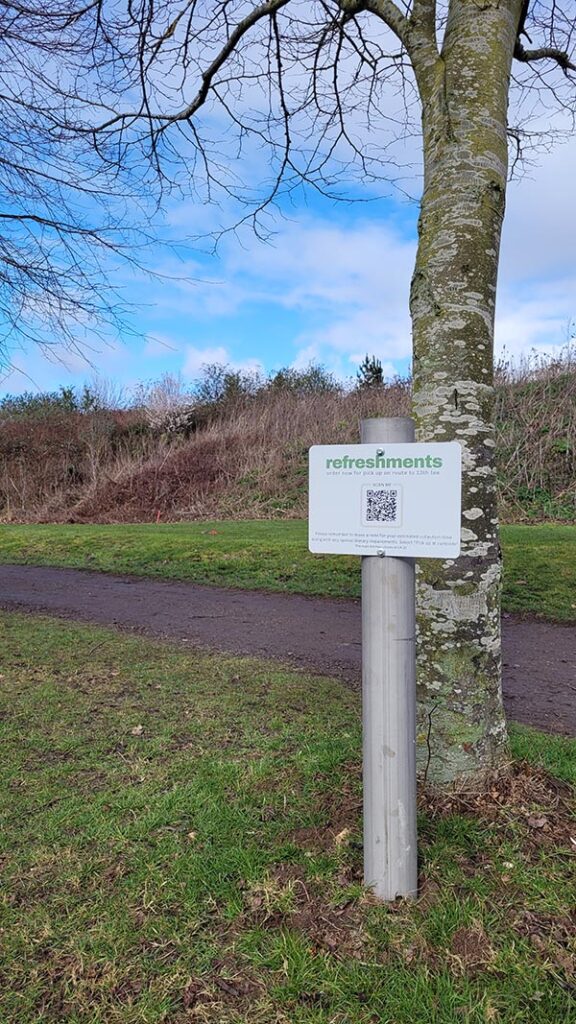 The 12th is a beautiful hole that takes in the Colmworth holiday cottages and The Jetty wedding venue – two other arms of the business that we'll look into in future articles.
I am never sure what it is with water, but my ball always seems to find it, but a soggy end to my round didn't dampen my spirits on what had been a lovely couple of hours with old and new friends.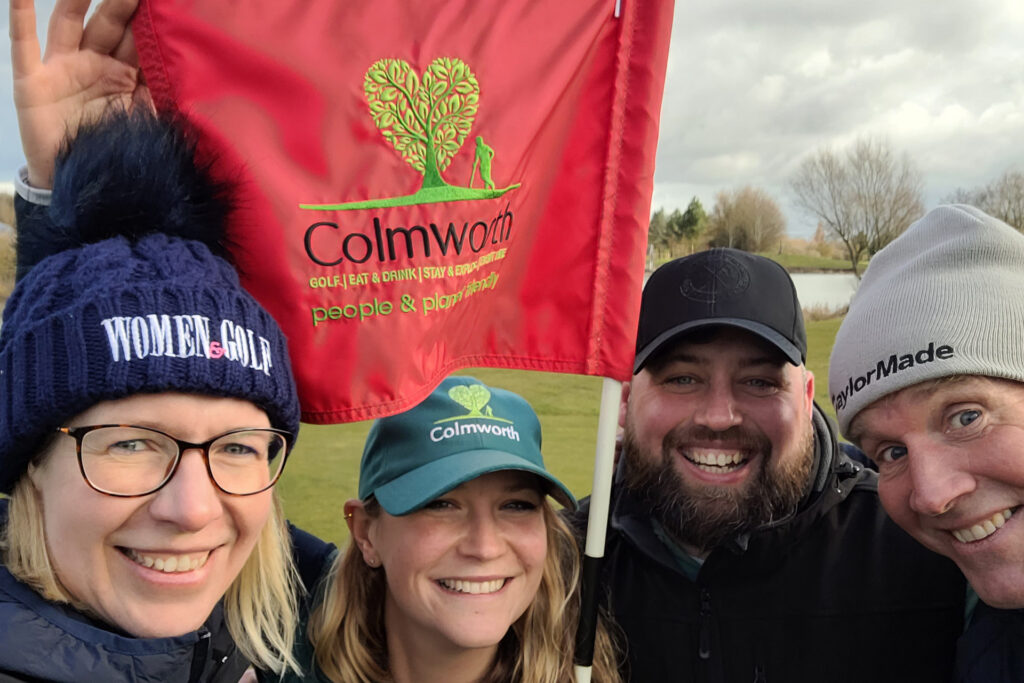 The Coffee Cup at Colmworth Golf Club
Although all I have really talked about is the golf, Colmworth is also a fantastic spot to come to if you're in the area and looking for a catch-up over coffee and cake or maybe a light bite and a glass of wine.
As well as their sustainable credentials, their social media had also made me very hungry! The thing I love next or maybe as much as golf is baking and Colmworth's baked treats always look delicious.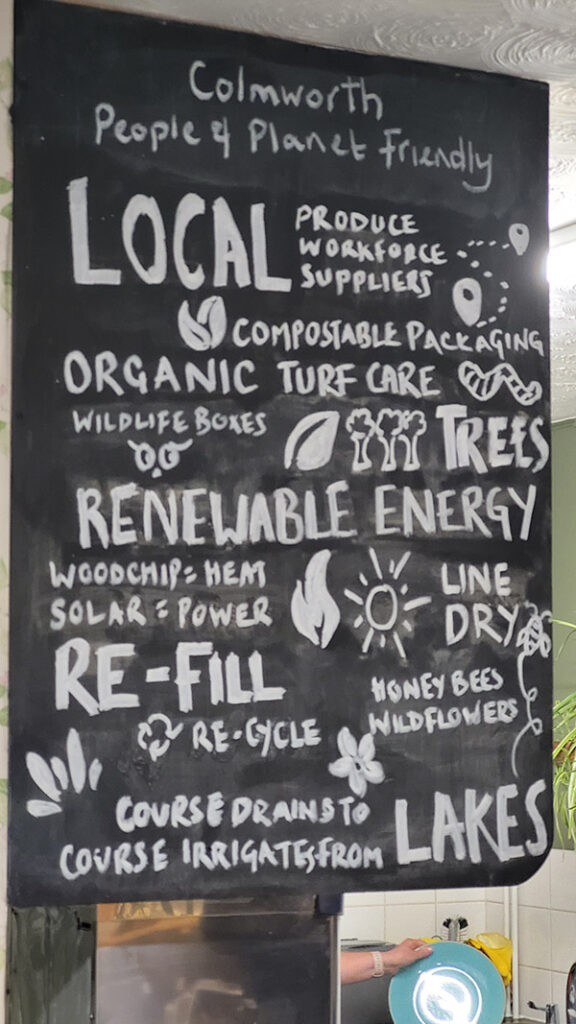 Locally sourced produce is at the heart of the Colmworth menu and as it was St David's Day I chose a special Welsh rarebit for lunch to be followed by carrot cake. I was so pleased that both plus the non-alcoholic ginger beer and coffee lived up to my expectations. Whilst tucking into the rarebit my thoughts on my terrible golf disappeared.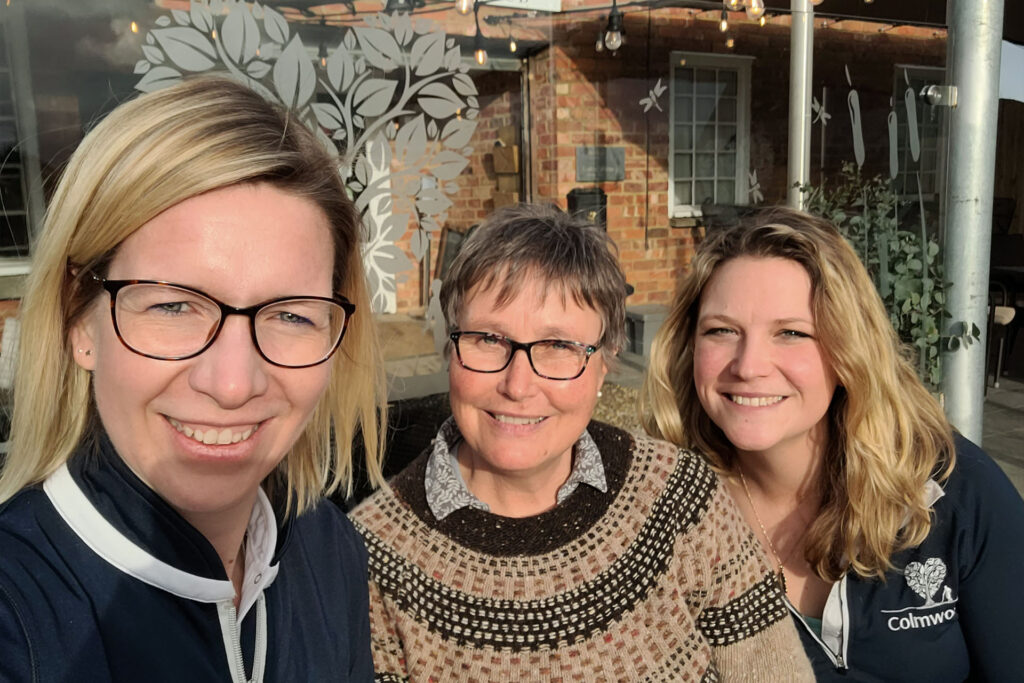 The rest of my day was spent having a look around the club, meeting the dogs who are very much part of the club and getting to interview Tilly and Julie. This Mum and daughter team really are a force to be reckoned with, in a good way, and have a refreshing outlook on how a golf club should be run.
I'll share more in future articles but it is safe to say that this golf club is a one-of-a-kind gem that sets the bar high when it comes to customer services, sustainability and all round golf experience.
This is what I hoped 40 by 40 would be all about, meeting women who are making a difference within the golf industry, playing their part to make golf and golf clubs more welcoming to everyone, (including ponies and cyclists in this case!). I am so excited to see where the rest of this challenge takes me.
Find out more about Colmworth, the golf, cafe holiday cottages and wedding venue by visiting their website.
40 by 40 - Round 2 ✅
So that's it. Round two is done. What a day! I have more to share from Colmworth as there was just so much to take in and talk about. Watch this space.
For round three, I am travelling over to Ireland for Golf Ireland's International Women's Day event where women from across different Irish sports will come together at Druids Glen Resort for a day full of networking and golf - oh and maybe a special appearance from Ireland's one and only Leona Maguire.
More to follow.
40 by 40 is also helping to raise awareness of the fundamental work that is carried out by the Golf Foundation to get more children active in golf across the UK. As well as raising funds for this fantastic charity via our JustGiving page.
40 by 40 Headline sponsor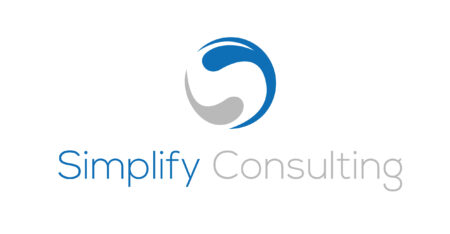 Thanks to Simplify Consulting who are the headline sponsor of 40 by 40. Put simply, they are practitioners in financial consulting. They are experts in Operating Model Design, Project Delivery, Operations & Process Optimisation and Risk Management across Life & Pensions, Wealth Platforms and Asset Management.
40 by 40 supporters