40 by 40 Blog 1. Emma heads to Hertfordshire and The Hertsmere for a Women's Golf Networking Day by Everything in Sport.
Last week on a windy and chilly February morning, I was wondering why I had chosen such a day to kick-start the 40 by 40 challenge. The challenge will see me play 40 courses by my 40th Birthday in December. As someone who is known for being a fairweather golfer, this challenge, at the very least, was getting me out of my comfort zone.
Talking of comfort zones and dragging yourself out of them, it was actually a day for everyone in attendance at the Everything in Sport Women's Golf Networking Day to do just that. I needn't have felt alone. If I am honest, I was probably more worried about my five minute talk during lunch than the golf that day!
Everything in Sport
Everything in Sport brings together executives and decision-makers from sport and business around the world to meet, network and create business relationships over the course of our events. Last year they hosted their inaugural Women In Sport conference in London and plan to do so again this year with the Everything in Sport: Women's Edition in June.
The conference had to move to June due to an FA Cup clash at their host venue Tottenham Hotspur but the organisers decided to stick with the date for the golf networking day.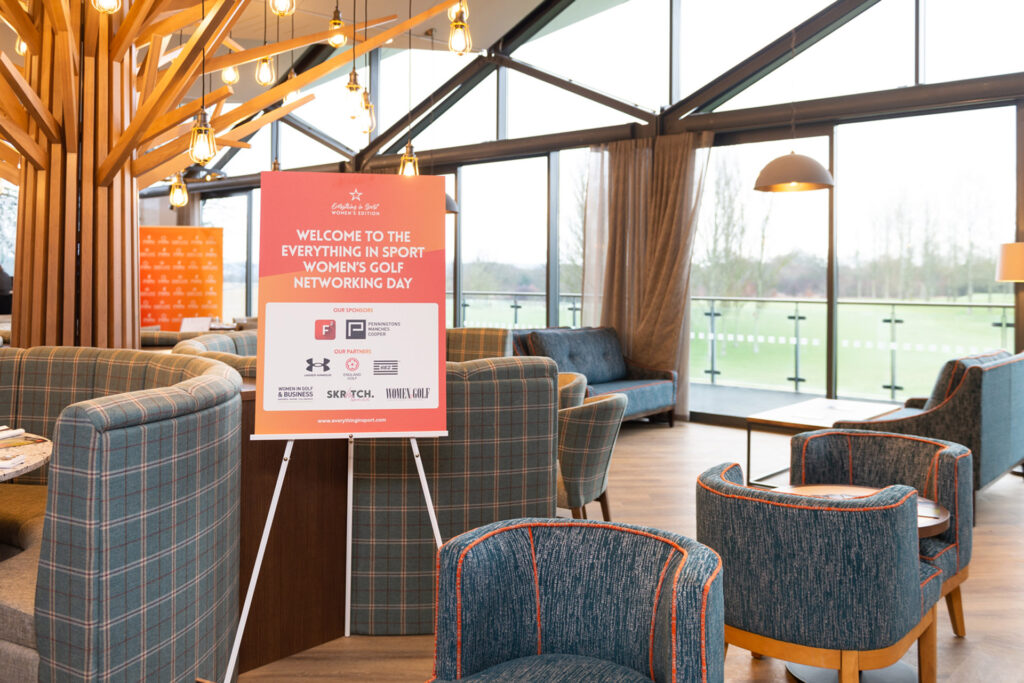 Part of Everything in Sport's mission is that they "want the number of women leading and influencing in sport to grow, and to develop solutions to the cultural barriers which currently exist globally. Sport is one of the most powerful platforms for promoting gender equality and empowering women and girls."
With this in mind and the integral role that golf can play when it comes to networking and growing influence, what better way to help their mission than host a Golf Networking Day.
The Hertsmere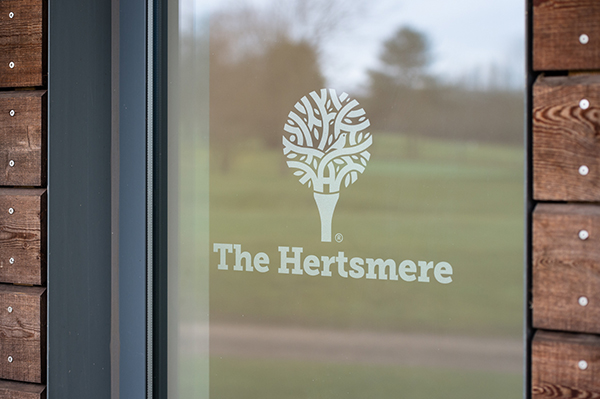 Our venue for the day was The Hertsmere in Elstree, Hertfordshire, formally known as Radlett Golf Club, which opened in 1984 and was redesigned in 1986 by golf course architect Donald Steel. The 18-hole parkland course is a challenging test for all golfers and has many natural features such as streams, ponds and woodland for you to negotiate.
The course is a Par 72 from the back tees measuring 6376 yards and Par 75 from the front tees measuring 5464 yards.
Since new owners came on board in 2021, there have been some big changes at the venue, whose motto is "A fresh approach to golf". No longer a member's club, the pay and play centre now has a 26 bay driving range with Toptracer technology. A state-of-the-art fitting centre and high tech indoor simulator.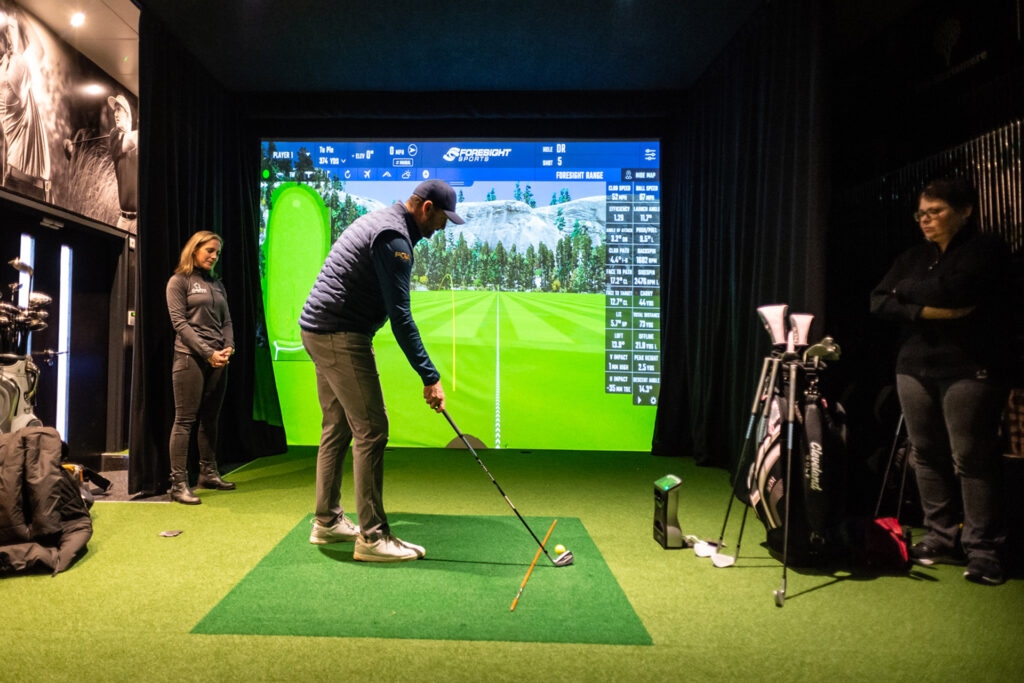 The impressive looking clubhouse has been refurbished inside and we were the first guests to be welcomed into the new modern cafe area which is open to everyone.
If golf isn't your thing, then there are also walking trails around the 180 acre plot. With more plans to come, this really is a golf venue to keep an eye on.
Find out more about what has changed at The Hertsmere here.
Everything in Sport Women's Golf Networking Day Format
The format for the day was pretty simple:
9:00-10:00am – Welcome and networking breakfast
10:00am-12:00pm – Activities – Longest Drive/Closest to the pin/Putting/Lesson in Studio
12:00-1:30pm – Lunch with guest speakers
1:30-3:30pm – Golf on the course
4:00pm – Awards presentation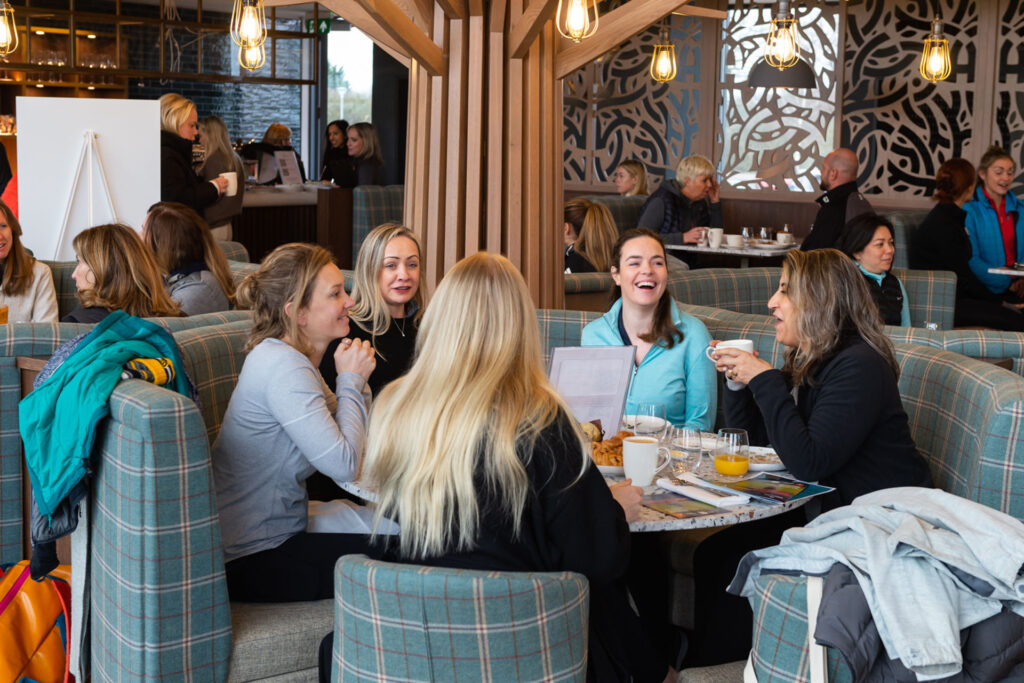 "Today's event is all about building relationships and forging new connections, whether you're a seasoned pro or just starting out. We hope you'll take the opportunity to introduce yourself to someone new and make lasting connections that will help you grow your career or business."
We were split into golfers and non-golfers and then divided into groups. For golfers, like me, we were able to test out our skills and had a little bit of friendly banter with the rest of the group.
PGA Professionals were on hand for all groups, with Director of Coaching and Development Gavin Grenville-Wood supported by Leah Roelich, Molly Moore, Lo Herman, Darren Close, Daniel Edwards and Nic Choulman.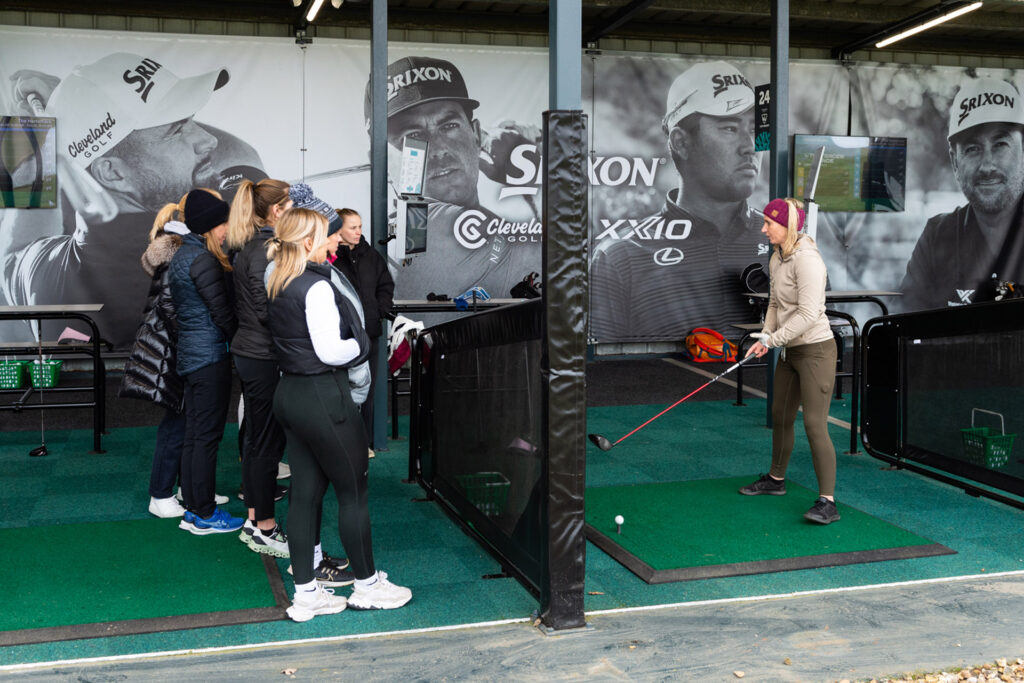 Molly had set up some fun putting drills for us to try and also threw a little bit of competition in to help with some team bonding. Leah gave us some interesting insight into how we can really generate power in our drives. She didn't want any of us to hold back in the Longest Drive competition.
A morning well spent, with lots of tips given and for the non-golfers, the opportunity to find out what golf was all about.
Speakers
We certainly built up an appetite with all our golf skills tests and like breakfast the food was delicious.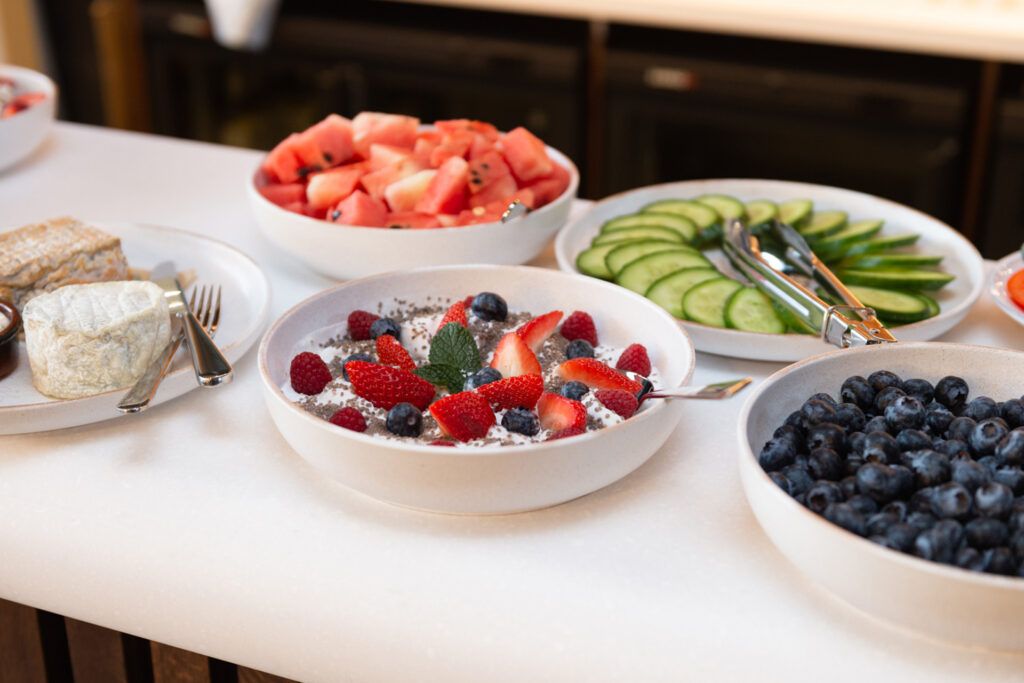 Then came the moment I had been dreading - my talk. Luckily I wasn't the first to go. We started with Lauren Spray, Women and Girls Manager at England Golf, who emphasised the benefits of golf and gave some insight into the number of women now playing. Plus she talked about the Enjoyment Gap campaign just launched by This Girl Can.
Keeping my nerves together, I promoted all things Women & Golf, 40 by 40, iGolf and also touched on The R&A Women in Golf Charter. I explained how passionate I was about the industry and how I am keen to promote the voices of the women working and volunteering in golf. Hopefully an informative segment!
Nicky Lawrenson from Women in Golf & Business focussed specifically on golf as a networking tool and the health benefits to your working life by playing the sport.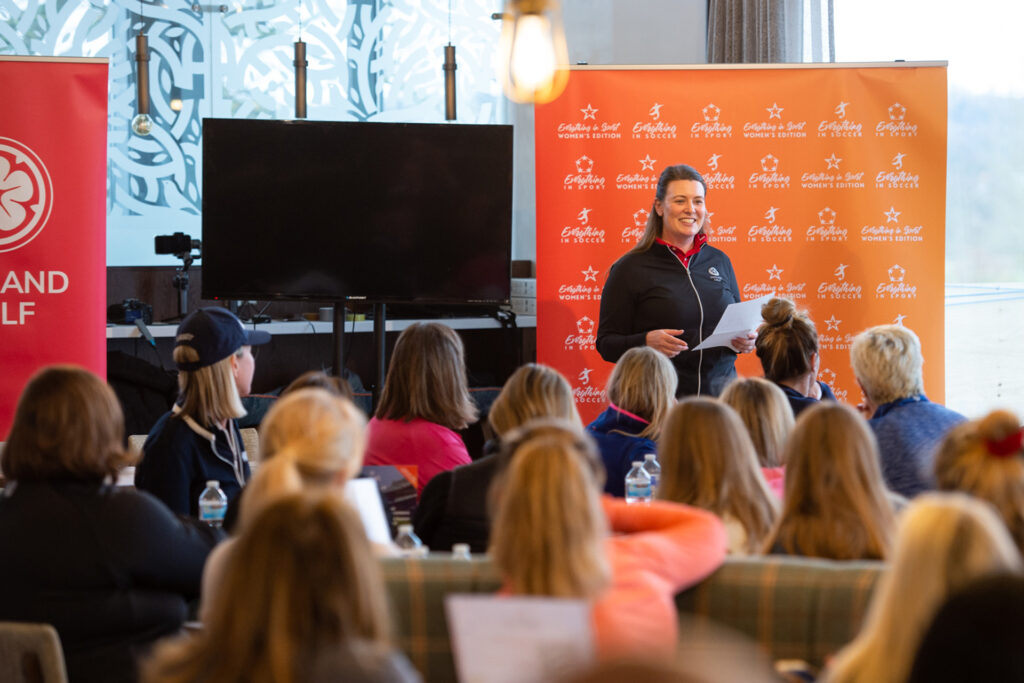 We finished with a Q&A with WBA Bantamweight World Champion, Nina Hughes. A truly inspiring insight into someone who came to a sport later than most. Even more impressive is that she won this World Champion title last year after turning 40, only taking up the sport after having children.
That put my 40 by 40 challenge into perspective! 😂
Golf and networking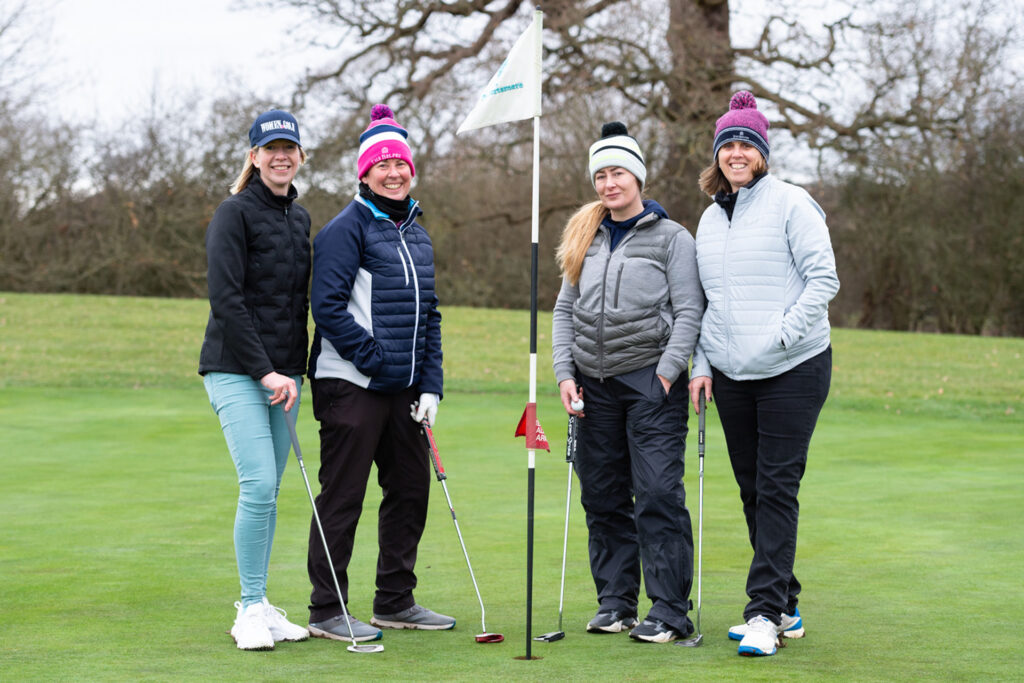 We finished the day by getting out onto the golf course. Golfers played nine holes (the back nine) and those new to golf played a nine hole (front nine) Texas scramble using England Golf's Women on Par. Women on Par uses a variety of fun on course challenges to support beginners to get out onto the golf course.
I had an extremely enjoyable nine holes with Loo, Erin and Yvonne, who were all very gracious about some of my terrible golf shots, as they all hit the ball a mile! It was really interesting to hear how they got into golf and why they had taken the opportunity to attend the Everything in Sport Women's Golf Networking Day.
They had some sound advice for anyone else considering it:
"I've played golf for 30 years and never done a corporate golf day and I'm a single-figure handicapper. It's because I have always felt it's something for men and today's proven it's absolutely not. More women should get out there and do the corporate thing, there are lots of business opportunities, it's 2023." Loo Brackpool, Director, KOAL Consultancy.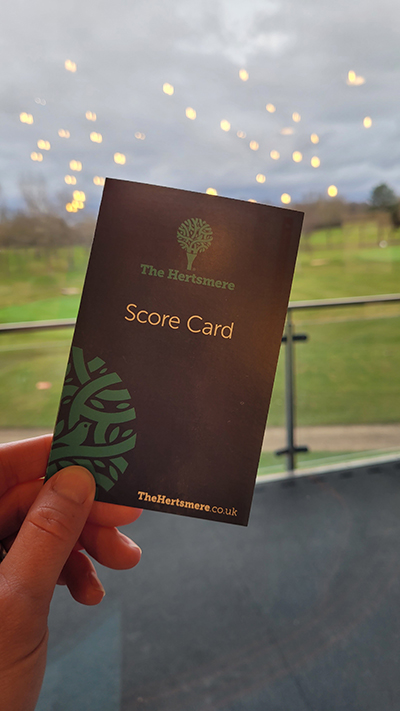 "Get out, get on the course, it's not a bloke's sport. I got into golf because I play with the guys, so it's great to have this opportunity to meet so many other women. I've really enjoyed the golf and the networking opportunities. If your company is doing a golf day, get on the course!" Erin Rose, ER Sports Therapy.
"I put myself out there as I work in a corporate environment where blokes only used to get invited. I got involved in an event with 63 other guys. It's not difficult, go and do it." Yvonne Tamplin, Senior Client Advisor, Marsh Sport.
"Also, don't feel the fear of playing with men. It's normally always a lot of fun."
Why we need more networking events for women
I'm still getting to grips with my new Yonex Ezone GSi-Tech clubs, so my golf was a little up and down. That's my excuse for my bad shots but it was great to play a new course with new people. Something I am really forward to as the year progresses.
The back nine was as challenging as it was set out on paper. There were a few too many water hazards for my liking but the conditions underfoot were great considering how wet and cold it has been,
Since the pandemic, there seem to have been more golf networking events being hosted for women. My hope is that the more women get involved in these events, the more we are able to breakdown the idea that corporate golf is just for men. We deserve our place on the start sheet!
Thank you to Everything in Sport for hosting a fantastic networking day. I'm looking forward to the conference in June.
Find out more about Everything in Sport: Women's Edition conference happening in June here.
40 by 40 - Round 1 ✅
So that's it. Round one is done. I want 40 by 40 to be much more than just about the golf course and the idea that a round of golf has to be 18 holes. The nine holes at The Hertsmere was a perfect opportunity to meet other women in the sports industry and hear about their experiences. Something I wouldn't get from just turning up with no agenda on another Tuesday morning.
For round two, I am off to Bedfordshire to meet the owners of Colmworth Golf Club. Colmworth is run by mother and daughter duo Julie and Tilly. I'll be heading out onto the course with Tilly to find out more about a club that has people and the planet at its heart.
More to follow.
40 by 40 is also helping to raise awareness of the fundamental work that is carried out by the Golf Foundation to get more children active in golf across the UK. As well as raising funds for this fantastic charity via our JustGiving page.
40 by 40 Headline Sponsor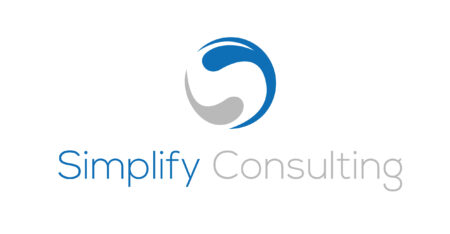 Thanks to Simplify Consulting who are the headline sponsor of 40 by 40. Put simply, they are practitioners in financial consulting. They are experts in Operating Model Design, Project Delivery, Operations & Process Optimisation and Risk Management across Life & Pensions, Wealth Platforms and Asset Management.
40 by 40 supporters