Two firsts - bunkered LIVE coming to England and Women & Golf exhibiting. Here are Editor Emma Ballard's thoughts on the show.
Last week I headed to bunkered LIVE with slight trepidation. It was the first time that Women & Golf had exhibited at a golf show and with no physical magazine anymore, I wondered whether people (women in particular) would be interested to hear what we had to offer. I should say at this point that I am a pessimist!
For Women & Golf we were hoping that regular readers and members could put a face to a name (who is Emma who keeps sending me emails), we could introduce ourselves to women who hadn't heard of us and also explain the benefits of becoming a Women & Golf member.
Like most shows, we had some show offers and incentives and our guess the number of golf balls in our vase proved very popular over the three days. For anyone wondering, there were 138 balls on Friday and Saturday and 139 on Sunday.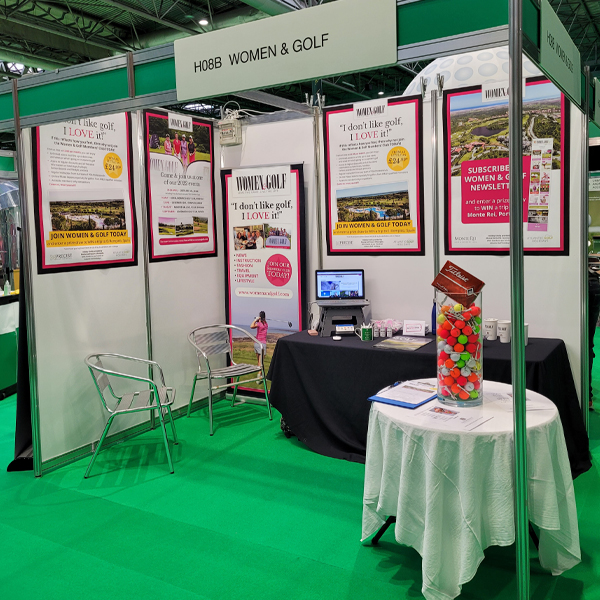 First time exhibiting at a golf show
Our stand was situated right by the PGA coaching bays and we had a birds-eye view of the Wilson pressure putt challenge which both proved very popular. If I had thought I'd have a little time to get some coaching tips from PGA Pro Hannah Crump or even really experience the show for myself, I was wrong.
This is not me complaining, although a pessimist I really wanted to be busy and that we were. We had a steady stream of golfers heading past our stand. Ninety-nine per cent of the men saw the name women and kept on moving, whilst most women would at least enquire what Women & Golf were all about if they didn't already know.
It was great to meet such a variety of golfers, from complete newbies to lady captains. It was our feeling that whereas in previous years a lot of women attending would be non-golfers coming with a partner, this time the majority of women were golfers.
We really appreciated everyone that stopped by to chat, give us feedback and allow us to explain more about what Women & Golf is all about. Overall, we had an extremely positive experience and are so pleased that we took that leap of faith to exhibit at a show.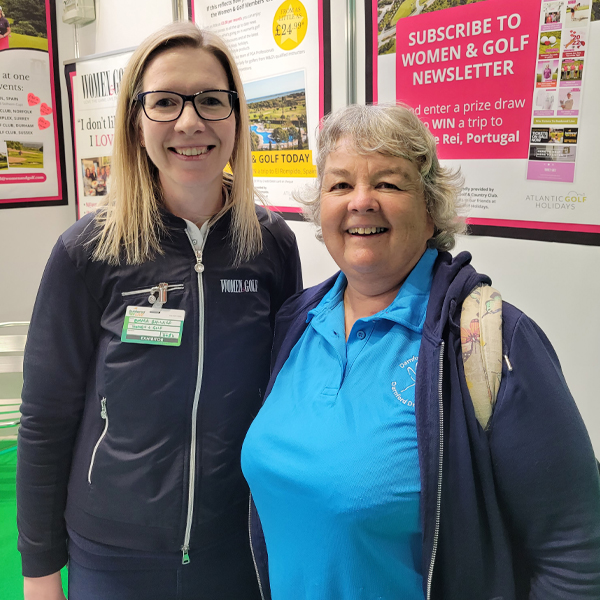 Congratulations to our show winners:
How many balls in the vase - Titleist TruFeel golf ball winners - Jane, Julia, Sheryl & Penny
W&G Membership sign-up - Four night star at El Romido - Jennifer Liggitt
W&G Newsletter competition - Two nights at Monte Rei - Katy Goldingsmith
bunkered LIVE for women golfers
But what was the experience like for women who attended bunkered LIVE? We gained a lot of feedback from attendees at the time and after the event. Here were some of their thoughts:
"I really enjoyed myself, participating in a couple of the putting comps which was fun, however I was really disappointed with the lack of women's clothes at the exhibition. I went fully prepared with credit card but found in the clothes area at the back there was very little ladies clothing." Linda
"As usual the show was predominantly biased towards the men. Swing Out Sisters were the only totally female-oriented stand - and they were doing a roaring trade! Most of the "have a go" stands were queue based. The queuing limited how many things you could have a go at.
"On the plus side, I came away with a couple of definite plans for future golf holidays in previously unthought-of destinations." Sue
"It was a great event for the first bunkered LIVE in England, and it could definitely be expanded in future years. A larger floor space would allow for more ladies and children's activities." Bev
"Everything was really difficult to get near, massively long queues blocking quite a lot. Unfortunately, golf needs quite a lot of space, and that meant that everything else was crammed in to make space for the greens and fairway setups. It could have done with being twice the size with all of the trials and games at one end, to allow more space for stands." Charlie and Em
"The longest drive, as far as I could tell, didn't have a longest drive for women (at least it wasn't advertised, I didn't bother going to ask). None of the fun golf stands seemed to have clubs for women, just mens and a few had juniors." Debbie
"I went to Bunkered Live with my husband and two female golfing friends. We were all disappointed. We didn't buy anything and trust me, that is very unusual! So little ladies clothing and really long queues for the challenges and to test equipment." Sue S
Huge potential to engage female golfers
I completely understand where a lot of women will have seen the lack of clothing and accessory options as a missed opportunity but the queues for equipment and the interactive games were the same for everyone. It showed just how popular the show was – with over 14,000 people attending over the three days.
What bunkered LIVE at the NEC has shown is that there is a real appetite from female golfers to have more variety on offer. Having a women's specific area could be an ideal solution where we can access the latest fashion and equipment and really make women feel part of the whole show experience. So, although there are some negatives, the words 'expanded' and 'twice the size' just show that there is a fantastic opportunity for the organisers at their future events.
If you make women feel welcome, then they will come (and spend money).
bunkered LIVE is coming to the SEC in Glasgow on March 18-20, 2022 - buy tickets here.
Thank you to our partner Lester Brunt Wealth Management who provided the Titleist golf balls for our show giveaway. Also to El Rompido and Monte Rei for their very generous holiday competition prizes.