Jane looks back at our third annual Business Networking event in association with Lester Brunt Wealth Management
Following the success of our Women & Golf Business Networking events in association with Lester Brunt Wealth Management, we were excited to head back to the south coast last week.
In the lead-up to Thursday, the weather had been extremely wet and windy, and the forecast was not good when we arrived at Romsey Golf Club in Hampshire.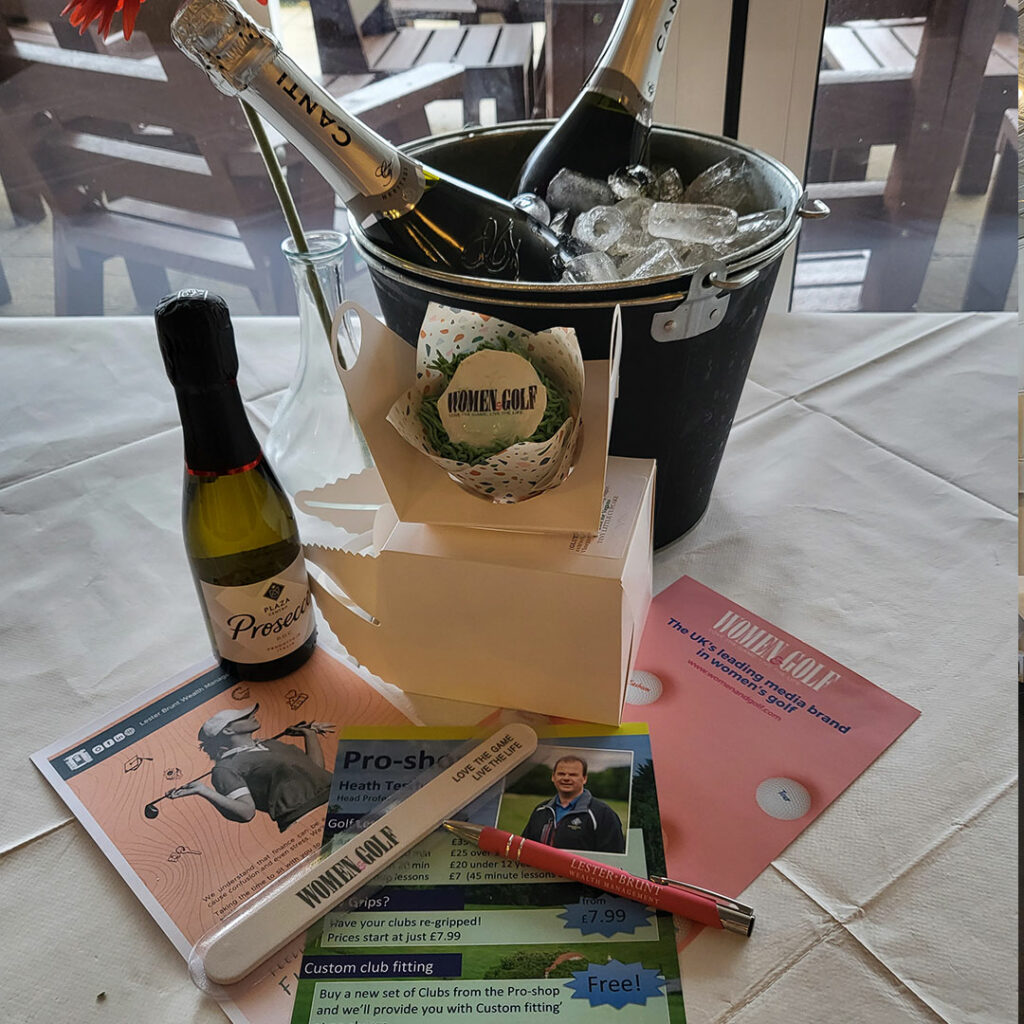 Fortunately, the Business Networking event started with a welcome glass of prosecco and a Women & Golf goody bag.
A light breakfast of fruit and Danish pastries followed which enabled participants to dive straight into getting to know each other.
Then it was the turn of our host for the day, Lester Brunt Wealth Management Managing Director Ed Bell, who set the scene perfectly:
"Golf gives me the opportunity to spend three or four hours with somebody, just getting to know them. Sometimes in business we don't do that, it's all about the sale, it's all about let me tell you what I do rather than let me tell you who I am. Golf is a fantastic way of getting to know people, which will make your business relationship so much better."
He also had high hopes and ambitions for the women, of whom most had not played golf before, to become part of the corporate golf space:
"I've been to loads of golf charity days and corporate golf days, we even run them ourselves at Lester Brunt. Trying to find women participants is really difficult. Trying to find women participants who want to be there, who have a right to be there and who would be adding value if they were there is really difficult. I'd love to be coming to you all in 12 months time saying Lester Brunt are running an event, come and put a team in."
Our headline speakers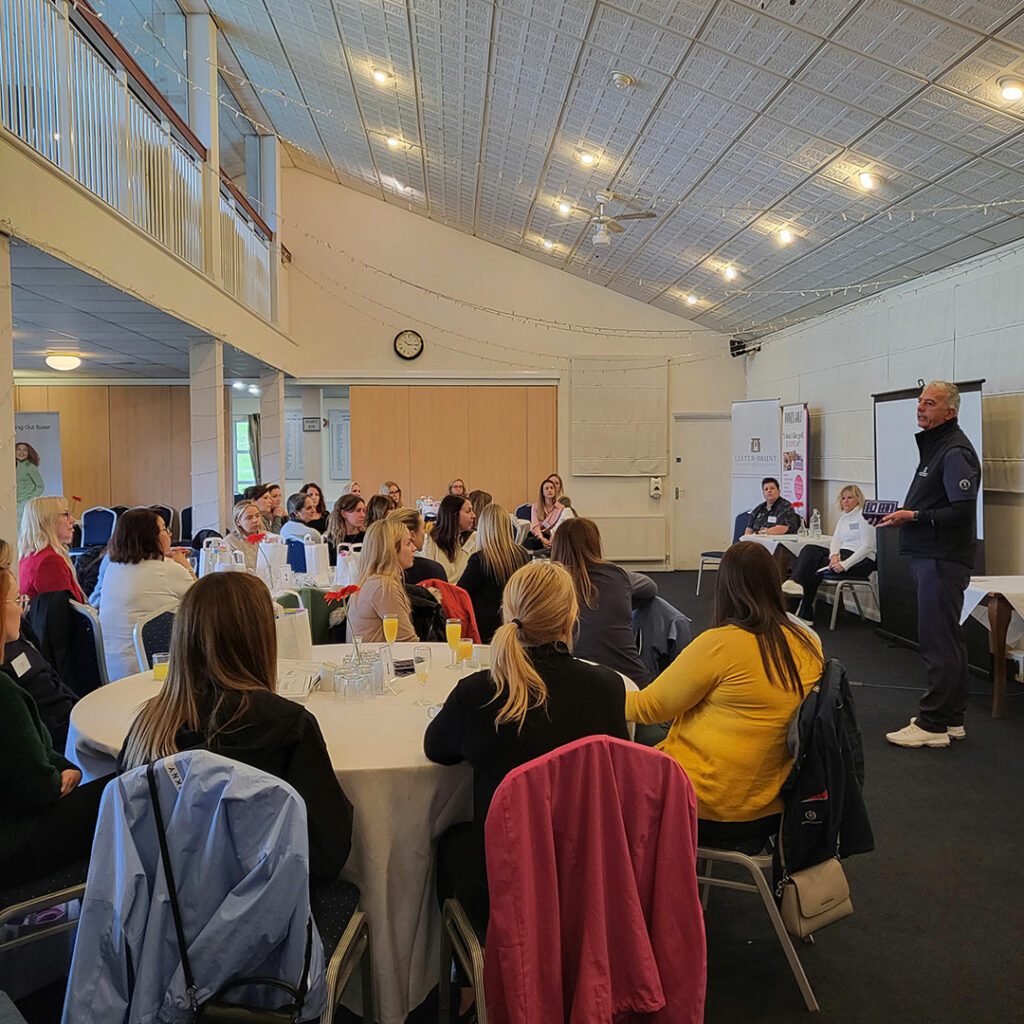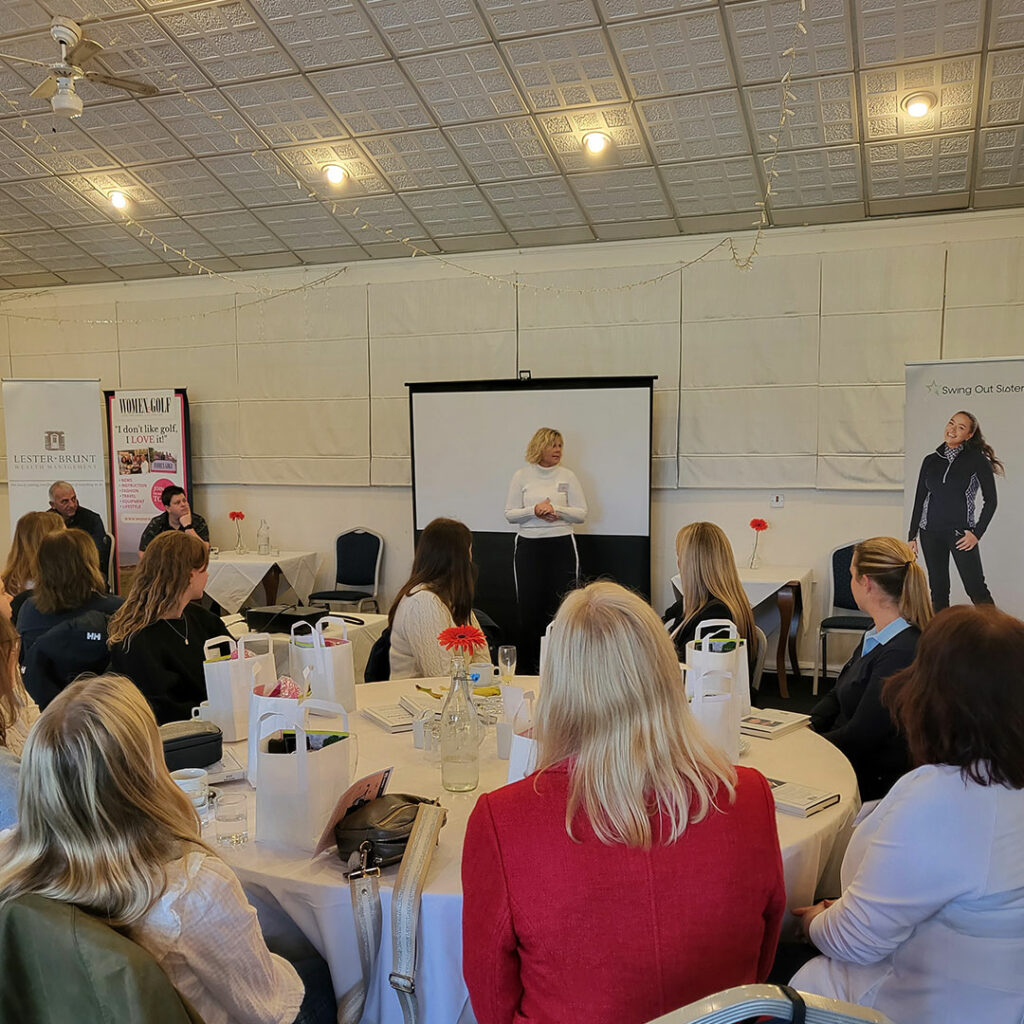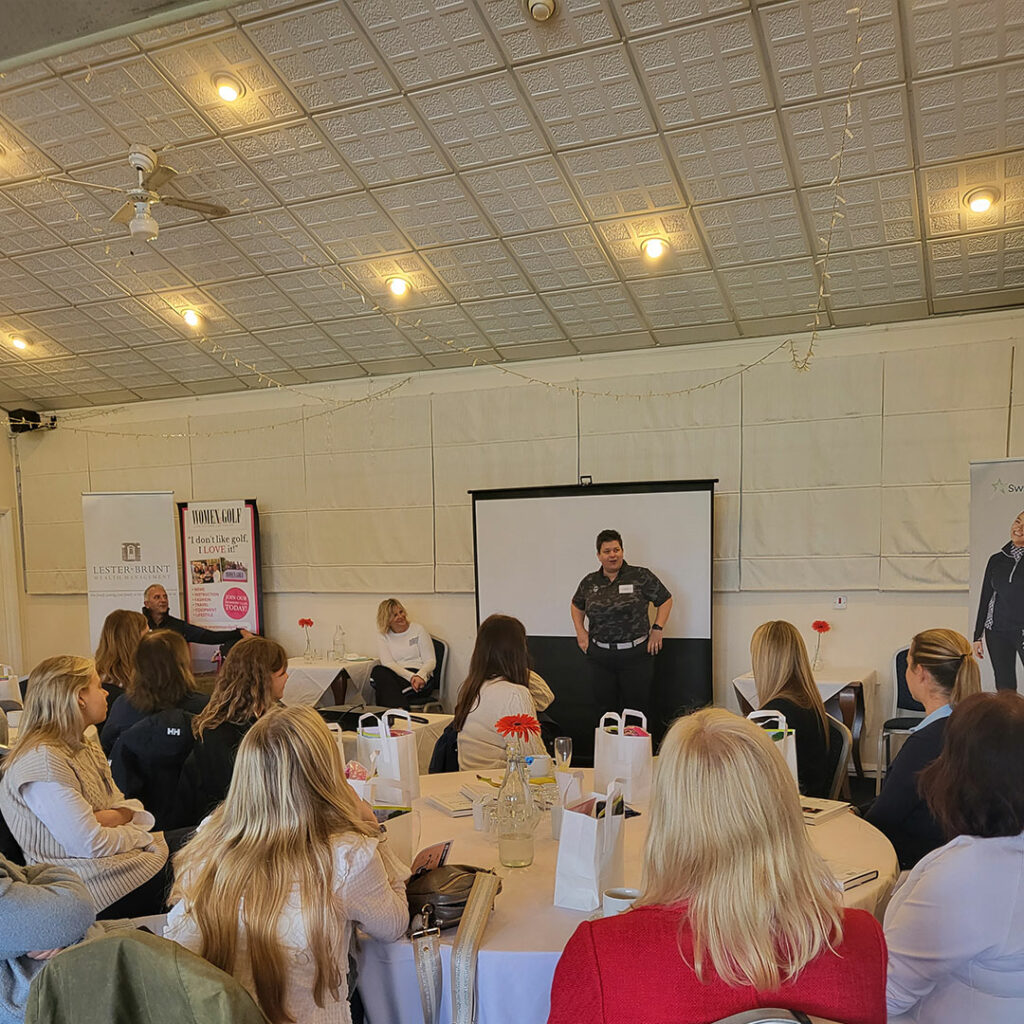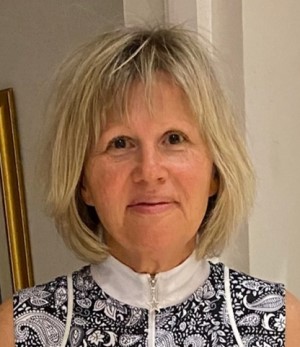 Lucy Dickman, Founder and CEO of Swing Out Sister, a female golf clothing brand, was first to speak. She took us back to when she first started the business as a pop up shop selling a handpicked collection of vibrant, stylish easy to wear ladies golf clothing from a selection of the industries' top brands to any Golf club or Club PGA professional willing to invite us in! They soon recognised there was a real gap in the market for an inexpensive stylish brand that harnessed key technical sports fabrics AND 'high street fashion' and so Swing Out Sister was born in 2016.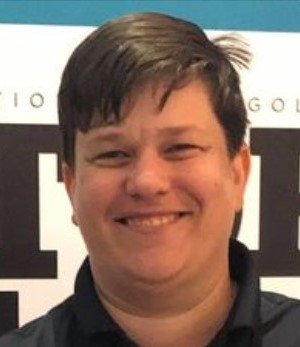 Our second speaker was Emma Tayler, Marketing Executive at TaylorMade Golf, one of the leading golf brands in the world. She recounted how she has been in the game for 29 years both as a player and on the corporate side. Emma recognises that historically golf has been very much a male dominated sport but this is changing and she was delighted to see so many female business professionals taking an active interest in taking up the game.
A Q&A followed which gave participants the opportunity to ask anything. It was good to be able to highlight the different opportunities that there are to take part in the sport (it's not all about 18 holes) as well as explaining that there were now options such as iGolf which can help you play without necessarily having to commit to a golf club membership.
Once everyone had had an opportunity to choose a slice of delicious cake and have a tea or coffee, it was time to get a golf club into everyone's hands. At this point, we would normally head out onto the golf course but the weather was not kind and we stayed safely indoors.
An introduction to golf
Romsey Golf Club's PGA Professionals Heath Teschner and Rob Edwards were on hand to guide the attendees through three basic golf skill activities in the main meeting room. Meanwhile, Emma Tayler took on her second role of the day, to give a putting masterclass in a breakout room.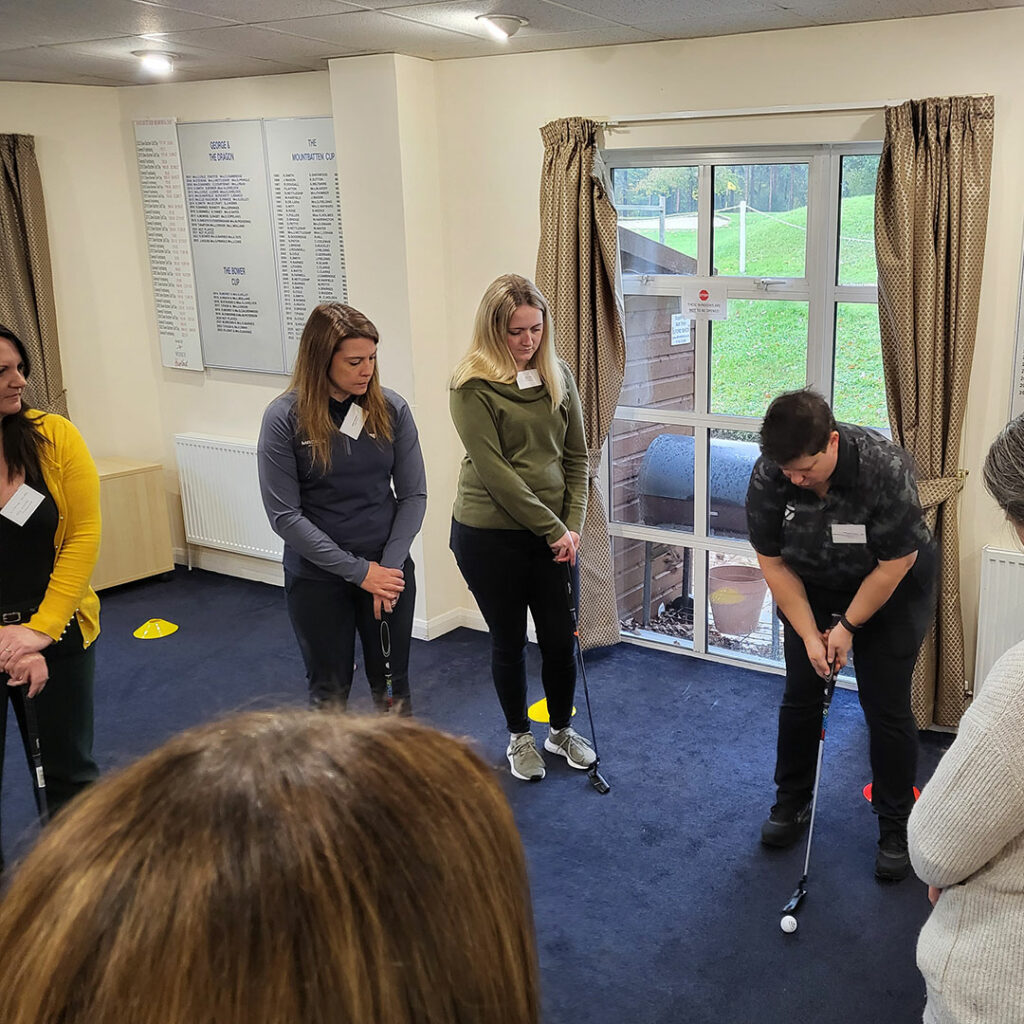 In three groups, they rotated around the areas and were given a full golf taster session over the next hour and a half. The coaches provided a relaxed and informal environment with some easy to remember takeaways. A shame that the weather kept us indoors but all the coaches made excellent use of the restricted facilities and we didn't break any windows!
Thank you to our supporters
A fabulous day had some fabulous supporters:
👏 Second-time attendee Katrina Hales from PJH Estate Planning for the superb bespoke Women & Golf cupcakes. Delicious!
👏 Serial supporter Slingsby Gin we were able to offer everyone a gin and tonic, alcoholic or non-alcoholic, so that a golf de-brief could take place before we ate a late lunch.
👏 Stuart Horne from Sabbot Headwear who set up a lovely pop-up shop for the group for a little retail therapy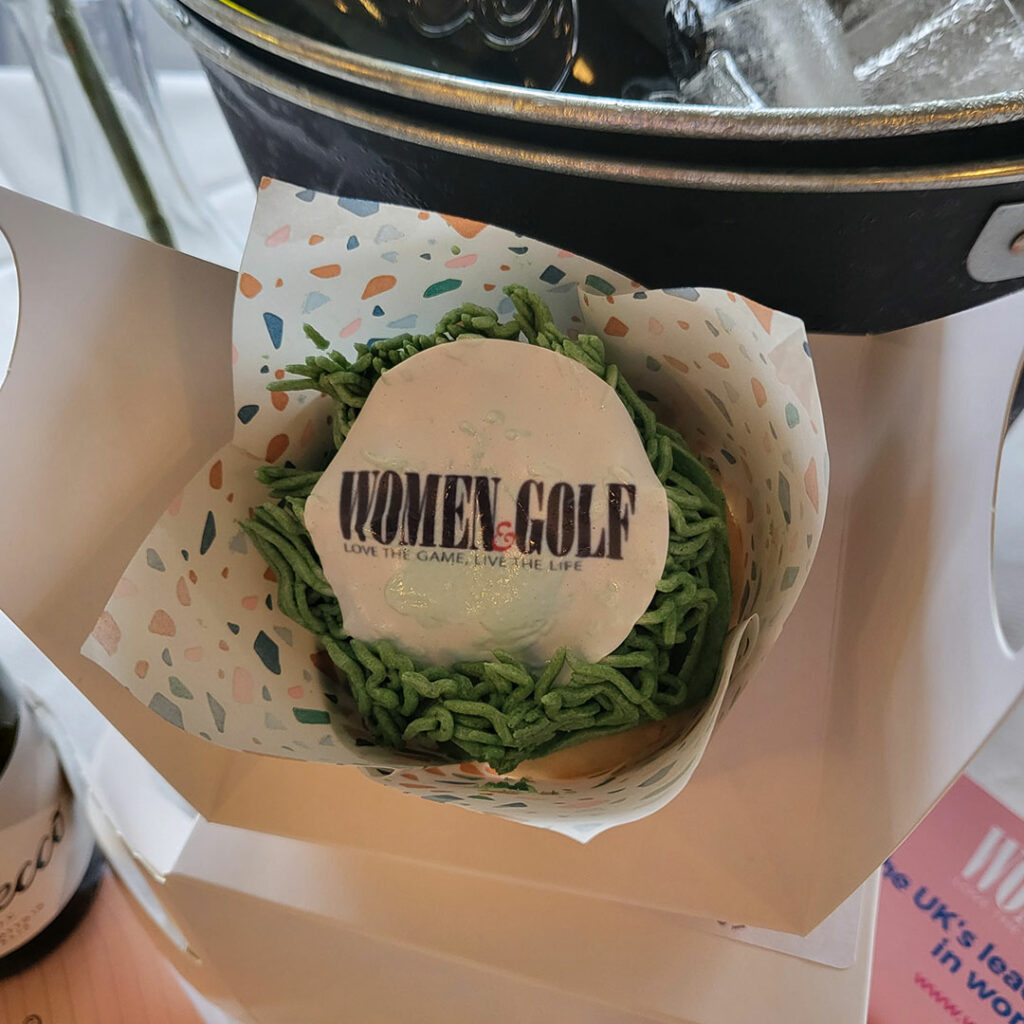 The food throughout the day from the catering team at Romsey Golf Club had been fantastic and lunch definitely did not disappoint with a delicious two-course meal.
It was then time to bring to a close our third Women & Golf Business Networking event in Association with Lester Brunt Wealth Management before another storm blew in.
An inspiring day, not only for our guests but also for the team at Women & Golf. These events have shown us just how important it is to reach more women in the corporate world, so that they can enjoy the many benefits that golf brings to our lives, both professionally and personally.
Here's to next year!
Feedback
Don't just take our word for it, here is some initial feedback from attendees:
"Thank you so much for organising the event on Thursday – it was so nice to meet so many women who are interested in starting golf and to practice some skills regardless of the weather! I look forward to attending next year."

Leah
"Thank you so much Kim and Jane for another really well organised and thoroughly enjoyable event!  Totally inspired again just like last year.  It was lovely to see you both and to meet so many other really interesting women."

Liv
With thanks to our Partners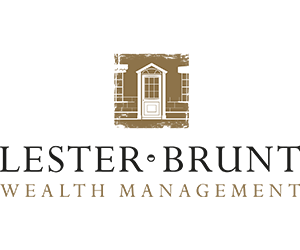 Lester Brunt Wealth Management are Appointed Representatives of St. James's Place.