Golfing this Summer? Why not create some beautiful golfing memories...
With the golf season in full flow, summer here in the UK and the AIG Women's Open just about to start, our thoughts turn to golf trips. Normally, this will include a trip to the airport, a flight and guaranteed warmer weather. But the lockdowns of the last couple of years have made us consider more local trips.
A recent conversation with David Thornton, ambassador for Golf in Society, has made us think about accommodation of the non-bricks and mortar kind.
A motorhome?
Golf and Motorhome travel go together like a good gin and tonic. It's no surprise this perfect combination is growing in popularity.
The UK offers a wonderful variety of holidays for keen golfers and travelling by motorhome is a fantastic and stress-free way to travel between courses.
With the freedom of a motorhome, you can move location at any time.
Modern motorhomes are luxurious and super comfortable. You can take a break for a rest whenever you want. Perhaps most importantly there's plenty of room for all your clubs and to bring some friends along for the ride.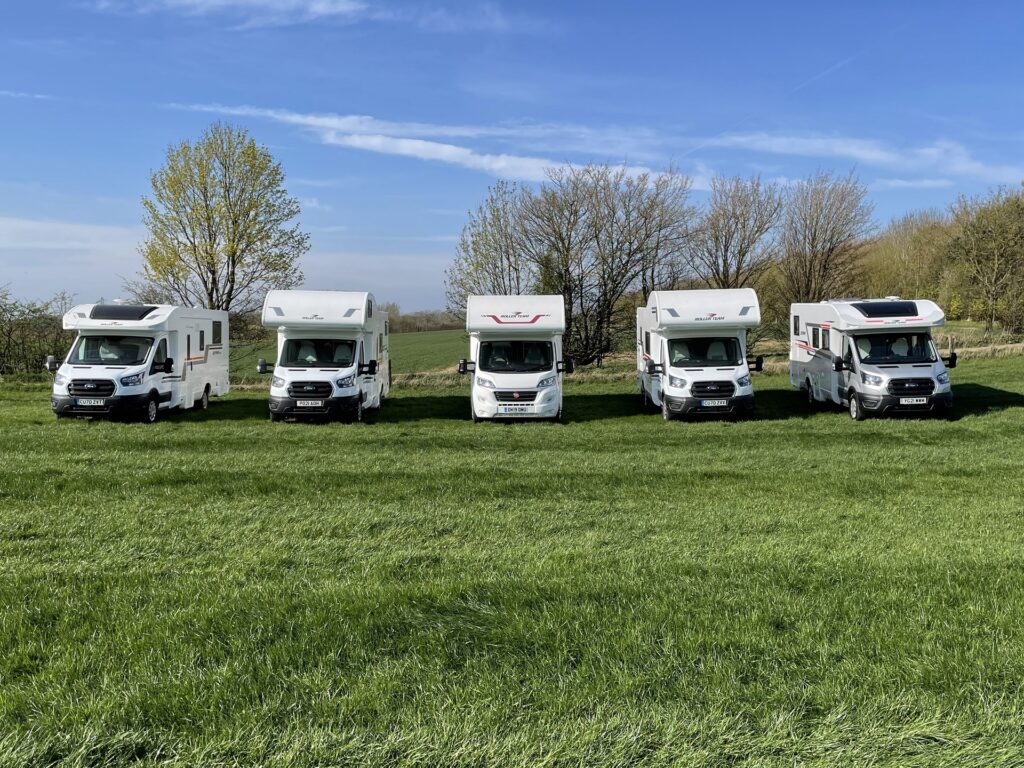 Together with Niche Motorhomes we have created possibly the world's first 'FEMALE-FRIENDLY' golfing/motorhome road trip. Here was our brief:
The trip was to start in Yorkshire and finish at the AIG Women's Open at Muirfield
It should take around three weeks
All the golf courses featured in the itinerary had to be signed up to the "Women in Golf" charter from the R&A
All are under £50 to play in midweek
They had to recommend some motorhome parking sites near the golf courses
The Tour
The First Leg - Yorkshire
Yorkshire is a big county with many highly rated golf courses. It boasts three courses that have held Ryder Cups. So, where do we start? A difficult task but we've gone for Leeds which is surrounded by some of the oldest and finest golf courses in the UK.
The only dilemma is choosing which course to play. However, we have a maximum green fee of £50, so we are seeking courses that offer a friendly, inclusive, and quality golf experience for a sensible price
Where does the road trip take you?
Where would you play?
Seven courses for a quality golf experience:
HORSFORTH GOLF CLUB
SKIPTON GOLF CLUB
HARROGATE GOLF CLUB
RUDDING PARK GOLF CLUB
MALTON & NORTON GOLF CLUB
SCARBOROUGH SOUTH CLIFFS GOLF CLUB
WHITBY GOLF CLUB
The Second Leg - Northumberland
England's most northerly county is full of surprises, including golf courses. Known for its beautiful countryside, superb 64-mile coastline and historic castles such as Alnwick (where Harry Potter was filmed) it also has some stunning golf courses which rarely get very busy.
We have selected what we think is a nice variety of different courses both inland and links courses. There are two courses which don't yet have the "Women in Golf" charter mark. However, we know from experience they are very welcoming to visitors and they are both "coastal classics" with some beautiful views and interesting holes.
Where does the road trip take you?
Where would you play?
BELLINGHAM GOLF CLUB
WOOLER GOLF CLUB
ALNMOUTH GOLF CLUB (FOXTON HALL)
BAMBURGH CASTLE GOLF CLUB
DUNSTANBURGH CASTLE GOLF CLUB
GOSWICK GOLF CLUB
The Third Leg - East Lothian
What a place to finish our motorhome tour- East Lothian ticks many boxes for golfers. With 21 links and parkland courses within 30 miles of stunning coastline, it encompasses world-famous bucket list venues like Muirfield and Gullane.
Edinburgh city is within 50 minutes of the furthest golf course and in the summer daylight runs from 4.30am until 10pm. Known as Scotland's "Food & Drink County", there is a warm welcome and great hostelries.
Are there any downsides? If we are sticking to our "brief" then we would have to be honest and say that not only are some of the courses stunning but the green fees are "eye-wateringly" stunning too and beyond the reach of some people. For example, North Berwick GC is £200 per round this summer and is fully booked until the end of October.
However, at "Women & Golf" we have done the hard yards and found five great courses with green fees under £50 week days. Two have signed up to the Women in Golf charter.
We've also selected two excellent motorhome sites not far from our selected golf courses. So, although East Lothian has become something of a golfing tourist mecca resulting in high demand and equally high green fees, there are still courses to be found off the beaten track that won't break the bank and are welcoming and inclusive.
Glen Golf Club at £55 twilight rate is just above our maximum green fee but we think it is worth it - the views are spectacular. Haddington GC is also £55 but also worth the extra five pounds.
What's your route?
Where would you play?
THE GLEN GOLF CLUB
GULLANE GOLF CLUB NO.3
HADDINGTON GOLF CLUB
GIFFORD GOLF CLUB
WINTERFIELD GOLF CLUB
The benefits of a motorhome
Why a motorhome is a great idea for a golf trip...
Freedom to wander around as many golf courses as you can find.
No accommodation required as there are many caravan parks and campsites near golf courses throughout the UK.
Modern motorhomes have all mod cons so you can take your home with you as you explore fantastic golf courses.
Cost-efficient - although petrol costs have increased it's still cheaper than staying at a golf resort.
Plenty of storage for golf clothes and equipment plus room for drying clothes.
What do you get with a Niche Motorhome:
And much more... click here for the definitive list and optional extras!
"As an independent business based in Leicestershire we're always keen to support local organisations and are proud to support our local golf club, Charnwood Forest, with their "Women into Golf" programme. We regularly get golfers hire our motorhomes and they love the freedom and luxury of our vehicles. We know that David Thornton and Women & Golf have put a lot of joint effort into creating a great itinerary and hope it will encourage lots of Women & Golf readers to experience the adventure of a golfing road trip.

We're honoured to be chosen by Women & Golf as a preferred partner and delighted to offer a discount on our normal hire price exclusively for Women & Golf readers."

Matthew Neash, Managing Director of Niche Motorhomes
Have you made a golf trip in a motorhome? We'd love to hear your stories! Email Emma.
If you haven't then now is your chance. Our friends at Niche Motorhomes are offering W&G readers a 7.5% discount* on their motorhome hire. Call 01509 426442 or email [email protected] quoting WIG2022.
* Valid on all bookings from 29 July 2022 - 30 June 2023 for travel by the end of 2023 using CODE WIG2022
For more details on Niche Motorhomes, visit their website.