The record-breaking Korean discusses her country's love for golf, why rankings aren't everything and how she's been making the most of lockdown.
For most of us, scoring a couple of bogeys is just an accepted part of any round of golf (at least it's not a double or a triple bogey, right?).
But for Jin-Young Ko, her last bogey is a distant memory. Or to be exact, 114 holes ago.
Holding the record for the longest bogey-free streak in professional golf, it's no surprise that she's been the world's top ranked female golfer ever since April 2019 (if you don't count a brief drop down to second place in June last year).
Given the notorious fluidity of the Rolex Rankings this is a super impressive achievement, even with the recent break in professional golf.
I caught up the 24-year-old just days after the 2020 edition of the Evian Championship was cancelled.
As one of the two Majors the star won last year (the other was the 2019 ANA Inspiration), I assumed the news would come as a bit of blow to her.
However, she seemed positive and up beat about the situation.
"I'm just trying my best to make the most of the extra time I've been given," she said.
"As some of the major tournaments have been cancelled it means I have more time to focus on my performance and get in lots of practice."
Her scoring average of 69.062 is the second lowest of any LPGA player ever, with only golfing legend Annika Sorenstam beating her.
In fact, Korea is something of a hotspot for female golfers and nothing illustrates this more perfectly than the fact that out of the top 20 players on the Women's World Golf Rankings, eight are Korean.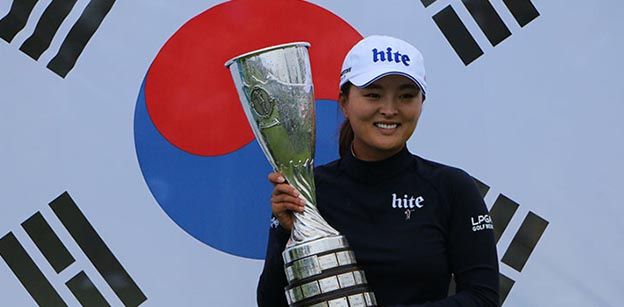 When I ask her why she thinks South Korea have got their relationship with ladies' golf down to a tee (sorry, not sorry) she said it starts with their upbringing.
"In Korea, young golfers tend to grow up in a competitive environment and they learn the importance of winning and being number one from an early age," she said.
"So, all of the players try their very best in everything they do - I'd say our competitive spirit might be something that players from other parts of the world can learn from."
She certainly has a career that any golfer, male or female, would be jealous of.
Her 18 professional wins include 10 on the KLPGA (South Korea's professional ladies tour), six on the LPGA and one on the LET.
Last year she also became the first Korean to win the LPGA's Player of the Year Award.
To put it simply, she's utterly unstoppable.
For her, the days of feeling nervous in big tournaments are long behind her.
"Thankfully, I don't really get nervous," she said.
"I tend not to be intimidated by other players either, I try to keep my mental state in a good place so it doesn't affect my performance."
She described her two Major wins as 'surreal' moments but admits that she knew she had it in her.
Meanwhile, her World Number 1 title is also something she doesn't take for granted.
"Ranking is obviously important but it has a different meaning to me because it can change all the time. It's not all that matters so I put all of my efforts into improving my performance," she said.
With the LPGA just confirmed as resuming on July 31 with the new Drive On Championship at Inverness Club, Ohio, she doesn't have long to wait before she can put her formidable skills into action again.
Earlier this year she signed a sponsorship deal with LG SIGNATURE and became a proud ambassador of the brand.
"Anywhere you go, LG is recognised as one of the best and renowned companies in the world," she said.
"It's such an honor to be able to represent LG SIGNATURE and just as they are the best at what they do, I also strive to be the best player I can be."
It's certainly hard to imagine anyone knocking her off the top spot anytime soon.
We can't wait to see what she does next.
About LG SIGNATURE
LG SIGNATURE is the first ultra-premium brand across multiple product categories from global innovator LG Electronics. Catering to the most discerning consumers, LG SIGNATURE is designed to provide a state-of-the-art living experience that feels pure, sophisticated and luxurious. Combining the very best of everything LG has to offer, the distinctive LG SIGNATURE products were designed with their true essence in mind – streamlined to focus on each product's essential function while maintaining the LG SIGNATURE's modern, signature design.
For more information visit www.LGSIGNATURE.com.