We investigate why you should wear a sports bra when you play golf and dig deeper into why we're all pathetically uneducated about women's bodies and sport.
I joined a fantastic webinar recently by Well HQ, called "How to train like a woman".
They identified four key gaps in women's sport: the knowledge gap, data gap, communication gap and knowing-doing gap.
Basically …
None of us – male or female – are educated enough about women's bodies in sports.
There's very little research carried out exclusively on women in sport (only 6% to be precise).
We're all scared to talk about women's bodies (periods, boobs and hormones).
We're generally not equipped to turn the knowledge we do have into practice.
Sigh.
But women aren't unique or niche. We literally make up half of the population.
And that's why at Women & Golf, we're advocating for change. To talk about taboo subjects and to educate women about their bodies. Because we believe that by doing that, we empower women to play – and stay – in sports and golf.
No more taboo topics
I wrote a while ago about how to harness the power of your periods. And this week, I've turned to boobs.
Could your boobs be getting in the way (quite literally) of you playing your best golf?
They could be.
When you swing the club back, your front arm should sit straight across your chest.
If you're blessed with a big chest, this won't be possible. And to compensate, you'll either lift your body instead of turning, or bend your arm around your boobs.
So, what can you do about it? You have two options:
Change your set up to give your arms more room to swing
Wear a sports bra
Wearing a sports bra for golf
Like I've said, if you're bigger chested, wearing a sports bra is a sure-fire to way to optimise your back swing and help you keep your front arm straight across your chest.
But sports bras are important even if you don't have big boobs.
In fact, they could be the most overlooked bit of kit you have.
In the Well HQ webinar, they told us that if two women – cloned and identical – ran a marathon, the one with a good fitting sports bra would finish two miles ahead.
That's because however we move, our bodies have to compensate in some way for the breast tissue movement; we use different muscles, tire more quickly and generally put a greater strain on our bodies.
And that applies if you're running a marathon or walking and swinging your way around the golf course. Whatever size your boobs are.
So, contrary to popular belief, wearing a sports bra when you play golf isn't just about comfort or getting your boobs out of the way of your arms.
It's also about performance, safety and your ability to give 100%.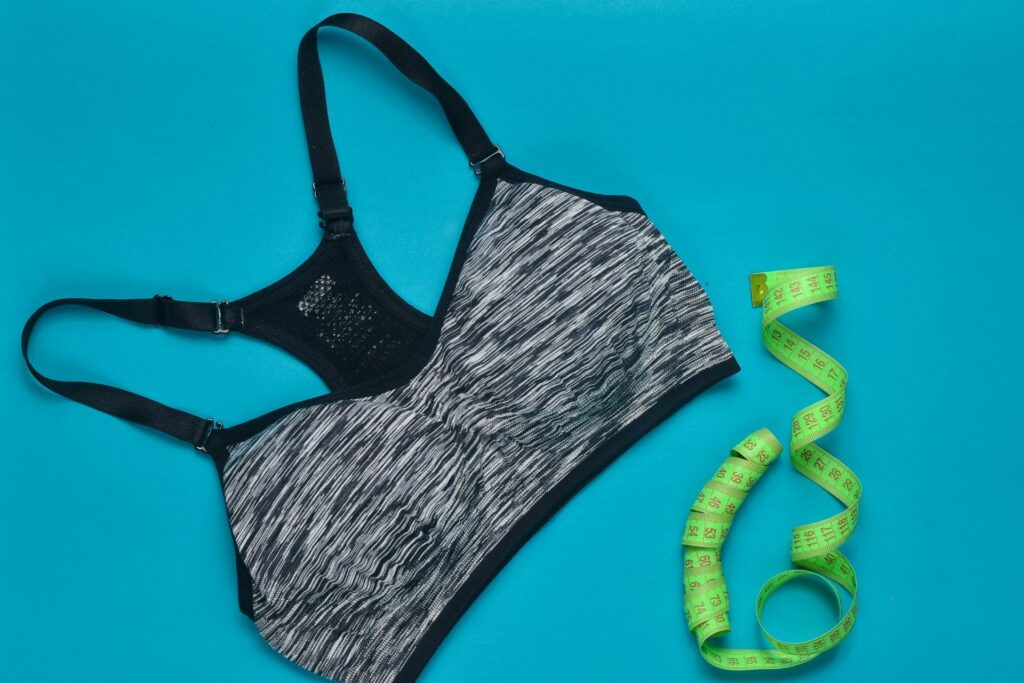 How to choose a sports bra for golf
The best sports bras for golf are ones with racerback or convertible style straps to help your arms swing freely.
And there's nothing more annoying than feeling your bra strap slip down your shoulder, awkwardly grappling under your top to get it back. So, these bras eliminate that too.
You also want to make sure you get the right fit and the right level of support.
Choose a bra that fits your cup size. This might involve a bit of trial and error as a lot of sports bras come in small, medium or large. Some brands do offer cup sizes, so if you can, these are the ones to go for.
Then pick your impact: high, medium or low. High impact sports bras are great for running, whilst low impact bras are ideal for things like yoga. So my advice is to find one in the middle; something that keeps your boobs from moving about too much when you swing but doesn't completely squash them down really tight. Remember you're on the golf course for a long time. Too much compression gets uncomfortable after a while.
We want to hear about your boobs!
Want to learn about women's health and golf? You should read our recent article, How to harness the power of your periods.