On Monday, 17 influencers took to the Walton Heath fairways with PGA Professionals Jo Taylor and Hannah Crump as part of a love.golf taster experience
There is no doubt that influencers are able to shape people's actions and buying habits with over 50 per cent of consumers taking action after viewing influencer activity. With this in mind, love.golf - a golf coaching programme specifically designed for women - decided to bring a group of micro-influencers together, with the aim of finding out how they felt about the experience and in turn showcase golf to their audiences.
The 17 new golfers headed to Walton Heath Golf Club on Monday July 26 to meet with love.golf coaches Jo Taylor and Hannah Crump. Sharing their experiences with over 300,000 followers, they embarked on their first golf lesson. We caught up with three of the influencers, Elspeth Van Der Hole (@elspethfit), Megan Montague (@delightsofmylife) and Hayley Mullins (@my_beautiful_ordinary) to see how the day went.
Have you ever played golf before?
Elspeth: I have been down to the driving range a handful of times, and your classic crazy golf/junkyard golf, but never on a course!
Megan: Aside from a couple of mini-golf sessions I was a complete beginner.
Hayley: I have only ever had a go at crazy golf which involved the odd plastic dinosaur roaring at me while I take a shot while making sure my 4-year-old doesn't fall in ponds. I have also gone to a driving range probably twice before with my husband.
If no, why not – what held you back?
Elspeth: The lack of friends or other women who do it, so it's hard to find the accessibility and also fear of knowing where to start, financial limitations as well as social anxiety - golf clubs don't often seem like they would be welcome to a 5ft 2 bouncy tattooed gal.
Megan: I definitely had preconceived ideas about what the environment would be like and the perception of exclusivity, being male-dominated and a particular dress code definitely stopped me playing before.
Hayley: I've never had the courage to try a real round of golf on a golf course before. I just assumed I would try to hit and the ball and it going in completely the wrong direction, I've heard that people would be behind you waiting impatiently for their turn which I would have felt really intimidated by.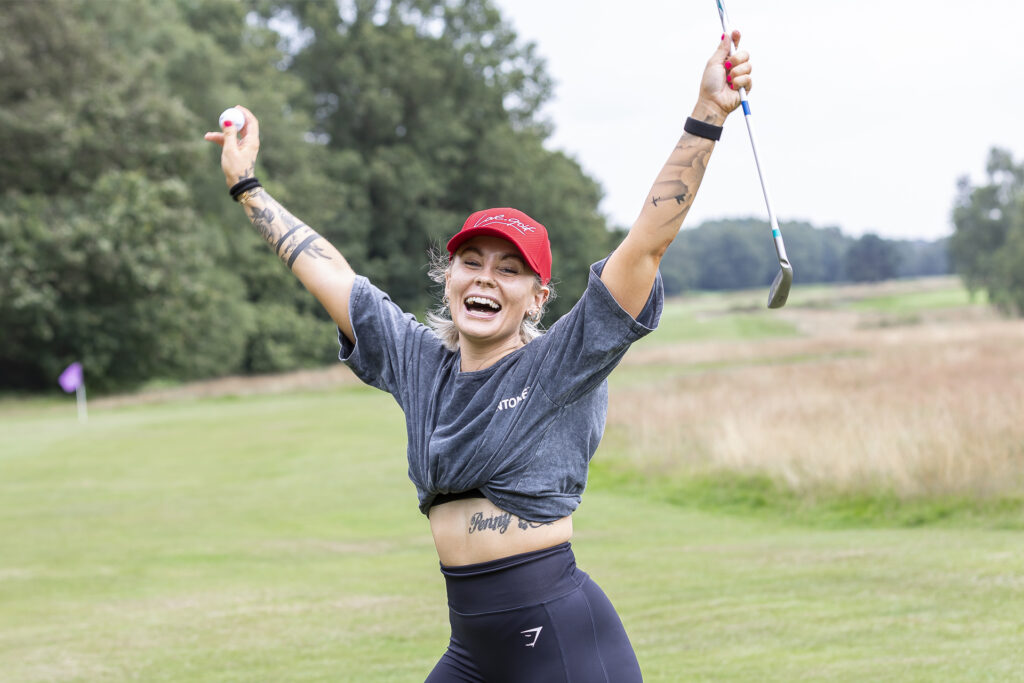 What were your thoughts about golf before the taster session?
Elspeth: I've always been curious, I enjoy sports that focus heavily on the technical side and are a little slower (and also don't involve running) I didn't have any major opinion of golf, either way, it's just something I'd never considered I could do other than a driving range!
Hayley: I had this presumption that golf has always been a "men's space" where women had to jump through hoops to be allowed to be included to play this sport. I thought it would be quite stressful to "get the shot right" every time.
How was the day with love.golf?
Elspeth: Welcoming, empathetic, accessible, clear and concise with an overall joy to the day. There were no egos, everyone was made to feel part of the event and the pace of the day was also very well timed, not too much standing around if any! Which is great for a busy brain like mine that can wander off and get sidetracked, I like to get stuck into things straight away and that's exactly what we did!
Megan: The whole day was so well thought out, it comes across how well considered the entire concept is. We got straight to it in terms of learning, and refined technique along the way. Learning by doing is definitely the best way to learn. The coaches were brilliant, I was able to see improvement in a very small space of time.
Hayley: I absolutely thoroughly enjoyed myself with love.golf paving a very welcoming path. I loved diving straight into an open course and not being analysed in a small cubicle of a driving range. It was just such a positive and happy space for me to experience my first time being involved in this sport.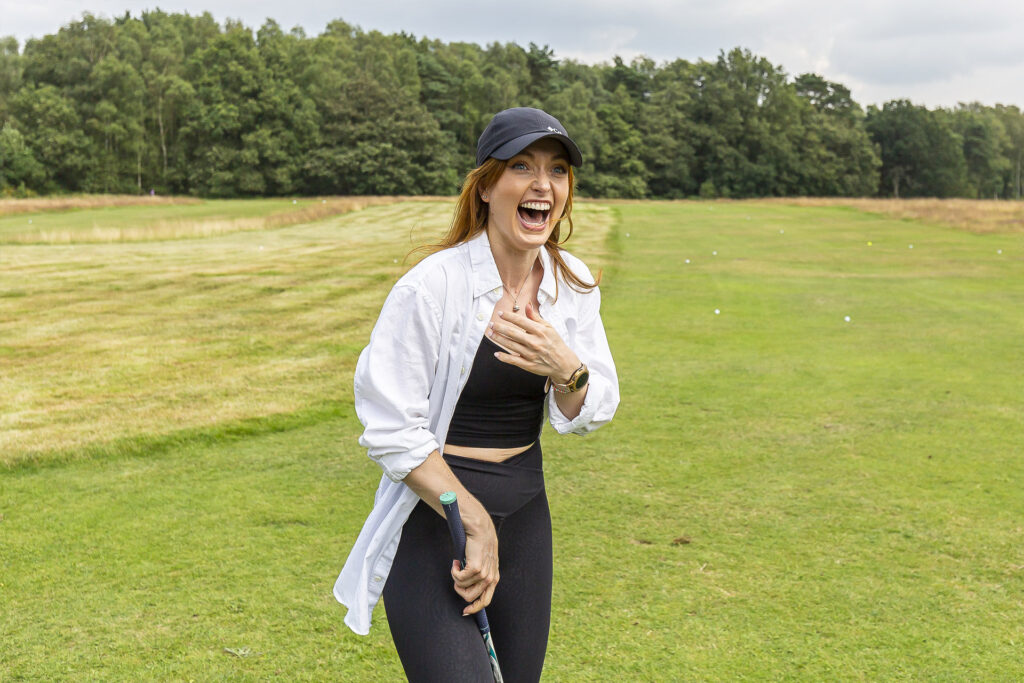 What did you learn?
Elspeth: I learnt that I hit golf balls too hard! More seriously, I learnt that golf is potentially the next sport I would like to add to my repertoire, one I can use as a mindful but social occasion, switching between a solitary practice and organising days with others as a daytime activity.
Learning about how it felt to hit a golf ball on an actual course as well as getting tips on swinging, how to hold the clubs etc - a good balance of beginner tips and advice to advance your practice going forwards.
Megan: I started with putting, which is definitely not my forte! I am definitely in my element at a distance. Although having been taught that the majority of golf is played on the putting green, I definitely need to work on developing a lighter touch.
Actual golf play aside, it was great to heat about what love.golf are doing to make golf a more inclusive and accessible sport for women.
Hayley: I was surprised at how much I enjoyed golf as a sport. I'm not a fan of intense gym sessions or running, so I'm actually rather excited to carry on getting better and better within this sport for exercise purposes. I love being outside for optimal mental health and a relaxed space for socialising appeals to me so it's a win-win to me. I'm just so happy I now have the confidence to jump into a course with my husband or friends and that golf isn't as scary to jump into as I initially thought.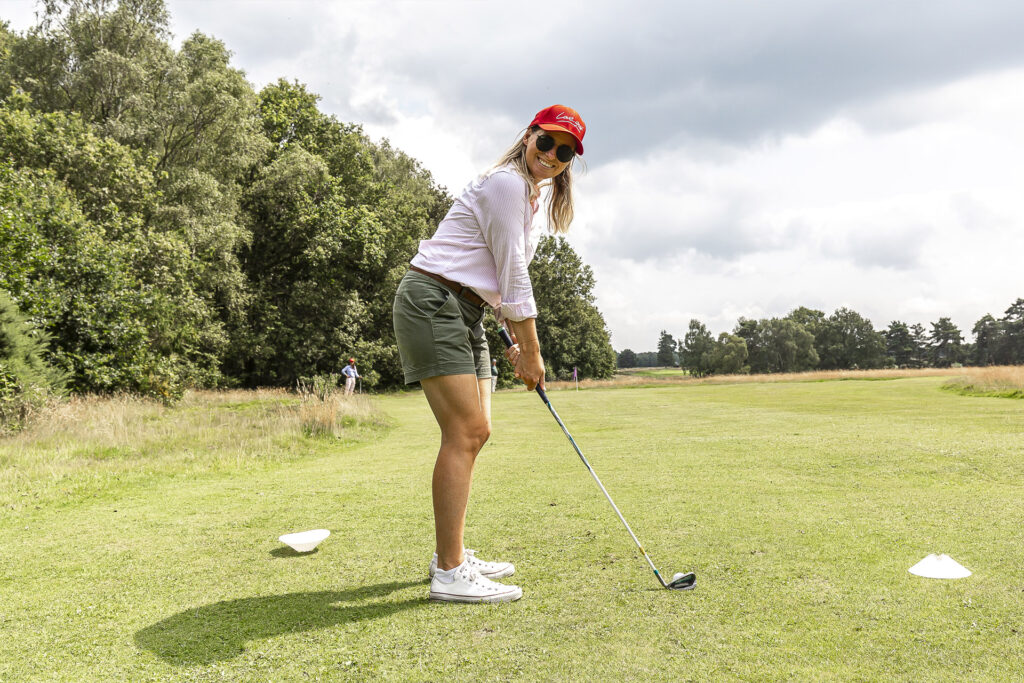 What was your biggest takeaway from the day?
Elspeth: Friendship! It was lovely to meet so many amazing and inspirational people, the freedom we all felt to try something without that fear of failure was lovely. As above, it's definitely something I am now seriously considering taking forward as a new hobby!
Megan: I was surprised at how much I enjoyed it. I didn't stop smiling and laughing all day. It was easy to see how people get hooked when you experience the elation of one amazing shot and chase that again and again. I definitely wouldn't have said I'm a golf person before but perhaps this is the start of something.
Hayley: I was always overwhelmed with even knowing which clubs were used for what, so I actually think my biggest achievement was to walk away with this knowledge (which in the end was very simple to learn!) It was just something that held me back in participating. I'm quite happy to have a go at a new sport and can get quite competitive but it's the basic knowledge I would have felt "silly" not knowing had I joined a group of friends for golf.
Obviously, you've only had one session, but has your initial perception of golf changed at all?
Elspeth: For me, it was nice to be taught by other women, and to see the empowerment they got from both participating in a male-dominated environment but also taking control and teaching the sessions.
It's made me realise this is an avenue that will hopefully be made much more accessible in the future, and love.golf seem to be paving the way!
Megan: Obviously as an industry there is a long way to go in terms of inclusivity for women but my perception that golf is boring and reserved for middle-aged men has definitely been adjusted. I could absolutely see myself playing in the future.
Hayley: I'm actually quite disappointed that many of the mini-golf settings don't make the effort to include putters! It honestly has made me feel like if I want to play golf, my children to play golf, we should be going to a golf club and participating and learning. It will be fun and beneficial for us as a family and even better it is going to push us to be together without gadgets between us.
Jo Taylor – love.golf Coach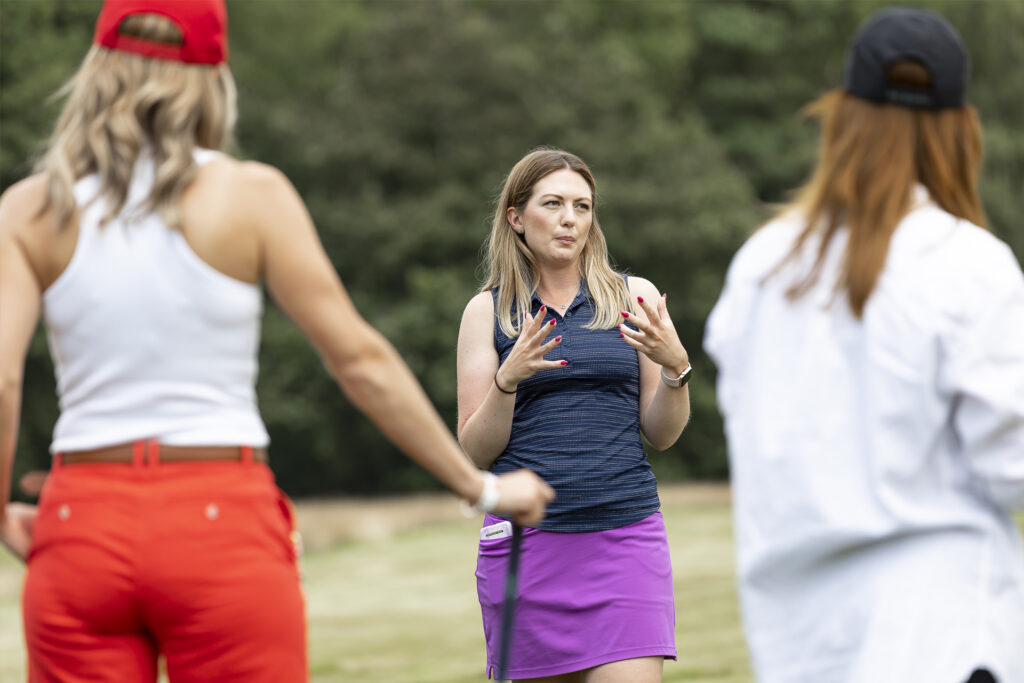 How was the love.golf experience for you as a coach?
The day was so much fun, it was great to see a group of women so enthusiastic to have a go at golf and just embrace the experience. It's always interesting to hear women's initial perceptions of golf which are usually that it's really technical and you have to be really good before you're allowed to play golf on a course. To see those perceptions turned on their head with a love.golf experience is fantastic. Within 20 minutes of hitting a ball for the first time we had the group playing golf. The comments and feedback were really encouraging with almost all commenting on how playing golf was so much more fun than just hitting the ball on a range and the experience put everything into much better context.
love.golf's mission is to introduce more and more women to golf and engage, inspire and progress them in the sport so that they enjoy every moment! Supported by Syngenta, the programme is based on ground-breaking research and is a proven approach to women's golf coaching.