Having influence isn't just about the number of followers you have. Here's how PGA Professional Emma Booth took a stand against one of the biggest brands in golf and made them change for the better
We hear so much nowadays about influencers, those people with a social media following who are able to manipulate their followers to their way of thinking. In my mind being an influencer and having influence are two totally different things.
There have been many moments throughout golf history where women have had a significant influence on the future of our sport.
Just a couple of examples include Issette Pearson who helped to establish the Ladies Golf Union in 1893 and was its first secretary. Pearson was also responsible for suggesting a handicap system to level the playing field for players of different skills, as well as between men and women.
Also, in 1950, 13 women launched the LPGA with the dream of providing a platform for women to play professional golf.
Time to take a stand for change
Fast forward to 2018 and we're sitting in Mercedes-Benz World in Weybridge, Surrey. That day, PGA Professional and Manager of Winchester Golf Academy Emma Booth didn't realise the influence she would have on one of the biggest brands in golf.
"I can remember midway through the seminar during the launch and we were on a break. I told one of my assistants (also a woman) that I thought I might ask the question, that I may say something. She said it was best not to rock the boat.
"I was on maternity leave at that time, after having my second daughter. My husband Gary, who is also a PGA Professional and manager at Winchester, had asked me to go along and find out about the new products from TaylorMade.
"You know, I'd been off for a few months and back in a very intense world of motherhood again. And to be sat there as a female Pro, having worked in golf for the best part of my life and the biggest golf brand presenting and to not even be considered in the launch or be provided for but expected to sell their product. It made me want to stand up and say something."
That's exactly what Emma did, she stood up after the break and challenged TaylorMade Golf at the lack of female imagery and products for women from their 2019 range.
Taking her thoughts online
When she got home, Emma then decided to share her thoughts on Twitter.
The tweet thread read:
"Felt very lucky today to be invited along to #mercedesbenzworld to see the new #taylormadegolf product for 2019. Didn't feel luck for long though. Female golfers or specific product did not feature at all. Not once. Nothing. Nada. So ladies if y ou wan to know how one of the ...
...biggest golf brands in the world see you it's...they don't! I was so disappointed. How is it 2018, the era of #thisgirlcan and yet we've been completely overlooked. Why would I want to stock and sell a golf brand that doesn't think #womengolfers are worth featuring...
...in their marketing campaigns. How is that in any way encouraging or inspiring to the next generation of potential girl golfers. Answer is - it's not. @TaylorMadeGolf @taylormadetour #ladiesgolf #golfequipment"
How taking a stand for women's golf can make a difference
Emma explains:
"The tweet didn't even necessarily get that much traction. I'm not in any way big on social media, particularly on posting or sharing too much of my inner thoughts. But there was something about that day that just kind of struck a chord with me.
"From TaylorMade's perspective, I think a lot of people did see it, but didn't know how to react to it. Afterwards TaylorMade Vice President/Managing Director TMaG EMEA David Silvers reached out and came to see me at Winchester to have a chat, along with our ASM (Area Sales Manager) Tom.
What was refreshing was that David was honest to admit that as a company they needed to do better and look at what they offered to female golfers, from grassroots to professional level. Not long later Emma then received another visitor to the Academy.
"David Abeles, Chief Executive Officer and President of TaylorMade Golf, flew over from America to visit with the news that they have sponsored their first female tour professional, Charley Hull. He also thanked me for highlighting the issue around the representation of women.
"We had a really great conversation about what it would mean to women to be considered and seen by one of the biggest brands in golf.
"From there, David [Silvers] was always in touch, telling me they were working on. That's when the Women's Advisory Board was born."
TaylorMade Golf's Women's Advisory Board
The TaylorMade Women's Advisory Board (originally Ladies Advisory Board) was formed in 2019 and is pretty unique within the golf industry. A lot of brands have Ambassadors but this was a group that was hand-picked from across Europe. Women who worked within the golf industry, all with a lot of experience and across a range of ages.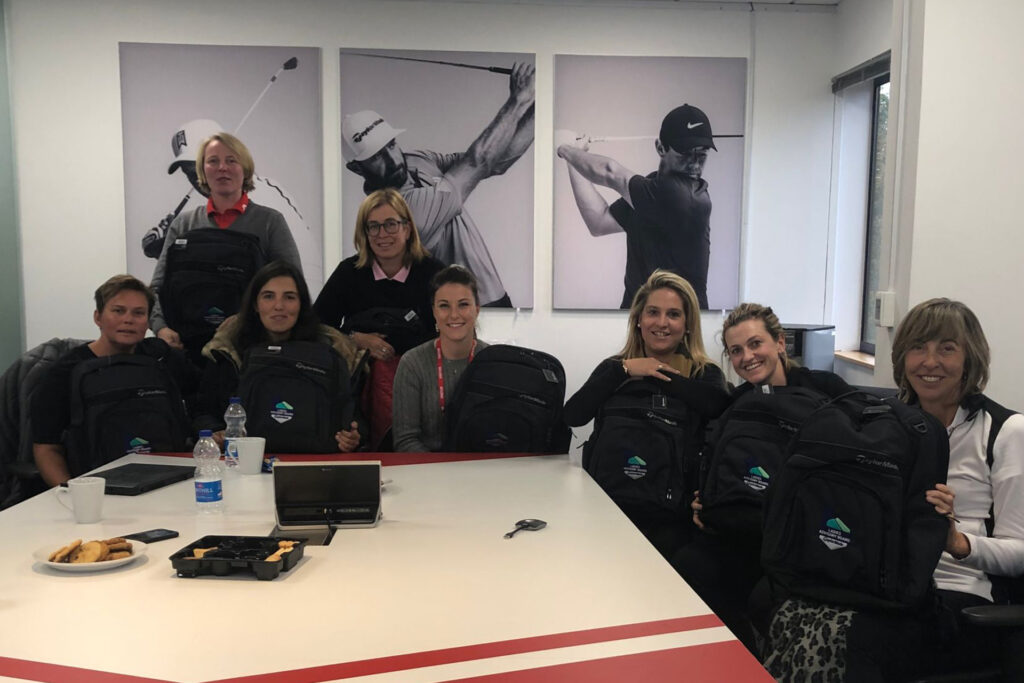 The idea was to bring the group together on a regular basis in a workshop basis so that they could bring their ideas and work directly with TaylorMade on what needed to be provided for women's golf to enhance it across Europe.
"We had a lot of input because one of the first things that we did when we got together was to look at what was right with the current range. At the time, none of us really liked the current product offering from TaylorMade. It very much felt like a last minute thing to kind of get it out there. It didn't feel like it was made with women in mind and their needs.
"We really did go back and forth a lot on what women in our regions and our countries liked, what cultures were like in that country. We talked about a product that we thought women would actually appreciate and enjoy. I feel like we were quite instrumental in helping the design of the new Kalea Premier range but not necessarily from the goggles on and the bunsen burners point of view!"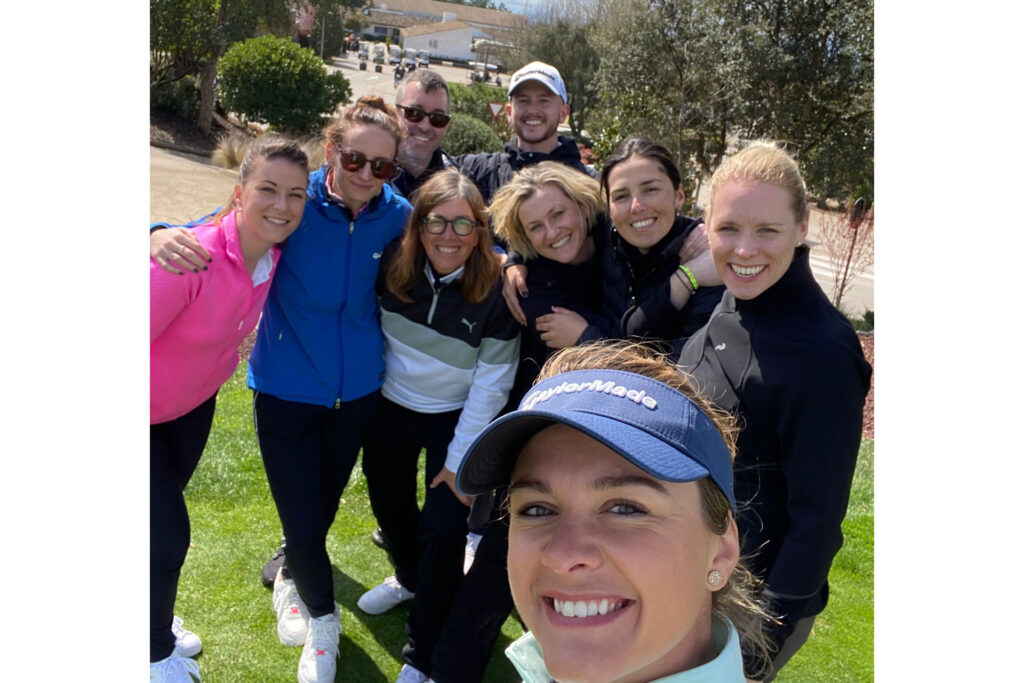 The new TaylorMade Kalea Premier range
So much has happened from that initial moment that Emma made the bold move to stand up in a room full of men and call them out.
We're now sitting on a burning hot day in Italy at Marco Simone in 2022 where European golf media are testing a product that may not have come to fruition if it weren't for her comments. A product launch that had the women's Kalea Premier range at its core. How does she feel about a women's golf product being the star of the show?
"I mean, it's massive. If you told me in 2018 that TaylorMade would do something about it, I wouldn't have believed it. But David Silver's was absolutely good on this word, he said they would look into it and do something about it and make sure they did change.
"Obviously, we've had Covid but post-Covid, TaylorMade have delivered, they've listened. They've done the work, they've got everyone involved, and they've actually now realised the wealth of opportunity there. So to be sat here with women leading from the forefront, and for them to be presenting that to the media and sales reps. They're taking it very seriously and this is a massive deal.
"I am absolutely delighted with what TaylorMade has presented at the launch I couldn't be prouder and happier just to have a club that feels solid that I'm going to be really proud to sell at the Academy. I'm excited to get women to try it. The Kalea Premier clubs are perfectly adaptable for juniors getting into golf as well teenage boys and the older generation. I think it's going to do really well."
Next time you think about women with influence, remember, it's not always about thousands of followers, it's about standing up for what you believe in and using your experience and knowledge to help shape the future of golf.
Thank you Emma for taking a stand and to TaylorMade for listening.
Find out more about the new TaylorMade Kalea Premier range here. We also speak to Michelle Penney about the importance of designing a range of clubs that were feminine, not girly - read about it here.