Editor Emma Ballard speaks to Michelle Penney, Principle Engineer, Product Development at TaylorMade Golf
Ahead of the launch of the TaylorMade Golf Kalea Premier range, we caught up with Michelle Penney, the Principle Engineer, Product Development at TaylorMade.
We wanted to get more insight into Michelle's career path and find out why the design was so important in the new Kalea Premier range.
How did you start working in the golf industry?
I have been with TaylorMade for 14 years and my first product was the 2009 Burner driver. I got into the industry kind of by accident. I'm a San Diego native, actually from Carlsbad and got my Mechanical Engineering degree from the University of California.
I got my engineering degree with the intent of going into the auto design industry. I was horrible at drawing cars, but I was very good at math and very good at physics. So I started work at Nissan design in San Diego, and worked with the engineers there.
After that, I got a job building show cars for auto shows. This allowed me to get a lot of practical and hands-on experience working with fabricators. Then after that, I got a job at Honda Acura Design Studios where I worked as a package engineer. That role involved laying out the overall design of the car and working with all of our design team in order to make it more realistic for production. Those five years, collectively, I gained a lot of experience with computer-aided design (CAD), working with designers and working with fabricators in the CNC (computer numerical control) shop.
A transferable skill set
All of those skill sets translated easily into what I'm doing now. I had never played a round of golf in my life before I started working for TaylorMade. I actually had to Google what a fairway wood was before my interview, and I scoured the TaylorMade website for every single technology that they were talking about, just to try and understand what I was about to get myself into.
Luckily, that skill set does transfer over really well, I do a lot of 3d CAD design, I work with industrial designers, I work with a CNC shop, I work with our vendors in Asia to try and make sure that my products are manufacturable. So, it's been quite a journey!
Has your role changed much over your time at TaylorMade?
Now, my role has been pretty much the same for quite some time, I've taken on a little bit more of a management role in the last few months. I have three children, so for the first 10 years of my career, it was you know, getting married, having kids trying to balance that.
Understandably, you don't have the ability to put in extra hours at work, you don't have the ability to dedicate yourself completely to work the way that somebody else might. Now my youngest is four and I'm able to put myself back into my work. I believe that's showing in the work that I do as well as representing TaylorMade and the company supporting me in return. It's shifted a little bit more recently and I'm enjoying the challenge.
How has the approach by TaylorMade been different for the Kalea Premier?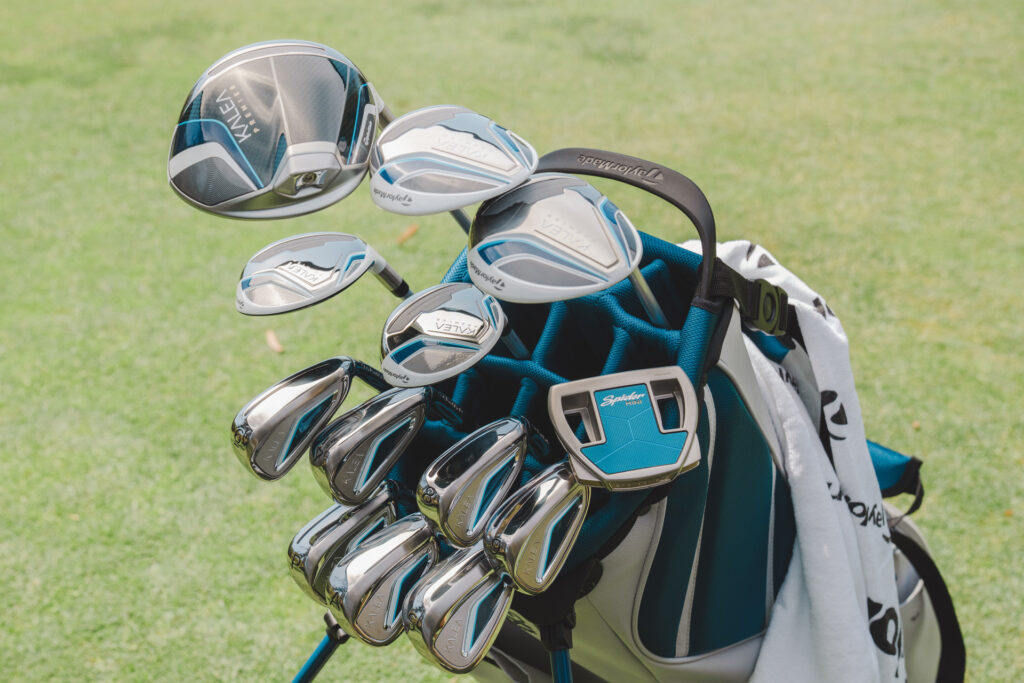 In the past, it could be argued that within the golf industry we've just applied a lady pop colour to something – make it pink and make it a bit lighter and call it a day. That's the shrink it, pink it concept. Make it smaller, make it lighter, make it girly and ship it out, just an afterthought. A lot of industries have done it, it's not just golf specifically.
What TaylorMade were trying to do was make a product that's feminine without being girly. There's definitely a difference there and it's a fine line that you walk.
If I talk about a little pink dress, you picture something very girly in your head. You're most likely picturing a girl, pigtails, glitter unicorns, the whole lot that is girly, something that comes out of a tween bop catalogue, we don't want that we're designing products for women, for golfers, for women that are passionate about sport.
Feminine not girly
Now picture a feminine black dress. I think just about every woman on the planet has a little black dress in their closet. It's one that we rely on to feel more feminine, right? It's black, it's not pink, and yet it makes you feel feminine. So that, to me is the difference between feminine and girly and we try to walk that line and make something that's very feminine.
I think having a lot of women on the team, not just me, helped this process. Our manufacturing engineer was also a woman. We got passionate about the product. We would constantly bug Tomo Bystedt (Senior Director, Product Design) and he'd also hear from our Women's Advisory Board. There was a lot of female input into the product, I would walk the product upstairs to all the women in marketing and ask whether it looked feminine or girly. I wanted to hear about it all the time.
It was definitely a good opportunity for TaylorMade to try and understand our customer more, who is this customer that we're designing for and make products specifically for them. To be really intentional about it and make it a technical product and make it something that women want to play with.
Find out more about the new TaylorMade Golf Kalea Premier range here.