EDGA, the international body for disability golf, shares the story of Martine and Heather Gilks, a mother and daughter who are truly inspired by golf.
Few people could be better advocates for the inclusive, welcoming and fulfilling aspects of our game of golf than Martine and Heather Gilks.
Mother Martine and daughter Heather, aged 16, reside in England's West Midlands. They are enthusiastic players and supportive of their home club, Coventry Golf Club. They each have disabilities and must combat the personal challenges these bring. Both will tell you that on occasions they have travelled to their club tired, or suffering discomfort or pain, only to have their day, and outlook, completely transformed by enjoying a few good holes with their pals.
Martine has been a golfer for some time. She had been involved in supporting county competitions in Warwickshire and Heather started helping her Mum with the scoring when she was 10-years-old. Two years later she joined as a junior at Coventry Golf Club. They both take delight in playing together and even compete alongside or against one another in competition.
Martine says:
"I think that is one of the great things about golf. You don't see the differences…So we might team up with a father and son. I don't think they see you as ladies and men; it's just, they see you as golfers. I think that's part of the attraction really."
Play golf through the pain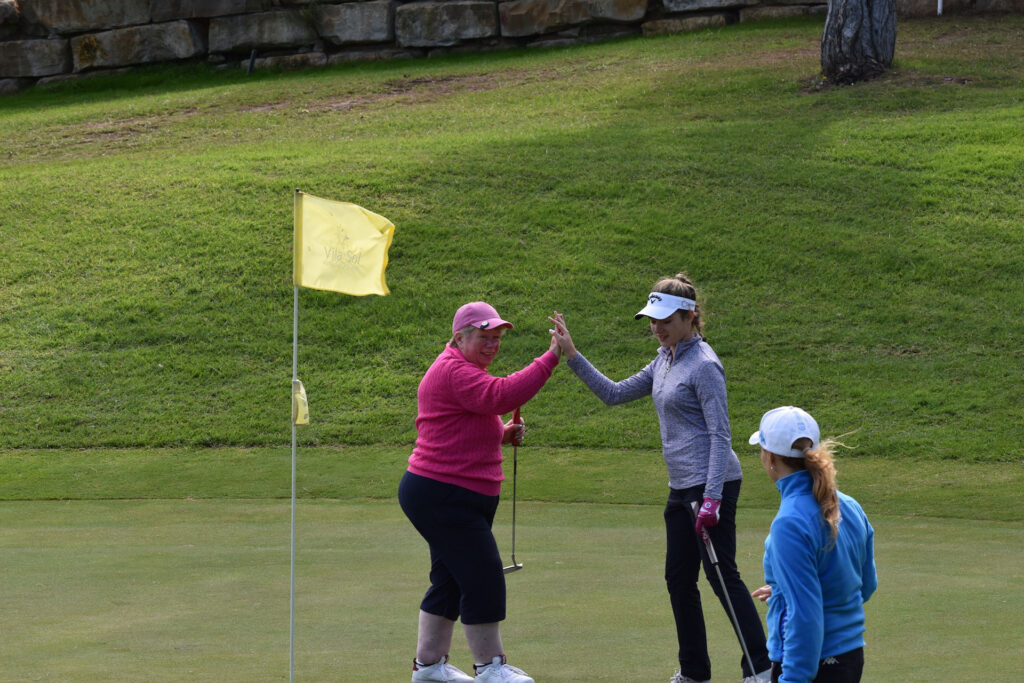 Martine has the conditions osteoarthritis and fibromyalgia, with effects of chronic, widespread pain, and fatigue. She says:
"I think it's very easy just to cut yourself off, stay at home and not do anything. There are days when I turn up to play golf and quite honestly, I'm in so much pain, I should stay at home, but I know if I force myself to go out there, then I am going to socialise. And the mental health benefits of that are so immense. It doesn't really matter if I play absolutely awful golf! It gives you such a boost just to be out in the fresh air."
Heather's condition is Cerebral Palsy. She says:
"So I have Cerebral Palsy, which affects both my legs and my left arm. It affects my left side more than my right. I was diagnosed with it when I was about three. I have been doing loads and loads of physio ever since I was little which I'm continuing now and at the minute I'm just trying to test my limits and see what I can and can't do."
Golf, a game for all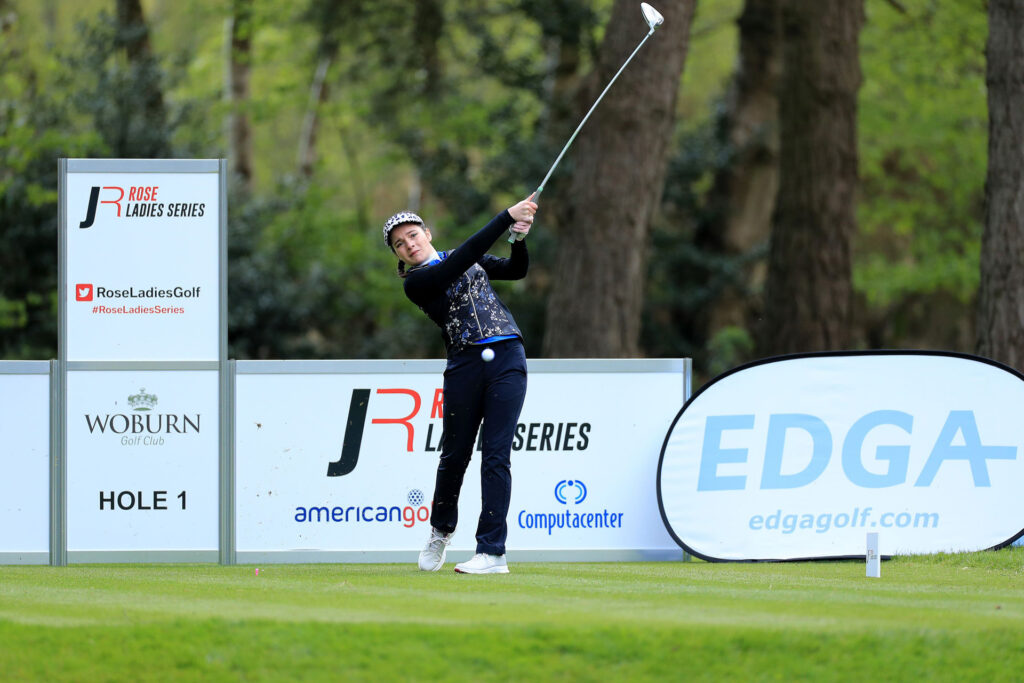 Heather will point to the supportive members at Coventry Golf Club and her Mum for creating this mindset, and both of them thank their club PGA coach Sam Dodds for his excellent coaching and all-round encouragement.
Heather says:
"I hate not being treated the same as everyone else. For example, I tried doing running for a while. I would always get tired well before everyone else, then people are, 'Oh, you just need a head start'. But I don't want a head start. I came to golf, and they have the handicapping system, and they have buggies, so I could go out and I could play just like everyone else did. And that, just that concept, I just loved it!"
Heather is currently in the sixth form studying 'A Levels' in Maths, Biology and History. She is thinking about studying Law at university. While keen to study she is also very keen to play in more events, after her exciting debut in the Rose Ladies Series tournaments this season.
Rose Ladies Series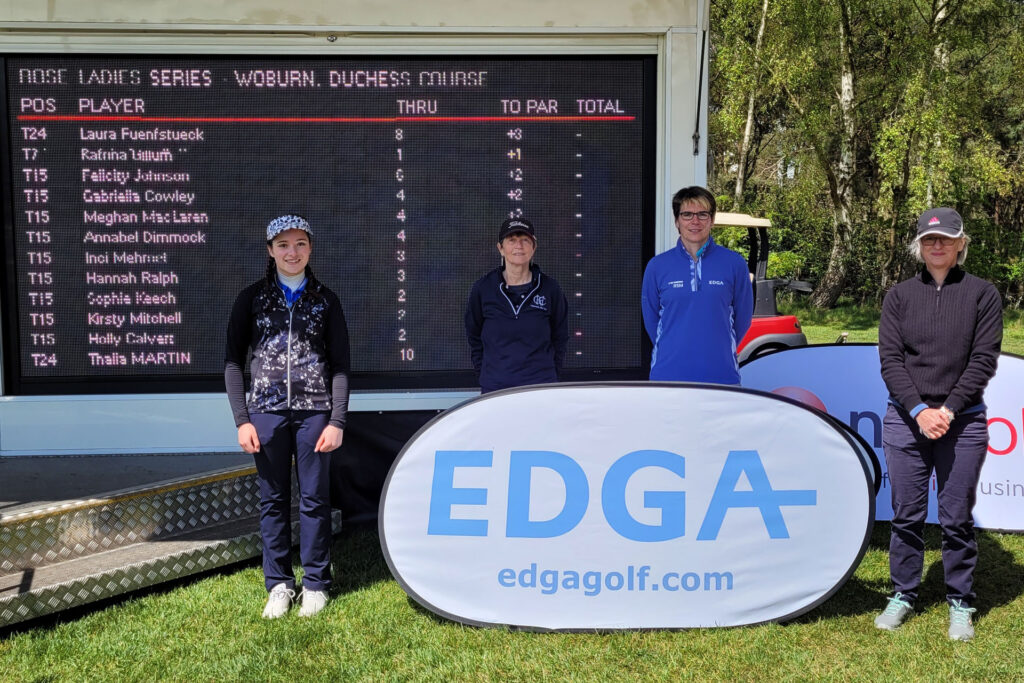 EDGA's director of development Aimi Bullock helped Heather with the introduction, today praising the enthusiasm, ready smile and sense of fun Heather brought to firstly the Woburn Golf Club based tournament and secondly the day at The Buckinghamshire this summer.
"Martine and Heather have been superb supporters of EDGA this year, absolutely brilliant advocates for a more inclusive game," says Aimi.
Heather's progress under the pressure of tournament play has also been striking. Back in the spring of this year, she was playing off an 18 handicap, and at the time of writing this was down to 11.7.
EDGA is the international body that helps golfers with disability thrive through golf. Heather remembers how she felt when accepted by the other EDGA players at Woburn Golf Club. She says:
"I was talking to Aimi. She said how I was now part of the family, which was really nice. And the other two ladies we played with were great, it just worked so well. It felt like a family, with a sense of belonging. I'm going to remember that day for the rest of my life. It was the coolest thing."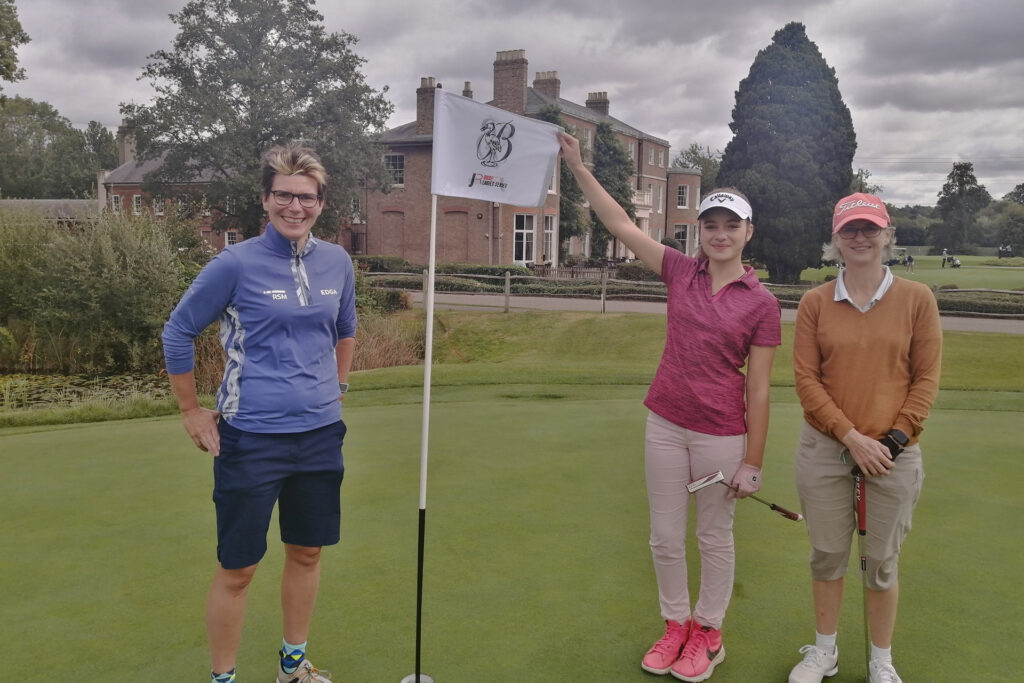 EDGA Algarve Open
The perfect way for Martine and Heather to round off a memorable season in 2021 was to travel to Portugal to play in the EDGA Algarve Open at Pestana Vila Sol in November, in a field of nearly 70 players.
Taking a lift at the airport enroute, mother and daughter saw a family with a young boy who used a wheelchair, someone who had never thought that golf might be for him. They excitedly invited the family to check out the action at Vila Sol and they came along. Here, leading Dutch player from a wheelchair Richard Kluwen met the family and talked to them about his 'Paragolfer' and how it enables him to swing a golf club and enjoy the game to a high competitive standard. If Martine, Heather and Richard's encouragement leads to a new golfer it will sum up much of what the EDGA community is about.
As Heather has improved her game this summer there is a risk of her overtaking Mum in terms of quality shotmaking, but Martine's 16.5 handicap means they can both have a very close game even off 'scratch'. However, when your 16-year-old is playing off 11, any victory from here might be treasured!
"Just go and try it because then you'll fall in love with it"
Lately, Heather has been working on her strength more with her coach. She gives one example:
"I think I used to have kind of a spine tilt going because as I went to swing back, I couldn't keep the weight on my leading leg as much. And I basically used to tilt my spine upwards a bit, because I just wasn't strong enough. But then I noticed in a video of my swing the other day, that the tilt… it isn't there anymore, which is really nice. You can see the progress and see the physio working."
In terms of advice to others, Heather says:
"Golf is worth the time and it's worth the challenge. I go into my classes at school and people say, wait, you play golf? And I'm like, yes! Yes I play golf. And I absolutely own it because I love that. It's a great sport. And it's a shame that more people don't get it. I mean, the numbers are rising for young people, but it just needs more and more people to come and play, because once you do play it, you then realise, and you say 'wait, I've been missing out on this the whole time!' So, my main advice is, just go and try it because then you'll fall in love with it."
You can read more about Martine and Heather and more inspiring stories from the EDGA players at www.edgagolf.com.
Words by Ben Evans from EDGA.