An investigation into Infrared Technology and its use in KYMIRA products. Can it really aid recovery, relieve pain and improve your sporting performance?
We met Michael Davis, CEO of iGO Labs, a distributor of KYMIRA® products at the British Golf Show in September. We were intrigued by the range of products that he had on offer and the health benefits that they potentially offered.
The idea behind KYMIRA products is that they can enhance your performance and also aid your recovery. Having been adopted by a number of high profile sports teams across football, rugby and basketball, what benefits could this Infrared technology have for a golfer and their game?
We delve a little deeper into the science, look at the products on offer and hear from a golfer who is already gaining the benefits from wearing KYMIRA products.
What is KYnergy® Infrared Technology?
The KYnergy® Infrared embedded fabrics feature specially designed fibres which contain carefully selected natural minerals. There are 13 minerals that have been selected for their ability to absorb wasted energy from the wearer and surrounding light. This energy is then converted into targeted areas which causes positive biological effects – helping to improve performance and recovery.
Unlike other similar technologies, the KYnergy® Infrared Technology is locked into the fibres and is not able to be washed out. So lasts the lifetime of the product.
How KYnergy® Infrared Technology Works?
Here comes the science bit… The KYnergy® Infrared Technology absorbs the natural shorter wavelength, higher energy radiation that is given off by our own bodies and elements such as visible light in our natural surroundings, and the minerals in the fibres convert it into infrared light which is then emitted back into our bodies.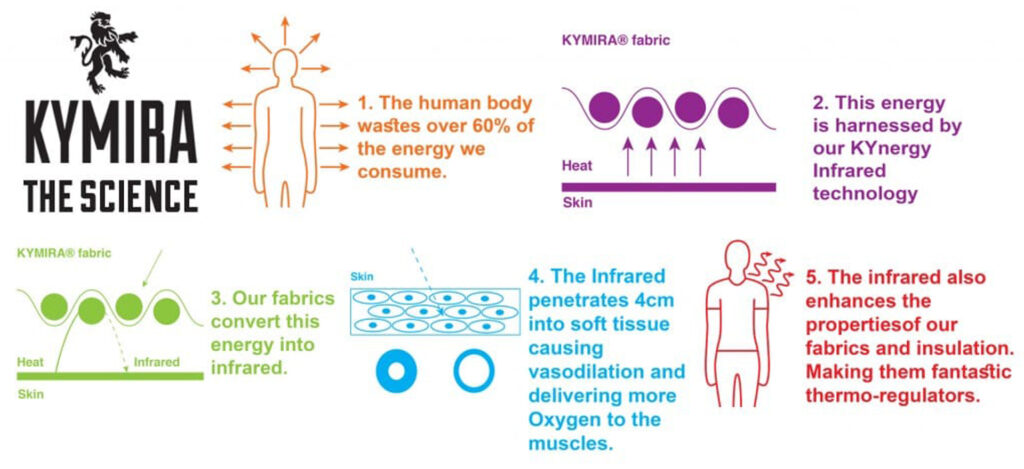 What Effects Does KYnergy® Infrared Technology have on the wearer?
Nitric Oxide Production
Helps to produce Nitric Oxide at a quicker rate. Nitric Oxide is a key component to many performance and recovery enhancing benefits.
Temporarily increased local Circulation
One of the primary effects of nitric oxide is vasodilation. This means it causes the blood vessels to expand, allowing more blood to pass through them. This has numerous benefits from increasing the volume of oxygen and nutrient rich blood to our muscle cells, to accelerating the rate at which waste products are transported away from them and reducing swelling during inflammatory responses.
Increased Respiration Efficiency
The University of Calgary found that when wearing infrared clothing whilst exercising, athletes consumed less oxygen to achieve the same work output, indicating that the cells were working more efficiently.
Increased Tissue Oxygen Levels
KYMIRA® products can increase tissue oxygen levels by 20% on average compared against other garments that used standard fabrics and/or compression.
Pain Relief
Wearing KYMIRA products help to reduce pain and also has longer pain relief effects that are seen in athletes of all abilities when it comes to delayed onset muscle soreness (DOMS).
Muscle Relaxation
Elite athletes using KYMIRA products for training and recovery, have reported an 80% reduction in injuries over a measured period, when compared to previously wearing standard clothing training kit.
Thermoregulation
KYMIRA products help to regulate temperature in a different way to standard clothing. They have been used to great effect to regulate in temperatures ranging from -35 to +48 degrees (Celsius).
SPF and Antimicrobial
All KYMIRA products have a minimum rating of SPF 35 and an antimicrobial effect.
See KYMIRA products in action:
What KYMIRA products are available for golfers?
There are a range of products on offer for golfers which include polo shirts, ¼ zip sweaters, base layers, socks and gloves. You can also take your recovery off the golf course as there are sleepwear products too.
Available to pre-order from December 1 and shipping on December 15 are the new Kymira golf women's polo shirts.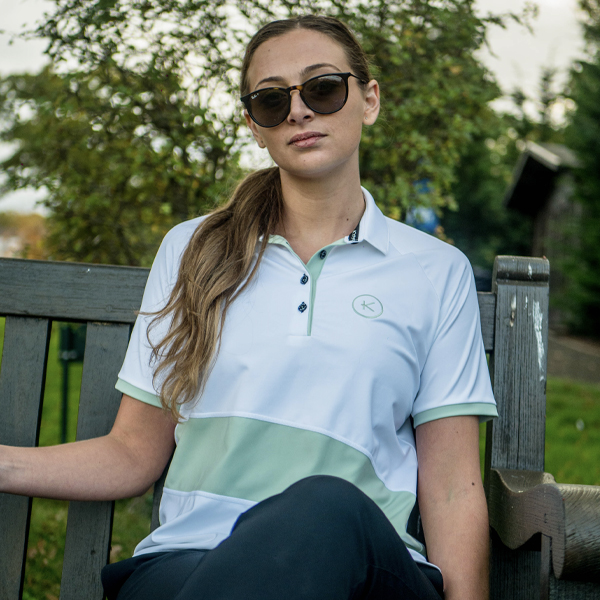 How can KYMIRA products help you as a golfer?
Michael Davis, CEO of iGO Labs, a distributor of KYMIRA products said:
"We cannot claim, yet, that KYMIRA products are going to help you shoot lower scores. But we do know that our products reduce aches and muscle soreness, aid pain relief, improve flexibility and increase muscle elasticity, as well as injury prevention. They also aid recovery, so when you may tire towards the end of a round and lactic acid starts creeping in and your calves feel tight – KYMIRA can help to alleviate these symptoms and help on the final few holes.
"We're actually running a study at the moment with four women who are wearing Kymira throughout their rounds. They're playing four rounds without wearing KYMIRA and four rounds with KYMIRA. What I believe is going to happen is that they will be saving two or three shots regularly from wearing KYMIRA, because they're just in a better condition on those last few holes. Being in a better physical condition puts you in a better mental condition as well. For example, when you're on the tee, worrying about your hip flexor being extra tight, you're not focusing on where you want your drive to go."
Case Study
Marina Bobeldijk, Littlestone Golf Club, Kent. Handicap index 8.6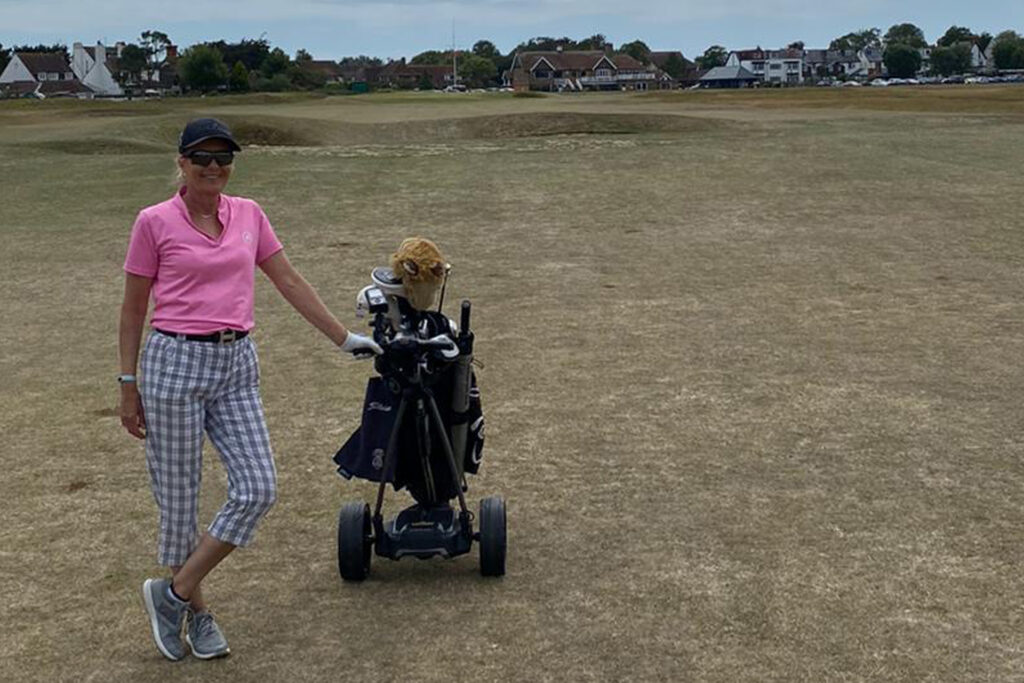 As a keen golfer, who is always trying to find a way to enhance her performance levels, I was very excited to first hear about KYMIRA Golf in June 2020.
The reason for this is that I have poor blood circulation and sometimes suffer from arthritis in my hands. The fact that the infrared technology in KYMIRA clothing helps to circulate the blood was very interesting. I was also curious about the products ability to increase the level of tissue oxygenation, which allows muscles to recover faster, providing more energy during and after a round of golf.
A Kymira advocate
I'm now using all the KYMIRA products from the golf range, from socks to gloves, t-shirts, sweaters and hoody, not to forget my favourites, the base layers! I now find it very difficult to wear anything else than KYMIRA while exercising! I absolutely love the clothes! They are easy to wash and dry quickly. They also feel very nice on the skin.
My hands don't ache anymore after wearing the gloves before and after golf. My recovery after exercise (golf, gym, yoga, swimming) has certainly improved by wearing KYMIRA both before, during and after exercise. Sometimes, when I feel very tired and maybe a bit sore, I even sleep in my KYMIRA! (Recovery eg. +48% after a night with KYMIRA, in contrast to +22% without). Both the deep sleep and HRV (heart rate variability) improve.
An increase in energy
My energy levels are certainly better and sometimes it almost feels like I'm "cheating" or having an extra club in my bag!!
Another feature that I love about KYMIRA is the thermoregulation. I can wear my thin golfing sweater in +28C/full sun and it makes me feel more comfortable and protects me from the sun with its SPF35. Alternatively, they also keep me warm when it's cold outside.
I would certainly recommend KYMIRA Golf to anybody who is keen on sports, wants to improve on performance and wants to recover faster from any aches and pains.
---
So there you have it, a comprehensive look at KYMIRA products and the potential benefits to you and your golf. We'll be getting some products to test soon, so we can review but in the meantime, do let us know what you think and whether you have experienced the benefits from infrared or compression based clothing. Drop us an email here.
---
EXCLUSIVE OFFER* - Kymira are offering 10% off all orders when you use the code WG10

All Women & Golf Members can receive 20% off all orders - visit our Members' Discount page to get the exclusive code.

*Offers are only valid on the KYMRIA golf range click here to view the full range.