A new series from Golf Ireland bringing you the stories from some of the most interesting golfers and personalities across golf in Ireland.
Words by Darragh Small 
As one of Ireland's most well-known celebrities, Lorraine Keane has used her platform to campaign for good, from aid work in a femicide-ravaged Guatemala to charity missions in post-earthquake Haiti. 
The IFTA-nominated broadcaster and journalist, turned businesswoman, has been to Zimbabwe, Mozambique, the Philippines, Bangladesh, Ethiopia, Somalia, and Tanzania with the charities Trocaire, World Vision and Oxfam. 
However today she faces the culmination of an entirely different journey, yet one with some striking similarities to those years of painstaking charity work. That link between long-term charity work and taking up the game of golf lies in that quest for mastery, persistence, personal growth and cherishing the unique moments.  
The First Tee, Journey to Dromoland
In both, the journey often becomes more significant than the destination, teaching some valuable life lessons along the way. Dromoland is the destination and 'The First Tee' draws to a conclusion at the KPMG Women's Irish Open Pro-Am this afternoon. 
"My teenage daughters keep telling me that I just manifest that the ball leaves the tee and goes in the air and doesn't roll five feet in front of me. I am manifesting, that's what the teenagers are doing, manifesting," jokes Keane.
"I haven't slept for the last few nights, it's that first tee. It's the same when we played Dromoland for the first time a couple of weeks ago with Aideen Walsh, the first tee shot wasn't bad and it wasn't great, the ball moved and headed in the right direction.
"But after that, once I got past the first tee I was flying it. So it's to try and remember that, just one shot and the one thing I know for sure because of the experiences I have had over the last three months, is that I will have fun."
Keane has linked up with Pamela Joyce and Valerie Wheeler in Golf Ireland's latest initiative which looks to get more women and girls playing the sport of golf. The campaign began at the start of the summer where the three relative beginners started their quest. 
It has been an extraordinary journey for the trio who have already played a practice round at Dromoland alongside leading amateur, Aideen Walsh, while they also had a round with Shane Lowry's coach, Neil Manchip, in Carton House.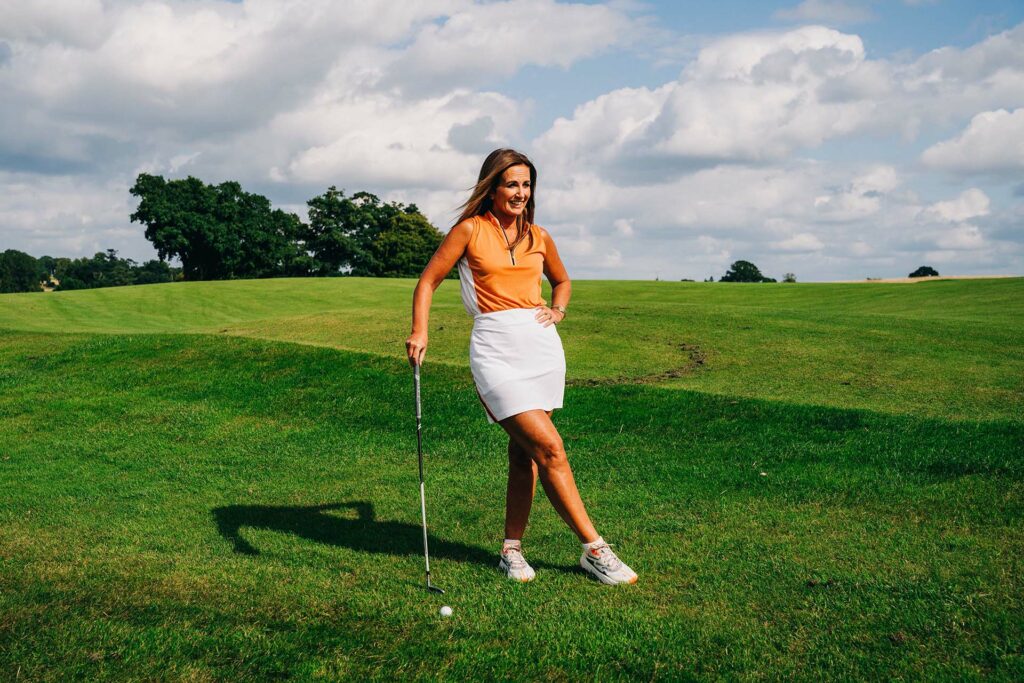 Throughout they have received lessons from their coaches, with Mary Doyle PGA, tutoring Keane this summer and it has brought her to the brink of a crescendo, teeing it up in front of spectators on the week of the KPMG Women's Irish Open.
"Breathing is really important and relaxing, trying to relax and focusing on the ball and not anybody that is watching really. I'm able to talk the talk, whether I walk the walk remains to be seen," said Keane. 
A broadcaster and journalist turned businesswoman
Keane spent much of her life walking the red carpet, working as an entertainment correspondent with TV3 and as an anchor with fashion and celebrity show Xpose.
More recently she created a gradual tan skincare brand, Decadance by Lorraine Keane, while her online influencer career goes from strength to strength across all platforms.
"There is no typical day, never mind a typical week," said Keane.
"At the moment it's trying to squeeze in the driving range or a couple of holes of golf. Even at the weekends, I am flat out with work which is lovely when you are self-employed to be busy, it's lovely to be in demand in my line of work.
"But then at the weekends I am picking up stuff to do with the girls, to do with the house, to do with the dogs, to do with family, my parents. Trying to catch up with my nieces and nephews, all of that.
"It's a bit of juggle at the moment but I am not complaining. It's nice to be busy, I know I am very fortunate to be busy. It's very different, very varied. A lot of the work I would do now would be for brands and mostly Irish brands I am passionate about working with. Nice companies and nice people which is really important to me.
"At this stage in my life I only work with nice people and with brands that I am genuinely passionate about and love and use myself. It's lovely to be in that position.
"My own channels, Instagram and Facebook, keep me busy. That's probably about 50 percent of what I do. The rest is working on different campaigns, working with my charity, working on my family and then doing TV, radio and I write still." 
Charity work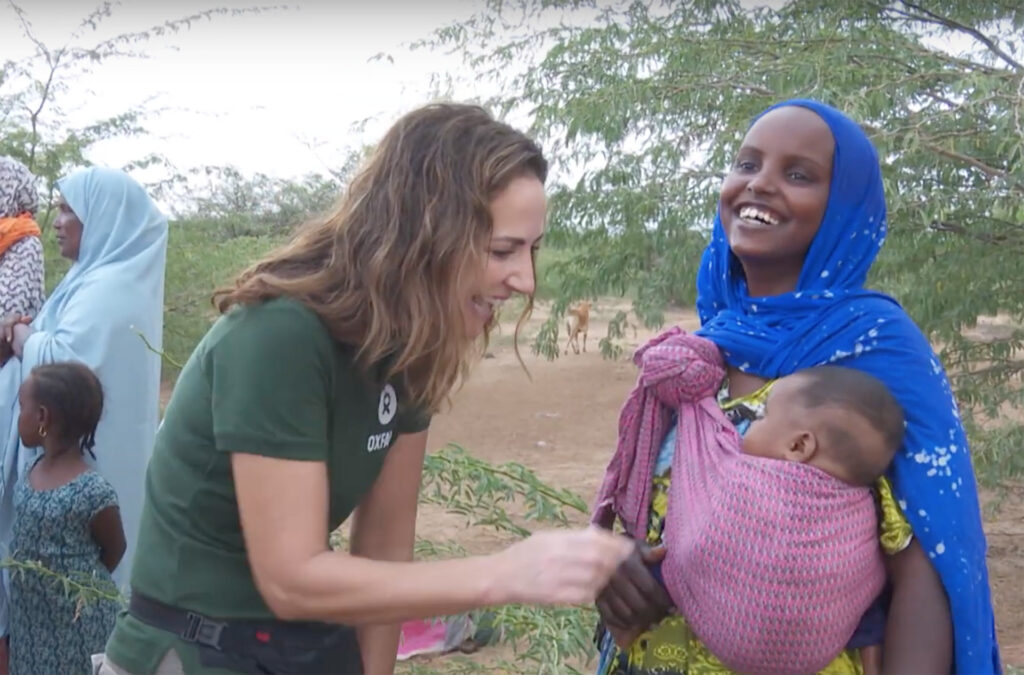 Keane has opened up about her own IVF journey and about the wrong narrative surrounding menopause, she has also talked about the harrowing stories from her charity work.
And having two young daughters, Emelia (19) and Romy (16), she was determined to help mothers in the developing world.
"They love their babies as much as we love our babies and it's just bad luck where they were born, it's pure bad luck," said Keane.
"That is very sad and it's in the developed world, we are the ones causing climate change and they are the ones, because the position where they live on the planet, that are suffering and are bearing the brunt of that. And it's just getting worse.
"I went to Guatemala where at the time rape wasn't considered a crime, it was a $50 fine. I have so many sad stories and travelling to the developing world has been very disturbing at times because of what you see and you see what people's every day is like, what they are experiencing on an everyday basis.
"You get through it because you are there to do a job."
Keane will need to summon up all of her courage for a very different personal goal this afternoon and she has grown to love the game of golf.
Again, it's another opportunity afforded to her because of her privileged position in Irish society but she worked so hard to get to where she is today and you can guarantee she will be giving it her all for 18 holes in Dromoland. 
Taking on Dromoland
"I am so grateful to Golf Ireland to have given me this opportunity and I am so glad that I took on the challenge," said Keane.
"Anybody that knows me knows that I am always up for a challenge and I love learning new things but I didn't expect to enjoy it as much as I do. It's a privilege to be taught by a pro golfer like Mary Doyle and have the opportunity to go out on the course with amazing golfers like Aideen Walsh and coaches like Neil Manchip.
"They are pinch me moments, especially when I talk to people who have always loved golf and are into golf. They are extremely envious of the opportunities that I have already had and I know I am extremely lucky girl to have had that opportunity.
"I will encourage my girls to play now, my girls are going to have lessons as well as soon as I stop having mine with 'The First Tee' team, then we can continue this journey together. "When you are younger you pick up things easier. I want them to have opportunities I would have missed in my career when I was invited to play golf." 
We all wish Lorriane, Valerie and Pamela all the best as they take the big step from learning into their first Pro-Am at the KPMG Women's Irish Open.