The First Tee, Journey to Dromoland has been launched by Golf Ireland aimed at inspiring women and girls to consider golf as a social and fun activity.
To bring this vision to life, Golf Ireland will spotlight three popular Irish media personalities on their journey from relative beginners to confident golfers.
The First Tee, Journey to Dromoland, will see Lorraine Keane joined by Pamela Joyce and Valerie Wheeler to help them transform their golf game in three months before they take on the daunting KMPG Women's Irish Open Pro-Am at Dromoland Castle on August 30.
IFTA-nominated broadcaster and journalist, Keane, said that she only picked up a golf club for the first time recently, prompted by her friends who are also new to the game.
"I first picked up a golf club yesterday. I have chosen to embark on this journey because I have been thinking about playing golf. Some of my girlfriends have taken it up recently and I have had a bit of FOMO," said Keane.
"We go on lovely nights away together and they go down earlier and play a round of golf. They come back totally exhilarated and just full of fun and stories; bad shots, good shots and just enjoying the game."
Keane, who is an advocate for women's health, was also attracted to the campaign by the social aspect of golf and the mental and physical health benefits it offers.
"I like the idea it is in the fresh air. You are able to have a bit of craic, catch up, have chats and also the mental health benefits of being out and about and the exercise benefits. You can burn 450 calories on nine holes of golf. So that's nearly 1,000 calories on a full game, it's win-win," said Keane.
Follow The First Tee, Journey to Dromoland on YouTube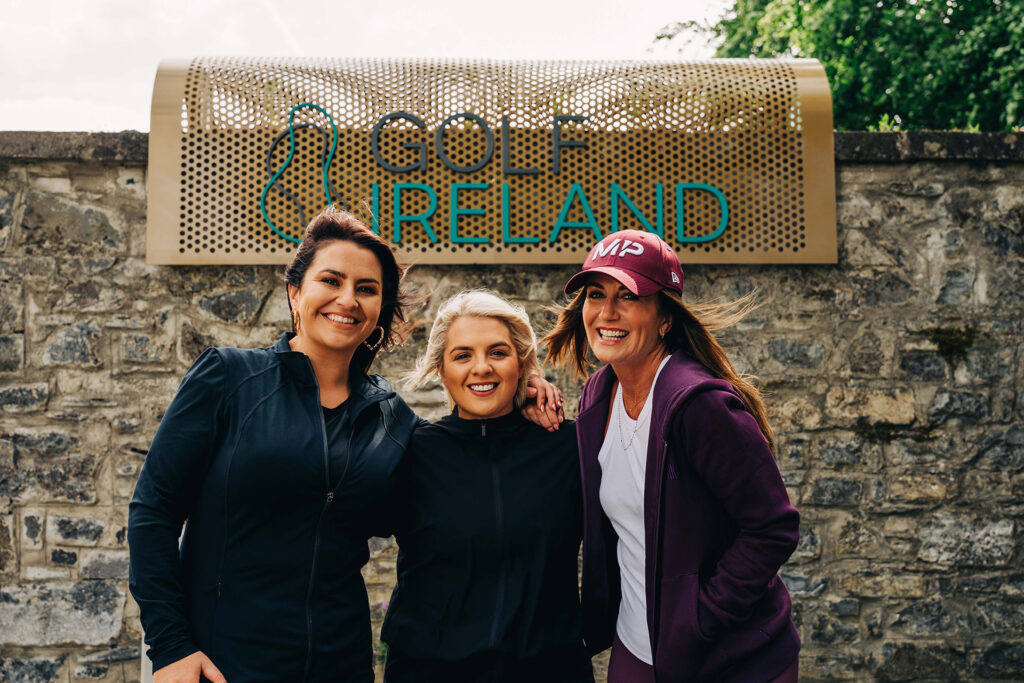 The six-part YouTube series will also feature radio presenter Joyce, who expressed her enthusiasm to rekindle her early interest in golf. She first played golf as a seven-year-old before performing arts took precedence. However, her passion for the sport has returned.
"I did Get into Golf last year in Rathfarnham Golf Club and that revived my love for it and reminded me, actually you know what, this is good fun. Here we are now," said Joyce.
Joyce, a presenter of the lunchtime show on Today FM, says one of her key motivations is the desire to boost her confidence when playing with new people.
"One of the things for me is that I know I can hit the ball. Some days I go out and I'm like Leona Maguire who? I am amazing. Other days I could learn a thing or two from Happy Gilmore. I really want to get to a place where I am a little bit more consistent and confident in my ability when I am out on the course," said Joyce. 
"It's a fabulous social sport because you are not legging around the place, you are not really out of breath. You have time, you are spending hours with people on the course.
"Unsurprisingly I like to talk, I talk for a living so I think it's a fabulous way to meet people and it's a gorgeous sport."
Playing in the KPMG Women's Irish Open Pro-Am
Rounding out the trio is Spin South West breakfast presenter, Wheeler. Having a golf professional, Gavin Young, as her boyfriend she knows all eyes will be on her heading to Dromoland.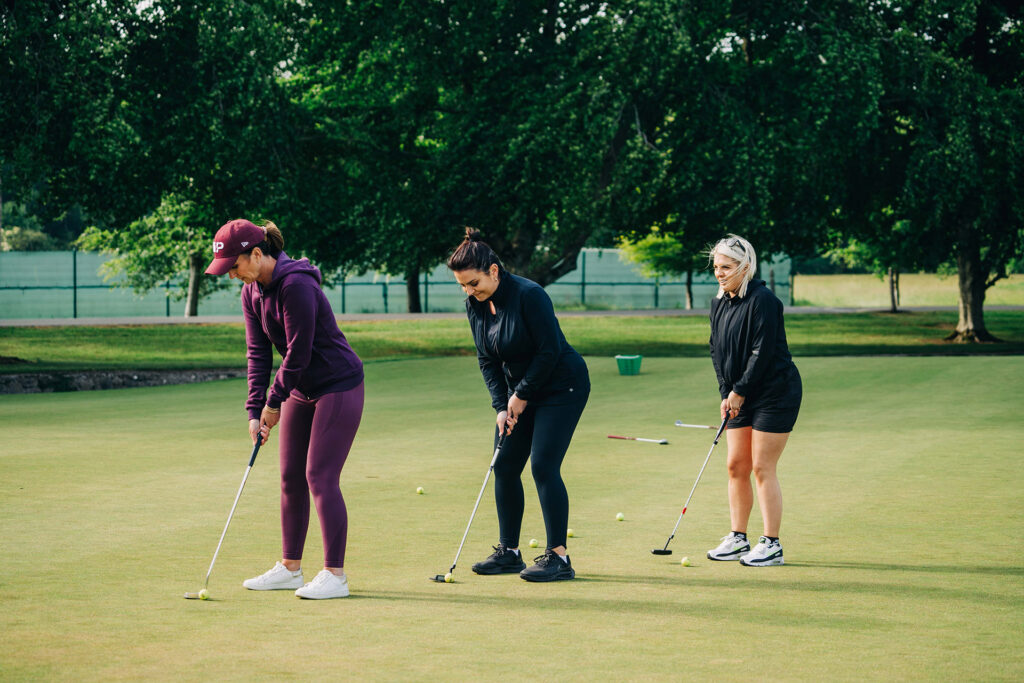 Wheeler, who is also a sports reporter for The Sunday Game, took part in last year's Women's Irish Open Pro-Am but is determined to improve on that showing.
"I hope to feel confident, definitely more than I was last year heading in," said Wheeler.
"Last year I went to the driving range the night before just to give myself a chance on the day of the Pro-Am. I'd say I will be very nervous but I hope the 12 weeks here with Golf Ireland and my coach will be able to help me out and my nerves. 
"Maybe there will be a small bit of pressure on me. I do live with a golf pro who will be my coach for the 12 weeks. I wonder will our relationship still be intact by the end of it? Hopefully it will." 
Their journey, supported by Golf Ireland coaches, special guests and the Golf Ireland Get into Golf App, will lead them to Dromoland Castle for the KPMG Women's Irish Open Pro-Am at the end of August, demonstrating that golf is a sport that can be enjoyed by everyone.
Watch Episode 1 of The First Tee - Journey to Dromoland
Golf Ireland invites everyone to follow Keane, Joyce and Wheeler through the six-part YouTube series and by following each of the participant's own social media channels. You can watch the first episode above which was released on June 14 across Golf Ireland's social and digital platforms, presenting an opportunity for new and existing golfers to join the conversation, learn from the professionals, and enjoy this incredible sport.
Watch Episode 2 of The First Tee - Journey to Dromoland
In Episode Two, we join the three beginner golfers for lessons with their PGA Professional coaches. Valerie Wheeler worked on her driving with her coach and partner Gavin Young, whilst Lorraine Keane and Pamela Joyce returned to the Golf Ireland Academy to have a lesson with their coach Mary Doyle.
Watch Episode 3 of The First Tee - Journey to Dromoland
In Episode Three of 'The First Tee - Journey to Dromoland', Pamela, Lorraine and Valerie head out onto the golf course for the first time in this series, and are joined by Golf Ireland's High Performance Director Neil Manchip. There is also a big surprise for the women as they receive a video message of support from someone VERY special.
Watch Episode 4 of The First Tee - Journey to Dromoland
In Episode four, the last episode before the big day, Lorraine, Pamela and Valerie get their first look at Dromoland Castle, host venue of the 2023 KPMG Women's Irish Open Pro-Am. The First Tee trio are joined out on course by Golf Ireland High Performance Panelist and Dromoland Castle member Aideen Walsh to help them on their way.
Watch Episode 5 of The First Tee - Journey to Dromoland
Pro-Am Part 1. It's here! After 12 weeks of lessons, practice rounds, messages of support, TV appearances and more, the First Tee trio of Lorraine Keane, Pamela Joyce and Valerie Wheeler finally take on the KPMG Women's Irish Open Pro-Am at Dromoland Castle. Watch to see how the beginner golfers fared in the front nine holes alongside pro Annabel Dimmock, and make sure to stay tuned for the back nine in Episode Six coming very soon!
Find out more about Get into Golf and other useful resources on the Golf Ireland website here.