American Lilia Vu remained patient to claim her first Major title on the first play-off hole against Angel Yin at The Chevron Championship
With a large number of players potentially in contention to win the first women's Major of the season. The final day at The Chevron Championship was going to be an interesting one.
Sunday saw temperatures drop and the wind get up at The Club at Carlton Woods. There was even a fifty minute weather delay in the morning which pushed back tee times. With leaders Allisen Corpuz and Angel Yin getting their rounds underway at 1:20pm local time.
Georgia Hall had one of the best rounds of the day with four-under-par 68, to finish in a tie for 12th, and she perfectly summed up the conditions for the final round:
"We had a 50-minute today because of thunder and a bit of rain. It was freezing this morning. I wish I had had hand warmers, which I didn't have with me. It was that cold. The ball wasn't going as far, and the conditions -- the pins were very tucked today. They were tough, especially on the back nine. It's very hard to get birdies and actually hole like a 30-, 35-footer. Yeah, it's great final day pins, and it's just great conditions because it's tough and you've got to think your way around."
Watch final round highlights from The Chevron Championship
Maybe it was the cool weather, or that coupled together with the fact that chance of thunderstorms had past that the final round lacked the heat of a Major Sunday.
With regards to the leaders, Corpuz struggled whilst Yin remained steady, so it was time to look to the chasing pack for someone to take control.
Attention turned to Atthaya Thitikul and Lilia Vu, who both produced three birdies and a bogey on the front nine. Vu was in the group ahead of Thitikul and finished off her round with two birdies to set the clubhouse lead at -10.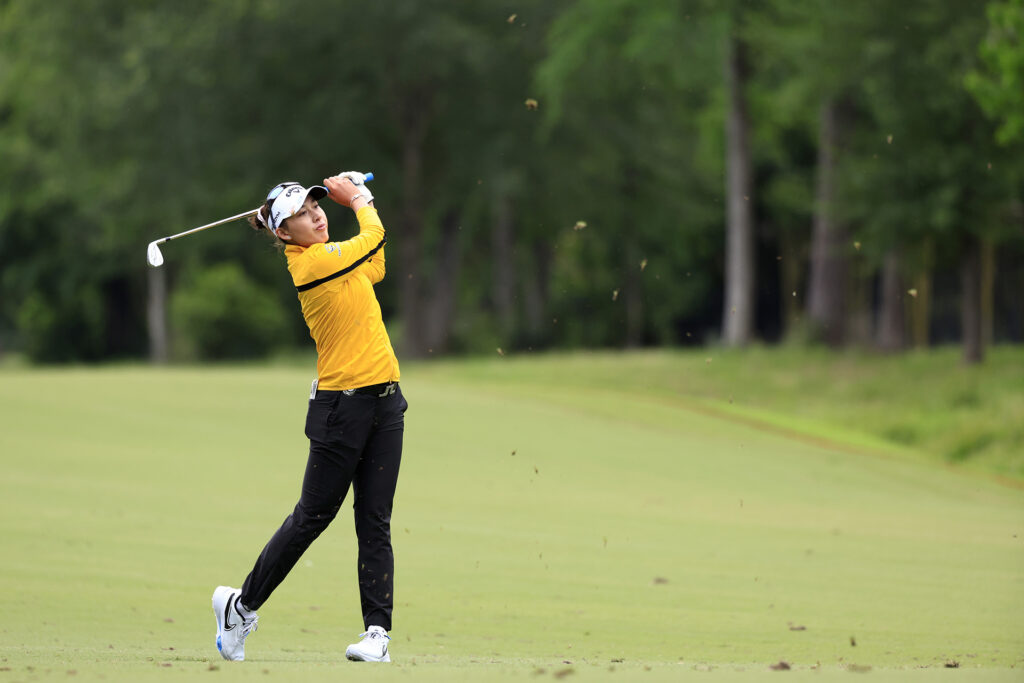 As Thitikul headed to the final hole she was also at -10. But her hopes of gaining her first Major were dashed as she hit her approach shot into the water and ended up with a double-bogey to finish on eight-under-par and a tie for fourth.
Vu watched the coverage as Yin took the solo lead with a birdie on 13. However, a bogey followed on 16 and Vu headed to the driving range to prepare for a potential play-off.
Another bogey on 17 meant that Yin would have to be aggressive on the final hole. Yin missed a 30-foot putt for eagle but drained the five foot birdie putt to force a play-off with Vu.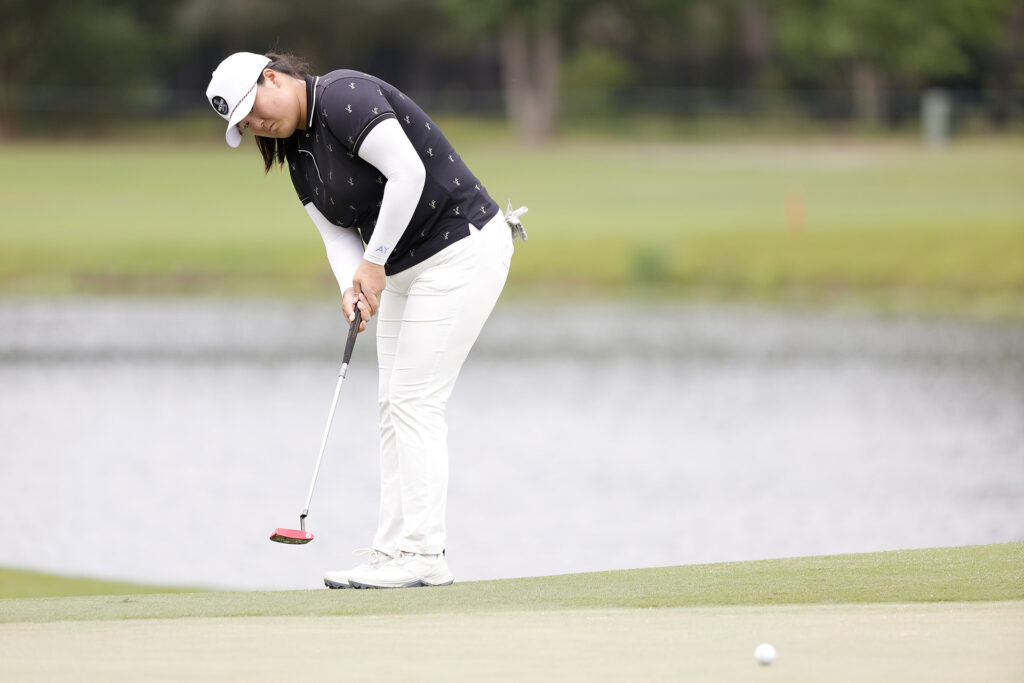 Yin picked herself up after another bogey on 17 and took on the 72nd hole in an aggressive manner, eventually missing a 30-foot putt for eagle but draining a solid 5-foot birdie opportunity to face on Vu in extra holes.
A Major play-off
Playing down 18, Vu and Yin both found the fairway on the 73rd hole but missed the green, with Vu finding the fringe and Yin in the water.
Vu had a putt for eagle and the win:
"We hit a good shot, and then I knew the green was really fast, but I wasn't sure with all the rough and into the grain from the fringe, so I left it short. But I knew on that last putt, all I had to do was just do my routine, read the putt how I usually do, and just hit this putt because I've hit that putt a million times and I knew I could make it."
Yin's runner-up performance ties her career-best finish in a Major championship, which she also recorded at the 2019 U.S. Women's Open. "Honestly, I held it together, and then 16 and 17 really just was like bad club decision, mind mindset on 16 off the tee, and then obviously in the play-off hole, I just didn't hit a good shot," said Yin. "It just kind of spoke a lot about today."
There was no real charge from Nelly Korda, who struggled with her putting but ended up with an eagle on the last to shoot 71 to give her her fourth top-five finish this season.
Tied in fourth with Thitikul was 36-hole leader A Lim Kim, Amy Yang, Albane Valenzuela and Corpuz, with Jin Young Ko and Megan Khang rounding out the top 10 in a tie for ninth at seven-under-par.
Eila Galitsky earned low amateur honours in the Championship after recording a final-round 70, one-over-par overall to finish tied 28.
Time to embrace change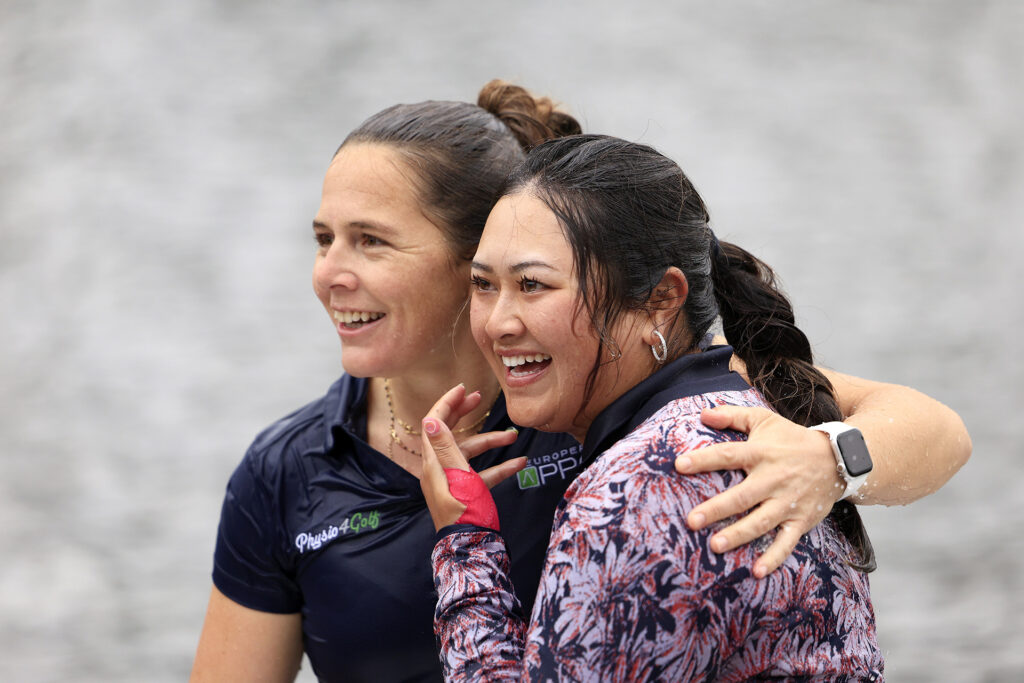 With a new date and location, the first women's Major of the season had a lot to prove. As Lilia Vu made the jump into the slightly murky lake by the 18th to carry on this Major's tradition, it did not have the same impact as Palm Springs.
Combine this with what seems like a lack of interest from spectators (there weren't a lot of the tournament) and golf media (it was barely covered in UK golf press). It's time this Major really embraces their new identity, showcases the impressive impact title sponsor Chevron has had and make their own traditions because clinging onto the past really hasn't worked.
View the full Chevron Championship leaderboard here.
Inspired by the first women's Major of the season? Why not come and watch the best players in the world at the AIG Women's Open this summer at Walton Heath. Ticket prices start from £20.