Scotland's Gabrielle Macdonald secured her maiden LET Access Series win after a five-hole play-off with England's Lily May Humphreys.
The tough weather conditions in round three of the Allerum Open in Helsingborg, Sweden challenged all players to remain patient until the last putt dropped.
The Scotswoman, who has placed in the top-10 four times this season, was at the top of the leaderboard throughout the tournament.
After shooting rounds of 70 on the first two days, a final round of 72 was enough to make it into the play-off before she triumphed over Humphreys.
Macdonald spoke about her final round and play-off:
"I'm just so happy and excited right now. Again, it was a tough going today as it was very windy, but I played really good on the front nine and am happy with how I was hitting it. I had a bit of a blip on 11 around the green and then dropped another one on 12. I didn't know what the scores were, but I knew it was probably quite close.
"I'm really proud of how I stuck in on the last few holes and I made a couple of birdies. The play-off played really good, but I didn't think it was ever going to end as Lily played great as well, but I'm absolutely delighted with the result."
England's Humphreys secured a back-to-back second place finishes on LETAS after putting pressure on Macdonald on the back nine.
The runner-up kept progressing every day and fired rounds of 72, 71 and 69 to force the play-off with a bridie on the last hole, she said:
"I'm happy with my game, it's definitely getting better. It's a bit of a bittersweet end to the tournament because at the start of the day I didn't really expect to be in contention especially after Gabrielle was playing so well on the front nine. I thought I was just fighting for a solo second finish but then on the back nine it was like I was trying to win again.
"I'm excited to get going with another tournament coming up in just a few days. I feel like it suits me to only have a one-day turnaround because I'm playing pretty good, so I don't need to work on too much."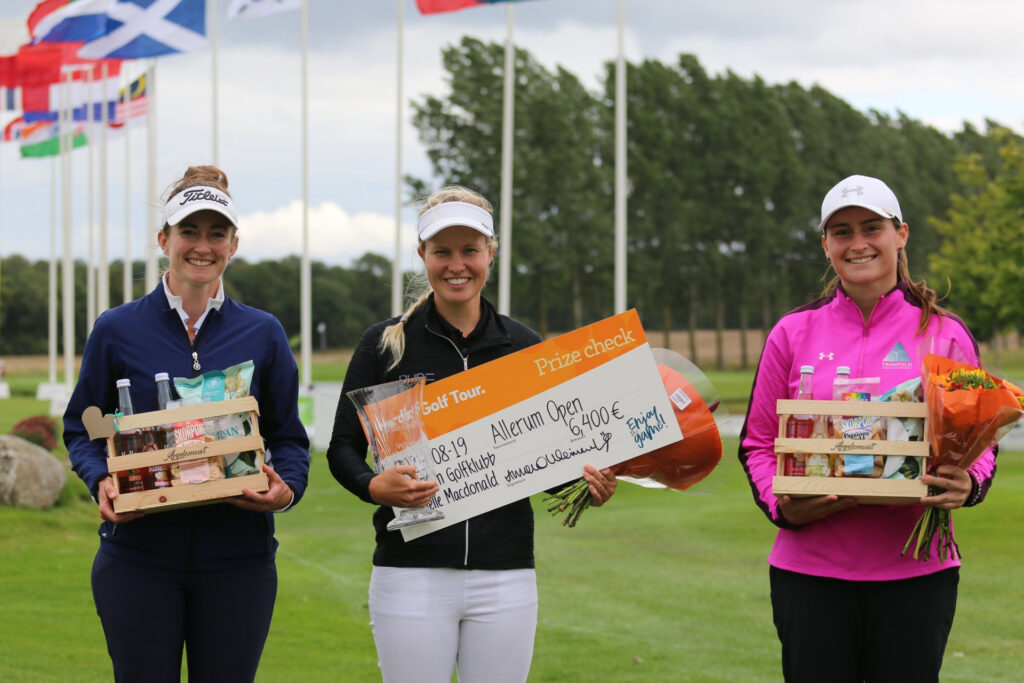 Another Englishwoman Rachael Goodall finished on -1 with rounds of 70, 73 and 71. The recent winner from Spain had a great end to her final round with back-to-back birdies to put her in solo third place. Goodall explained:
"I'm pretty happy, I would have taken it at the start of the week. Obviously, everyone wants to win but third place is still good, and I had a great finish with nearly holing-out my approach shot on 18.
"It was really cool to watch Gabrielle win! We travel together, she's my roommate so I really wanted her to win if I couldn't. I walked all five holes with her in the play-off and at one point I thought she was trying to beat my seven-hole play-off in Spain! Now we'll have two trophies traveling with us."
With her maiden win and consistent season, Macdonald climbed up the LETAS Order of Merit and sits in first place with 1,345.45 points, Humphreys is not too far behind with 1,279 points.
Nina Pegova is third with 1,098.50 points while Sofie Bringner (1,088), Rachael Goodall (919.44) and Nayeon Eum (595) round off the top six.
There are five events remaining in the 2021 LETAS season and the top six in the Order of Merit will secure their cards for the 2022 LET season.
See the full final leaderboard here.