Nelly Korda's extra special win after a difficult season. A 16-year-old wins on the LET and Tommy Fleetwood returns to the winner's circle.
Exactly one year and one day ago, Nelly Korda hoisted the Pelican Women's Championship trophy high on the 18th green of Pelican Golf Club. On Sunday, she found herself in the same position after shooting a closing 64, highlighted by seven birdies, that earned her a one-shot victory over 11-time LPGA champion Lexi Thompson. Though this is Korda's eighth victory on the LPGA Tour, this victory is extra special because of the tumultuous season she has had this year.  
"I've said it so many times, but it's just been such a rollercoaster. I mean, I guess that's life though. There has been more downs than ups this year I think, and I think that that's what makes this so much sweeter to me," said Korda, who suffered a dangerous blood clot early in the year that forced her to take a break from the game.
"With the way my game was as well in the last two LPGA starts that I had, I didn't think that I maybe had the confidence that I was going to win.
"But I had a good solid couple weeks, and I told myself, step by step. I had good memories on this golf course. I was home. I had the comfort level of my parents being in the crowd, too, which plays a part."
Watch extended highlights from the final day of the Pelican Women's Championship
This is the Florida native's first come-from-behind victory on Tour, having been the leader or co-leader heading into the final round of every previous victory, even at the Tokyo Olympics. This is also Korda's second time successfully defending a title – she won the Taiwan Swinging Skirts LPGA in 2018 and 2019 but at two different courses.
With her win, the 24-year-old is projected to move to No. 1 in the Rolex Women's World Golf Rankings for the third time in her career, an achievement she didn't know was possible until after her final round concluded.
"I've never been a player that's kind of looked at the rankings too much. I've always said that good golf and enjoying myself out there and playing to the best of my ability kind of solves all that," said Korda, who most recently held the World No. 1 title from Nov. 8, 2021, to Jan. 30, 2022.
"Obviously going through what I've been through this year and regaining that World No. 1 ranking is really special as well. I've heard somewhere that it's a really tight race; everyone has had an amazing year. I think for me, I just appreciate it a lot more."
Korda started the day at -8, two shots behind second-round leader Allisen Corpuz after shooting twin 66s during the opening rounds. She made a birdie right off the bat on the first then found two more on holes seven and eight to make the turn at -11, two shots behind Thompson.
With Thompson carding bogeys at 11 and 12, Korda briefly took the solo lead at -13 with a birdie at 13. But Thompson, playing one group behind Korda, made a birdie of her own the same hole to join Korda at the top. Korda finally took a lead she would never relinquish with birdies on 16 and 17. After Korda bogeyed No. 18 from off the back of the green, Thompson put her approach on the front edge of the final green and could not convert the tying chip.
"Eighteen's definitely not the easiest hole. I was in between clubs there. I was in between a 7-iron and a 6-iron. I literally had the same number I had in the play-off last year," explained Korda, who defeated Thompson and two others on the first play-off hole to earn the victory in 2021.
This is Thompson's fourth runner-up finish of the 2022 season and 18th top-10 finish without a win, the most of any player on the Tour. With her third-place finish, rookie Corpuz earned her third top-10 result of the year after leading for the first time in her career after Saturday's second round.
Three players tied for fourth, including rookie Morgane Metraux, whose finish pushed her into the top-100 in the Race to the CME Globe and secured her priority status for 2023. Ally Ewing and Lizette Salas, both 2022 LPGA champions, finished T7 along with first-round leader Maria Fassi. Rounding out the top-10 were past LPGA Tour winners Leona Maguire, Matilda Castren and Maja Stark.
This week sees the end of the 2022 LPGA season as the Top 60 players head to Tiburón Golf Club, Gold Course in Naples, Florida for the CME Group Tour Championship.
Final Aramco Team Series event of 2022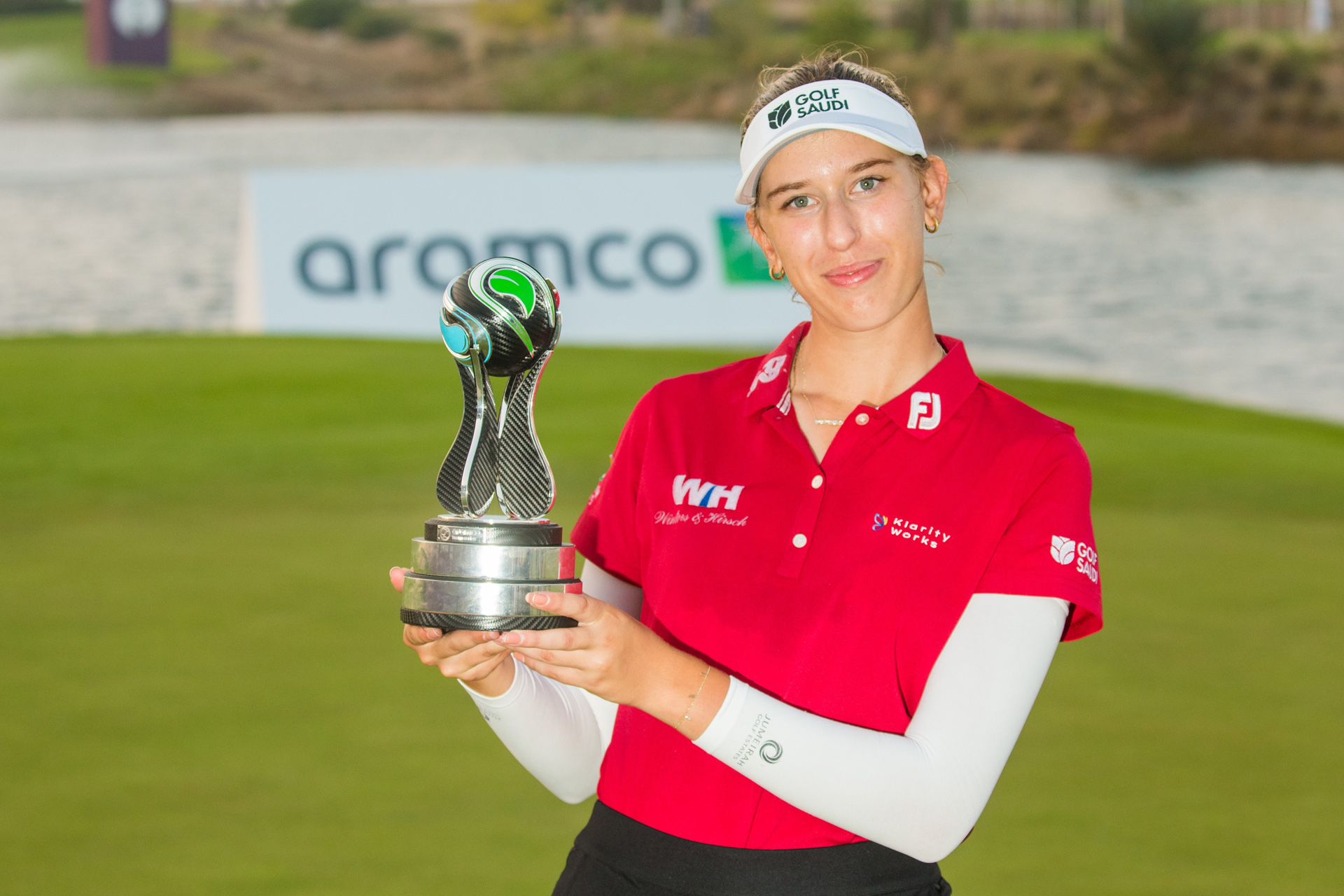 There is no doubt that there are a number of young players who are making their mark on the women's tours. Atthaya Thitikul became World No.1 this year at 19-years-old, whilst Pia Babnik finished third at this year's Chevron Championship at just 18-years-old.
It's now time to throw another young name into the mix, step forward 16-year-old Chiara Noja, already a professional. Noja won her first professional even in June when she won the LETAS Amundi Czech Ladies Challenge by an enormous nine shots.
The Dubai-based player has now taken this one step further by winning the individual title at the Aramco Team Series - Jeddah.
Read the full round-up from the final Aramco Team Series event of the season here.
Tommy Fleetwood back in the winner's circle
Tommy Fleetwood went back-to-back at the Nedbank Golf Challenge in South Africa but with a three year gap in between. The last time Englishman Fleetwood had won on the DP World Tour was in 2019 at the exact same event.
The final day turned into a marathon due to a weather delay in the middle of the final round. However, after returning to the course, the 31-year-old went on to shoot a final five-under-par round, including holing out from a bunker for eagle on 14 to win by one shot on 11-under-par. Playing partner Ryan Fox, bogeyed the final hole to miss out on the chance to overtake Rory McIlroy at the top of the DP World Tour rankings.
Commenting on this week's play, Fleetwood said:
"It's amazing we got four rounds in, in the end, and it was such a lovely feeling coming down the back nine with a chance and battling it out. You draw on the good memories that you have round somewhere you've won. I felt good all day.
"I played great when we came back out (after the weather delay). The putter went cold, didn't hit bad putts at all. 10, 11, 12, 13, I missed a few chances and happened to be in the group where the players were doing all the scoring, so it maybe felt a little worse."
"It wasn't the best lie (on 14) but I felt okay. It wasn't a terrible place to be. I don't know how far it would have gone past but it came out lovely and went in. That spark, those kind of things happen.
"It was great that I had a week that I was swinging it well. It wasn't overly stressful for me and I just had in my mind to keep going... you never know what happens at the end of the week. I think everyone's goal is to make it to the final event of the year, that never changes. Really excited to go and play next week. If you can find form coming into the end of the year it's always great.
"I wish the guys at the top all the best, especially Foxy. He played fantastic when we played together on Thursday and again today. It was lovely to go against one of the best players in the world at the moment on the back nine. I would have loved my putt to go in on the last to be the deciding factor, but take nothing away from him, he played great. I'll go Dubai and see what we can do, but I'll just enjoy this one."
The DP World Tour is also heading for their season finale with the DP World Tour Championship at Jumeirah Golf Estates, Earth Course in Dubai.
Tony Finau goes wire-to-wire in Houston
Tony Finau made it three wins in the last seven PGA Tour starts as he secured his fifth title with a dominant four-shot victory at the Cadence Bank Houston Open.
Although Finau managed to pull together a one-under-par final round, he definitely wasn't very confident before, he said:
"When I teed off this morning I felt a little off, honestly. You know, it's not easy sleeping on the lead. I just, I didn't know if I had it in me, but you just take it a shot at a time.
"It's a place I've never been before. I've never had an eight-shot lead on the final round on Tour. It's an interesting mindset. A little bit of don't screw it up, or maybe if we hit some good shots we can extend this lead. You kind of live in the middle out there.
"I will say on 14 and 15 I got a little impatient. We were waiting on the group in front of us and I just felt like we had been out there forever. It literally felt like this tournament wasn't going to end, like were we ever going to get to 17 or 18. I tried to muster up as much patience as I could. Think that short putt I missed on 15, I just didn't take the time I needed to hit the putt and I missed a short one.
"But overall this was a special week. You know, I won this golf tournament from start to finish. I don't know if I've done that in my career, maybe at Rocket Mortgage, but to have played that well for four straight days, that's what it's all about and all the hard work is starting to pay off, which is fun."
The PGA Tour 22/23 season continues with The RSM Classic at Sea Island Golf Club (Seaside Course), St. Simons Island in Georgia.
Which other tours would you like us to report on? Drop us an email with your request here.