A nail biting final round at the Amundi Evian Championship, a battle between Webb and Sorenstam plus Darren Clarke does the double.
Brooke Henderson cemented her place as Canada's most successful Major winner by securing the 2022 Amundi Evian Championship, holing a birdie putt on the last to take victory. It was a nail-biting final round which had a lot of players in contention, so the 24-year-old was pleased to come out on top.
"It was definitely an interesting day. Not the start that I wanted, but I stayed pretty patient, as patient as I could under those circumstances.
"Then going into the back nine, you know, the saying is that majors are won on the back nine on Sunday, so I just tried to keep that frame of mind, and knew I was still in it if I could have a solid back.
"I was able to make a few birdies, which was nice, and obviously to make the birdie on 18, that makes it feel really nice."
Read the full Amundi Evian Championship round-up and watch the highlights here.
The LPGA and LET both head to Dundonald and the Trust Golf Women's Scottish Open.
Webb and Sörenstam go head-to-head at Senior LPGA Championship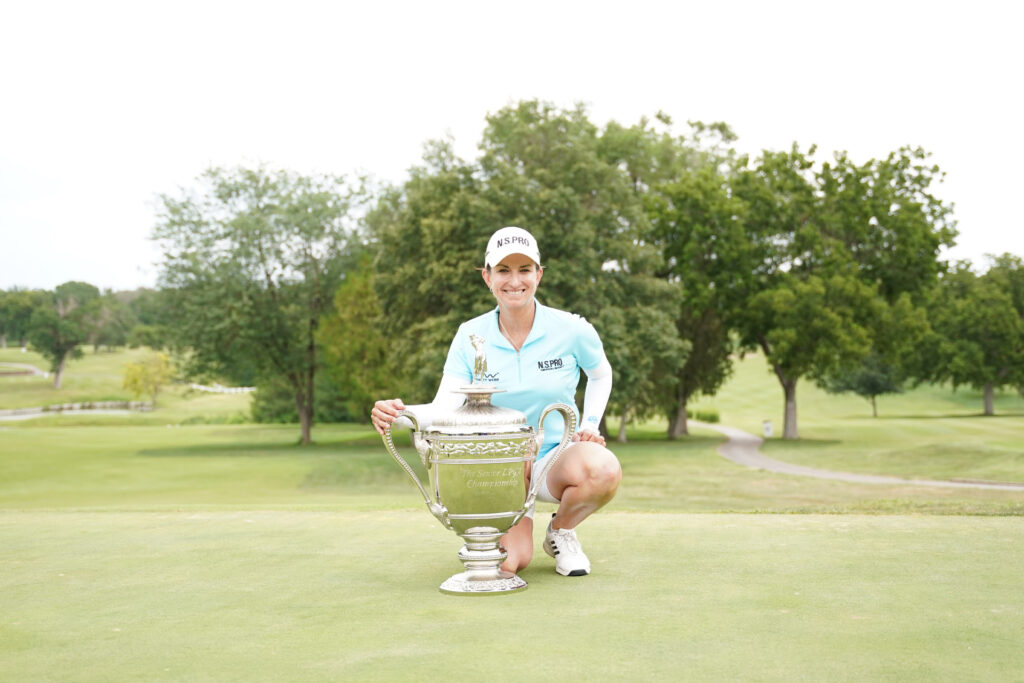 Karrie Webb solidified her first victory on the Legends Tour, defeating long-time competitor, Annika Sörenstam by four shots to win the Senior LPGA Championship at Salina Country Club. The Aussie finished the week 14-under-par. With Sörenstam breathing down her neck, Webb knew she was going to have to bring her A-game during the final round.
"It's been a long time since I've had to make putts down the stretch to win a golf tournament," laughed Webb. "So the mouth was getting dry and the little putts were seeming a little bit longer."
It was evident right off the start of the final round that the duo would go back and forth at the top, when Sörenstam chipped in for eagle on the first hole. Instead of letting it mess with her head, Webb used the accomplishment as motivation.
"It was kind of a game on moment," said Webb. "Once that went in, I was like alright here we go. I just knew I had to play my best golf."
Webb also had an eagle of her own on 14, to go along with six birdies. The adrenaline of being at the top with Sörenstam was not something she has had in a long time.
"I'm not used to playing golf with adrenaline," said Webb. "It was hard to know how far I was hitting it, so it was a bit of a guessing game, but I think I did pretty good overall with it."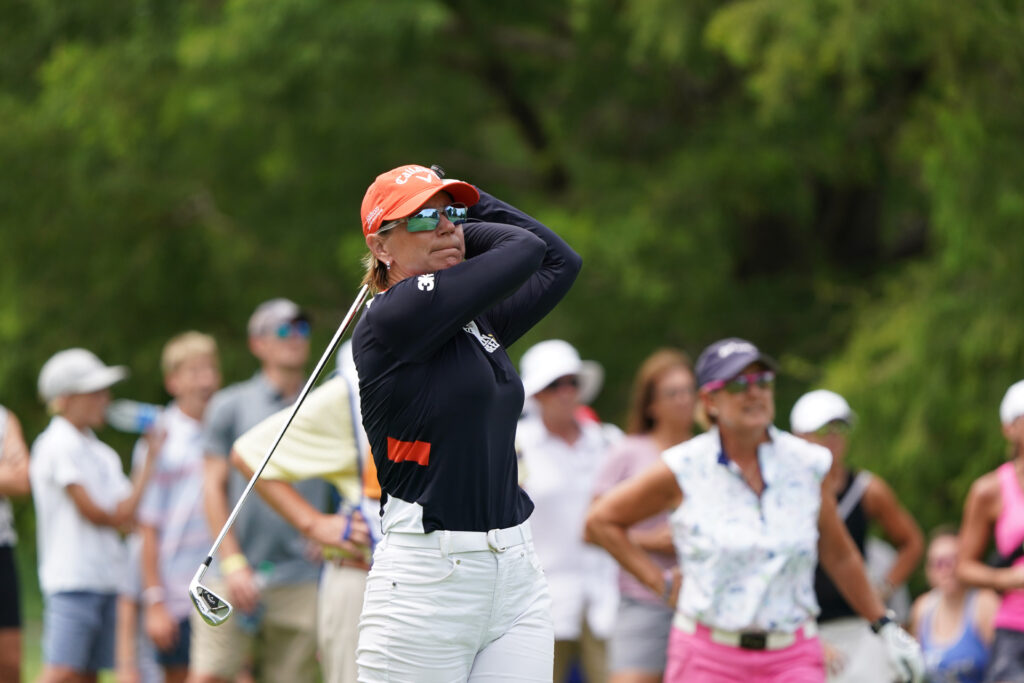 Sörenstam finished the week in second place, at 10-under-par. Her three-under-par final round performance consisted of three birdies, all on the front nine, and the lone eagle to start her round. The Swede put up a fight on the back nine, but ultimately fell short of Webb.
"I wish I would have continued that pressure that I started on," said Sörenstam. "It would have been fun, but I think I ran out of gas a little bit."
The hall of famer says she likes being in the position she was heading into the final round – two shots back with all eyes on their group.
"I think it was a great head-to-head for most of the day, and I think we both played well," said Sörenstam. "She just came out on top this time. But it's always nice to have the fans and spectators out there cheering and creating a good atmosphere."
Throughout the highs and lows of the round, Sörenstam leaned on her family for support. Her husband and children were always right there and ready for both celebratory and consoling hugs as she walked to the next hole.
"That's why I play," said Sörenstam. "It's all about them. I want them to be part of it, you know, we've been going through this journey together. They've been supporting from start to finish, so I want them to feel like this is part of theirs and part of what they do. They mean the world to me."
Seven strokes behind Webb, and three behind Sörenstam, was Laura Diaz. Her two-under-par final round put her in solo third at seven-under-par. Like Sörenstam and Webb, Diaz recorded an eagle to accompany two birdies.
Becky Morgan, Michele Redman, Juli Inskter, and Lisa DePaulo round out the top five, tied for fourth at four-under-par.
View the full Senior LPGA Championship leaderboard here.
Darren Clarke does the double
It was like the clock had been turned back as Sunday also saw Darren Clarke win the Senior Open at Gleneagles. The Northern Irishman won by a single shot over current Senior U.S. Open Champion Padraig Harrington.
The 53-year-old becomes only the fourth golfer to win The Open and Senior Open titles alongside Bob Charles, Gary Player and Tom Watson.
Speaking to Sky Sports after his victory Clarke said:
"When I won some of my biggest tournaments, The Open, WGCs, I have a sense of calmness," Clarke said. "I don't know where it comes from because if I'd been able to grab a hold of it a few more times in my career, I probably would have won a few more times.
"This week, I had that calmness again. I think it comes from being accepting, knowing that I hit some poor shots now and again. I'm not going to hole that many putts or whatever. And when you're accepting, it's easier just to amble along and accept the outcome."
View the full Senior Open leaderboard here.
Richie Ramsay wins fourth DP World Tour title
After seven years without a win Richie Ramsay birdied three of the last five holes to get to 14-under-par and win the Cazoo Classic at Hillside by one shot.
It was an emotional victory for the 39-year-old Scot, he said:
"The biggest thing for me was I made a promise to my daughter, and I don't break promises to her. I said I would get a trophy and this one's for her. It feels unbelievable."
The DP World Tour now goes back to Scotland and the Hero Open at Fairmont St Andrews.
Finau wins in Minneapolis
Scott Piercy let a four-shot advantage slip away as Tony Finau remained calm and composed to secure a three-shot victory and his third PGA Tour title at the 3M Open.
Finau felt the momentum shift in the middle of his round:
"I was playing great but every time I looked up it seemed like I was four or five shots back all day. I really got things going in the middle of our back nine and once I took control of the tournament it was a whole different mindset to try and seal the deal."
An added bonus was that Finau was able to celebrate his victory with his wife and five children by his side.
The American waited over five years for a victory until he won the Northern Trust Open last year, how he's made it two wins in a year.
The PGA Tour now moves to Detroit and the Rocket Mortgage Classic.
Which other tours would you like us to report on? Drop us an email with your request here.