Jodi Ewart Shadoff finally gets elusive first victory whilst Jon Rahm and Tom Kim get into the record books. Plus Epson Tour graduates are confirmed.
Jodi Ewart Shadoff's first professional victory has been a long time coming. After eleven years and 264 starts she is finally an LPGA Tour winner.
It was back-to-back English player victories as Shadoff followed in Charley Hull's footsteps to claim a one-shot victory at the LPGA MEDIHEAL Championship. Shadoff led from day one and even though her final round was not plain sailing, she was able to hold her nerve to take the win.
Read the full LPGA round-up here
Rahm equals Ballesteros' record
Jon Rahm completed a stellar week on the DP World Tour with a dominant six-shot victory at the Open de España, Rahm's third national title in five years.
Having previously won the prestigious event in 2018 and 2019, the 27-year-old put on a flawless final-day show for home fans at Club de Campo Villa de Madrid, using a full bag of Callaway and Odyssey products.
His winning bag included a Rogue ST Triple Diamond LS Driver, Rogue ST Fairway Wood, Apex TCB Irons, JAWS Forged Wedges, Chrome Soft X 22 Golf Ball and an Odyssey White Hot OG Rossie S Putter.
Rahm secured the title after carding a stunning 62, nine-under-par, to finish the tournament at 25-under, completing a memorable week for #TeamCallaway, with fellow Staffer Min Woo Lee taking third.
The Spaniard now equals his hero Seve Ballesteros' three Open de España victories and becomes the second fastest Spanish player to win eight titles on the DP World Tour in 62 appearances, only one event more than Ballesteros who won his in 61 starts.
"It was the goal coming in; Seve is a great hero of mine and to do something he took his whole career to do in just a few years is quite humbling. It's emotional. Going up the 18th hole I knew what was about to happen and to get it done like that, I can't describe it," said an elated Rahm.
"My lowest round, my lowest score out here, it was pretty much a perfect week," he added.
With 51 drivers in play, including 37 Rogue ST models, Callaway was the #1 Driver brand at the Open de España. It was also the #1 Driver Brand on the LPGA Tour and on the Champions Tour.
Callaway had nearly 40% of all drivers in play at both the Open de España and at the LPGA Mediheal Championship, plus 43% of the drivers at the Champions Tour event. Odyssey was also the #1 Putter Brand by far at all three tournaments.
The DP World Tour remains in Spain for two more weeks, this week it's the Estrella Damm N.A. Andalucía Masters at Real Club Valderrama.
Popular Kim to be golf's next superstar?
Tom Kim is fast becoming golf's next global superstar as he secured his second PGA Tour victory at the Shriners Children's Open, at just 20 years old.
Starting the day tied for the lead, Kim put on yet another display of fantastic golf to shoot a final round of five-under-par. He battled throughout with Patrick Cantlay but the American had a nightmare final hole to close with a triple bogey and tie for second with Matthew NeSmith.
Not only did Kim secure a three-shot victory, he was also the third player since records began to win a 72-hole stroke play event without making a bogey on the PGA Tour. It's worth noting that this was his second victory in his last four starts.
The South Korean was on a record breaking day as he became the first player since Tiger Woods to win two PGA Tour titles before turning 21. With a June birthday, you would believe he has an opportunity to better Woods' record. Watch this space…
"It's really amazing," Kim said. "A few months ago, I didn't have any status in the US and now being a two-time winner on [the PGA] Tour, having that place with Tiger, it's an unbelievable feeling for me. It's an honour and definitely a dream come true.
"I've worked really hard, and my team has worked really hard to this point, and I'm just really grateful... I'm having fun playing on the PGA Tour. I'm a five-year-old at Disneyland!"
The PGA Tour is off to Japan this week and the ZOZO CHAMPIONSHIP at Accordia Golf Narashino Country Club in Chiba.
Boonchant sets new Epson Tour Championship record
The Epson Tour Championship has a new champion and new 72-hole record, while the Epson Tour has a new all-time scoring record. Jaravee Boonchant accomplished all three after finishing the week 23-under-par.
"I'm very happy," said Boonchant. "It's really unbelievable. I still can't believe that I actually won the tournament just now. I don't know, I'm just very happy and words just can't describe how I feel right now."
The win at LPGA International in Daytona Beach, Florida marked the rookie's first victory on the Epson Tour. Boonchant carded 21 birdies and a lone eagle on the week, with clean, bogey-free scorecards throughout all four rounds.
"I actually did not realize that I did all bogey-free until two of the last holes," said Boonchant. "I was like, 'Oh, I actually haven't had a bogey yet.' That kind of distracted me a little bit, but I was just going to do what I had been doing and just focused on this shot that I was about to hit."
Unfortunately, the win wasn't enough to secure Boonchant a spot in the top-10. The Thai finished at No. 12 on the Epson Tour official money list, getting exempt from Stage II of the LPGA Tour Qualifying School. Her next chance at 2023 LPGA membership will happen at Q-Series in December.
"I'm just very grateful that I was able to pull out a win this week," said Boonchant. "Coming into this tournament, I was flying from Korea and my ranking was 36. It was just at the cut line, so I was just hoping that I made a good result and maybe get exempt from Stage II. To be able to win on the last event of Epson Tour, that just makes me very happy and proud that all the hard work has paid off. I'm proud of myself that I trusted the process and didn't stress myself out too much."
One stroke behind Boonchant, in solo second place, was Riley Rennell. The Tennessee native went bogey-free on the day, signing for a seven-under-par final round.
"I'm so happy, just to have a chance," said Rennell. "I felt really calm and really good out there. I kept on pushing, kept playing well, and it was so surreal to see my name climb up the leaderboard. I felt like I played really well, but it just felt easy today, so it was really fun."
Over four rounds this week, Rennell carded 22 birdies, two bogeys and a lone eagle. She claims the key to her success was the newest addition to her golf bag.
"I got a brand new putter, so that helped a lot with my putting," said Rennell. "I'm going to keep this putter, it's safe to say."
Bailey Tardy finished in solo third place at 20-under par. Like Boonchant, Tardy's finish was unfortunately just short of what she needed to break into the top-10. At 11, she'll have a shot at redemption at Q-Series in December.
Rounding out the top five, tied for fourth, were Anita Uwadia, Dottie Ardina, Kiira Riihijarvi and Linnea Ström. The four sat four strokes behind Boonchant, at 19-under.
The only player to fall out of the top-10 was rookie, Alexa Pano. Hyo Joon Jang, also a rookie, finished T11 for the week to move into the top 10 on the money list and take the last card.
Meet the 2022 Epson Tour graduates - find out more.
Verena Gimmy clinches first professional win in Spain
Germany's Verena Gimmy secured her maiden professional win with a stunning comeback and a three-under-par 69 on the final day of the Santander Golf Tour – Burgos.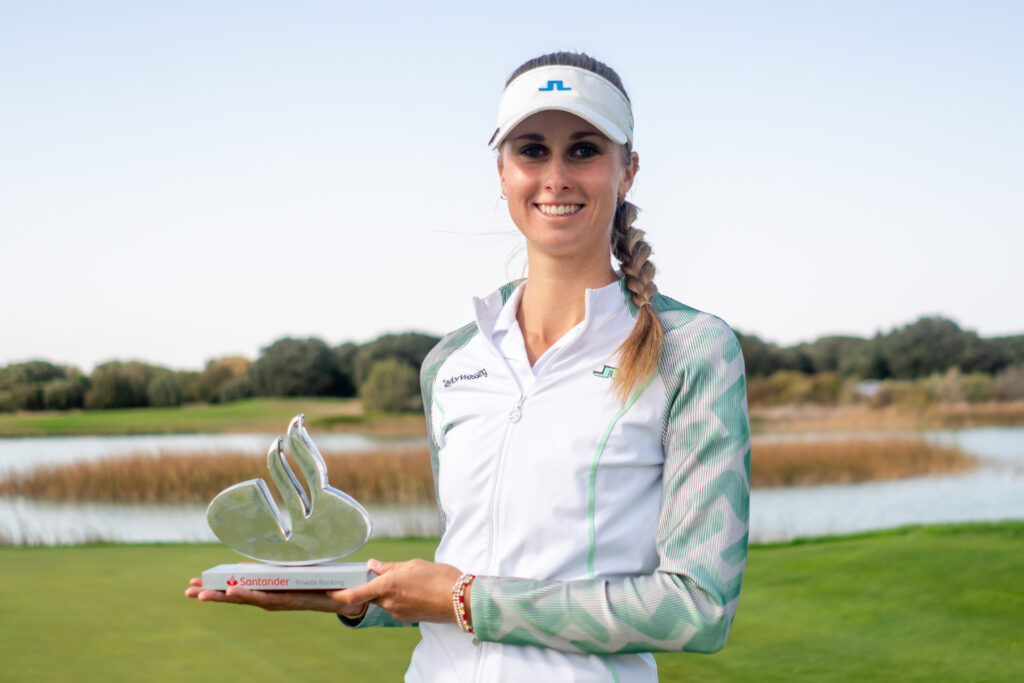 The winner started day three one shot off the lead and contributed to the big fight put on by the final group.
The 28-year-old started the final round with four consecutive pars and dropped one shot on the fifth before making back-to-back birdies on holes six and seven.
Gimmy seemed to remove herself from contention after a nine on the par-five eighth hole as she made the turn in 39 strokes.
But the German showcased her tough nerves and experience from the LET as she fired six birdies on her error-free back nine to win her first professional title.
"The eighth hole was definitely tough, but I knew I was playing well, I just didn't have a lot of chances and said to myself to keep calm, stay focused, and stick to my routine.
"After making a good up and down on nine and birdie on ten, I just kept the ball rolling. It all came down to the 18thwhere I hit a really good drive into the green."
The Duesseldorf native, who played in her first professional tournament in the same LETAS event in 2020, did not fail once on the back nine all week and collected a total of 19 birdies during the tournament.
"It hasn't sunk in yet. I really liked the course in 2020 and I like it even better now. I don't even know how I played that well with having a cold all week, I guess I just had no expectations coming into this week, but I definitely really enjoyed it."
Runners-up Sara Kouskova from the Czech Republic and Swiss amateur Vanessa Knecht tied the second place at -10 after signing for 72 and 73, respectively.
Kouskova, who shared the second position with Gimmy heading into the final day had a steady round with two birdies and one bogey on the front nine, and two more birdies on holes 14 and 16.
As everything came down to the final hole, the four-time LETAS winner tried to reach the green in one but had to return to the tee box after finding her ball in the water hazard.
A triple-bogey to finish the tournament still had the Czech star sign for a round of level-par as she remains at the top of the LETAS Order of Merit.
"Considering I started playing on LETAS in June, I did not think that I would be at the top of the LETAS Order of Merit by the end of the season as I played in fewer tournaments.
"Even though I didn't finish as I would like today, I am still extremely happy with a T2 finish. Verena really deserves the victory, her comeback on the back nine was unbelievable and really fun to watch.
Knecht, who was the overnight leader finished injjoint second alongside Kouskova. The amateur had a tough start with three bogeys on her opening four holes, but she recovered herself well with four birdies on holes eight through 12.
Two double-bogeys and two more birdies on the back nine saw the Swiss talent take her second LETAS runner-up finish of the season as she prepares for the LET Qualifying School and the transition to her professional career.
The Netherlands' Marit Harryvan finished in outright fourth place at eight-under-par after carding a third round of three-under-par.
Three players shared the fifth position as England's Amy Taylor, Sweden's Anna Magnusnon, and France's Astrid Vayson De Pradenne finished at six-under-par. Norway's Tina Mazarino took the solo eighth spot at five-under-par, while three players shared ninth place.
New Zealand's Momoka Kobori, Italy's Erika De Martini, and Swiss amateur Elena Moosmann rounded out the top ten at four-under-par.
The LETAS Order of Merit did not see many changes within the top six which will secure those players a full LET card for the next season.
Kouskova remains in the lead with 2,592.18 points, Germany's Chiara Noja is second (2,217.98 points), and compatriot Patricia Isabel Schmidt third (1,892.97 points). Kobori keeps her fourth position (1,804.83 points), the Netherland's Lauren Holmey is fifth and Sweden's Anna Magnusson sixth (1,405.76 points).
It's the final event of the 2022 LETAS season this week with the Calatayud Ladies Open in Spain.