It was back-to-back victories for English players as Jodi Ewart Shadoff sealed a one shot victory at the LPGA MEDIHEAL Championship following Charley Hull's win last week.
A win that may have felt like it was never going to come but after eleven years and 246 starts, Jodi Ewart Shadoff is finally an LPGA Tour champion.
Ewart Shadoff won the LPGA MEDIHEAL Championship, conquering The Saticoy Club with a tournament record 15-under-par. The 34-year-old becomes the season's 10th Rolex First-Time Winner, which ties for the second-most first-time victors in a year.
Not only that, Ewart Shadoff is the 11th different champion from England to win on Tour and is the second-consecutive English winner following Charley Hull at The Ascendant benefiting Volunteers of America.
"I don't think it's really sunk in yet. I've waited a long time for this," said Ewart Shadoff. "It's been many times in my career that I didn't think this was ever going to happen, so just really grateful in this moment."
Though she started Sunday with a four-shot lead, it wasn't a walk in the park. Ewart Shadoff's lead quickly evaporated as she bogeyed the third and was tied with playing partner Paula Reto by the seventh hole at -13.
Reto and Ewart Shadoff traded birdies on eight, but the Englishwoman's bogey on nine left her one-stroke back of Reto at the turn. Ewart Shadoff went on to notch crucial birdies on 12 and 14 as Reto faltered down the stretch. The South African bogeyed two of her final three holes and slid down the leaderboard as Ewart Shadoff held on for her wire-to-wire victory.
"I learned that I could fight through adversity. I can play under the nerves, which it's been kind of a problem for me in the past, is just trying to settle the nerves down and play through it," said Ewart Shadoff, who ultimately finished the day with a one-under-par 71. "I think I proved to myself that I can do it. I proved I can win. It's been a long time, and like I could, I didn't think I would ever be sat here honestly. Just really grateful."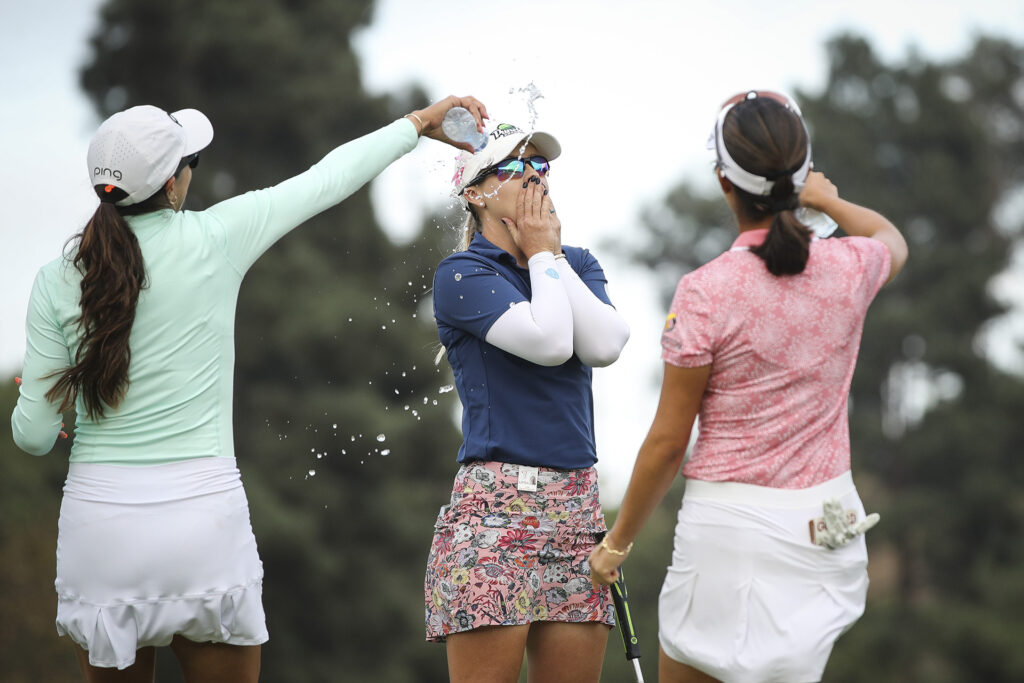 Georgia Hall has a strong finish to tie for third
Yuka Saso earned her season-best finish of solo second in Somis, Calif. and her best result since her win at the 2021 U.S. Women's Open. Saso carded a six-under-par 66 on Sunday that included two bogeys, an eagle on eight and six birdies, with four carded in her final five holes to finish at -14.
Reto finished in a tie for third with major champions Georgia Hall and Danielle Kang. Hall recorded a bogey-free seven-under-par 65 that included four-straight birdies from holes 14-17. Hall commented on her superb finish:
"I'm playing really well and it's really nice to be in contention, to feel that even a birdie on the last could put me tied first. So just really happy with the way I played the whole week. Very consistent. I wanted to try and get some Top threes and Top fives because I've been lacking a little bit of them this year, so I'm happy that at least I've done that."
Kang, a SoCal native, earned her second top-three finish in her last three starts.
"I thrive off the gallery, so I love when people cheer and come out and watch and have that momentum and that vibe. So hopefully this encourages people to come out and know that it's really fun to watch. I had as much fun as other people did outside," said Kang. "There is some really good golf being played out there today, and I'm a little bit bummed on the fact that I didn't give myself enough birdie chances coming in, but I did the best that I could."
Andrea Lee finished in solo sixth at -12, with Sei Young Kim finishing in seventh for her first top-10 result since a tie for ninth at the CP Women's Open. Five players tied for eighth at -10, including two-time 2022 winner Atthaya Thitikul and Lauren Coughlin, who earned a new career-best finish.
The LPGA now takes a week off before heading to Korea and the BMW Ladies Championship, where Ewart Shadoff will hope to continue on her great form.