Lily May Humphreys secures her first LET title at the Joburg Ladies Open
Report from the LET
England's Lily May Humphreys fired a fantastic final round of 67 (-6) to secure a two-shot victory at the Joburg Ladies Open.
The 20-year-old began the day six shots behind overnight leader Moa Folke and got off to a good start with two birdies in her first two holes before her only dropped shot of the day on the third.
Humphreys then got on a roll with birdies on five, eight, 13 and 14 which put her into a share of the lead.
The 2021 LET Access Series Order of Merit winner then rolled in a birdie on 16 to reach a total of 12-under-par which proved to be enough to win her first LET title.
"I'm pretty speechless," said Humphreys. "I felt so nervous playing 18 and I just can't believe I've done it. It's an incredible feeling and I'm so overwhelmed right now.
"Today was simple golf, I stuck to the same game plan. I wasn't as aggressive as other people on a few holes, it was what I felt comfortable with and what I felt was best for me and it obviously paid off for me this week. I stuck to my game plan and tried to play my best golf.
"On 15 was when I noticed, and I had a five-foot putt for par and I had just seen that I was tied for the lead. Luckily, I holed that and then followed up with a birdie on 16 and then I didn't know I had a two-shot lead until I was basically putting on 18. The nerves properly kicked in then.
"I love it here in South Africa, I have been enjoying it. I have loved playing the Sunshine Ladies Tour. I'm in better form now and feel confident and I was happy that I was in the final few groups and I started off nicely, I just wanted to be near contention at the start of the day. To be where I am now is incredible.
"I'm really excited about the rest of the season, I'm really looking forward to what's to come!"
Folke and Trivino in second place
Spain's Ana Pelaez Trivino and Sweden's Moa Folke finished in a share of second place on 10-under-par.
LET winner Pelaez Trivino had a solid final day carding a 69 (-4) which included seven birdies and three bogeys.
The Spaniard explained: "It was a good day with some frustrating moments, but I was pleased I could end the round with back-to-back birdies to have my best result of the season so far."
Sweden's Folke didn't have the day she wanted producing a two-over-par fourth round, but this is her best-ever result on the LET.
"I struggled out there," said the 27-year-old. "It wasn't my best day, but at the end of the day I'm happy with second place and I get to try again next week. I'll bring some positives from this week as there was definitely quite a few.
"I feel like three out of the four days here, I haven't my played my best. To still be second considering that, I think that's great and I'm looking forward to the rest of the season."
Ashok still leads the Race to Costa del Sol
Three players finished in a share of fourth place with South Africa's Kiera Floyd, Czechia's Klara Davidson Spilkova and Denmark's Nicole Broch Estrup on nine-under-par.
South Africa's Nadia van der Westhuizen ended the tournament with a round of 68 (-5) to finish in outright seventh place.
Three players rounded out the top 10 with Australia's Kirsten Rudgeley and South African pair Lee-Anne Pace and Nicole Garcia on seven-under-par.
In the 2023 Race to Costa del Sol, India's Aditi Ashok still leads the way on 1,210 points with Sweden's Maja Stark and England's Humphreys in second place on 500 points.
Spain's Pelaez Trivino moves up to fourth place with 434 points, Belgium's Manon De Roey is fifth with England's Alice Hewson in sixth.
Sweden's Linn Grant sits seventh with 320 points, Switzerland's Albane Valenzuela is eighth, while Folke moves up to ninth place with 275 points.
The LET stays in South Africa for the Investec South African Women's Open at Steenberg Golf Club.
Ko makes a glorious return to the winner's circle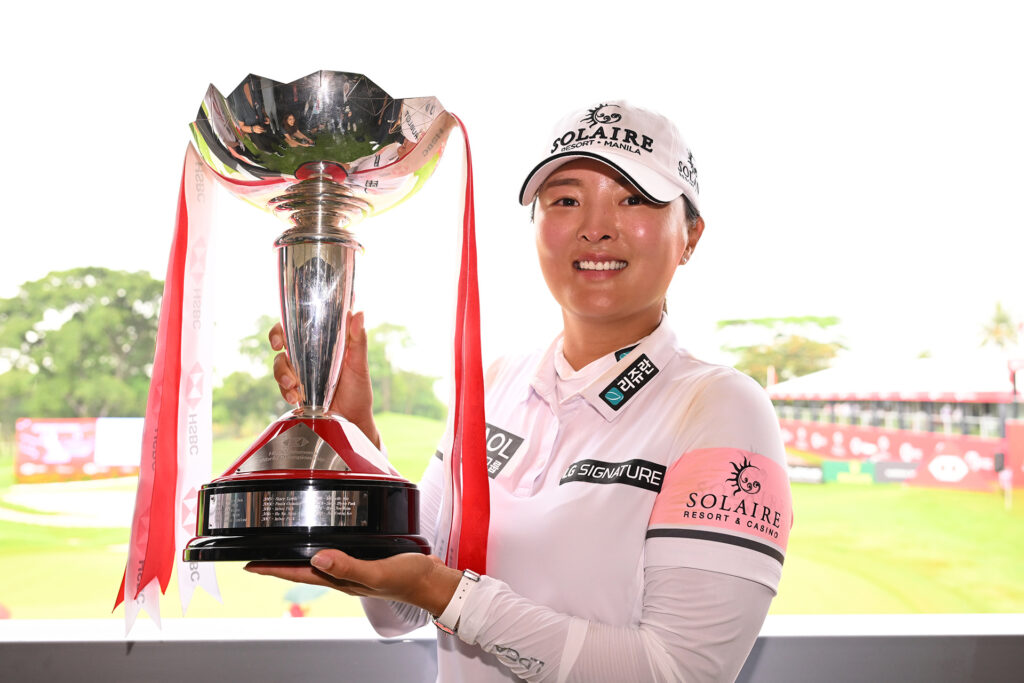 Report from LPGA
When the skies opened up and rain poured down at Sentosa Golf Club on Sunday at 1:56pm local time, it looked like Jin Young Ko would have to wait a while to close out her title defense. But play resumed 58 minutes later, and Ko did what she does best, finishing strong with two hard-fought pars on the 17th and 18th holes to capture her 14th LPGA Tour victory and first since the 2022 edition of this event.
Ko began the final round with a two-shot lead over Nelly Korda, with whom she was playing in the final group alongside Allisen Corpuz, quickly extending it with a birdie on the par four, 1st to move to -15. Korda rattled off back-to-back birdies on holes three and four, and the pair matched birdies on the par-5, 5th, ultimately giving Ko a one-shot advantage.
After Korda faltered with a bogey on the 6th, Ko grabbed another birdie on the 8th to turn in 33 and hold a three-shot lead, but gave a shot back on 11, making bogey on the most difficult hole of the week. She regained her footing with a birdie on the par-5, 13th, this week's Aon Risk Reward Challenge hole, and parred the next two before the 58-minute delay. When play resumed, Ko cleaned up her par on the 16th and ground out pars on the 17th and 18th to close out the week with a 3-under, 69, finding herself in the winner's circle for the first time in 364 days.
Watch final round highlights from the HSBC Women's World Championship
"It's the most important (win). Because I had a tough year last year, and I fought with injury and not good game and mentally tough and everything, and then I won this week. So it's going to be more important to me and it's going to be big momentum for me in my life," said Ko, who shared an emotional moment with caddie David Brooker on the final green.
"I (knew) Nelly (was) behind me. I thought it was just one or two shots, so it was close. But after the delay, I rested in dining, and I saw the TV and the scoreboard, and (I had) a three-shot lead. But I had two more holes left, so, okay, let's make par, play safe. But it was really hard to make par on 17, 18. It's a great honour to defend this title again."
Korda came close
Korda fell just short of carding four consecutive 68s at the Tanjong Course on Sunday, wrapping up her week with a three-under-par, 69 to finish in solo second at -15 overall. She made two bogeys and five birdies, including three consecutive birdies from holes three to five, and closed her day with a final birdie on the par-4, 18th, a satisfying end to a challenging week of wet conditions and weather delays for the 24-year-old.
"Obviously, a little disappointed with today. Didn't play really well but kind of didn't really battle as much as I wanted to," said Korda, who hit 10 of 14 fairways and 12 of 18 greens on day four. "I just made a couple kind of silly mistakes here and there. It was nice to finish with a birdie and be in contention again, be in the final group feeling the emotions and hopefully I can build off of that going into the next few events now in the States."
Danielle Kang did her best to make a run on Sunday, firing a four-under-par 68, but ultimately finished in a tie for third with Corpuz and 2022 LPGA Tour winner Ayaka Furue.
Corpuz held her own in the powerhouse final group, recording a three-under-par, 69 of her own with four birdies and one bogey on the card, and Furue leapt up the leaderboard with a final-round, five-under-par 67 that saw her make seven birdies and two bogeys.
Rolex Women's World Golf Rankings No. 1 Lydia Ko finished T31 at -5 overall with past champions Hyo Joo Kim (2021) and Stacy Lewis (2013) finishing T8 and T39, respectively.
The LPGA Tour now has another break and will return back in American for the LPGA Drive On Championship at Superstition Mountain Golf and Country Club in Arizona on March 23.
Kitayama secures maiden PGA Tour victory
Kurt Kitayama has finally risen to the top and claimed his first PGA Tour victory and what a stage to do it on. With a star-studded packed leaderboard on Sunday at the Arnold Palmer Invitational, Kitayama held his nerve to see off the likes of Rory McIlroy and Scottie Scheffler.
The American started the final day with a one-shot lead, so it was always going to be too close to call. Three birdies and a bogey over the first seven holes will have settled the nerves but a triple bogey seven on the ninth brought everyone back into the mix.
On the 17th the 30-year-old was tied with McIlroy at eight-under-par. Whilst McIlroy couldn't find a birdie in the last two holes, Kitayama did on 17 and finished with a level-par 72 to win by one shot on nine-under-par.
McIlroy was joined by American Harris English in second place, with Patrick Cantlay, Jordan Spieth, Scheffler and Tyrrell Hatton tied for third place a further shot back.
Talking about his victory, Kitayama said:
"Ecstatic. I've been dreaming of this for a while. I've been close and to finally get it done feels amazing. For the most part, I was feeling in control. One loose swing there and maybe a bad kick left, it just happened.
"My heart was pumping, but being in those situations in the past definitely helped. I found myself walking super-fast and then I was like, 'Slow down, just take a minute', and that really helped."
A birdie-four at the 16th restored some hope but he could only manage par on the final two holes to fall just short of Kitayama.
The event also offered three places in The Open at Royal Liverpool, meaning that Kitayama, English and Davis Riley took the qualifying places.
It's now time for the biggest event outside the Majors as the PGA Tour heads to TPC Sawgrass and THE PLAYERS Championship.
Laisne takes first Epson Tour victory
Report from the Epson Tour
Declaring the 2023 Florida's Natural Charity Classic winner took one extra hole on Sunday at the Country Club of Winter Haven. Agathe Laisne made a birdie on the first play-off hole to beat out Jillian Hollis and Kiira Riihijarvi and become the first champion of the Epson Tour season.
"I played great," Laisne said. "I hit every fairway, just been on the green and try to make some putts. I didn't think about the win — I was just trying to go low and see what happens."
Laisne shot a bogey-free 66 to come from six shots behind and take the crown. The former Texas Longhorn started her round with a birdie and kept the throttle down from there. She went out in 33, with three birdies on her card. Laisne added another birdie on the par-5 11th and then had to grind out five straight pars before closing out her round with back-to-back birdies. She said she wasn't aware of the leaderboard, but knew she had to be close.
"I knew there could be a chance that -10 could win," Laisne said. "I was like 'I got to get that eagle in on 18,' but I didn't so I was a bit frustrated. The girls didn't make birdies on 18 so I was fortunate enough to get into that playoff."
That bogey-free round came after Laisne battled high winds during the first two rounds. She took full advantage of Sunday's near-perfect weather to earn her first Epson Tour victory in her second season. The Frenchwoman was part of the 2022 rookie class.
The final round was full of excitement even before the play-off, with two holes-in-one from Becca Huffer and Perrine Delacour. Huffer hit her 4-iron 180-yards for an ace on the par-3 17th, which was also the site of her last hole-in-one in 2018. Delacour made her ace on the par-3 15th with a 6-iron for 177 yards. She finished the event T7 at 6-under-par.
Up next on the Epson Tour will be the Carlisle Arizona Women's Golf Classic on March 16-19 at Longbow Golf Club in Mesa, AZ.
Which other tours would you like us to report on? Drop us an email with your request here.