Australian Grace Kim wins her first LPGA title after a three way play-off whilst a 14-year-old amateur wins in France
Report by the LPGA.
As the sun began to sink behind the mountains at Hoakalei Country Club, Australian rookie Grace Kim drained a tricky five-foot birdie putt to win her first LPGA Tour title at the LOTTE Championship presented by Hoakalei in a playoff with Yu Jin Sung and Yu Liu.
The trio of players finished at -12 overall, with Kim capturing the title in just her third start as an LPGA Tour Member.
Kim started the day one back of Sung, in a tie for second with major champion Georgia Hall. She immediately tied Sung at nine-under-par with a birdie on the first hole, but the KLPGA winner quickly snatched it back, making birdies on holes three and five to move to -11.
Kim went birdie-bogey on the fifth and sixth holes, turning in 35 to sit at -10, tied for the lead with Sung, who dropped a shot on the ninth, and Yu Liu, who put on a bogey-free show on Saturday, five groups ahead of the leaders.
Sung regained the lead at -11 with a birdie on the 10th, and Liu tied that mark with a birdie on 14. Liu ultimately posted the clubhouse lead at -12 after a birdie on 16, setting the mark for Kim and Sung to match.
As she made her way down the stretch, Kim dug deep, making birdie on the challenging par-4 17th and matching Sung's birdie on the par-5 18th to force a three-way play-off.
Watch final round highlights from the LOTTE Championship
Playing the 18th again, all three players went for the green in two with Liu hitting hers long and left, Sung coming up short and left, and Kim pushing her approach right to sit pin-high. Liu's third came up well short before Sung blasted her third over the green and nearly in the penalty area, giving the advantage to Kim.
The 22-year-old Epson Tour graduate nearly holed her chip shot and buried the birdie putt right in the heart, giving Australia its first LPGA Tour winner since Minjee Lee won last year's U.S. Women's Open.
"I definitely wanted to have a good go at it knowing that the green wasn't the best angle in from where we were. I would have to admit that I wasn't planning to go that aggressive. I did push it right," said Kim.
"I got lucky. Definitely aimed at the pin for a little kind of play for landing in between the bunker and hopefully does something miraculous. But I guess you can make birdies in other ways. So, a different way of miraculous happened.
"I think it really just puts the cherry on top of my career," she said. "I know it's just the beginning, but seeing how much they really motivated me to get here, yeah, it's really exciting."
While disappointed to not hoist the trophy, Liu and Sung were both pleased with their play throughout the week. Sung hopes to come back next year and get the win that eluded her on Saturday.
Epson Tour graduate Linnea Strom and Chinese Taipei's Peiyun Chien finished in a tie for fourth at 11-under-par with three players in a tie for sixth at 10-under-par, including Hall. Rounding out the top 10 were sponsor invite Youmin Hwang and Epson Tour member Siyun Liu. Defending champion Hyo Joo Kim finished in a tie for 48th at one-over-par overall.
Next up we have the first Major of the season as The Chevron Championship moves to The Woodlands in Texas.
Amateur Landgraf wins Terre Blanche Ladies Open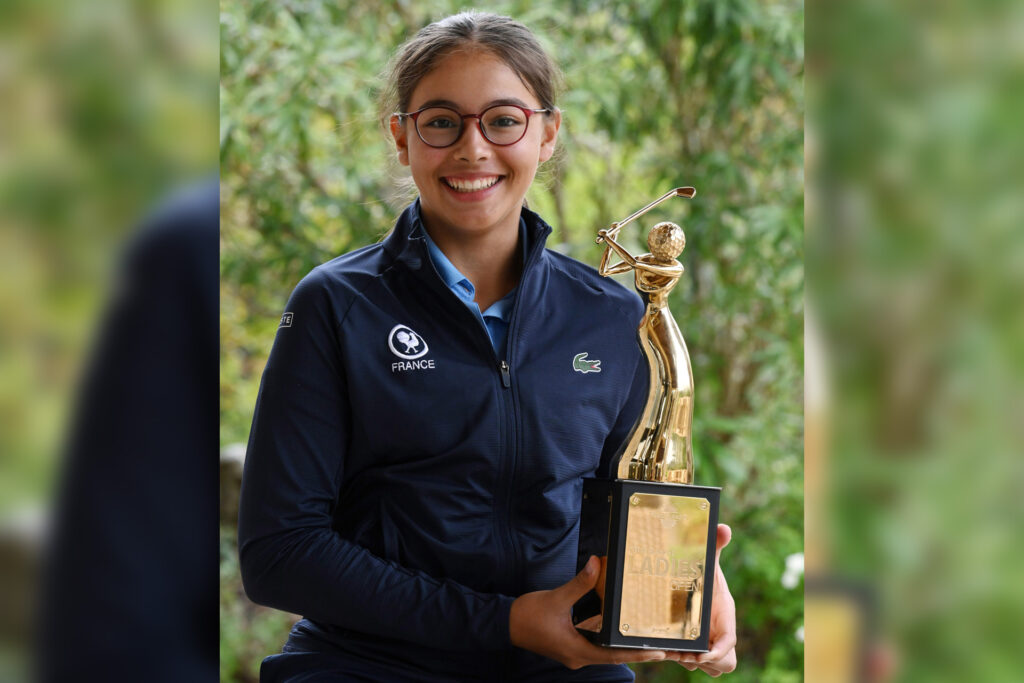 Report by the LETAS.
French amateur Louise Uma Landgraf held her nerve to triumph in a three-way play-off and win the 2023 Terre Blanche Ladies Open.
The 14-year-old had a solid final day at Golf de Terre Blanche where she rolled in five birdies during her round of 74 (+2).
Despite a shaky start with a double bogey on her first hole, the amateur held her nerve to secure a place in the play-off and then clinch her first professional victory.
"It feels amazing to win," said the teenager. "Especially, to win on a professional tour is something I've wanted to accomplish for a really long time.
"Having accomplished it in France in my home country is really nice. It was my first time playing this course, I think I did a good job."
Landgraf rolled in a birdie on the 18th hole to put her in the play-off alongside fellow French player Charlotte Liautier and Pasqualle Coffa of the Netherlands before going on to win the second LETAS tournament of the year.
The French youngster explained:
"Before the last putt I was telling myself that I did a good job, even if I missed the putt. I thought it would be nice to hole it.
"I exceeded my expectations by a long way. My dad was my caddie this week, he used to caddie for me a lot when I was younger, so it was really nice for him to join me this week."
Liautier, who led at the end of the first day after play was suspended, has an excellent round of 68 (-4) on the final day which included two eagles, three birdies and three bogeys to put her in the early clubhouse lead.
The Frenchwoman was soon joined by amateur Landgraf and Dutch golfer Coffa, who topped the leaderboard at the end of the second day, on one-under-par with the trio competing in the play-off.
France's Chloe Salort narrowly missed out on the playoff, finishing in outright fourth place on level par with French duo Agathe Sauzon and Emie Peronnin one shot further back in a share of fifth place.
Sweden's Moa Folke and Switzerland's Elena Moosmann ended the tournament in a tie for seventh position, whilst Germany's Carolin Kauffmann, Sweden's Linn Wiberg, French amateurs Maylis Lamoure and Sara Brentchenef and Switzerland's Vanessa Knecht all finished in a share of ninth place.
The next LET Access Series tournament will be the Flumserberg Ladies Open Maetzler Mix – Qualifier held between the 12-13 May followed by the Flumserberg Ladies Open Maetzler Mix – Matchplay on 14 May.
Which other tours would you like us to report on? Drop us an email with your request here.