Boutier wins a play-off against Hall whilst Burns dominates in the Matchplay. Plus a maiden PGA Tour title for Wallace.
Report by LPGA Tour.
After coming up just short so many times the last few seasons, Frenchwoman Celine Boutier finally got the job done in Gold Canyon, Arizona, defeating major champion Georgia Hall in a one-hole play-off to capture the LPGA Drive On Championship title and her third career LPGA Tour victory.
The 29-year-old began the day at 16-under-par, holding a one-shot lead over Hae Ran Ryu, Alison Lee and Moriya Jutanugarn and got off to a fast start, carding back-to-back birdies on the second and third holes to move to 18-under-par. She dropped a shot on the par-4, sixth hole, a pivotal moment in her round, and then proceeded to par the next four before grabbing another birdie on the 11th hole.
The clubhouse lead of 19-under-par had already been posted by Ayaka Furue after the Japanese native fired a seven-under-par, 65, and Hall was working on a 65 of her own, going birdie-birdie-eagle to move to 18-under-par and sit one back of Furue.
Watch final round highlights of the LPGA Drive On Championship
Boutier tied Furue's lead after draining a lengthy birdie try on the par-5, 13th, but Hall wasn't about to be left out of the conversation, making birdie on the 15th and 18th holes to post the new clubhouse lead, 20-under-par.
Boutier parred her next four holes and came to 18 needing a birdie to force a play-off with Hall, ultimately getting up-and-down for birdie and sending the pair back to the tee to play 18 again.
Both players found the short grass with their drives, but differed in strategy with their approach shots. Boutier bailed out to the right while Hall went right at it, ultimately finding the bunker behind the flag. Both players had tricky third shots that they had to hit close.
Boutier played a bump-and-run that skidded out to just about six feet while Hall's bunker shot went well by, leaving her with an uphill 12-footer for birdie. Hall's putt just skirted the edge of the cup, giving Boutier the advantage. Boutier's relief was palpable when her putt found the bottom of the cup, a long-awaited third career win finally in her grasp and history made as she became the winningest French player in the history of the LPGA Tour.
"It's definitely very gratifying. I think it's very much a little bit of a relief because I've been trying to win for few years now. I guess it's been two years. Was definitely feeling a little bit down at times and a little bit frustrated thinking, can I actually do it? To be able to do to this week with this strong of a field is definitely very good for confidence," said Boutier, whose last win came at the 2021 ShopRite LPGA Classic presented by Acer.
"I feel like my game was good enough for the past couple years for sure. I just wasn't able to win. I feel like it's something you need to learn. I definitely had a bunch of opportunities last year and wasn't able to do it, so to be able to do it this early in the season this year is definitely very satisfying."
Fantastic final round from Georgia Hall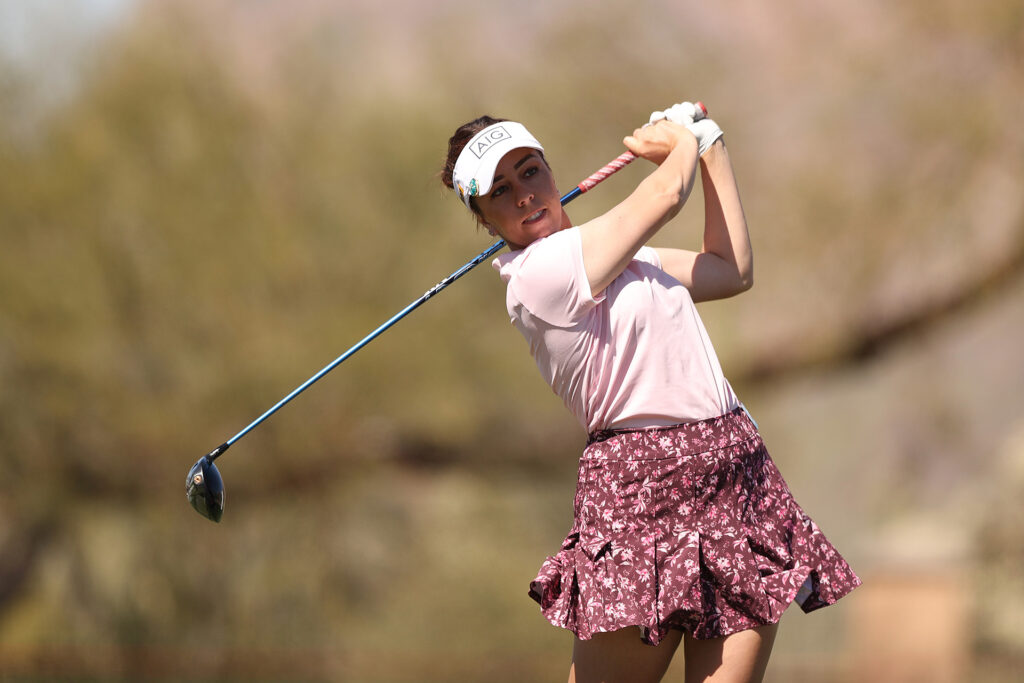 While losing in a play-off is always disappointing, Hall walked away with her head held high. Her seven-under-par 65 was her lowest round since the final day of the 2022 LPGA MEDIHEAL Championship and considering she began the day three shots back of the lead in a 12-way tie for seventh, she was incredibly pleased and proud of her Sunday effort.
"Obviously, fantastic to get to the position I was in. I knew I had to shoot low today, and obviously gutted about the play-off. I had a lot of adrenaline on my second shot and it went a very long way," Hall said. "I played well, to be honest, every day this week. I'm proud of myself."
Furue ended up finishing alone in third at 19-under-par, with Korean Narin An one shot back in fourth. Major champion Jin Young Ko and LPGA Tour winner Ally Ewing wound up tied for fifth and seven players finished in a tie for seventh at 16-under-par, including United States Solheim Cup captain Stacy Lewis, who carded all four rounds in the 60s. Defending champion Leona Maguire finished T23 at -13 overall.
Normally we'd be heading for the first Major of the season but the Chevron Championship has moved to mid-April, so this week it's the DIO Implant LA Open at Palos Verdes Golf Club in California.
Fifth PGA Tour title for Sam Burns
In the end, it was an impressive final at the World Golf Championships – Dell Technologies Match Play as Sam Burns beat fellow American Cameron Young 6&5 to secure his fifth PGA Tour win in two years.
The semi-finals saw both Burns and Young claim surprise victories over defending champion Scottie Scheffler and Rory McIlroy.
This is the final time the World Match Play will be played, so the getting the win was extra-special.
Burns went one down after bogeying the second hole but eight birdies in 10 holes from the fourth onwards proved too much for Young, giving the 26-year-old another PGA Tour victory in what has been a fantastic couple of years on tour.
Of his victory, Burns said:
"What a week, I am so tired. I know Cam didn't have his best stuff but it was a great match. I felt like I found something at the end of my match with Scottie [Scheffler] and was able to carry that on this afternoon.
"I have just tried to stack one good swing after another. It is what I have tried to do today and the last couple of weeks. It is nice to see the hard work I have put in paying off on the golf course."
In the consolation, McIlroy beat Scheffler 2&1.
Maiden PGA Tour victory for Matt Wallace
Whilst the World Golf Championships – Dell Technologies Match Play was being contested in Texas, the Corales Puntacana Championship was taking place in the Dominican Republic.
Starting the day one shot behind overnight leader Nicolai Hojgaard and Sam Stevens, England's Matt Wallace went on a birdie run on the final six holes carding four to secure his first PGA Tour title. Wallace shot a final round six-under-par 66 to finish on 19-under-par and one shot clear of Dane Hojgaard.
This was the 32-year-old's first victory in four years with his last win coming on the DP World Tour at the Made in Denmark in September 2018.
Stevens finished in a share of third place with Tyler Duncan on 17-under-par.
It was a breakthrough victory for Wallace who finished seventh at last week's Valspar Championship. Commenting on his victory, he said:
"Everyone knows I'm a feisty character, but that got me through that today. I was calm, felt I was determined, I kind of felt like I had it in me all week. I really felt like I was playing some really good stuff and I felt like I was going to be up there at the end of the week no matter what.
"Didn't get off to the start I kind of wanted today, but Sam [Bernard, caddie] was brilliant and we just were so positive. Then the way I finished was exactly how I feel like I can play golf. That was awesome, down those final few holes was brilliant and I'm really proud of myself to get through that."
This week's the Valero Texas Open ahead of the much anticipated Masters the following week.
Maiden DP World Tour title for Nick Bachem
A relatively unknown player Nick Bachem won the Jonsson Workwear Open at Steyn City in Johannesburg by four shots to claim his maiden DP World Tour victory.
After leading at the halfway mark, Bachem went into the final round one shot behind leader and German compatriot Alexander Knappe.
In a dominating final round the world ranked 464th player shot a fantastic 64 to finish on 24-under-par and four shots clear of South African pair Hennie du Plessis and Zander Lombard.
Scotland's Ewen Ferguson one shot further back in a tie for fourth with another South African Ockie Strydom.
In just his first full year on tour, Bachem said:
"I can't understand what's happening the last couple of days, it's just amazing and feels great.
"I just had the goal to enjoy today, it's just the beginning of my career so I just enjoyed it as much as possible and played great and got lucky that it was my day.
"I thought it was super-close and then I saw the leaderboard on 15, saw I was four shots ahead or whatever and then I was super-nervous. I just kept on going and it was a pretty nice finish."
There is now a week's break ahead of the first Major of the season.
First Epson Tour victory for Miranda Wang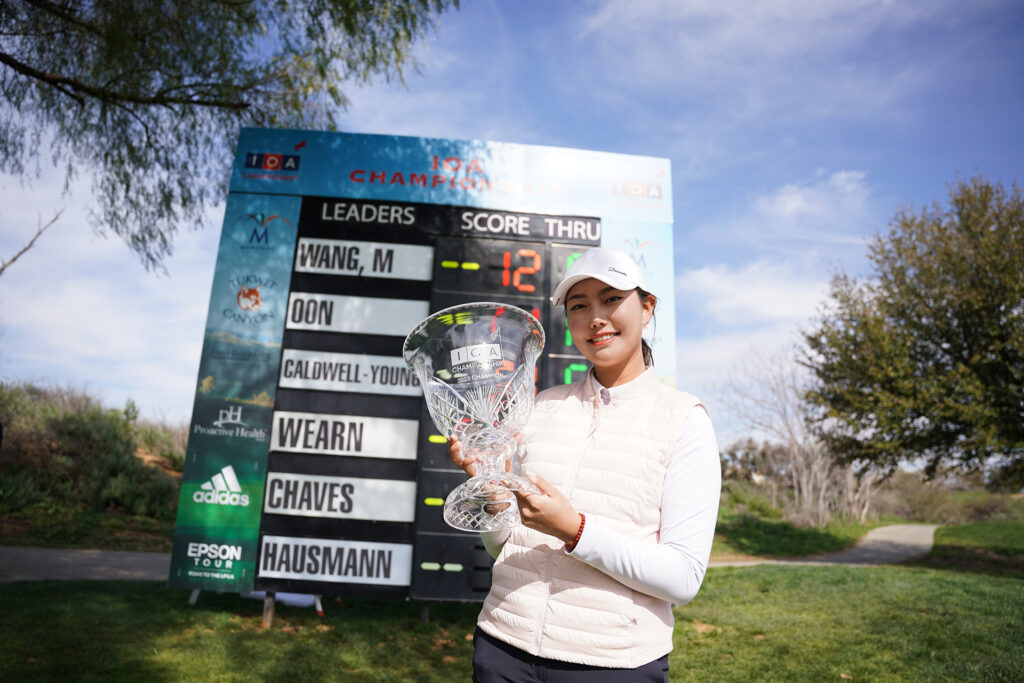 Report by Epson Tour.
With only three tournaments played in 2023, we've had a third player secure their first Epson Tour victory this week at the IOA Championship presented by Morongo Casino Resort and Spa. Miranda Wang walked off 18 as the solo leader and new champion at 12-under-par. The 2023 Epson Tour rookie signed for a final round 70 consisting of three birdies and a lone bogey.
"On the front nine, I wasn't really hitting the greens. I was just making a lot of up-and-downs, the putting really saved my life today," said Wang. "I was just focusing on my game. The rest of my group were good players, and I knew they were going to make birdies, so I played my own golf."
Before the season started, Wang got new clubs and says that she wasn't quite comfortable with them just yet. She missed the cut at both the Florida's Natural Charity Classic and Arizona Women's Golf Classic, but evidently felt better with the new sticks in Beaumont, California.
"This win is a confidence boost. Before this tournament, I missed the cut because I just got new clubs and I wasn't used to them," said Wang. "After this tournament, I feel like I'm getting more used to them, getting to know the distances and the swing tempo. I'm confident going into next week."
Natasha Andrea Oon was one stroke from forcing a play-off with Wang, but unfortunately carded a bogey on 18. The 2023 Epson Tour rookie secured her second top-10 finish this season with a second-place, 11-under-par finish.
In solo-third was first-and-second round co-leader, Maddi Caldwell-Young. After a lost ball on 16, Caldwell-Young signed for a final-round 73. The Georgia native finished the tournament nine-under-par.
This week it's the Casino Del Sol Golf Classic at Sewailo Golf Club in Tucson, Arizona.
Momoka Kobori wins Women's NSW Open in dramatic fashion
Report by WPGA Tour of Australasia.
Clutch par putts on the final hole of regulation and the first hole of a sudden-death play-off secured Kiwi Momoka Kobori a dramatic victory at the Women's NSW Open at Forster-Tuncurry Golf Club.
For the first time since Joanne Mills defeated Sarah Kemp at the fifth extra hole in the inaugural Women's NSW Open in 2006, the tournament went into extra-time, but not before a wild chain of events that saw the lead change hands numerous times on the back nine.
Paired with amateurs Claire Shin and Sarah Hammett in the final group of the shotgun start for the final round that began at 1.50pm, Kobori burst clear by four strokes with three straight birdies from the second hole.
But rather than an afternoon procession her lead was slowly whittled away.
A bogey by the world No.208 on the sixth hole and birdie by Shin reduced the deficit to just two strokes, the Avondale amateur edging one stroke closer again with a brilliant 3-wood to eight feet for eagle at the par-5 10th.
Kobori responded with a birdie at the same hole to stay one in front but when Hammett birdied 11 and Kobori and Shin both dropped shots, the margin between the leading three was just two.
Kobori and Shin separated themselves somewhat with matching birdies at 13 but Kobori's miss from close range on 14 for bogey saw her drop to eight-under-par and level with Shin, who played a spectacular up-and-down of her own to save par.
Hammett added her name to the leaders at eight-under with an eagle from 25 feet at the par-5 15th and then, as light rain began to fall and darkness began to descend, took the outright lead with a birdie from 10 feet at the par-3 16th.
Yet more drama was to follow.
Hammett's chip shot from left of the green on 17 travelled through to the opposite side on her way to a double bogey and then Kobori's ball rolled off the tee just before she made contact on the final hole of the championship.
She subsequently had to play her second from the right rough and found the bunker left of the green, Shin left with a 10-foot putt for birdie from the back fringe for the win.
Shin missed and Kobori converted her sand save from eight feet to force a play-off, the pair locked together at eight-under for the 54 holes that seemed unlikely to be completed when rain suspended play at 11.28am on Saturday.
Sudden-death play-off
The pair moved to the par-3 ninth for the sudden-death play-off where Shin almost jarred her tee shot for what in many ways would have been a fitting finale.
With Kobori coming up short of the green with her tee shot, Shin had a birdie putt to win for a second time.
Her first putt raced four feet past and after Kobori once again saved par from six feet, Shin's par putt lipped out, effectively handing Kobori a predictable yet completely astonishing win.
The 24-year-old joins her friend and idol Lydia Ko as the only Kiwi winners of the Jan Stephenson Trophy, the significance of adding her name to one which already bears Ko's not lost on her.
"That's awesome. To be able to have won the same event as her – as someone that is trying to follow in her footsteps eventually – it's definitely something I'm really happy about," said Kobori.
Still in something of a state of shock at what had transpired over a 36-hole final day that began at 7.40am and didn't end until 6.35pm, Kobori said that the final two putts were critical in an emotionally fluctuating final round.
"Those were huge. They were both huge but that putt on the last, knowing what was on the line and knowing that I needed to make that to stay in it. And the same for this one as well," she said immediately after the playoff. "Really happy that I was able to pull that off.
"It's obviously been a grind trying to get through the 36 holes, trying to pace myself and as we got towards the end it was the adrenaline that helped.
"I wasn't too tired which was great but definitely quite nerve-wracking coming down the last hole and knowing that I was tied for the lead and then obviously down to the playoff hole.
"It's just been a bit of a roller-coaster but I'm sure it will sink in at some stage."
Shin's consolation was the honour of leading amateur, Hammett third at seven-under par with Breanna Gill (four-under) and Kiwi amateur Vivian Lu (three-under) rounding out the top five.
Which other tours would you like us to report on? Drop us an email with your request here.