The best birthday present for Alexa Pando winning on her 19th Birthday, whilst Daniel Brown takes the men's ISPS HANDA World Invitational title, plus Viktor Hovland makes it two heading into the TOUR Championship
Report by the LET
It was a birthday to remember for Alexa Pano as she won the ISPS HANDA World Invitational Presented by AVIV Clinics in a dramatic play-off.
The tri-sanctioned event between the LET, LPGA and DP World Tours sees two separate 72-hole stroke play tournaments for women and men with two separate prize funds of USD $1,500,000.
After rounds of 76-70-69-66, Pano ended the tournament with a total of eight-under-par and found herself in a play-off alongside Germany's Esther Henseleit and England's Gabriella Cowley.
The American, who turns 19 on Sunday, headed back down 18 and made a birdie on the first play-off hole, as did Cowley to send them back to the tee.
Despite her tee shot ending up in the trees, Pano made a par on the second play-off hole while Cowley missed her birdie putt as they both headed back to the 18th tee again.
On the third play-off hole, Pano made the green in two and was able to two-putt for a birdie to win her maiden title on the LPGA Tour and Ladies European Tour (LET).
"I've kind of been saying that I really wanted to win this event because it's on my birthday," said the LPGA Tour rookie.
"My best friend can contest it's been for like two months. It feels so surreal that it's happened. It's been a little bit crazy because I didn't have my clothes and clubs earlier in the week, but it's all worth it.
"It just feels so surreal right now to have my dad on the bag as well. I can't actually process that that just happened."
Pano fired a round of 66 (-6) on day four at Galgorm to put herself in contention for the win, making three bogeys and nine birdies including two in her final two holes.
England's Cowley carded a round of 70 (-2) on the final day competition and rolled in an eagle putt on the last to secure her place in the play-off.
The 27-year-old had the opportunity to take the win on the second play-off hole when she had a five-foot birdie putt, but unfortunately, she missed it and Pano triumphed on the next hole.
While two-time LET winner Henseleit produced a second consecutive round of 69 (-3) which included three birdies in her last four holes to put herself in the playoff.
However, the German was only able to make a par on the first play-off hole and ended the week in a tie for second place alongside Cowley.
Henseleit said: "I'm pretty happy with how my game is at the moment and how it's been the last couple months. I feel really good on the course. I had a lot of fun playing in contention the last two days, so, yeah, hopefully, we'll be back."
America's Ryann O'Toole finished in fourth place on seven-under-par after a final round of 70 (-2) in Northern Ireland.
Germany's Olivia Cowan fired a final round of 68 (-4) to end the week in fifth place and secure back-to-back top-10 finishes.
Spain's Azahara Muñoz shot her round of the week – a 66 (-6) – to climb up the leaderboard as she finished in a share of sixth place alongside India's Diksha Dagar.
Peiyun Chien of Chinese Taipei ended the week in eighth place on four-under-par with Switzerland's Kim Metraux one shot further back in ninth.
While Thailand's Wichanee Meechai, Finland's Noora Komulainen and Wales' Chloe Williams are all in a tie for tenth place.
The LET now has a week off before the KPMG Women's Irish Open whilst the LPGA heads back to Canada and the CPKC Women's Open.
Maiden title for Daniel Brown
In the men's competition at the ISPS Handa World Invitational, it was Daniel Brown who secured a maiden DP World Tour title with an impressive five-shot victory at Galgorm Castle.
A final one-under 69 round put the Englishman on 15-under-par, ahead of Alex Fitzpatrick on 10-under-par and Eddie Pepperell at Galgorm Castle, one of two courses used at an event sanctioned by the DP World Tour, LPGA Tour and Ladies European Tour, to end the week on 15 under.
It was an English trio at the top with Alex Fitzpatrick in second place on 10 under ahead of Eddie Pepperell, who finished on seven-under-par.
Brown survived a mid-round wobble which saw his six-shot lead at the start of the day cut to three to come back strong over the final five holes with three birdies to give the 28-year-old his first DP World Tour title.
"It's amazing! I could never have dreamed this up over the past however many years. I don't think it's sunk in."
The DP World Tour now heads to Albatross Golf Resort in Czech Republic for the D+D Real Czech Masters.
Fifth PGA Tour title and second of the season for Viktor Hovland
A sensational 61 and course record for Viktor Hovland, saw the Norwegian win the BMW Championship by two shots over American Scottie Scheffler. The 25-year-old's second PGA Tour victory of the season and fifth in total saw the gap closed between him and Scheffler at the top of the FedEx Cup standings before the Tour Championship.
Hovland carded 10 birdies and one bogey on his way to a nine-under-par final round to leapfrog Scheffler who tied second with Matt Fitzpatrick at 15-under-par, with Rory McIlroy three shots further back.
How did the round rank in Hovland's career? He told Sky Sports:
"It has to be number one. I remember playing a pretty special round of golf my first year on Tour, I shot seven under at Torrey Pines when it was hailing and windy and raining and that's probably the best I've ever struck it throughout a round.
"But to shoot 61 and shoot 28 on the back nine at this golf course and under the circumstances, I have nothing that beats that."
Next up is the season ending TOUR Championship which takes place at East Lake Golf Club in Atlanta, where the top 30 players FedEx Cup standings battle it out to be crowned champion. Here are the top 30:
Rory McIlroy is the defending champion, who will be looking to claw back Scheffler's advantage but it's going to be a tough defence with the quality and form of the players in the field.
Xiaowen Yin wins third Espon Tour title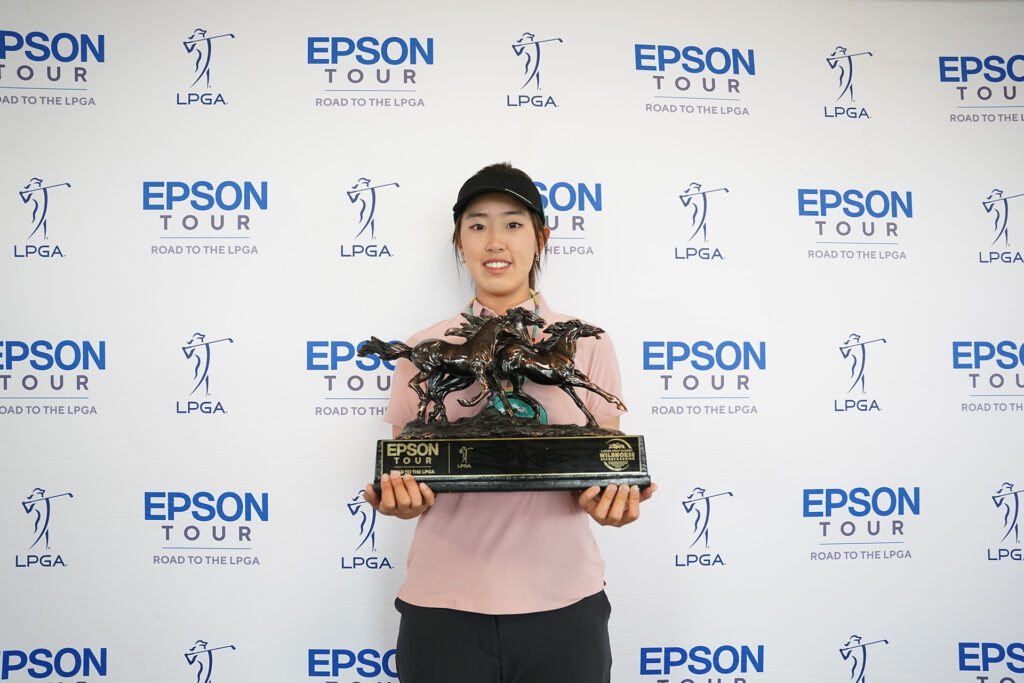 Report by the Epson Tour
The second Wildhorse Ladies Golf Classic has come to a close after 36-holes of play in Pendleton, Oregon. With the air quality index sitting above 330 with no relief in sight, the decision was made to cancel the final round and declare an official 36-hole event.
The LPGA AQI guidelines consider this level "Hazardous," and as such, the rounds must be delayed, suspended or canceled as determined in the discretion of the LPGA Rules Committee.
"The safety of our athletes, volunteers, and staff is of the utmost importance," said Epson Tour Chief Business and Operations Officer Jody Brothers. "I'm disappointed for the athletes, our tremendous sponsor in Wildhorse Resort & Casino, and the fans who were here to see an exciting finish."
After 36 holes, Xiaowen Yin held a three-shot lead and is now the 2023 Wildhorse Ladies Golf Classic champion. Yin put together back-to-back rounds of 66 (-6) to get her total to -12 for the tournament. In her 36-holes played, Yin only posted three bogeys to accompany her 15 birdies.
The 18-year-old is an LPGA Tour member but had visa issues and was unable to play in the ISPS Handa World Invitational this week in Northern Ireland. With the win in Pendleton, Yin picked up her third career Epson Tour victory and will take the momentum from this win into the rest of the LPGA Tour season.
"I am feeling so excited and so happy," said Yin. "This win means a lot to me because it has been a long season on the LPGA, and it hasn't really gone well. This win just gives me a lot of confidence going into the next couple of LPGA events."
Ashley Lau finished the 2023 Wildhorse Ladies Golf Classic in solo third at seven-under-par but potentially gained the most from the finish. The rookie came into the week 128th on the Race for the Card Standings and potentially heading to LPGA Qualifying Tournament - Stage I if she did not make the cut. Lau put up back-to-back sub-70 rounds to play her way out of Stage I and into the top 70 on the Official Money List.
"This week definitely serves as a confidence booster and proof that things are going in the right direction," said Lau. "I came into this week already accepting the thought that I would be going to Stage 1. Whatever happens, happens is what I told myself a lot this week, so I do not have so much pressure on myself and it freed me up to just go out there and play golf and have fun."
The event did not end how anyone expected, including Lau. The top 3 finish has yet to set in fully, but the 23-year-old already has her eyes set on the top 35 for the end of the season.
"It felt really weird. I have never been in this position before, so I have not really soaked everything in yet, but I am very happy with how this week went," said Lau. "I am going to trust what I am doing and hopefully bag a couple more of these good results and play my way into the top 35. I have always been someone that sets small goals, so I will start with that."
Alana Uriell rounded out the top-3 finishers with a solo second finish at -9 for the tournament. Five players sat in a tie for fourth a 6-under-par, respectively.
The next event is the Circling Raven Championship at Circling Raven Golf Club in Worley, Idaho.
First professional win in first professional start for Chiara Tamburlini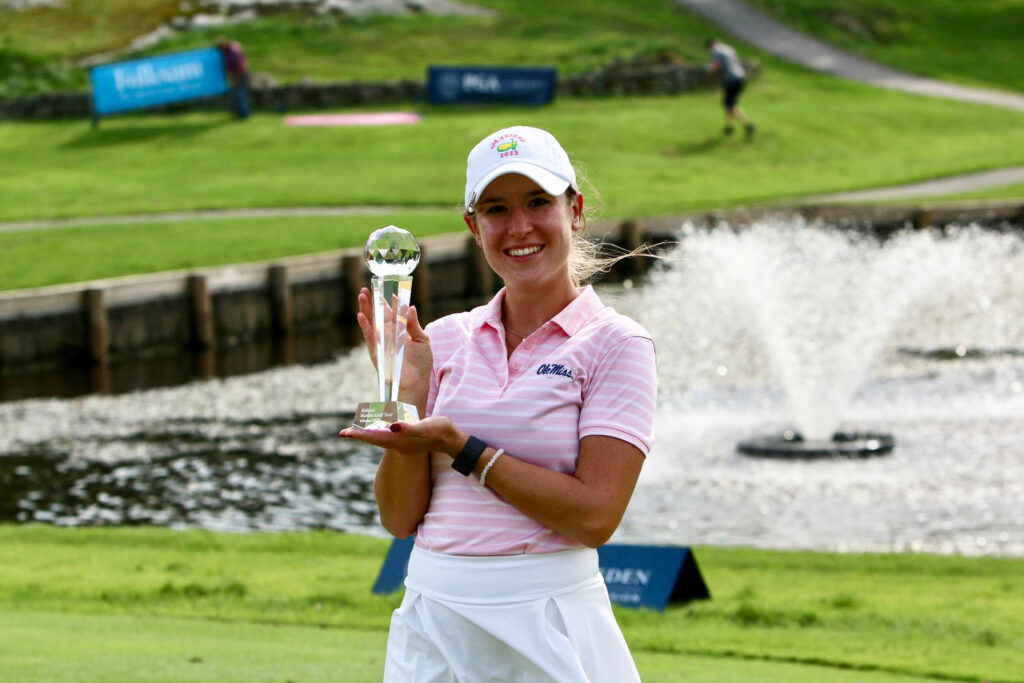 Switzerland's Chiara Tamburlini triumphs at the PGA Championship Gothenburg to take the win by five shots in her first tournament as a professional.
The 23-year-old, who decided to turn professional the night before the tournament began, had a fantastic final round to extend the lead she created yesterday.
It was an almost faultless final round for Tamburlini who carded five birdies and only one bogey on the 13th to finish the tournament with rounds of 70, 66 and 68.
Speaking about the win Tamburlini said:
"I feel amazing, this was pretty cool especially in my first professional golf tournament.
"I played solidly, I just had so much fun out there and enjoyed myself so much. I'm very blessed I feel like all the pieces are falling together.
Tamburlini has had a strong season on the LET Access Series making all the cuts in the six events she has competed in, but this was her time experiencing being in the final three.
"Today I wasn't as nervous as expected, I was confident in my game. Today I played well and had no trouble off the tee and just putted well again today.
The Swiss star, who is now certainly one to watch, has also made two top-10s at the Vasteras Open by Elite Hotels and at last week's one day tournament, the Big Green Egg Swedish Open, where she came fifth.
With this win, Tamburlini has moved to 10th position in the LETAS Order of Merit with 710.60 points.
"This win doesn't change that much, now my goal is to still make the top-6 so I can skip Q-School, so this was a step in the right direction.
"I will celebrate with my friends in Gothenburg, we play again next week so I will probably just hold off a bit until I can celebrate with friends and family back home and have some down time."
England's Emily Price continued her fine form to finish in second place on seven-under-par whilst Norway's Dorthea Forbrigd and Denmark's Puk Lyng Thomsen came joint third on six-under-par.
It was a good day for the Swiss, as Elena Moosmann made moves on the final day to finish in fifth alongside Germany's Carolin Kauffmann and Spain's Harang Lee.
Australia's Kristalle Blum and Finland's Emily Penttila came eighth whilst five players rounded out the top-10: Finland's Emilia Tukiainen, New Zealand's Muchin Keh, Norway's Michelle Forsland, Sweden's Emma Thorngren and England's Hannah Screen.
The LETAS now stays in Sweden for the Ahlsell Nordic Golf Tour Finale at Elisefarm Golf Club.