Columnist Patrick Brennan takes a look back at the weekend's PNC Championship at The Ritz-Carlton Golf Club, Orlando
The PNC Championship isn't exactly festive, but it is fun. 36 holes of golf in Orlando between the game's best and those closest to them, the teams vary from Justin Thomas and coach (Dad) Mike, Nelly Korda and Dad Petr, and of course - Tiger and Charlie Woods. Eventual winners Vijay Singh and son Qass, a college golfer, stormed the back nine on Sunday to post -26.
Watch highlights from the final day of the PNC Championship
Here are 10 takeaways from the 2022 PNC Championship in Orlando
Team Singh – Vijay still has a silky tempo and a strong overall game – son Qass is no mug either. The winning duo carded a pair of 59s to make PNC history being the first team to achieve back-to-back sub 60s. Not a bad weekend.
Team Daly - The show was almost stolen by John and Lil John, once again. Team Daly operate in their own special environment; Hooters, long drives, loud pants and good golf. They finished with an eagle on 18 to post a Sunday 59 for a total of -24.
Nelly Korda – The World Number two took the best compliment of the week from Lee Trevino, who said he'd never been so impressed by anyone "as this lady right here. These boys better be happy you're on the LPGA". She's been labelled the 'Tiger Woods of the LPGA' by Kevin Kisner and Max Homa, as well as Spieth's go-to swing model going forward.
Annika Sorenstam – Seen laughing and bonding with her son Will all week, raising his arms aloft on the final walk down the 18th on Sunday. The 11-year-old has certainly got game, playing his part in an opening 62 on Saturday alongside the GOAT of the women's game. His schoolteacher even came to watch!
Justin Thomas - Team Thomas should've won after a Saturday 57, JT is swinging very well, and has mastered the art of ribbing Tiger, which makes for decent entertainment.
Gary Player - Still as young as ever at age 87, and was seen enjoying himself all weekend alongside grandson Jordan. His motto is still live, laugh, lift. And tell very long, drawn-out, philosophical stories after simple interview questions.
Charlie Woods – The young phenom has continued to impress this week. Amidst fears of a WD for Team Woods after he twisted his ankle on the range, he has found a way to compete despite physical ailments, much like his father. He's a foot taller than last year, he's a pro in interviews - and he rocks his Snoopy hat.
Tiger – He has us anxiously awaiting the next on-course appearance, after some delightful short game shots, good putting and some sneaky speed off the tee. He still drew in triple the crowds of any other pairing. Team Woods dominate the coverage so much it is often hard to look elsewhere. Reinforcing the PIP flex.
The sporting gods synchronised - As Charlie Woods (wearing Sunday red) drained an eagle putt to get within two of the lead in Florida; Lionel Messi simultaneously bagged a goal in extra time at the World Cup Final in Qatar. The crowd roars were probably of a similar volume.
88 – The combined number of Ryder and Solheim Cup appearances present this weekend at the PNC. I wonder how many of the young players will follow in their footsteps?
---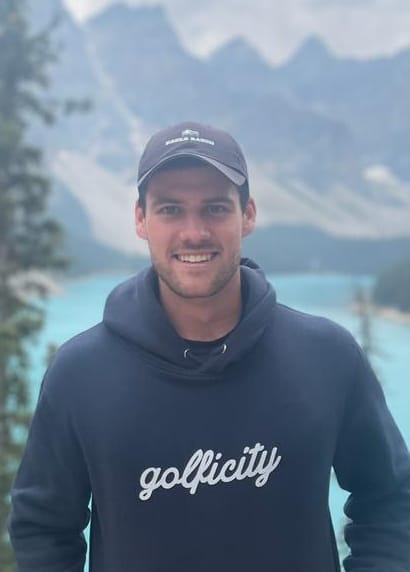 Meet Patrick Brennan
Patrick is originally from the Lake District, UK but moved to British Columbia, Canada after university. He writes for several media outlets, including Golficity, and has been doing so for over six months.
His main writing interests are professional golf tours, the Majors and any good underdog story!
He comes from a sporting family and, when not cycling or skiing, plays off a six handicap - trying and failing to keep the family bragging rights, often due to a streaky driver!