With the lack of European fans and no home advantage, Team Europe will need to pull together and draw on experience at this week's Solheim Cup
As the Solheim Cup Team Europe Captain and Vice-Captains took to the interview stage yesterday in Toledo, it was hard to believe that two years have already passed since that exhilarating final day at Gleneagles.
After dropping the winning putt and then announcing her retirement from professional golf, it was great to see Suzann Pettersen back ready to help guide the European team, she reiterated our thoughts:
"It's kind of funny because it all feels like it was yesterday. Even though I had been away, you stay in touch, you talk to all these girls along the, I mean, throughout the years, so it's not like you're completely out of it.
"I'm happy to be back. It's a little bit weird walking by the driving range the first time and not having to pull out your clubs, but I'm actually really enjoying it. I think all four of us have not gotten to know each other over the last four years, so to say, and, yeah, just happy to see everyone here."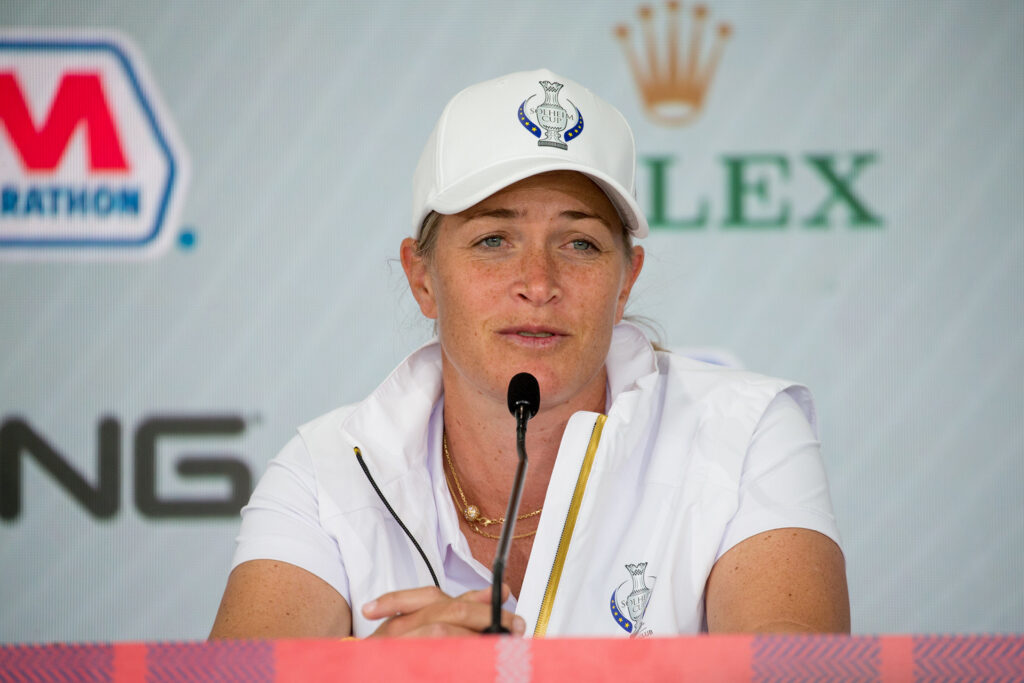 Life has changed a lot for Pettersen in the last two years but she has no regrets and is enjoying the new chapter in her life. When asked about how much golf she has played, she said:
"Zero. I really haven't played much golf since two years ago. I've really got my hands full, and having a second child hasn't given me any more time. So I do miss it, but at the same time, I'm really enjoying a different part of life. And, yeah, just enjoying motherhood, to be honest."
No home or fan advantage this time
There is always a lot of talk around home advantage and for the 17th edition of the Solheim Cup there will be the added pressure of a reduced number of European fans available to attend due to Covid-19 travel restrictions. This is a fact that obviously isn't lost on Captain Matthew and the team are preparing for the situation, she said:
"I think the fact we have only won once in Colorado shows how difficult it is to win away from home. This year it is going to be more difficult and be more of a challenge for us, but I think in a way we can really rise to that. Rather than just thinking we're going to have a few fans, we're kind of really expecting very, I mean, basically about zero fans. Obviously, a few Europeans who perhaps are living in the States can make it here, but it certainly won't be the same presence that we normally have at an away match. But I think the players are going to be mentally prepared, so it just gives them another challenge and another thing to try and overcome and get that victory."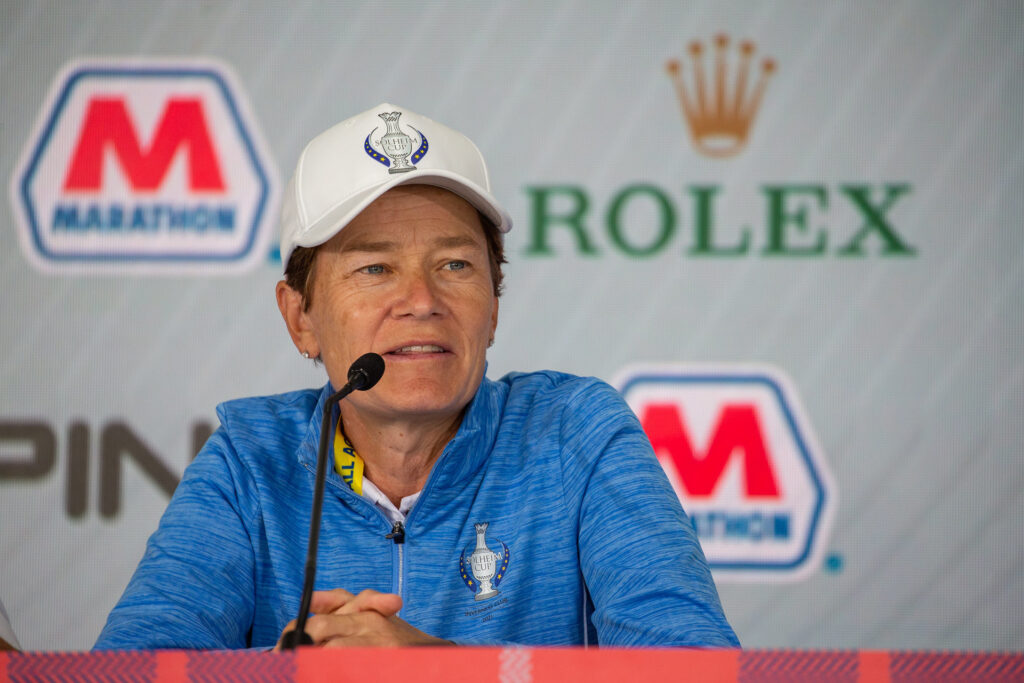 Time to focus on the European team
Regardless of the number of fans that are able to attend Matthew is excited for the week ahead and unlike at Gleneagles she has had more time to focus on the team this time round. She said:
"I think this time really the focus has really just been on the team. I think last time with it being a home match and living only an hour and a half from Gleneagles there was a lot more media commitments you had to do promoting the event. This time obviously I haven't been able to, with COVID, travel to the states last year, so this year really has been just completely focused on the team and everything to do with that. So, in that respect it's been slightly different."
From Vice-Captain in 2019 to Captain's pick in 2021, Matthew had no doubt that the experience that Mel Reid gained in her role at Gleneagles not only showed her commitment to the European team but also gave her experience which she can use in Ohio. She said:
"I think it really helps, actually. I mean Mel, it was a tough situation really for her last time. She just missed out on the team. But I think she jumped at the chance of being a vice-captain, didn't need to think of it twice. It just shows the passion and the desire she has for the team. She realises it's not about the individual. It's about the team. Having the experience of being behind the scenes and seeing it from another kind of angle will really help her out there on the golf course and with the rookies."
Enjoying the moment
Vice-Captain Laura Davies will also be pulling on her own experiences to help the players, especially the rookies to keep their nerves in check, she said:
"There's no pressure of being a vice-captain, but you feel nervous for the players because you know what they're going to experience. If they ask any questions, give them advice, but the main thing we were talking last night, just enjoy it, because it is nerve-wracking but you've worked so hard to get here, don't let the nerves overtake you."
The nervous energy is definitely rising here, just two more days to go!
Keep up to date with all that's happening at the Solheim Cup here.