Paula Creamer and Azahara Muñoz are returning to the LPGA from maternity leave this week, bringing their two new biggest supporters in tow
After welcoming baby Hilton Rose on January 7, 2022, LPGA star Paula Creamer is making her return from maternity leave to compete at this week's Dana Open presented by Marathon at Highland Meadows Golf Club in Sylvania, Ohio. A tournament she won in 2008.
How does the American feel to be teeing it up for the first time since the 2021 Amundi Evian Championship?
I feel great. I'm just really excited to be back. It's definitely a different feel obviously being a mom and coming back out on tour. I actually left on Sunday, and I don't think I've ever left that early before for a tournament. But I knew that I needed to get out here and see a lot of the faces that I haven't seen for the last year or so. I love coming to Toledo, so this is a great spot for me to start my comeback after maternity.
What was the journey like for you getting back to this event?
Well, it's a lot of work. Motherhood is amazing, it's great. Getting back into golf, I had to have a C-section, so it took me a little bit longer to pick up a club than I thought or had planned. But everything went well. I feel really good. I feel strong. I've been able to put in a lot of good work these last four to five months with my coach, Grant Waite. Being able to balance the mom side of it and also the golf has been a challenge at first, but now I definitely am able to go out there and focus on golf and not really worry about Hilton at that moment until I come back.
What were some of the challenges with picking up the clubs again?
Picking up the clubs was probably the easiest part of it. The mental side of it took me a little bit longer. We live so close to the driving range and practice area, so I was able to check in on Hilton. At the same time, I had to tell myself, she's safe, she's good, she's fine, go and do my job. Every mom is different. Just have to figure out what works best for you.
When did you know it was time to return to the LPGA?
I actually was going to try to come out earlier than Toledo. I wanted to get out but I really wanted Hilton to travel with me as well. She would've been a little bit too young in my eyes [to come back any earlier]. I've had such great memories here, I love coming to Toledo. I also knew that was going to be a comfortable place to start, as I know the golf course so well. Mentally and physically, I knew I was ready now.
As you come back on tour now, is your mindset different from when you came on the tour as a rookie?
I actually feel like my mindset is more like when I was a rookie than even when I came back after injury last year. I just feel very in control of my golf game, very motivated. It's a different mindset than I think what I've had in the past, and I truly believe that is because of Hilton. Just you feel stronger as a mom. I definitely want to play well for her, not only for myself. I'm trying to come out and play the best I can play and be in contention.
Azahara Muñoz balancing motherhood and pro golf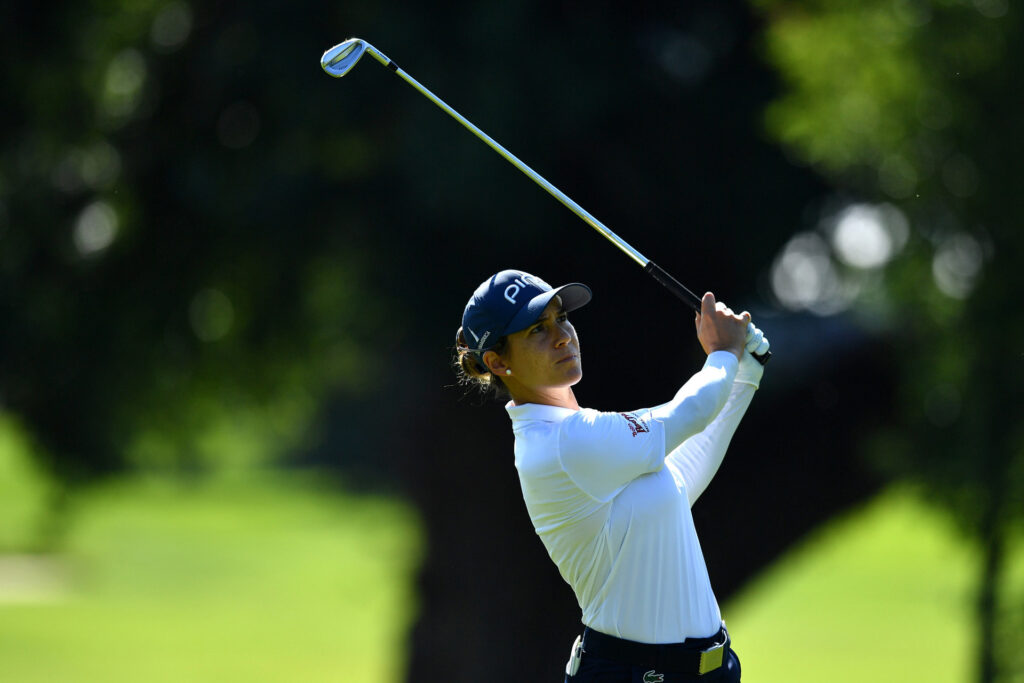 Another player returning from maternity leave this week is Spain's Azahara Muñoz who last played at the 2021 Pelican Women's Championship in Belleair. The 34-year-old gave birth to son Lucas on February 28, 2022 via emergency C-section and has been spending time at home caring for her first child.
Understandably Muñoz is worried ahead of her return:
"It's been amazing to be back. I was a bit nervous coming to the course on Monday actually. It feels like it's been forever. I've enjoyed being home so much. It's not that I was dying to be here, but now that I'm here it's really nice to see everyone, and obviously I've been practicing to compete, so it's nice to be out here again.
How has she adjusted to motherhood?
"It's been amazing. Everybody always says how you just don't know how much you love them until you have them, but he's incredible. He's such a good little boy. He has the best temperament, so he literally never cries. He's so easy going. So it's been super enjoyable. My parents were over here for three months with me so it was nice to just be home. We are always at such a fast pace travelling, so it's been really nice to have the little break and enjoy the baby."
As the 34-year-old looks ahead to her first start since last November and first as a mom, Muñoz is as competitive as ever and is still looking for herself to perform, even with the new challenge of balancing motherhood and pro golf.
"I never thought of anything and I just wanted to take it as it comes because everybody has such a different story. I didn't think about my game being different, but neither did I when I was pregnant.
"Yesterday, I was telling someone from Spain. I was like, 'I have no excuses.' Obviously, the competition and getting the baby ready, all of that is so different, and maybe not sleeping as great, but other than that, my body feels good. I just need to play. Just get things going."
View live scoring from the Dana Open presented by Marathon on the LPGA website here.