Brian Harman wins his maiden Major at the 151st Open Championship after a solid final round to win by six shots at Royal Liverpool
When you go into the final round with a five shot lead, it really is your Championship to lose. It was not impossible that Brain Harman might buckle under the pressure or that Rahm might produce another 63. But in the end neither happened.
Whilst the rain lashed down for most of the day it was Harman that stood out as the player of the day. He had already done what he needed to do. The five shot cushion was his chance to keep steady and aim for a level par round.
Similar to his round on Saturday, a couple of early bogeys made it seem that the door may be creaking open but he shut it firmly by coming back with two birdies to make the turn in level par for the day.
The 36-year-old's demeanour was ice cool all day, a player in the zone and not looking to deviate from his game plan.
A dominating performance
What was the main problem from a fan perspective? There were many commenting on social media that the final round felt flat but as DP World Tour player Eddie Pepperell rightly pointed out, if it had been a more well known player like Rahm or Rory, we would be loving them dominating the final round.
Harman would make his sixth and final bogey of all four rounds on the 13th and follow up with two further birdies to finish in front of a cheering crowd on 18. He even held his nerve after finding a greenside bunker on 18 and allowed himself a smile after dealing with it expertly.
His putter didn't let him down all week and he rolled in his par putt to become the Champion Golfer of the Year.
The likes of Rahm, McIlroy, Young and Fleetwood just had too much to do and all trudged around Hoylake looking dejected as they couldn't catch the break they needed. Rahm did manage a consolatory birdie on the last which produced the only smile from him all day.
Four-under-par was the best round of the day which allowed Tom Kim to jump nine places and share second at seven-under-par with Rahm, Sepp Straka and Jason Day.
Defending Champion Cam Smith had to settle for a one-over-par finish in a tie for 33rd. The Australian wasn't too despondent on his title defence:
"Yeah, it was awesome being back. I would have liked to have done a better job at defending it, but yeah, just wasn't my week this week. I can't wait to get back here next year and give it another crack. It's golf that I've learned to love. Can't wait."
The perfect start at finish for Royal Liverpool member Matthew Jordan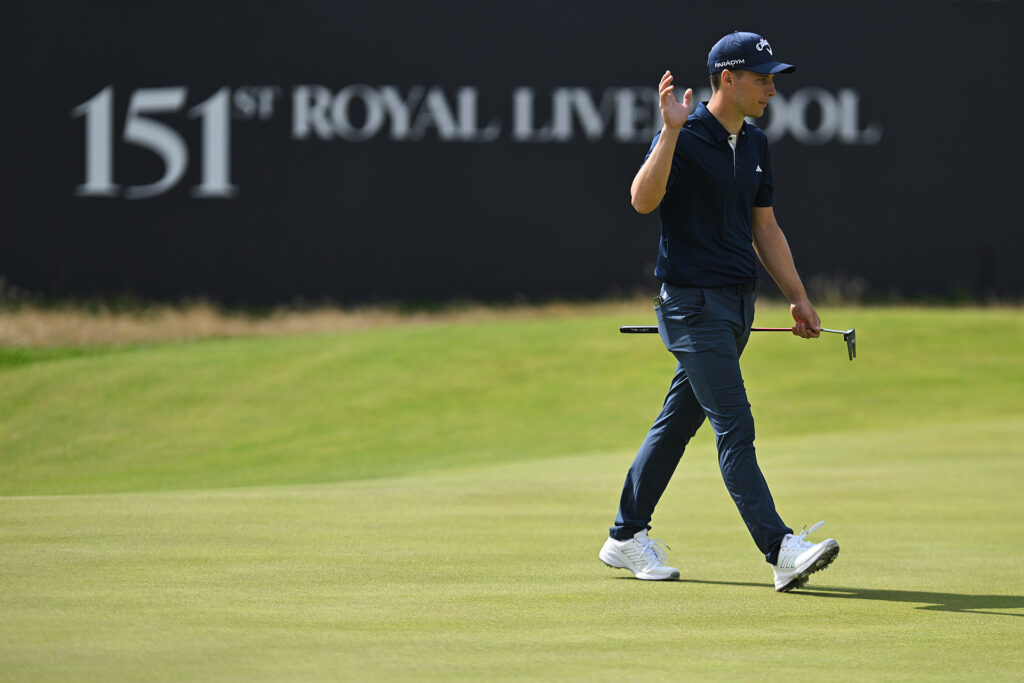 Special mention must be made to local Matthew Jordan. The 27-year-old was given the honour of the first tee shot as a member of Royal Liverpool.
He put together a near perfect week from only qualifying two weeks before the event. A final round of one-under-par was enough to get him to four-under-par and a share of 10th place. The significance being that he automatically gets an invitation to Royal Troon in 2024.
Commenting after his round on Sunday, where he rolled in a birdie on the last hole:
"It was just the perfect finish to what has been the most unbelievable week. Just rolling that in, I just so wanted to knock it in just for everyone who's supported me, just to go mental one last time and crazy. They stuck with me even in the rain like this. Just to be able to do it for them and have that kind of ultimate feeling, as it were, to birdie the last at my home course at The Open is just brilliant."
This won't go down as one of the most exciting Open Championships in history but there is no doubt that Brian Harman produced a masterclass over the four days on how to manage your way around an Open Championship course.
He deserves all the credit for his ability to tame Royal Liverpool and he is truly deserving of his first Major title.
I'll be watching with interest next year to see whether he can have the same calming experience on Royal Troon - because if he does, he'll be unbeatable again.
View the full 151st Open Championship leaderboard here.