On a gloriously sunny day we take a look back at day one of the 2023 AIG Women's Open where Ally Ewing holds a one shot lead at Walton Heath
It seems that the start of the AIG Women's Open also marked the return of summer as temperatures climbed into the mid-70s and we experienced wall-to-wall sunshine from the first tee shot until the last putt (just).
The sunshine drew in large crowds who were able to enjoy the warm weather whilst watching some world class golf from the field of 144 players.
First out this morning was England's Melissa Reid, Mexico's Maria Fassi and American Alison Lee. Reid had the honour of hitting the opening tee shot, to get the 2023 AIG Women's Open underway.
The 35-year-old was happy to have had the honour but she was keen to point out that it wasn't signifying the twilight of her career:
"Hitting the opening in the AIG Women's Open is special. It's a nice accolade - is that the right word? Look at me go! Honestly, it was really cool. That was really cool for me. It was nice, my mates got up, a couple of my family members drove down. Getting up in the middle of the night is tough, especially when you're getting on a bit like me and I have to warm the body up more than I used to.
"I'm not finished yet. Still feel like I've got a lot of golf left in me. Yeah, I feel like my personal life is in the best place it's been and feel like I'm getting my game back on track. It was rough last year, and nice that the hard work is starting to pay off."
An even-par 72 was a good start for Reid and she goes into the second round in a tie for 32nd and three shots behind the leaders.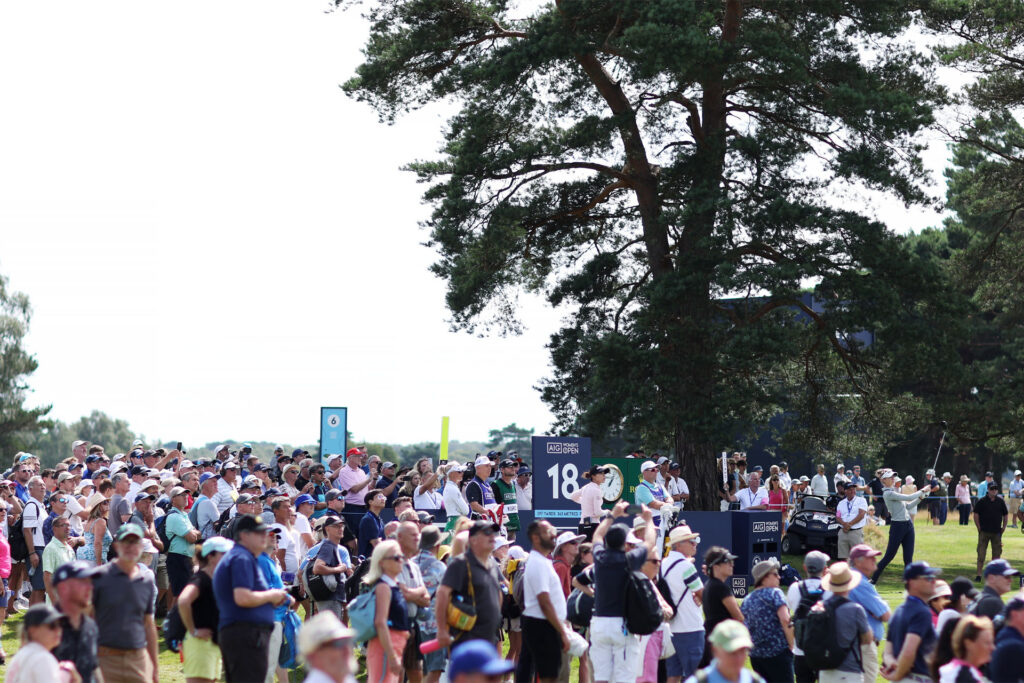 Tight at the top
Walton Heath is hosting its first women's professional tournament, so this course is unfamiliar to the majority of the players. There were no runaway scores on the first day and no one got away with a clean sheet, as the heather and putting surfaces proved difficult to negotiate for most players.
Of the early starters Carlota Ciganda, Gaby Lopez and Nasa Hatoka set the clubhouse target at two-under-par. These players were then surpassed just over an hour later when Jeongeun Lee6 birdied the last to get to three-under-par.
The 2019 U.S. Women's Open Champion was able to explain the game plan that many players would have been aiming for today:
"I think tee shot was a little bit challenge because a lot of rough and heather. They are very tricky to play, so I focus on just hit the fairway. I didn't play aggressively, just hit the middle and just make putts, like that."
The Korean player wasn't on her own for long and was joined by Denmark's Emily Kristine Pedersen And France's Perrine Dealcour in the following two groups.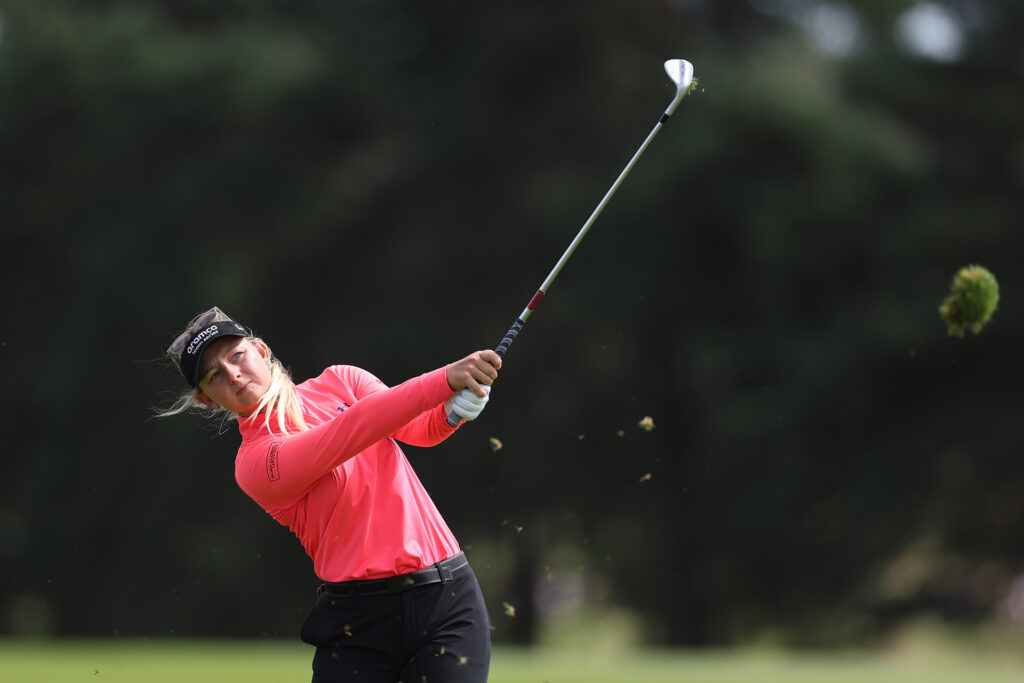 There is going to be a lot of talk about the Solheim Cup as we draw closer to team selections on August 22. Pedersen, who is currently not an automatic pick for this year's event at Finca Cortesin, was asked about how much this was on her mind:
"Well, I try to say it's not on my mind, but it's always back there. But I try and tell myself that if I just concentrate on doing a good job every day and putting in the work that it will sort itself out. I mean, obviously it's no secret that I want to be there. I know I can win points, but I'm trying to just focus one day at a time."
Delacour had six birdies on her scorecard which she attributed to her putting. The 29-year-old gave her thoughts on getting out of the heather:
"I did, on No. 2. When you're in the heather, you are just trying to get back in the fairway and just see. If you can make par, good. And if not, you just take your bogey and you get away. I mean, you don't want to take much risk on it. Especially for me, I had a wrist surgery a couple years ago, so I don't want to risk anything."
Thailand's Jaravee Boonchat and Korean Amy Yang also joined the group on three-under-par.
Ewing rises to the top
In the early evening, it was American Ally Ewing that finally clinched the top spot on her own thanks to an eagle on the 16th to jump from two-under to four-under-par. Her low round coming in what were slightly more trickier, windier conditions in the afternoon.
But Ewing is all too aware, there is plenty more golf to play:
"It's great to put a good first round together, but Major championship golf, you can never really lose focus. So I'll get some food and get a good night's sleep and come back and take on the next day."
The 30-year-old is looking to make her third consecutive Solheim Cup start and like Pedersen is trying to not to let it pray on her mind:
"It's a tournament that once you play in, you never want to miss another one. And I think that goes for any player that's ever played in one. So, yeah, it's in the back of the mind. But nothing that I do lingering in thoughts of whether I do this or whether I do that can propel me into Solheim.
"So it's just shot-by-shot, day-by-day basis. And if I take care of my business, focus on the task and the shot at hand, then I feel like I'll have a pretty good chance to make the team."
Dame Laura Davies out
Home favourites Charley Hull and Georgia Hall, had mixed fortunes with Hull heading into day two at one-under-par whilst Hall is two-over-par after a costly double-bogey on seventeen. Another crowd-puller is Dame Laura Davies, who unfortunately had to retire injured after just six holes today.
The sunshine is set to continue tomorrow, so it's likely to be another busy day around the course, as fans watch the cut line to see who will be vying for the final Major of the season.
View the full AIG Women's Open leaderboard here.