American Ally Ewing runs away from the field with a second round 66 to lead the AIG Women's Open by five shots
At the beginning of the week, the thought of a runaway leader was far from fans' minds. A new course that the majority of the field hadn't played before, lots of heather and large greens that offered plenty of challenging pin positions. Many commentators were predicting a winning score in single figures. That may still be the case but not if Ally Ewing has anything to do with it.
Ewing went into the second round with a one shot lead at four-under-par. The American had had a reasonably quick turnaround after playing the afternoon wave on Thursday. Any fatigue failed to show as she started her second round just as she did her first with two pars and a birdie. Two more pars were to follow before something special happened. A run of four birdies to make the turn in just 30 shots, birdies also followed on 11 and 16, with her only blemish coming at the last after finding the long grass with her tee shot.
"I didn't really even know until I signed my scorecard that I had four birdies in a row, so I would probably say that stretch from like six to 11 is kind of a little bit of a blur.
"This golf course requires you to drive the ball really well. One, I left myself in good position off the tee for the most part of the day except for 18, and you know, I was able to hit really good iron shots into the greens, give myself a lot of looks, which you can have looks but you've got to be able to capitalise on them. I feel like that's always a confidence boost to match up the line and speed. So yeah, it was a very solid day."
Now she will have plenty of time to recover as she'll head out in the final group on Saturday afternoon. What will she do to prepare?
"I'm going to go get some food for sure. That's number one. Like I said, I've got my mother and sister-in-law, so we'll probably just go kick our feet up for a little bit. I might do a little laundry, we might go get a pastry which is not recommended for a diabetic but I'm going to reward myself today.
"We'll see. I know there's going to be potentially a long turnaround with a late tee time but just try to go relax and be best recovered and prepared to tee off tomorrow."
Thitikul fights back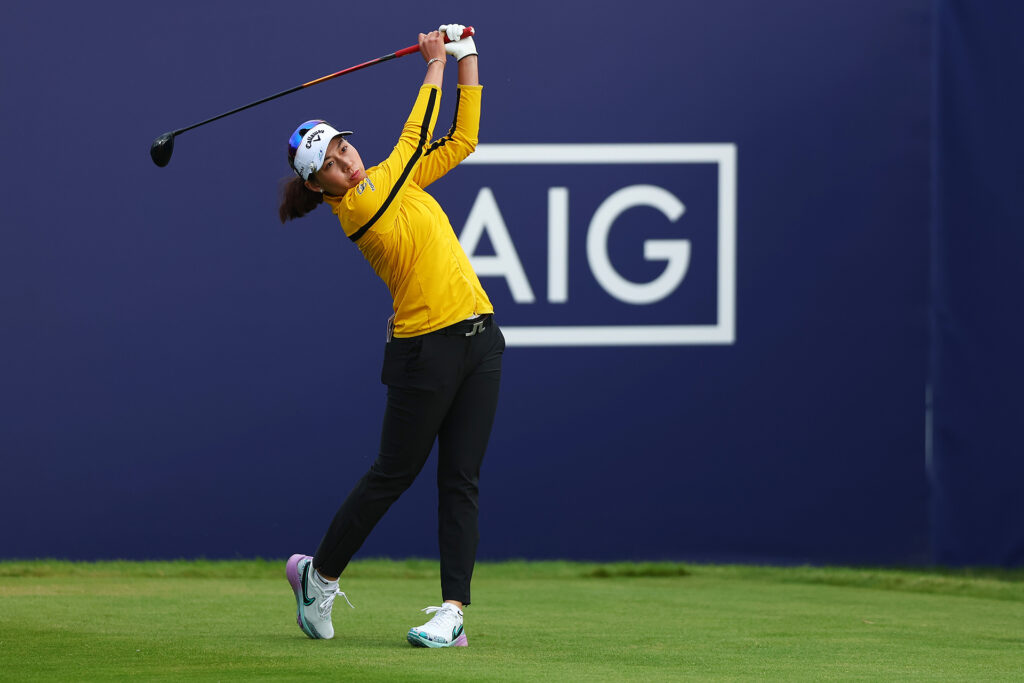 For us mere mortal golfers, a quadruple-bogey on the first hole is a start that would have many wanting to head back to the clubhouse. How is it possible to salvage any sort of decent round after an appalling start? The shots keep stacking up and we go home demoralised, but back for more punishment the following week!
But that's why we're club golfers and not elite tour players. Not to downplay Ewing's achievements over the first two rounds but what Atthaya Thitikul has managed to achieve is quite the turnaround.
After a topsy-turvy first round which included a quadruple-bogey on one, a bogey, two birdies, a double, followed by an eagle, to salvage a +2 round was impressive. But the World number 11, then shot the second best round on Friday with a five-under-par 67 (which included six birdies) to climb to a tie for ninth at three-under-par. The 20-year-old is definitely trending in the right direction.
The chasing pack
American Andrea Lea will most likely be paired with Ewing on Saturday. Also with an early tee time on Friday, she plans to rest as much as possible ahead of the third round and isn't applying too much pressure to the score she has to chase:
"Being a Major Champion is at the top of the list for my goals in my career, and I put myself in contention this weekend, and I'm not going to try and think about it, think about the outcome or the results. I'm just going to do what I did the first two days, and you know, try and just stay really patient and hopefully, you know, it will turn out well."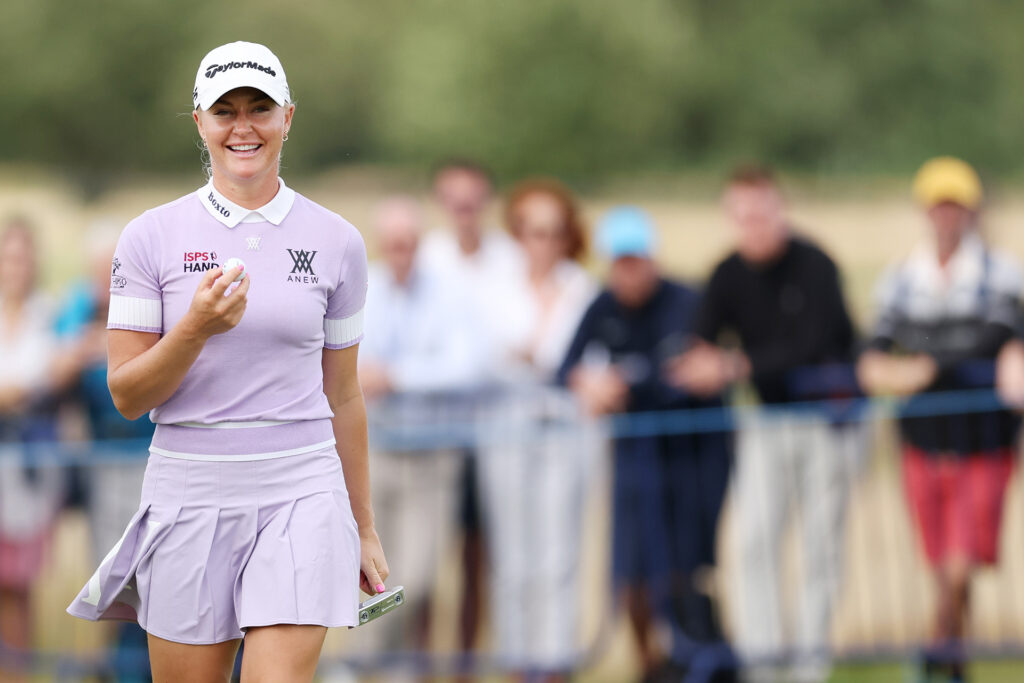 Home favourite Charley Hull is also at five-under-par after a bogey free four-under-par round. The English player experienced the more unpredictable afternoon weather that included stronger winds and some rain but even so she is pleased to be in contention heading into the weekend:
"Yeah, a hundred per cent. I'm five shots behind the lead in second place at the minute, so yeah, you know, I've got to make birdies out there and I enjoy trying to make birdies so hopefully I can make a load!"
Also at five-under-par is Japan's Minami Katsu, whilst Chevron Champion Lilia Vu, Hyo Joo Kim, Alison Lee and Gaby Lopez are four-under-par.
Major winners miss the cut
The cut line fell at two-over-par, which it had been at for the majority of the day. This meant that defending champion Ashleigh Buhai will not be defending her title, missing the cut by one shot.
Joining Buhai on the sidelines is Brooke Henderson (+3), Hannah Green (+5), Lexi Thompson (+7) and Lydia Ko
However it wasn't all bad news, English amateur Charlotte Heath was one of two amateurs to make the cut at one-over-par. A fantastic achievement for the 22-year-old who is playing in her first AIG Women's Open:
"It played a lot different to the other days. The wind definitely picked up a lot, so it was much harder clubbing, but some holes played easier, some holes played harder.
"I was pretty nervous because I knew the wind was going to get up but I knew it was playing the same for everyone, so it's just go and see what you can do."
A five-shot lead does not make a definite winner, there is still plenty of golf to play. Plus if you're Ewing you'll be keeping one eye over your shoulder as Hull hunts her lead down on home soil.
View the full AIG Women's Open leaderboard here.