Ally Kutz, a 1.5 handicap index Kent County Golfer took on a big personal challenge playing as an amateur at the Aramco Team Series - London. Here she shares her experience...
When I received an email from Emma about competing on Women & Golf's behalf at the Aramco Team Series event in London, self-doubt filled my mind, and my first instinct was to say, 'no thank you'. It had been a decade since I competed at a slightly similar level at the U.S. Women's Amateur and since then, I'd gotten injured, lost all confidence in my game, quit golf for nearly five years, and only decided to come back playing eight months ago to just have fun again in the sport.
Playing on a stage like this, with grandstands, spectators, and T.V. cameras gave me so much anxiety that I truly didn't even realise how this was one of those 'once-in-a-lifetime' opportunities. However, after talking to some of the people who have been such an integral part in my comeback to the game, and asking if they honestly thought I was ready to compete, I accepted Women & Golf's offer of competing as an Amateur in the Aramco Team Series event in London.
Having the best time at the Aramco Team Series London (despite the weather)
The Aramco Team Series events consist of a 54-hole tournament for the professionals, but alongside the individual event is a 36-hole team event with each team comprising of three professionals and one amateur. The teams were announced at a 'Draft Party' on Wednesday evening, and I was selected as the amateur for World Number 129, Pia Babnik's team, along with French golfer Camille Chevalier and Danish golfer Amalie Leth-Nissen. 
I've been asked numerous times how the event went, and while I can easily say it was the absolute best two days, I would be lying if I didn't mention the horrendous weather. Leading up to the event, we knew it was highly likely it was going to rain, so my team & I took the necessary precautions. Waterproofs, extra gloves, rain gloves, waterproof bag, umbrellas. You name it, we had it! What we didn't anticipate was the downpour of rain for 18 holes straight.
For the second round, while we dealt with very minimal rain, we were greeted with winds of 25mph with gusts up to 50mph. Never in my 22 years of playing golf have I played in conditions that extreme; however, it didn't taint the incredible time I had on the course.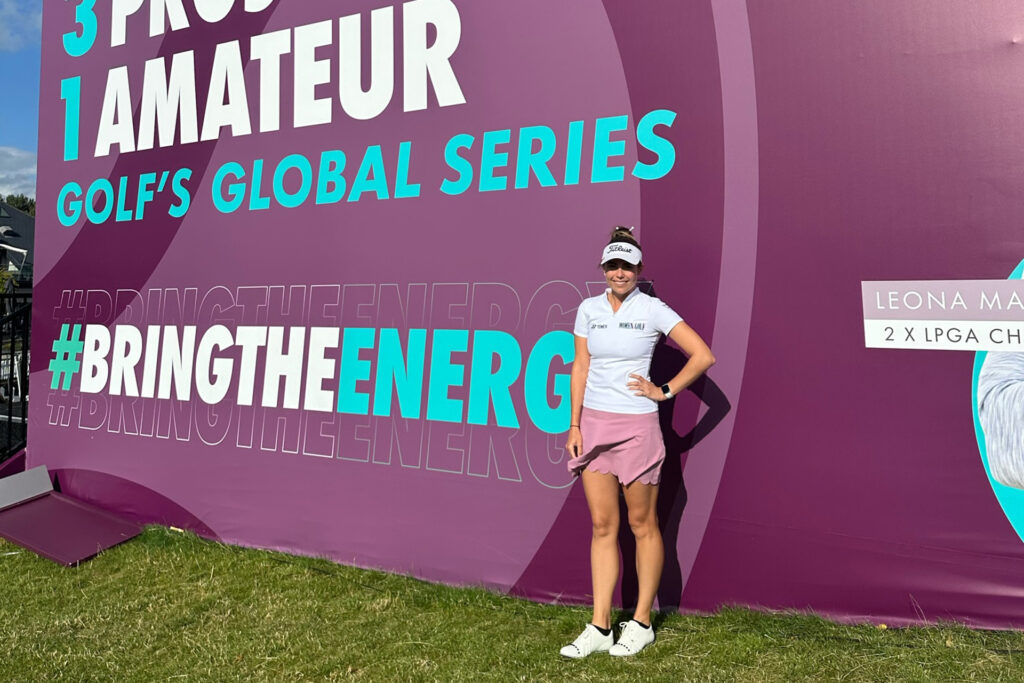 Watching the pros from inside the ropes
The atmosphere of playing in a professional event was nothing like I've ever experienced. Because this is their job, the professionals were so serious and methodical in every move they made. Every shot was analysed, every yardage was precisely calculated, and every shot was executed with 100% commitment. It was incredible watching how they moved around a golf course. Watching them play from inside the ropes and playing alongside them gave me a better understanding of where I need to improve in my own game to be able to compete at the highest level.
From the very first tee shot to my birdie on the last, I couldn't have asked for a better two rounds. My driver was staying in play, my ball striking was the best I've seen it in a long time, and my chipping was up to my high standards. The only thing that struggled, unfortunately, was my putting. Although it was frustrating, I walked off the course Saturday full of pride knowing that I am not too far off from competing at a high level again, and to be honest, this was huge for me.
Never thought I would be competitive again
My Saturday caddy, Steve, kept asking why I always sounded so surprised I hit a good shot. Truth be told, I lost every bit of confidence in my golf game before I quit, and I never thought I'd be competitive again. As much as I loved the sport, I couldn't put myself through all the heartache and breakdown of confidence, so I just said no to competitive golf. However, every shot that I executed the way I wanted to at the Aramco Team Series gave me a bit more confidence in my game. By the end of the 36 holes, I played golf with no fear; something I haven't done in years.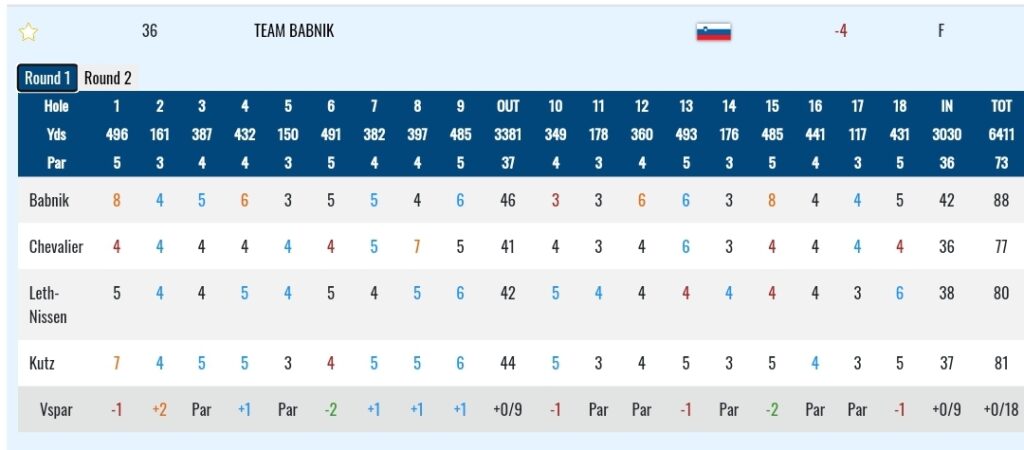 While I didn't know exactly what to write for this blog post, I knew I had to mention the team of people that pushed me out of my comfort zone of playing golf for fun and brought out the competitive golfer in me that had been asleep for so long.
Thank you team
Firstly, there's Chris Evans, my swing coach. When I made the dive back to competitive golf, Chris was there to take my old swing full of bad habits and work relentlessly with me to create a swing that would hold up in competition. He's always a text away and I couldn't be more appreciative of the amount of time & hard work he puts into my golf swing. Then there's the person who got me thinking about playing competitively again, Kent County Coach, Tim Milford. He got me back in the competitive golf world and has been there to support me whether it's looking at my swing, changing my wedge game, or helping me conquer my fairway bunker problems.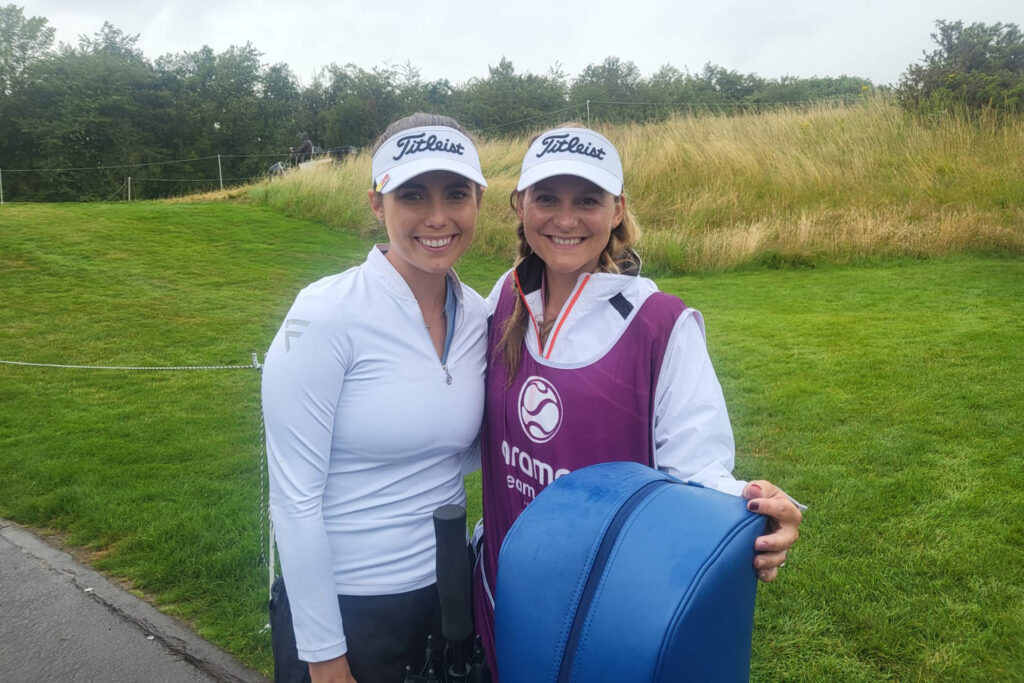 Lastly, I couldn't have even made it to the first tee without my two caddies for the weekend, Danielle Thwaites & Steve Mitchell. Both not only dealt with me on the course in horrible weather conditions, but also every moment leading up to the event. When self-doubt crept into my mind, they were the first ones to squash it, and I cannot even begin to explain how appreciative I was to have them on the bag for my first pro tournament. It was like having your biggest cheerleaders on the bag. I completely trusted them with my game & essentially felt like a puppet on the course. Whatever shot & club they suggested I fully committed to, and they knew what to say and when to say it. With full confidence, I can say I had the best caddies in the whole event.
One word to describe my Aramco Team Series experience
Looking back at my experience playing in the Aramco Team Series, the one word that sums it all up is proud. I'm proud of the way I carried myself on the course, proud of how I stayed focused and positive despite the horrendous conditions, proud that I committed to each shot, and proud that after all these years I finally came back to the sport that was my whole life as a kid. It was the greatest golf experience of my life. With the grandstands and the cameras, I thought I'd feel the pressure, but I never felt more at home.
Ally Kutz is a Sales Rep and Demo Technician for Yonex - you can follow her on instagram @alessandrakutz