After a blistering final round at the U.S. Women's Open, Charley Hull and Team Hull hold both leads after day one at the Aramco Team Series - London
Charley Hull sits atop both leaderboards on an extremely wet first day of the Aramco Team Series presented by PIF – London.
It was an eventful opening round for the English star who rolled in birdies on the third and fifth holes before making a 10 – a quintuple bogey – on the sixth hole.
However, despite that Hull bounced back supremely with birdies on seven and nine before rolling in six in her last seven holes for a round of 68 (-5) and to co-lead alongside Nelly Korda.
"I just lost two balls on a birdie-able par-five," said the Solheim Cup star. "I hit my first tee shot out of bounds and then hit my fourth shot out of bounds, but then to make 10 birdies to shoot five-under was pretty fun.
"It was a birdie-able par-five, if I'd have made a birdie I'd have been -11! I felt confident even after I made the ten. I birdied the next couple of holes, so it was good. I'm now happy I'm indoors."
The three-time LET winner came into this event off the back of a share of second place at last week's U.S. Women's Open and is clearly enjoying playing at the moment.
She added: "Playing at Pebble Beach was unbelievable. It's great to see us go to some big venues like the men. My golf is in a really good place and in great condition coming into this week. I'm just out there having fun."
Aramco Team Series Team competition
And Hull is contending on both fronts as her team is also leading the competition after shooting a round of 18-under-par on day one at Centurion Club.
The quartet of Hull, Sweden's Isabella Deilert and England's Hayley Davis alongside former England footballer Teddy Sheringham, who is their amateur, made light work and didn't drop a single shot in the team competition.
In second place on the Team leaderboard is Team Carta, who fired an opening round of 16-under-par in London.
Italy's Virginia Elena Carta alongside Sweden's Camilla Lennarth, France's Emma Grechi and amateur Andrew Hibbert only dropped one shot, going out in eight-under and back in eight-under.
Captain Carta said: "It was a lovely atmosphere out there on the course. I couldn't have asked for a better team today. We had a lot of fun and there were a lot of birdies from all of us actually. We complemented each other very well so it was a fun round out there."
Team Hall led by England's Georgia Hall ended the day in third place on 14-under-par having made the most of the brutal conditions in the afternoon.
Major champion Hall said: "I'm just really proud of the team, we fought really well out there and hopefully it gives us a great chance to win tomorrow. It was one of the toughest conditions I have ever played in my life, and it definitely got a lot worse in the afternoon so I'm glad that we could hang in there."
Team Harm and Team Hewson sit in a share of fourth place on 13-under-par, while Team Law and Team Cowan are one shot further back with five teams in a tie for eighth place on 10-under.
Korda and Hull at the top
In the Individual competition, it's Major champion Nelly Korda who sits alongside England's Hull at the top of the leaderboard on five-under-par.
Korda had a solid day with only one dropped shot and six birdies on her scorecard for her round of 68.
"The conditions got worse and worse as the day went on, but then towards the end the winds started to become much stronger," said the winner of the 2022 Aramco Team Series – Sotogrande Individual title.
"Overall, I played really well. I made one boo-boo and that was for my bogey, but other than that I played pretty solidly."
Germany's Leonie Harm and South Africa's Casandra Alexander sit in a share of third place on the leaderboard on four-under-par.
Harm opened with three birdies on her front nine before dropping a shot on the 11th but soon made two further birdies.
The German made an error on 16 for a double bogey but made up for it with an eagle on the last after she holed her bunker shot.
While Alexander made the turn in one-under before she made a double bogey on 10 but then found her groove in the stretch rolling in five birdies in her final six holes for her 69 (-4).
Three players are in a tie for fifth place with Dutch star Anne Van Dam, Finland's Noora Komulainen and Spain's Ana Peláez Triviño on three-under-par.
South African Nicole Garcia is in outright eighth place on two-under with four players in a tie for ninth place on one-under.
Team Women & Golf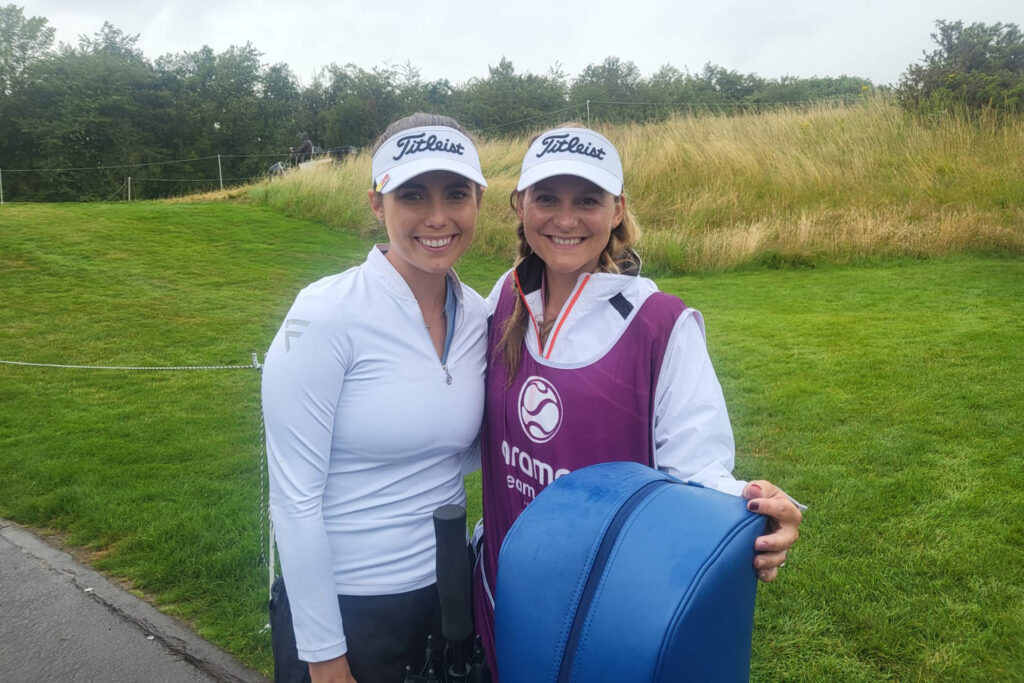 As for Team Women & Golf, we mean Team (Pia) Babnik, the conditions and weather proved tough and the team currently lie in 32nd at -2. With an early tee time of 8:02am on Saturday, they will be hoping to get some early scores in as the weather looks to be worse as the day progresses.
We were so impressed with how Ally and Team Babnik managed in what turned out to be a very long and wet round.
The second round begins at 6.45 am local time with the Team competition being completed at the end of round two.
Follow all the action on @LETGolf on Instagram and Twitter and Ladies European Tour on Facebook and YouTube – #RaiseOurGame #BringTheEnergy.