Team Pedersen clinched victory at the Aramco Team Series – Jeddah after they beat Team Lydia Hall in a two-hole play-off at Royal Green Golf & Country Club, whilst Pia Babnik claimed the individual title.
Team Pedersen claimed victory at the Aramco Team Series – Jeddah after they beat Team Lydia Hall in a two-hole play-off at Royal Greens Golf & Country Club.
The quartet of Emily Kristine Pedersen, Hannah Burke, Krista Bakker and amateur Ahmed Al Subaey began the day five shots behind the overnight leaders and produced a final round of -18 to reach a total of 51-under-par.
With the floodlights turned on in Jeddah, captain Pedersen headed back down to the 18th to compete in a play-off against Lydia Hall, with an eagle on the second play-off hole for the Dane ensuring she won the Team event for the second successive year.
The 2020 Race to Costa del Sol champion said:
"It means a lot to win, I came back to Saudi Arabia hoping to get a win again and it's just amazing to do it. I love it around here so it's great!
"We had a lot of fun in the team, and it was a big team effort, we kept the energy high and kept each other high so it was a really great week.
"I had a lot of good memories from the [ASLI] play-off last year, so it was fun. I feel like I know this course really well now so I'm just happy to be here."
Team Pedersen with the Aramco Team Series trophy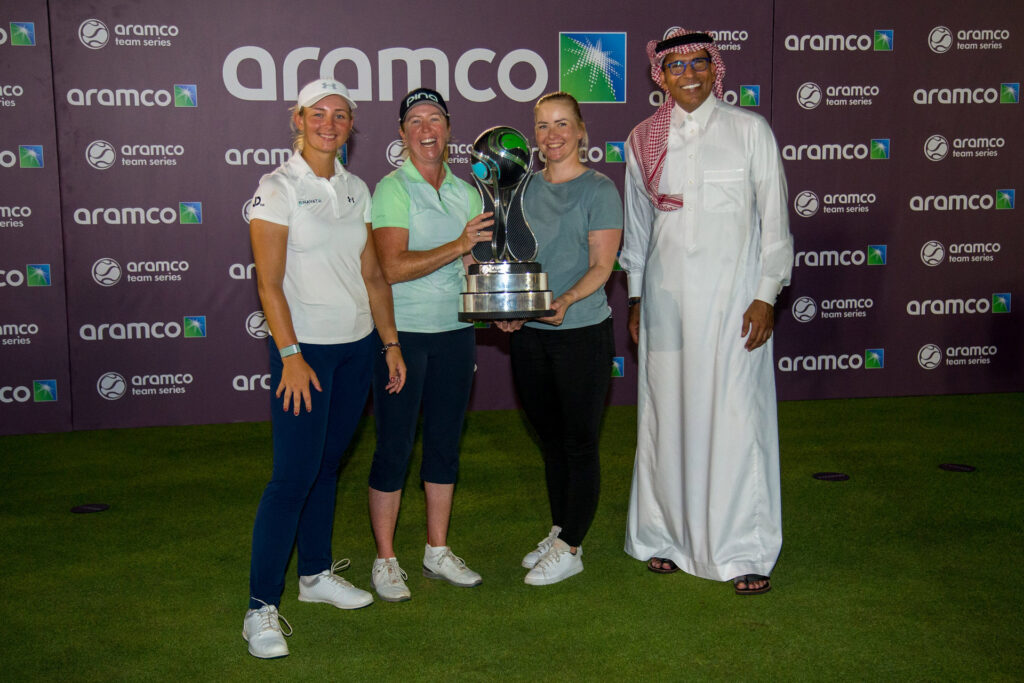 It was a second LET title for England's Burke, with her last coming back in 2015 at the Tipsport Golf Masters in the Czech Republic, while it was a first for Finland's Bakker.
"It's a bit surreal, I've had a few tough years mentally and physically so it's absolutely amazing, I'm loving it."
Bakker added:
"It was great! We made good birdies and found our putting at the right points, we had great energy out there."
Fantastic final day performance from Team L. Hall
For Team L. Hall, who were also five shots off the lead at the end of day two, they had a solid front nine which saw them seven-under-par for the round.
But it was on holes one to nine where they picked up momentum, with the quartet of Lydia Hall, Becky Brewerton, Luiza Altmann and amateur Victor Green – a former NFL player – coming in 10-under-par in their final six holes to also be 51-under-par.
Speaking of how they played during the final round, captain Hall said:
"We wish we could bottle this formula. All of us have definitely hit some unbelievable shots in the last three days and we were able to keep that momentum going when we had a lull. We are so used to being lone sharks, these events are so refreshing and getting to play three rounds of golf where it's fun and everyone is going for the pins."
Brewerton added:
"I think we just tapped into the team atmosphere. I felt like we were playing in a Solheim or Ryder Cup together we had so much energy. Victor's energy and sportsmanship from his previous career totally rubbed off on us."
Despite missing out in the play-off, it was a good week individually for Hall who ended the tournament in a tie for third place having shot rounds of 69, 68 and 66.
"Personally, I'm really happy to get 66 today and three rounds in the 60s is always nice and just add to the top ten finishes this year."
Pia Babnik wins second LET title of the 2021 season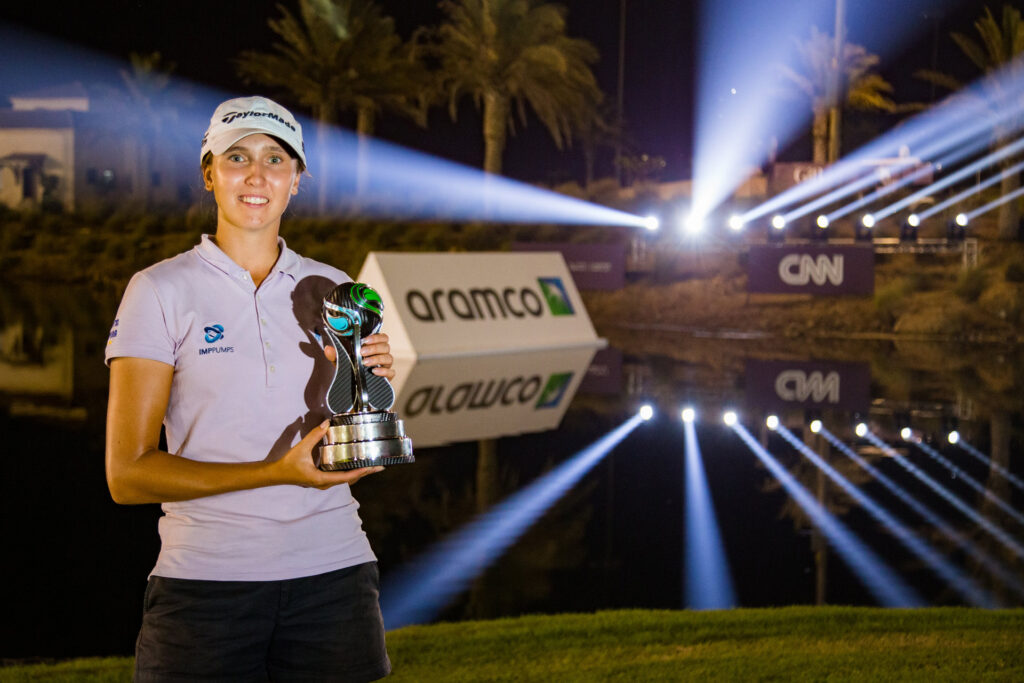 But it was Slovenia's Pia Babnik who secured the Aramco Team Series – Jeddah individual title with a birdie on 18 sealing the victory on 16-under-par.
The 17-year-old fired rounds of 70, 65 and 65 to clinch her second LET title of the year while Team Babnik finished third on 50-under-par.
The 2019 European PING Junior Solheim Cup player, said:
"It feels amazing! I must admit, I didn't know what was going on with the scores. I didn't look at the leaderboard and I didn't know until before the last putt. I was just trying to play my game and I'm really happy with my win."
"We had so much fun with the team. We all played really well, so huge thanks to them also. It helps a lot being in the team because I didn't know what was going on and I was just trying to play for them."
Cowan finishes second
Germany's Olivia Cowan ended the individual tournament in second place one shot back having found the water on the 18th hole with Hall and Carlota Ciganda finishing third.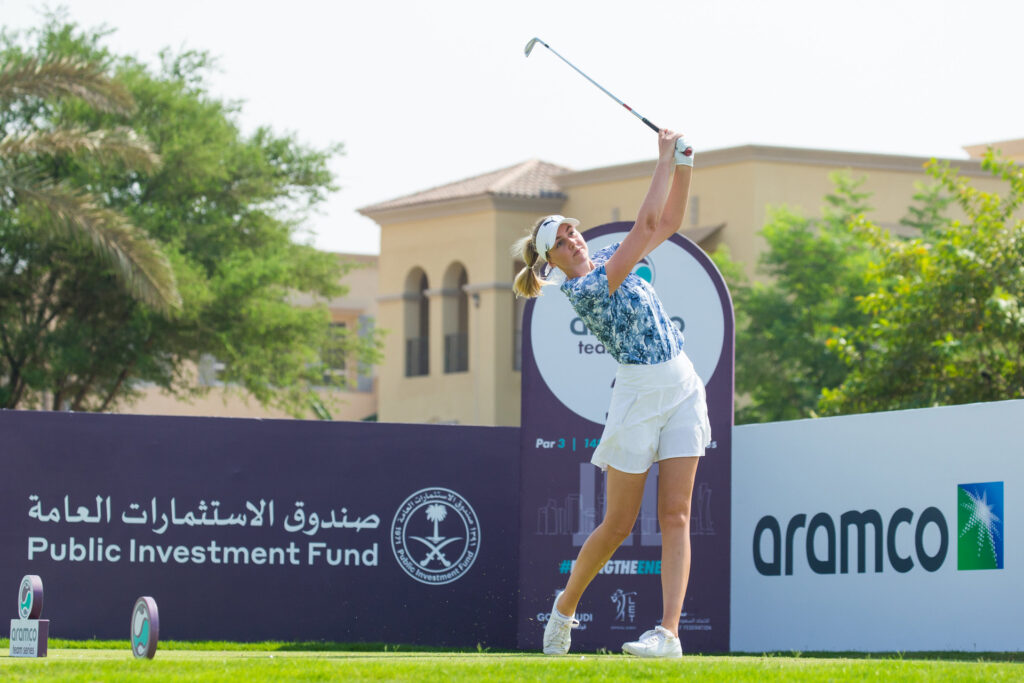 England's Georgia Hall was in fifth place on 12-under-par with four players sixth including 2021 Race to Costa del Sol champion Atthaya Thitikul, Dubai Moonlight Classic winner Bronte Law, 2021 AIG Women's Open champion Anna Nordqvist and England's Gabriella Cowley.
India's Tvesa Malik, Australian Stephanie Kyriacou and Finland's Sanna Nuutinen rounded out the top ten on -10.
Team Kyriacou and Team De Roey ended the competition tied for fourth place on 49-under with Team Ciganda in solo sixth.
In the 2021 Race to Costa del Sol, with another top-ten finish Thitikul now has 3,361.96 points to her name as Babnik has surged up to second place with 1,909.89 points. Nuutinen is third on 1,640.27, Kyriacou is just behind in fourth (1,632.74) and Cowan moves to fifth place with 1,529.68 points.
View the full scoreboard here. Watch final day coverage from the Aramco Team Series - Jeddah via Sky Sports Golf YouTube here.