Team Europe retain the Solheim Cup for a second time at Finca Cortesin, holding onto the trophy for a third time for the first time in the history of the event with a fairytale ending for Spain's Carlota Ciganda
At the start of the week, there had been a lot of talk about Team USA being the underdogs with Captain Stacy Lewis saying:
"I think Europe's the favorite. They have won the last two, we're on their soil, they have a great team that has a ton, a ton of experience in this event. So you look at history, you know, it doesn't bode well for us. But I love our chances. I love these rookies. I think they're going to have a great week and hopefully surprise a lot of people."
But we weren't so sure, either was Lewis' fellow American Megan Khang:
"With the crowd, yes. Honestly, I think both teams are stacked very well. I know we have a few more rookies on our team, but it's going to be a good week to watch some golf."
Fast forward to Sunday with an 8-8 leaderboard with what could be described as one of the closest final days ahead.
And battle they did, taking it down to the final matches to decide the winner. In the end, it was a fairy tale ending for home favourite Carlota Ciganda as she holed the putt to retain the trophy for Europe.
A final score of 14-14 seems fitting but must also feel so difficult to digest for an American side that came out on top after the 4-0 thrashing in the morning session on Friday.
Let's take a look back at the final day.
Sunday Singles
With Europe looking to retain the cup for the second time, making it three wins in a row, they required six of the possible 12 points available - 14 to retain, whilst USA required 14.5 to win.
Here was the line-up for the Sunday singles matches: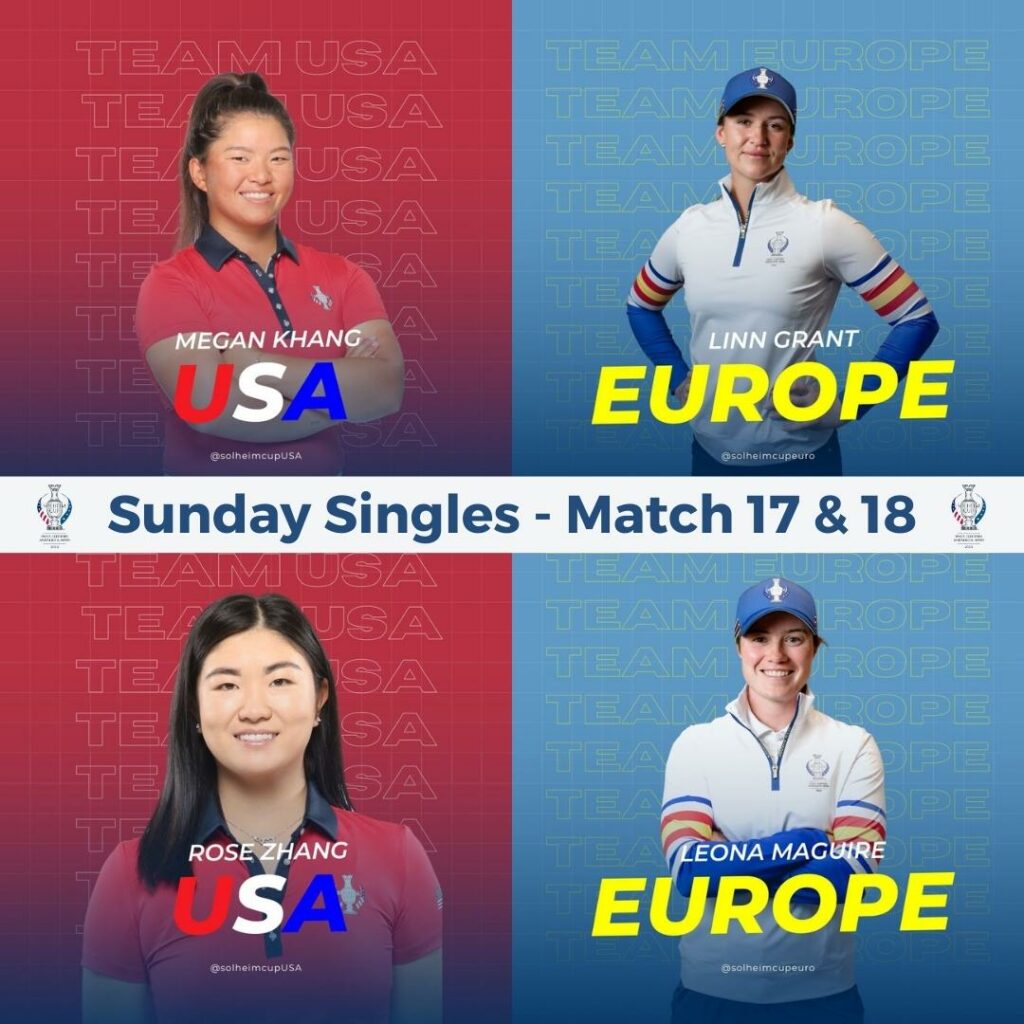 By the time all the matches were out on the course at 1:30pm local time, the scoreboard was unsurprisingly looking pretty even with USA up in five matches, Europe up in four and the other three matches tied. The biggest margin was 3up to European players Nordqvist and Dryburgh.
An hour later, the two sides were still evenly matched with both up in five matches and tied in two.
First point to Europe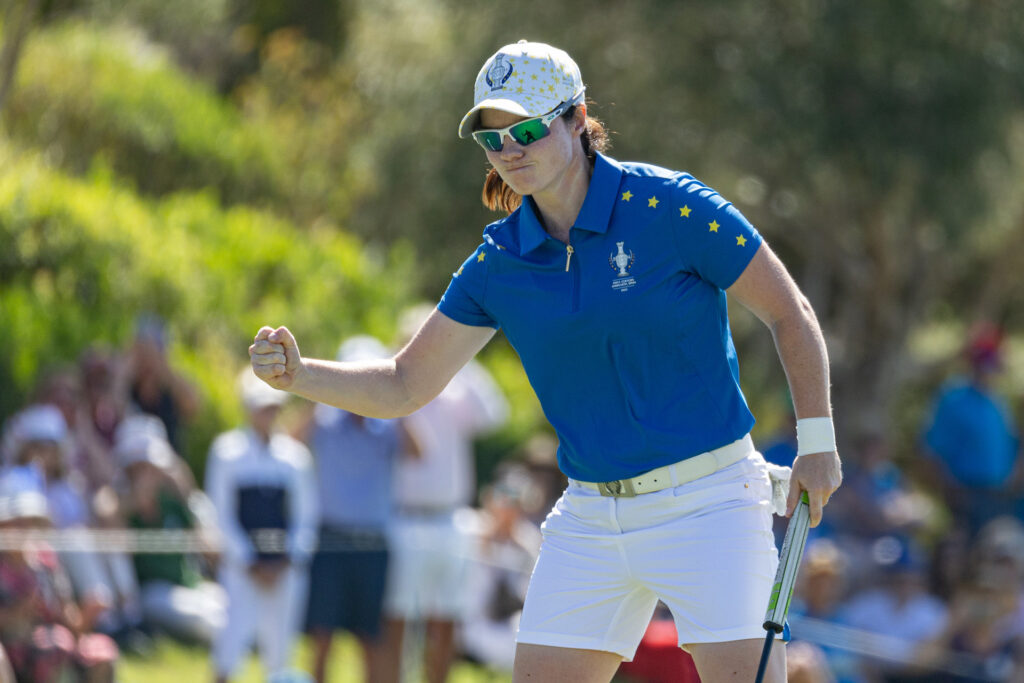 Leona Maguire could potentially take the mantle of the fiercest competitor on the course. She goes about each round with a steely determination. This is probably one of the main reasons that she was sent out in the second group on Sunday, to get an early point for Europe.
Needless to say, Maguire didn't disappoint. Although Zhang went 1up on the first hole, Maguire fought back straight away with two birdies to swing in back in Europe's favour. Where the advantage remained like this until they made the turn.
Then Maguire ramped it up a gear with two more birdies on 10 and 11 to go 3up. Zhang drew it back to two on the following hole but Maguire had the win in her sights winning holes 13 and 14. Finishing the match off with a par on the 15th on win 4&3 and give Europe its first point. 9-8 to Europe.
First points to USA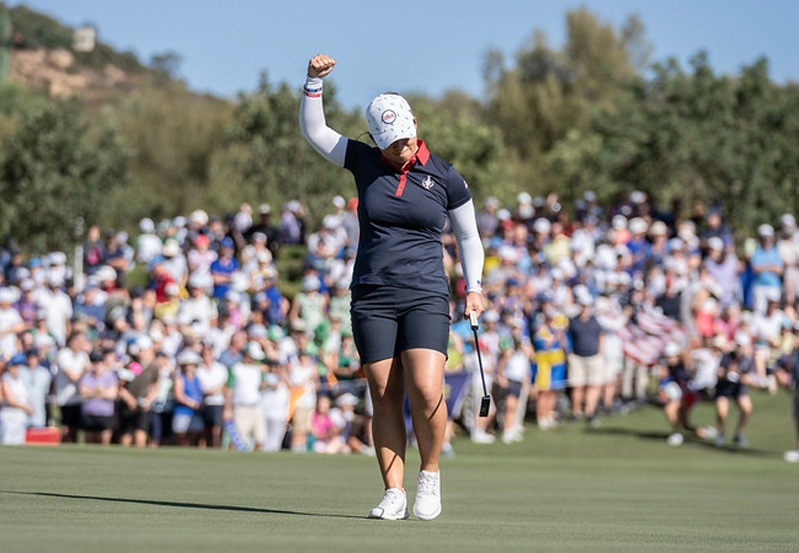 Not long after Maguire secured the first point for Europe, USA got their first point on the board. Khang and Grant going all the way to 18 after Grant fought back from being two down after four holes. The American led throughout but a birdie on 16 got the match back to 1up and Grant hoped to turn her fortunes around. It wasn't to be as Khang produced a fantastic approach shot on 18, with the hole being halved and the win going to America.
As Khang's putt dropped, Hull was attempting to chip in to win the hole on 16, which didn't go close. In a match where Danielle Kang proved what a matchplay player she is. Hull was not able to really get into the match even though it was tied after six holes. Kang had three birdies on six, eight and nine to get to 3up. Hull, who put on a brilliant display of golf on Saturday afternoon with Maguire, could not fight back like we would expect her to. Winning two holes was just not good enough and Kang had victory in her sights. Another two birdies on 12 and 16 sealed the match 4&2. USA now led 10-9.
Norqvist wins first point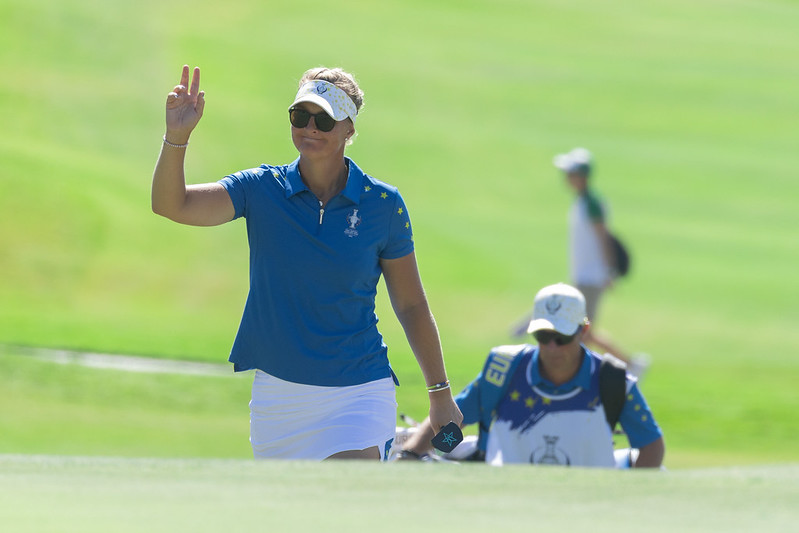 Norqvist, who was playing her eighth Solheim Cup and also Vice Captain, came out on Sunday with a point to prove. Quite literally after not winning a point in her three other matches. Both Nordqvist and Kupcho had a steady start with pars on the first four holes. Then the Swede started to take control winning three holes on the trot from five to seven. At the turn she was back to 2up and gained another with a birdie on the par 3 12th. Kupcho made a push claiming holes 13 and 14.
The fire that we had seen in Kupcho's debut at Inverness Club never seemed to materialise this week, maybe due to her not being in as good form as she was back in 2021. Whatever the reason, Nordqvist used her vast Solheim Cup experience to get back to 2up and seal the match on 17. 2&1 and back to evens 10-10.
Match halved
Neither Hall or Lee played their best golf on Sunday at Finca Cortesin, with only three birdies between them. Hall won the first hole with a birdie but they were tied by the turn, Hall then went on to win 12 and 14 but Lee birdied 15 and a par on 17 was enough to take the match down 18. Both were able to take an advantage on the hole and had to settle for a halved match. Georgia Hall likely to be very disappointed as she led for a lot of the match.
Birdie machine Vu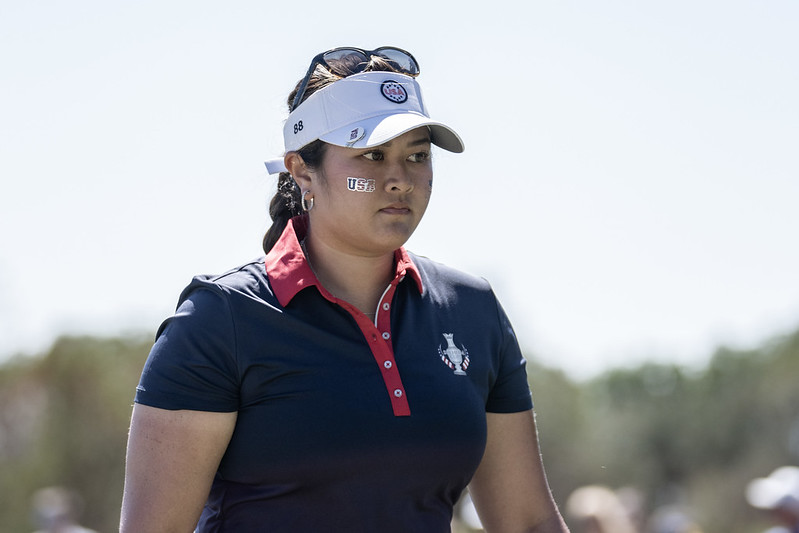 Vu came into the singles matches after three losses, with many expecting her to have had a stronger performance this week. Maybe she felt like she had nothing to lose as she took on Sagstrom. Whatever her motivation, Vu was on fire, with birdies on the first four holes to storm to 4up. She added another hole at the par 3 6th and Sagstrom's fate seemed sealed.
Sagstrom was able to win three holes on the back nine but Vu was just too strong. Adding another point to the USA side with a 4&3 victory on the 15th hole. 11.5 to 10.5 in USA's favour.
Yin adds to momentum to USA
Yin has showed this week why she is such a great team player, coming in at the right moments and playing some fantastic match play. She may have lost the first hole but she came back with wins on the next two.
Boutier, who at the start of the week looked to be one of Europe's strongest players, just wasn't able to keep pressure on Yin, although she did get the match back to tied and briefly took the lead after 12 holes.
That was the incentive that Yin needed and taking the next two holes, which included an eagle two on 14. Boutier gave Europe hope on 15 but two further birdies from Yin gave her second victory of the week and extended USA's lead to 12.5 - 10.5.
Watch Sunday Singles highlights
Dryburgh has to settle for a half
Rookie Dryburgh entered her singles match with only one other match under her belt, whilst fellow rookie Knight was playing in her third. Initially, this did not seem to matter as Dryburgh took control going three up through six holes. Knight gained a hole back at eight and the match then continued with neither gaining until the 15th. With pars Knight got the match back to tied and with both unable to find a birdie on the final two holes, the match was halved.
Like Hall, Dryburgh is likely to feel disappointed that she was not able to gain a whole point for Team Europe and such a vital stage in the match. The score now 13-11 to USA.
Hedwall shows her worth
Many questioned Hedwall as a Captain's pick and although she showed some decent play with Nordqvist in the fourballs on Saturday, it still ended in a loss. Along with Dryburgh, she was only making her second start of the week.
Ewing, like her team mate Kupcho, had shown less passion and emotion than we had seen back in 2021. Not that that had impacted her scores and she came in with a win and a tied match.
An eagle on the second hole showed the American's intent and although Hedwall did gain a hole back, Ewing would win three of the next eight holes. But this is the Solheim Cup, it's matchplay at it's Caroline Hedwall.
When picked by Captain Pettersen, the Captain said "I can't see a team without her in it."
Hedwall then went on to prove her worth winning six of the final seven holes, including a sensational birdie on 17 to turn the match around and win 2up on the final hole. A turning point in the final day, which brought the score to 13-12 to USA.
Steady from Stark
As with pretty much all the matches this Sunday, Corpuz and Stark were evenly matched, something that was shown by them playing six holes before Stark's birdie on seven gave her a narrow advantage. Both played steady rather than attacking golf. Maybe the most subdued of all the matches, which you would not expect with Stark playing.
A par on 13 gave Stark a 2up advantage, with Corpuz winning her only hole of the day on the par 4 15th hole. The match went to 17 where Corpuz found a green side bunker, unable to get her shot out close, the hole was conceded and it victory was in Europe's sights. Stark winning 2&1 and Europe drawing level 13-13.
Crowning glory for Ciganda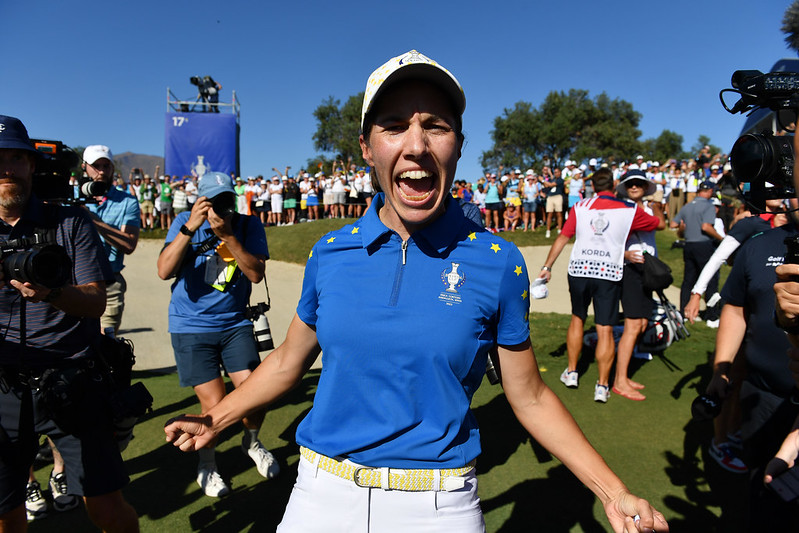 This week had been a fantastic opportunity to showcase Spanish golf and with that the weight of Spain was on Carlota Ciganda's shoulders.
Coming into Sunday with three wins you would not have thought that Ciganda was feeling any pressure. Going out into the second to last group, there was a real chance that her match could be the one that counted most.
Korda has struggled with her putting recently but it did not seem to be as much of an issue this week, that continued today, however at times the putts just would not drop. Ciganda capitalised on this and was three up after eight holes.
However, current world number three Korda is there for a reason, drawing the match back to tied after 15 as Ciganda faltered.
Maybe Ciganda was buoyed by the cheers for Hedwall three pairs in front of her, but something changed on the 16th tee and a birdie followed.
Then the real magic happened on the tee at the par 3 17th. A sublime shot to two feet which would be nearly impossible to beat. Korda could not convert her birdie putt and had to settle for a par. As the match was so close, Korda did not concede the putt, so Ciganda had her fairy tale moment - holing out to win the match and retain the trophy for Team Europe. The score now 14-14 to Europe.
Consolation for Thompson
Lexi Thompson had already proved all her doubters wrong, probably in the very first match on Friday when she beat Stark and Grant playing with Megan Khang. A further victory and a tied match would have only made the case for her to be part of the team even stronger.
Pedersen, as a Captain's pick, also had had to show her worth. Not to Captain Pedersen, who had played her in every session but to those who thought that she did not deserve her place.
Neither had anything to lose, well apart from the Solheim Cup, as they battled it out in the final group of the day.
Pedersen came out strong and was 2up after three holes but Thompson then took control winning six of the next 10 holes to get to 4up with five holes to play.
As cheers continued to ring out around Finca Cortesin, Pedersen found some fight but it came too late. It may not have been the point to win the match but Thompson won 2&1 to bring the match to a tie of 14 all. A consolation of sorts for a player who has one of the best playing records in Solheim Cup history.
Congratulations go to Team Europe but if there ever was a time when you hoped that both teams could take home the prize, this year was it. Two teams so evenly matched, with the majority of matches ending on the final two holes and a fairly fought battle.
There is no doubt that in less than 12 months' time Team USA will be out to get the victory which was within touching distance on the Finca Cortesin fairways. This one will hurt and they won't want it to hurt again.
View live scoring here.