We take a look back at all the matches from Day 2 of the Solheim Cup at Finca Cortesin
After a shock to the system for Team Europe in the Friday morning Foursomes, losing all four matches, they came out fighting in the afternoon to steady the ship and end the day just two points behind Team USA 3-5.
On Saturday morning, although the crowds were cheering there was a more subdued feeling on the first tee. Both team Captains were more pensive and less animated than they had been the day before. What was at stake was still the same but maybe the reality of the job in hand was more at the front of their minds after the first day's action.
Although the grandstand was full, there were noticeably fewer spectators around the first green. Probably the season ticket holders needing more rest after taking on the tiring job of navigating their way round the hilly course. It certainly looks tough going out there from the comfort of the media centre.
The crowds did soon pick up, so maybe it had been more of a case of knowing where to be to catch all the action for the second day. One thing was for sure, both of these teams are very evenly matched and this year's Solheim Cup is too close to call.
Foursomes Match 9 – Jennifer Kupcho & Lilia Vu v Emily Pedersen & Carlota Ciganda - 2&1 EUROPE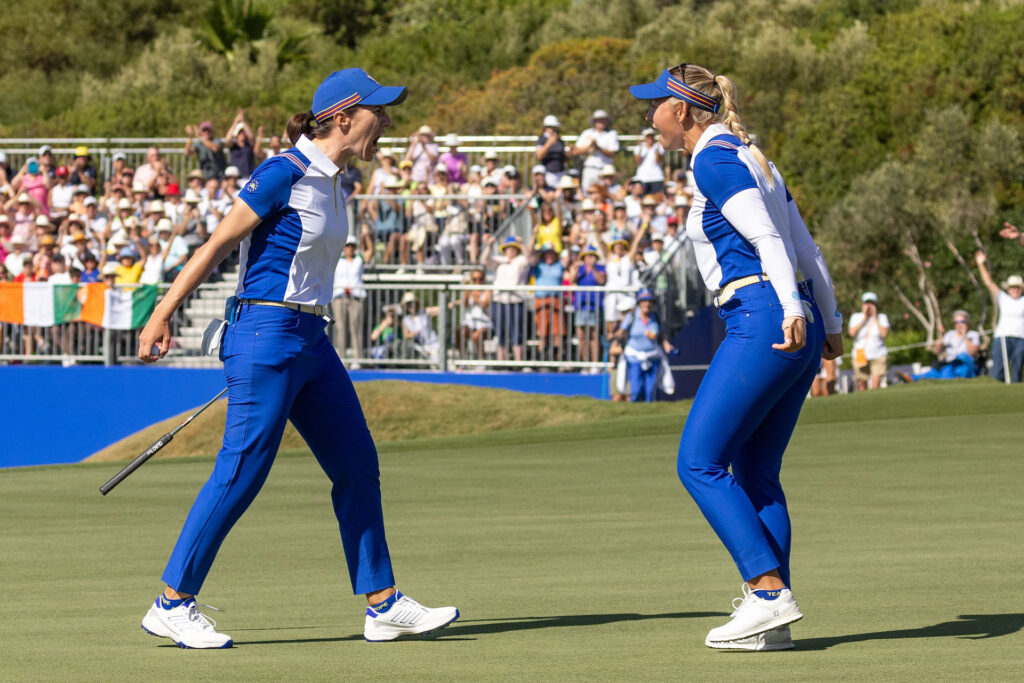 With Europe looking to vastly improve on their first day foursomes, they came out firing with Ciganda. Some might argue, well maybe just me, that Ciganda should have gone out first yesterday morning.
Anyway, that was yesterday. Paired with Pedersen, they got off to a steady start with Kupcho not able to capitalise on holing a couple of short putts on the opening four holes to take the lead.
An eagle at five and a birdie at six gave the home crowd plenty to cheer about. But this is matchplay and the Americans soon got it back to all square to make the turn.
Pars on 10 and 13 were enough for the Europeans to gain some momentum and although the Americans gained one hole back. The match headed to 17 after Ciganda made a birdie on 16 to roars from the crowd.
Vu had a chance to take the match down 18 but the putt just slid away from the hole and it was Ciganda again who holed out to halve the hole and win the match. Putting the first point on the board for Team Europe on a hot Saturday morning.
"I think it's important because you don't want to give too much to the Americans," Ciganda said about how important it was carrying over the momentum from yesterday's afternoon matches. "I mean, they are tough to beat. They are really strong and they are really good, so we can do this, but we have to play good golf, and we have to be very present and hopefully that's enough."
Foursomes Match 10 – Lexi Thompson & Megan Khang v Anna Nordqvist & Leona Maguire - 1up USA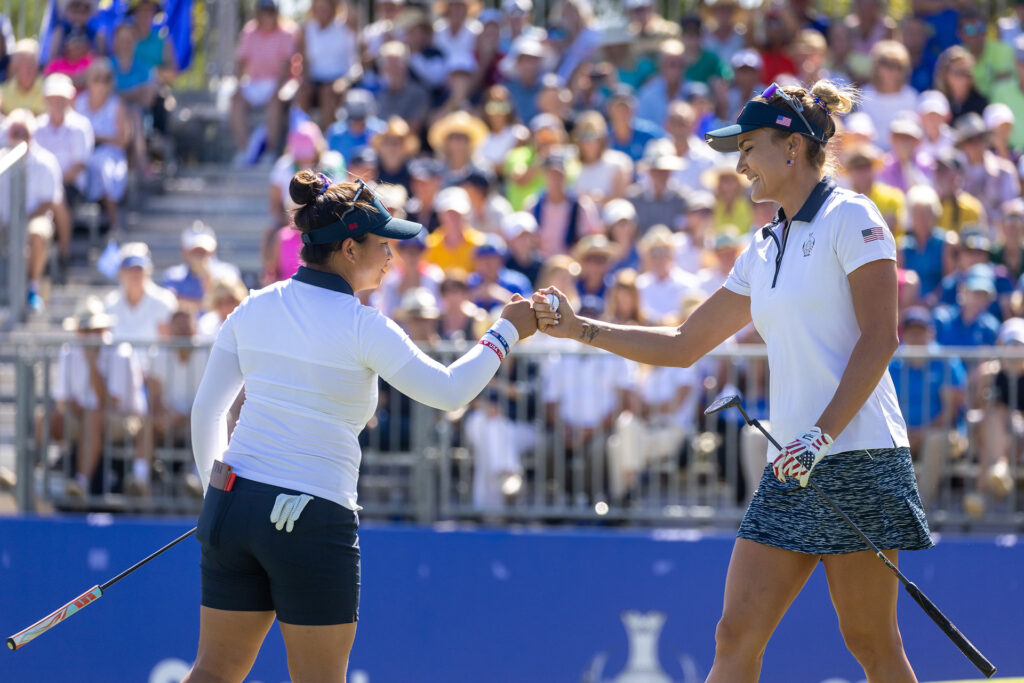 Thompson and Kang were paired together again for the foursomes after a 2&1 victory against Stark and Grant, whilst Nordqvist and Maguire were also together again after losing a close match to Korda and Corpuz on Friday morning.
After watching Thompson's ball bounce into the water, Europe failed to capitalise on the first hole, settling for a half. The European pair faired better than their first outing, as they led the majority of the front nine. But the Americans kept things tight, never letting their opponents pull clear by more than two holes.
Maguire's bogey putt at nine pulled the Americans back within one, and another European bogey at 10 brought the match back to even. Team USA grabbed the lead when Thompson put her birdie putt to tap-in range, going 1up. It was back to all square at 16 with a par being enough to win the 17th for America. Unable to win the last hole, Nordqvist and Maguire had to settle for another 1up defeat whilst Thompson and Khang made it two wins from two in the foursomes.
"I think this week is just purely adrenaline," Kang said when asked if the crowds help keep her going. "If you feel like you're tired, you forget about it because the crowd's right there picking you up. You have your partner looking at you going like, Let's go. Lexi is literally like, Come on, we can do it. I'm like, I can do it. My little legs can keep up."
Foursomes Match 11 – Nelly Korda & Allisen Corpuz v Georgia Hall & Celine Boutier - 5&3 USA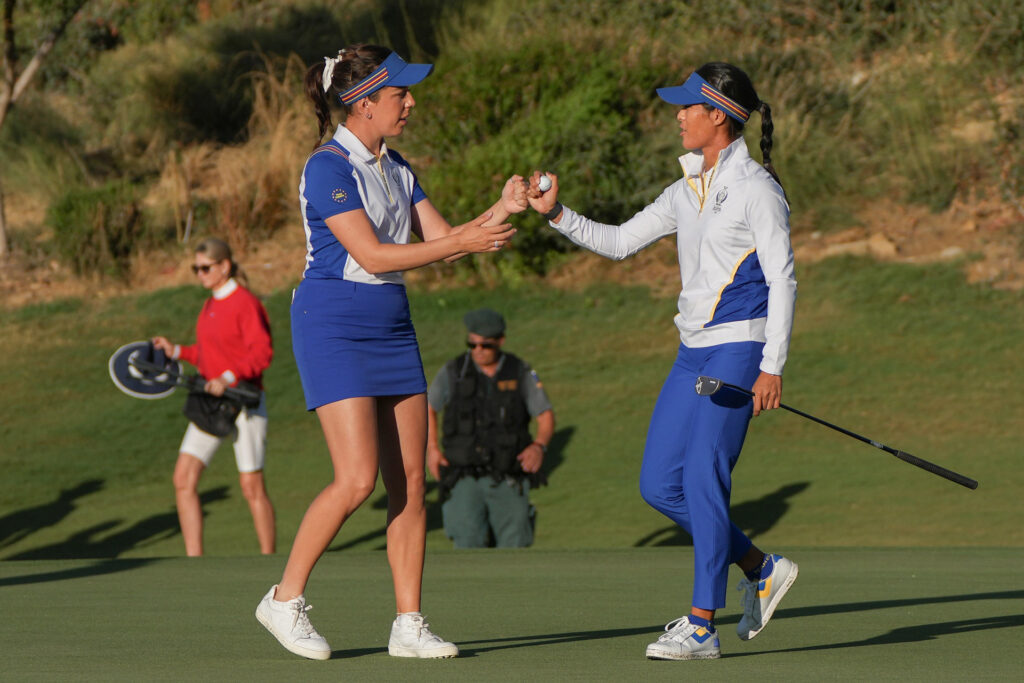 Korda and Corpuz proved a good partnership yesterday morning taking their foursomes match 1up, so it was not surprising that Captain Lewis kept the pair together on day two. This time they would face what had been a formidable partnership of Hall and Boutier. However, after a narrow loss, the European pair had lost their mantle of being an unbeaten pairing.
After watching Hall struggle yesterday, especially around the greens, I was not sure that we would see her in the afternoon, let alone again this morning.
The European duo were not able to get the strong start that they would have liked, two down after two holes, clawing one back at four, they made the turn three down. Putts just did not drop and a formidable crown was shifting to the American pairing.
That was until the 14th hole where the European pair were facing defeat, Hall with a 20ft putt for birdie, converted it and kept the match going.
The potential comeback was short lived with Korda, like Hall the hole before, holing out from long range to clinch the first point of the day for the USA team. Winning 5&3.
At the beginning of the week Korda was looking for a new partner with her sister Jessica not in the team due to injury - it certainly looks like she's found the perfect one in Corpuz. And, as for Corpuz, the American rookie has shown some great form so far this week, claiming two and a half points for her team.
"I think Nelly is really calm, which is kind of what I need," Corpuz said about how her and Korda compliment each other. "I play pretty low energy. Obviously she has the experience as well. So just knowing that having someone like her by my side has helped me a lot to get comfortable."
Foursomes Match 12 – Danielle Kang & Andrea Lee v Linn Grant & Maya Stark - 1UP EUROPE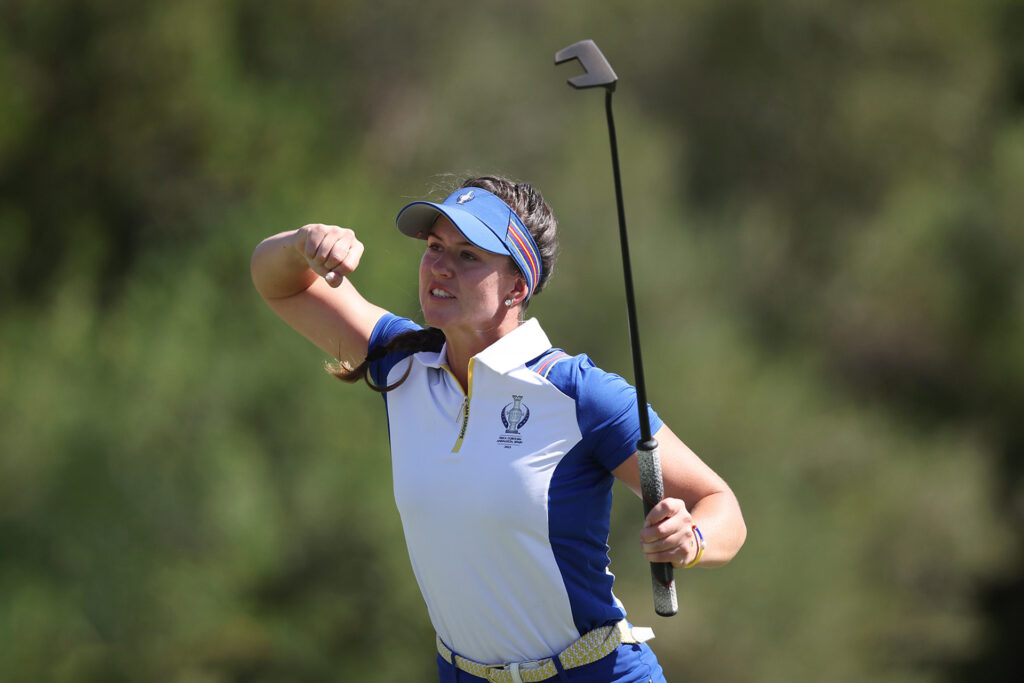 Kang wanted to keep the party going on the first by asking for the music and cheers to continue as she hit her first tee shot, in quiet contrast to the hushed silence for Grant.
Before the week Grant and Stark had been thought of as a dynamic duo that would light up the European side, however their partnership did not get going until the back nine on Friday morning. With first day nerves out of the way, the pair looked better equipped to be in the spotlight.
Winning the first hole was the perfect start and although the match went back to all square at four it was a much more solid performance from the Europeans.
As predicted at the start of the day, the teams really are so evenly matched. Nothing showed this more than the back and forth nature of this particular match. Europe where one up after 11, with USA pulling it back to all squared on 12, this continued (back and forth) for the next five holes with Europe taking the one hole advantage to the 18th.
From the disappointment of yesterday to the elation of today when Grant holed a 10ft par part to halve the hole and win the match.
"It's unbelievable," Stark said about getting to play on this stage with her good friend Grant. "It's so much fun, especially getting that confidence growing with Suzann putting us together. I mean, two rookies, that's got to be a little hard for her to be out in the first group yesterday. I think there were a lot of nerves involved yesterday on the first few holes and then getting to play with her again it's just amazing and I knew that we could do it. It was just, yeah, letting loose and just doing it."
Saturday Fourballs
Team USA led Europe seven points to five as we headed into the afternoon fourballs. Charley Hull makes a return to the line-up, whilst Caroline Hedwall makes her first appearance for Team Europe. Korda makes her first fourball start.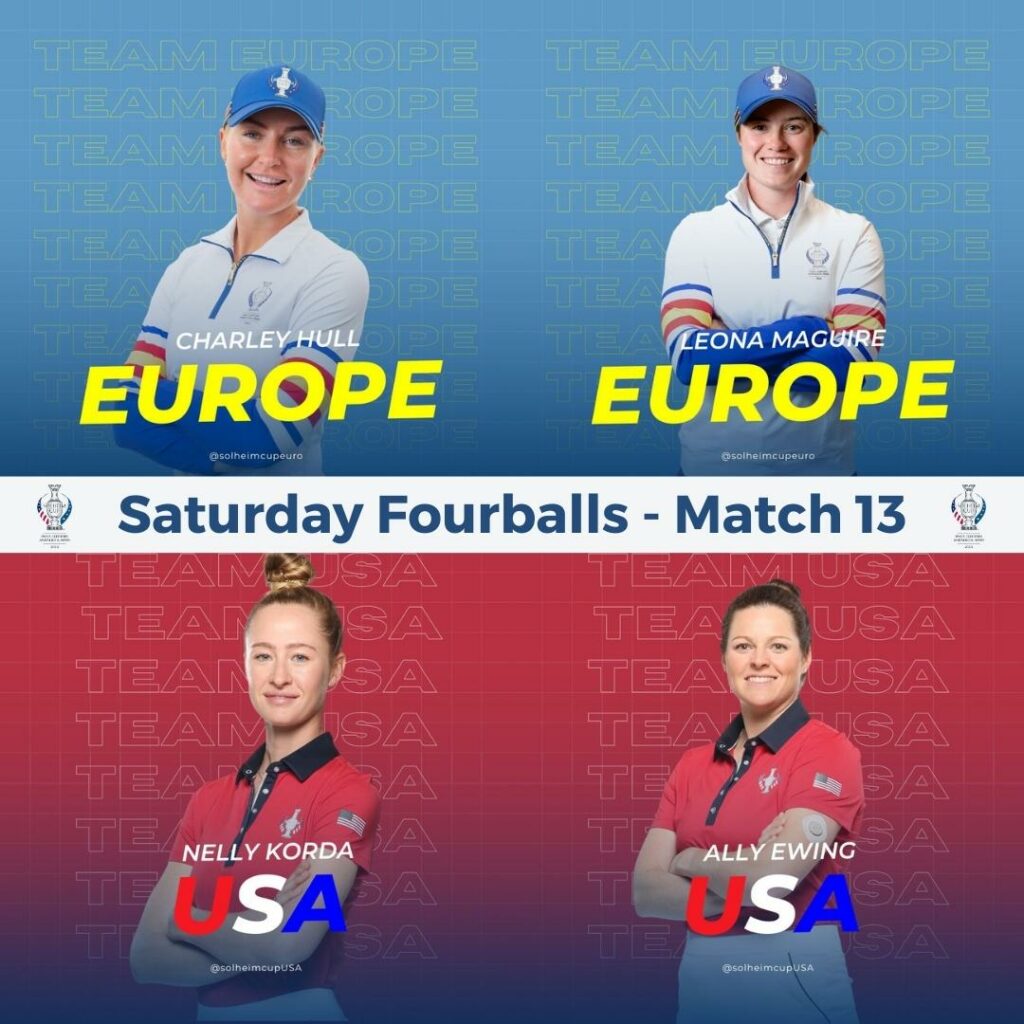 Fourballs Match 13 – Nelly Korda & Ally Ewing v Charley Hull & Leona Maguire - 4&3 EUROPE
As the temperature rose so did the wind but not to the same degree as it did yesterday afternoon. Also, unlike yesterday Hull made her tee time with plenty of time to spare and looked noticeably calmer.
Paired with Maguire for the first time, it was going to be interesting to see how these cool characters worked together.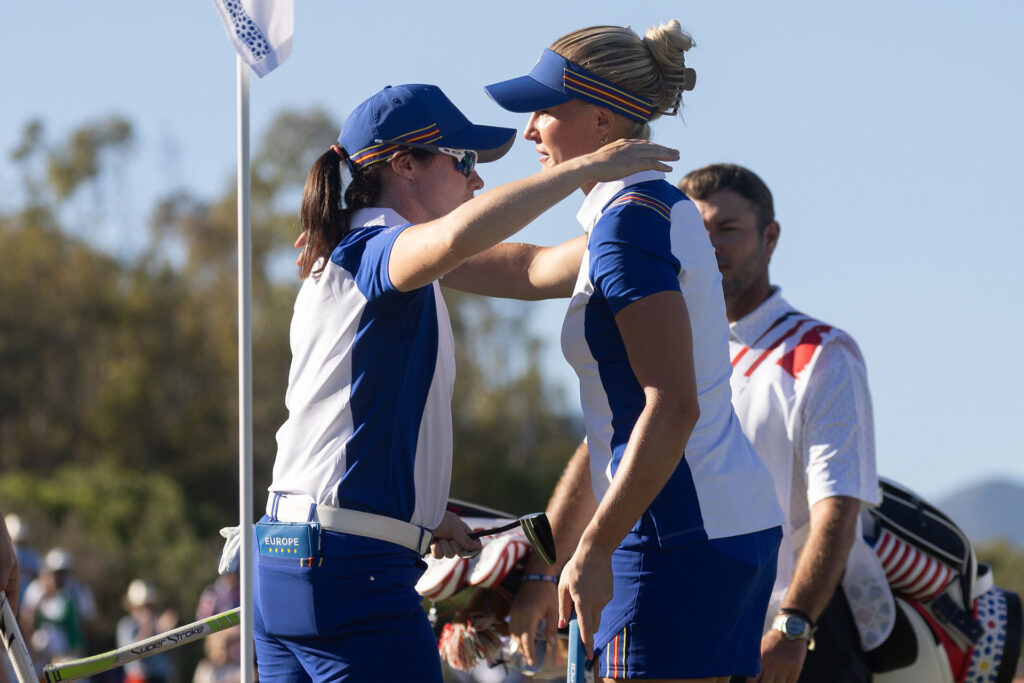 Like the Maguire and Hull we know best, they came out firing, Hull literally so as her ball went through the back of the first green.
What ensued was a birdie fest that Korda and Ewing were unable to do much about. Maguire was three-under-par after four holes and the European pair were 2up. A birdie from Hull on seven and Maguire on eight meant that they made the turn 4up.
Birdies from Americans on the par 3 10th hole turned out to be a consolation, with Maguire returning the score to 4up with four to play.
Korda and Ewing could not convert their birdie opportunities, so conceded the match 4&3. Europe closing the score 7 points to 6.
There was no sign of any injury worries for Hull, which bodes well for the singles tomorrow.
"Yeah, I like it, because we're both not really like hyper, how do I explain it, hype-to-the-crowd people, we just kind of go along with our business, not too massive fist pumps and stuff," Hull said about why her and Maguire are such good partners. "We make a birdie, yup; we make a bogey, yup, move on to the next hole and forget about it and I feel like we both do that quite well."
Fourballs Match 14 – Cheyenne Knight & Angel Yin v Anna Nordqvist & Caroline Hedwall - 1up USA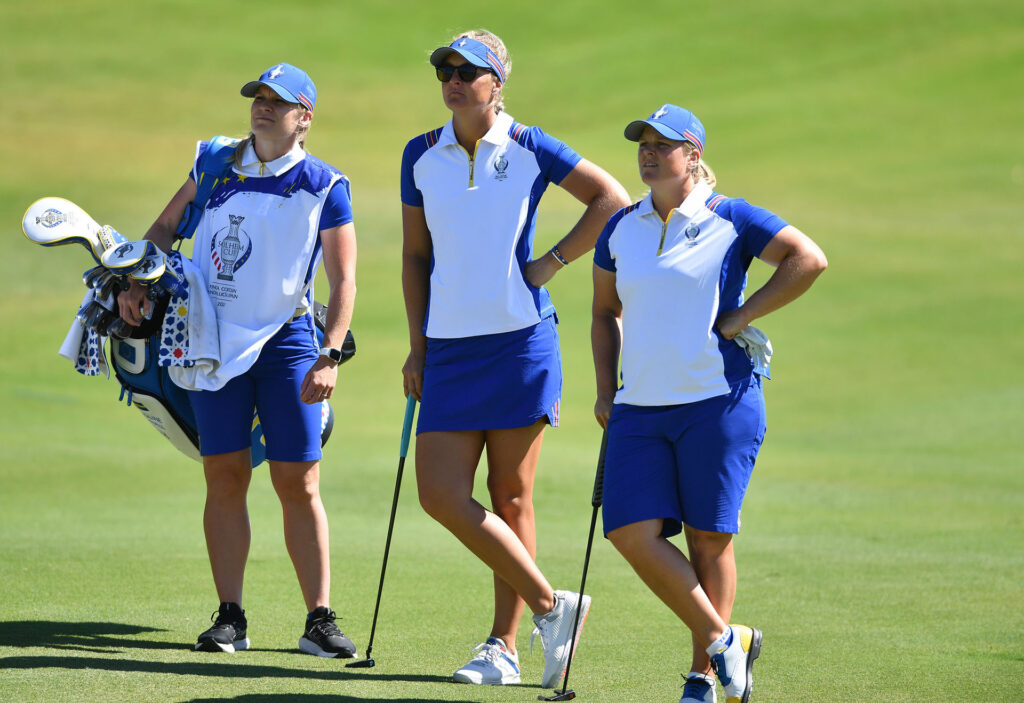 Hedwall made her debut at this Solheim Cup, playing with fellow Swede Nordqvist who she had partnered with at three previous Solheim Cups (2013, 2015 and 2019). As a Captain's pick, some may have thought that Hedwall had something to prove.
If that was the case, then she certainly made a strong case, winning three holes for Europe on the front nine, to hit the turn 2up.
Knight and Yin fought back winning holes 11-13 and remained 1up until the final hole. Both Norqdvist and Hedwall had had the opportunity to level the match on 17 but both were unable to convert their birdie putts.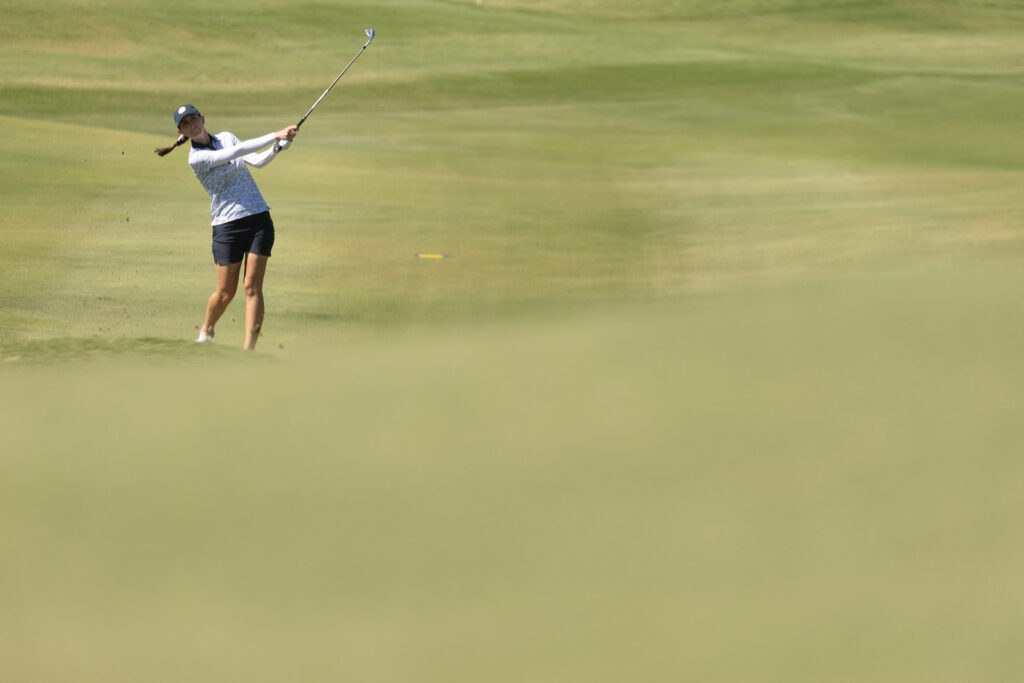 Yin used her firepower to get onto the green in two which proved too much for both the Swedes. A narrow loss from a hard fought match.
This match finished just after the Match 15, so pushed the USA one point ahead at 8 points to 7.
"It was so difficult because they were playing great. Hedwall was, like, giving us no opportunities. Then as soon as Hedwall, let's just say she makes a little bit of a mistake, not even a big mistake, Anna is right next to the pin, and so it never really created any room for error," Yin said of the match. "I think on each side we only had one bogey. We had one bogey, they had one bogey. So that just tells you how good of golf we're playing. We only had to make birdie to win the hole and the pars didn't even do anything. So, I mean, it's just tough."
Fourballs Match 15 – Rose Zhang & Andrea Lee v Madelene Sagstrom & Emily K. Pedersen - 2&1 EUROPE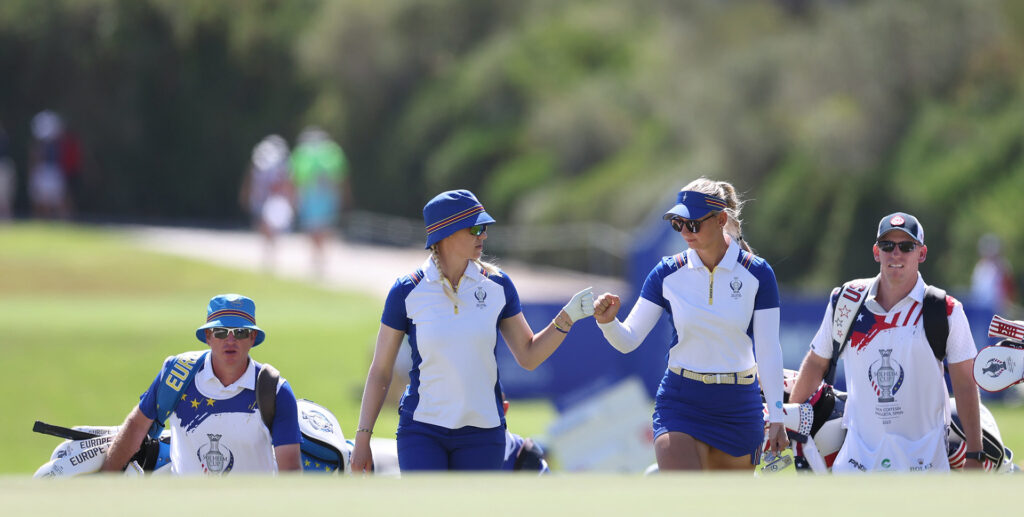 Following on behind was another Scandinavian pairing with Swede Sagstrom and Dane Pedersen. It was a first outing for the pairing. For the American rookies, Lee was playing in her first fourball match.
The driveable Par 4 first hole was there to be a risk/reward hole and whilst a few had found water, most had managed to make the green or even go through the back (like Hull). Step forward to Zhang who demonstrated the textbook way to play the hole:
The 20-year-old rookie then holed the putt for eagle! A perfect start for Team USA.
Buoyed from her back nine on Friday (including that hole-in-one), a point from the morning foursomes with Ciganda and showing no signs of fatigue playing in her fourth match in a row, Pedersen continued to show why Pettersen had chosen her to be an integral part of the European team.
A birdie on three and seven, plus a birdie from the Americans on six, saw the match stay at 1up to Europe until Pedersen holed another difficult birdie putt on 15 to make it 2up with three to play. The American pair where unable to do better than par on holes 16 and 17, so the match belonged to Europe.
This match saw the score draw level at 7-7. Pedersen securing 2.5 points out of a possible 4 - a fantastic achievement from the Captian's pick.
"I think everyone got frustrated with yesterday morning. Nobody wanted that outcome. But at the same time, we all knew that good golf was in us and we fought back really good yesterday afternoon, and I think this morning was also a good fight back," said Sagstrom of earning closing the points gap between the U.S. and Europe after their 0-4 fourball loss Friday morning. "I think we were happy with a 2-2 this morning and now coming out, I mean, our goal is always to grind our match out and we did a good job from the start."
Fourballs Match 16 – Danielle Kang & Lilia Vu v Carlota Ciganda & Linn Grant - 2up EUROPE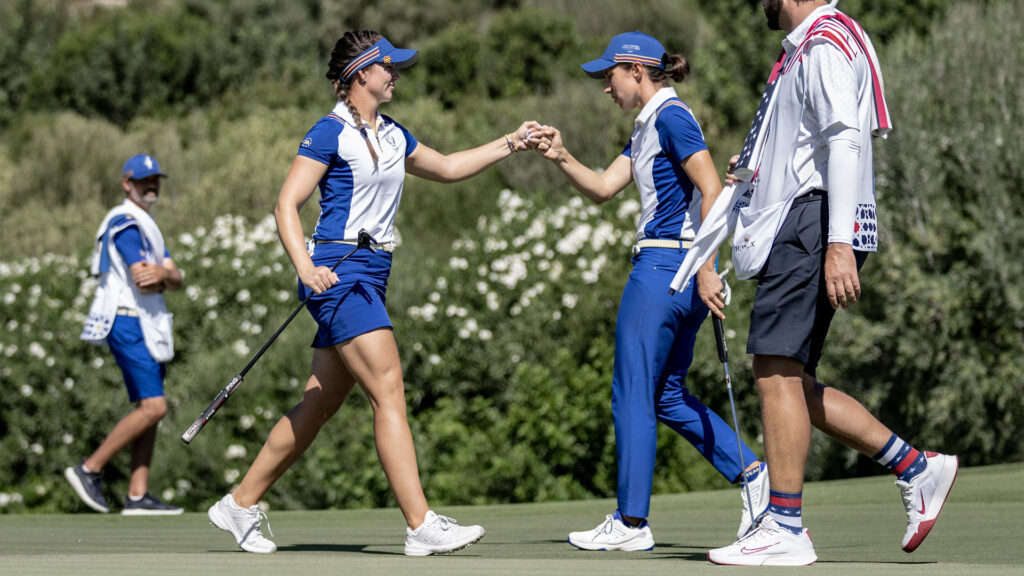 Like yesterday, the final fourball of the day featured Ciganda and Grant for Team Europe, this time facing Kang and Vu. Four fierce competitors meant that we were in for an exciting final match. There was nothing between them for the first five holes, with birdies dropping for both teams. A birdie to win the hole on the par 3 6th for Europe was matched by a birdie on the par 3 10th. Grant and then Ciganda won holes 11 and 12 respectively, only to see their 2up lead cut immediately to one on 13.
That is how it stayed until the par 4 16th where Kang, Vu and Ciganda had opportunities to win the hole. Kang, who has consistently shown what a great matchplay player she is, came up less than a foot short, whilst Vu's lipped out. That left Ciganda to see what she could do and with the whole of Spain behind her, her putt finding the centre of the hole with "Vamos" echoing around the green.
The drama continued on 17 with it coming down to Kang to convert her birdie putt to push the match to the final hole. Again, it just was not quite meant to be and Europe secured the final point to take the session 3-1 and go into the final day tied at 8 points a piece.
"Yesterday and today, but certainly today in the afternoon I knew we were doing good, because I could hear the people cheering pretty loud. So amazing feeling. I just can't believe we're playing here in Spain and so happy to be a part of this amazing team," said Ciganda. "Very happy to play with Linn. She's such a great player. Just, yeah, very comfortable, very confident. I can't wait until tomorrow."
Sunday Singles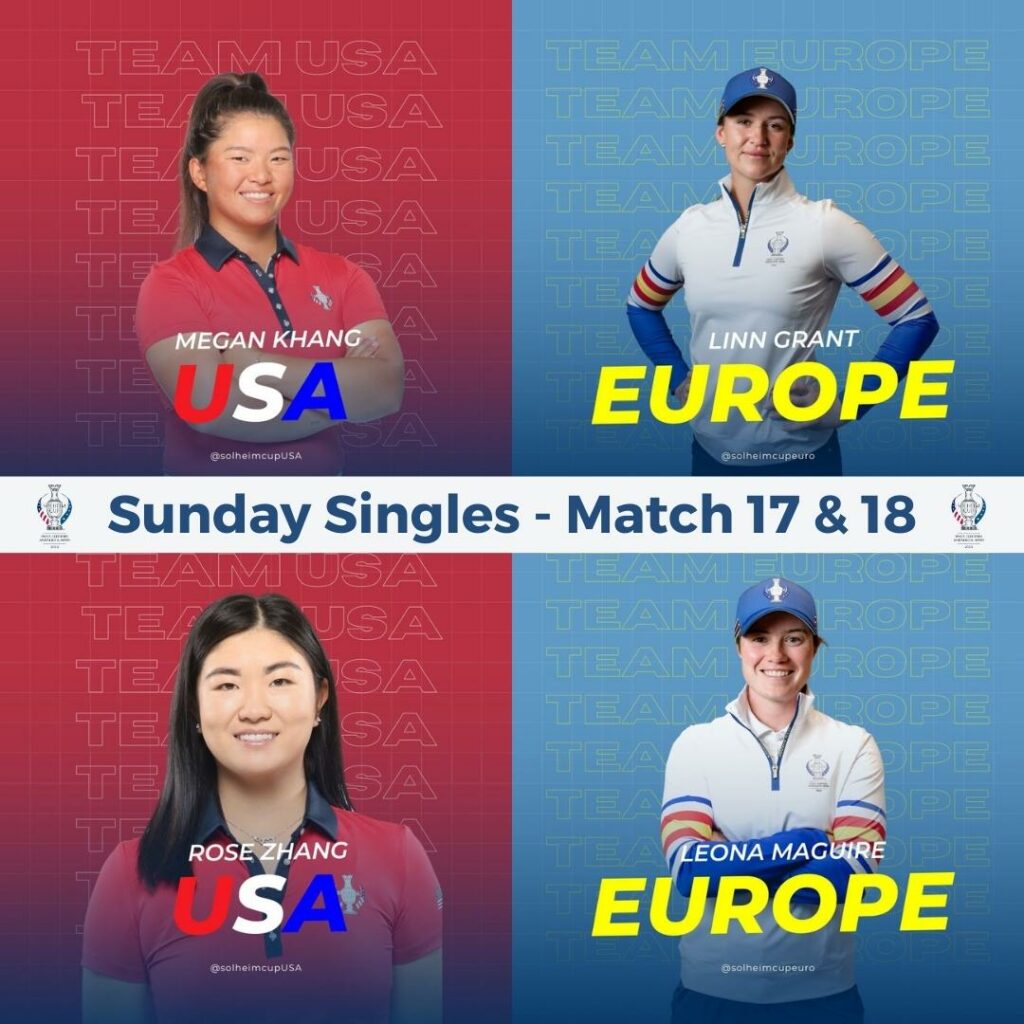 This 2023 Solheim Cup really is too tough to call and I wouldn't be surprised to see matches going the distance on Sunday. It's set to be a fitting final today which is likely to have fans on the edge of their seats. The first tee time is at 11:10am local time, with live coverage on Sky Sports Golf and Main Event 9:00am (BST).
View live scoring here.