We take a look back at all the matches from Day 1 of the Solheim Cup at Finca Cortesin
Fans arrived in darkness to claim their place around the first hole this Friday morning and as the sun rose, so did the noise from the 1st tee grandstand. Team Europe Captain Suzann Pettersen was the first to arrive with Spanish fan favourite Carlota Ciganda, both greeted with whoops and cheers.
As the first tee time approached, José María Olazábal, 2012 Ryder Cup Captain, had the important job of delivering the Solheim Cup trophy to the first tee and acknowledged that this was the biggest moment for women's golf in Spain.
With both teams pretty even on paper, it was set to be an interesting first day with Team USA looking to make their mark after two successive defeats.
Foursomes Match 1 – Lexi Thompson & Megan Khang v Maja Stark & Linn Grant - 2&1 USA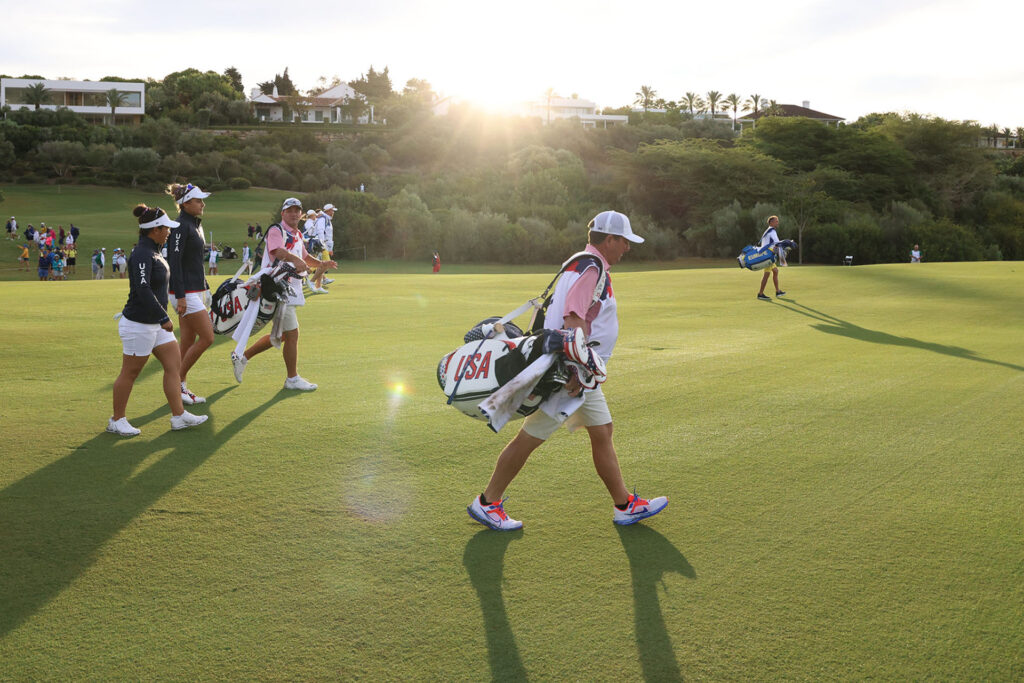 Ahead of their match, Grant had said: "We're going to be nervous. It's going to be a lot of pressure on our shoulders." It certainly was a very nervy start from the Swedish pair who were three down after three holes.
It looked like the experience of Thompson and Khang would overwhelm the European rookie pair and maybe make Captain Pettersen question why she had sent them out first.
By the sixth hole the pair finally had something to smile about as they clawed one point back. The nerves were beginning to settle. Two more points were won on 11 and 13 to bring it back to all square.
At this point it looked like momentum might switch Europe's way but they lost the 15th hole. A brilliant putt from Grant on 16 kept the match alive but it was too little too late as Thompson quietened her critics by holing the winning putt. Giving USA their second point from the morning session.
"I think, honestly, we both just played really solid golf on both sides. She had so many amazing iron shots and gave me looks for birdies, and I just tried to get her down there as far as I could," said Thompson, who is now 4-2-1 in foursomes at the Solheim Cup.
"She smacked the ball so far down. I had some numbers that I didn't even have in the book. I was like, wow, this is different," added Khang while celebrating her first foursomes victory. She is now 1-1-0.
Foursomes Match 2 – Danielle Kang & Andrea Lee v Celine Boutier & Georgia Hall - 1up USA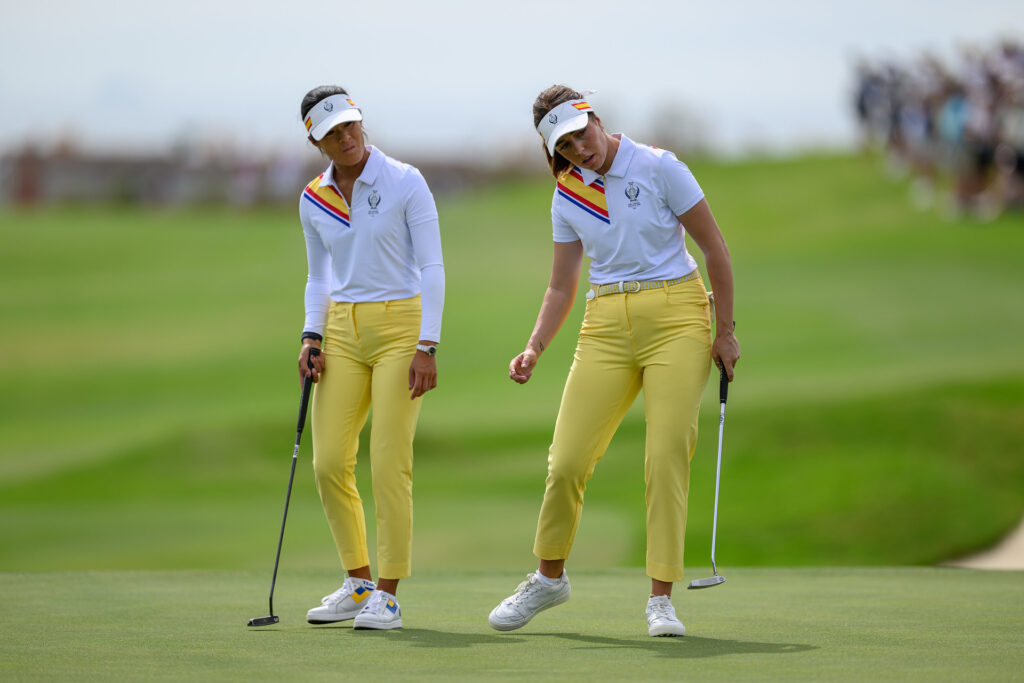 Hopes were high for Team Europe with Boutier and Hall never losing a foursomes match on three other occasions. It did not get off to a good start as Hall missed the green with the second shot on the opening hole.
However, their strong partnership showed as they steadied the ship and gained two holes back on five and six. Kang rose to the occasion, with some excellent putting to help get Team USA back to one up after 10 holes.
For Europe, it was Boutier who used her exceptional short game to keep them in the match. In the end, the ask was too much as she failed to hole her putt on 18 to tie the match with Kang and Lee winning 1up. A third point for USA.
"Honestly, I'm just so proud of [Andrea]," said Kang. "It's been her first showing, first Solheim Cup match, and she held it together. I know she was saying that she was nervous, but she was hitting shots, she was stiffing it all day giving me birdie chances, and when I put her in a tough spot, she still left me alive. So I told her, I got it, I'll clean it up, and it's been really, really fun and enjoyable."
Foursomes Match 3 – Nelly Korda & Allisen Corpuz v Leona Maguire & Anna Nordqvist - 1up USA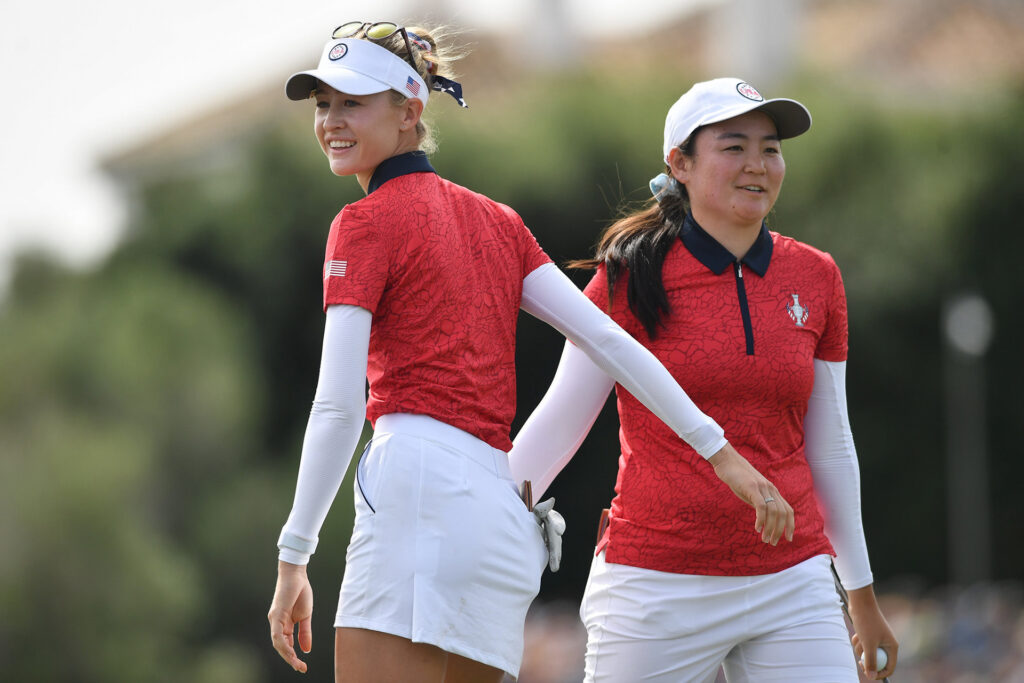 By far the biggest cheers on the first tee were for the European pairing of Leona Maguire and Anna Nordqvist. A pairing which looked strong on paper.
After Korda hit her tee shot into the water at the first, Maguire and Nordqvist capitalised but it did not last long as the Americans won holes three to five, with Corpuz proving very steady with her putter.
Maguire and Nordqvist were always going to be a formidable duo and they won the next two holes. This was quite the achievement from some scrappy play early on.
By the time they got to the 12th tee, the Americans had taken back control and although Maguire showed all her matchplay fighting experience to get back to one down on 17. The European pair just were not able to get another hole back.
The new pairing of Korda and Corpuz worked well to win the final point of the morning for Team USA. "For [Allisen] to come out and make some really clutch putts for us it was great to see," said Korda of her partner. "She may be a rookie, but I think she came in really clutch today and she doesn't show that at all."
Foursomes Match 4 – Ally Ewing & Cheyenne Knight v Charley Hull & Emily K. Pedersen - 5&4 USA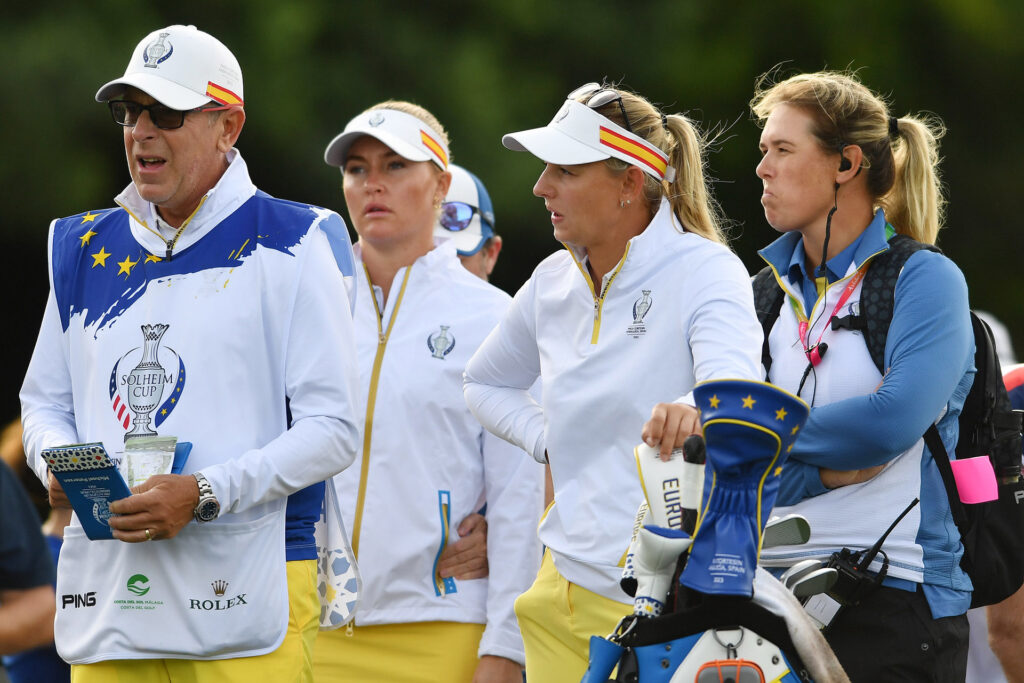 Things did not feel right even before the first tee shot was hit in this match. Europe's Charley Hull arrived at the tee with only minutes to spare, rather than enter with her playing partner Pedersen. It appeared that Hull had had to receive some physio to her back before heading to the tee.
Neither Pedersen or Hull seemed at ease during the round, wayward shots, missed putts with only a glimmer of hope after a birdie on 10. Winning the hole here was just a consolation prize to get the score back to five up. The Americans never let up, winning holes, two, four, five, six, eight and nine.
A halved hole on 14 gave Ewing and Knight the perfect start and put the first point on the board for Team USA.
Watch highlights from Friday morning
Friday Fourballs
Well, that was certainly one way to make your mark. Any talk of underdogs in pre-event press conferences now put to bed.
After a 4-0 thrashing...these were the afternoon fourballs: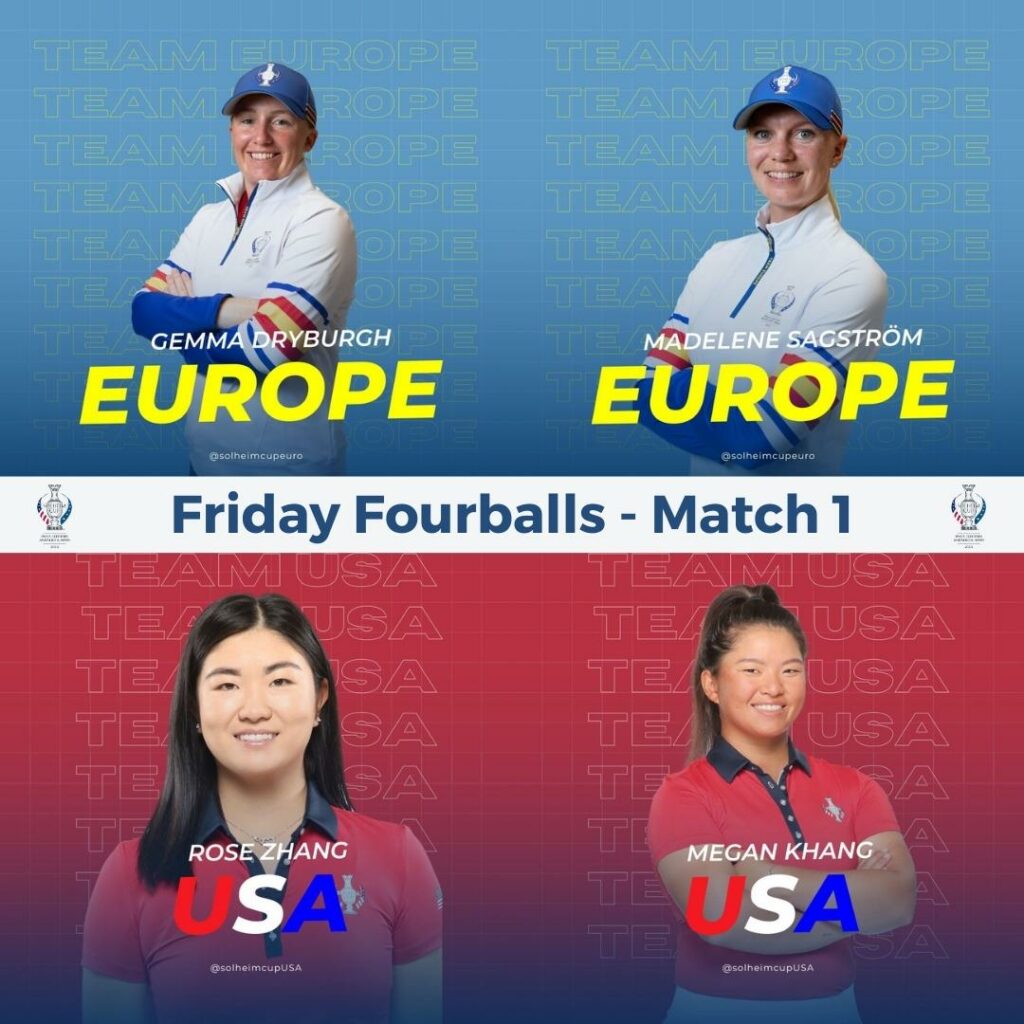 Upon reflection, thrashing was a rather unnecessary word to use. Although Europe only led for four holes during the entire morning session, the matches were close (expect for Match 4).
It was a theme that carried over into the afternoon fourball sessions. After Match 5 was through 12 holes, Europe were up in two matches by one, down in one and all square in the other. Two up was the most that any team had got to at that point.
The wind got up in the afternoon which made for much trickier conditions, something that the Europeans seemed to deal with a little better than their American counterparts.
I say little because there really wasn't much between them, it really was impossible to predict which way the matches were going to go.
Fourballs Match 5 – Rose Zhang & Megan Khang v Gemma Dryburgh & Madelene Sagstrom - match halved
Rookies Zhang and Dryburgh joined their more experienced partners for the first match of the afternoon. Only Khang had played in the morning, so the others came in with fresh legs.
Throughout the afternoon, the lead chopped and changed with Zhang and Kang getting to 2up after a birdie on the tricky par 3 10th hole. With the wind picking up across the afternoon, all four players struggled on 11 and a bogey from Sagstrom was enough to cut the lead to one. They kept the momentum going and won two more holes on 12 and 14. But Team USA brought it back to all square on 15.
A chip in from Dryburgh on 16 was not enough to win the hole but it was a great moment for the Scot in her Solheim debut.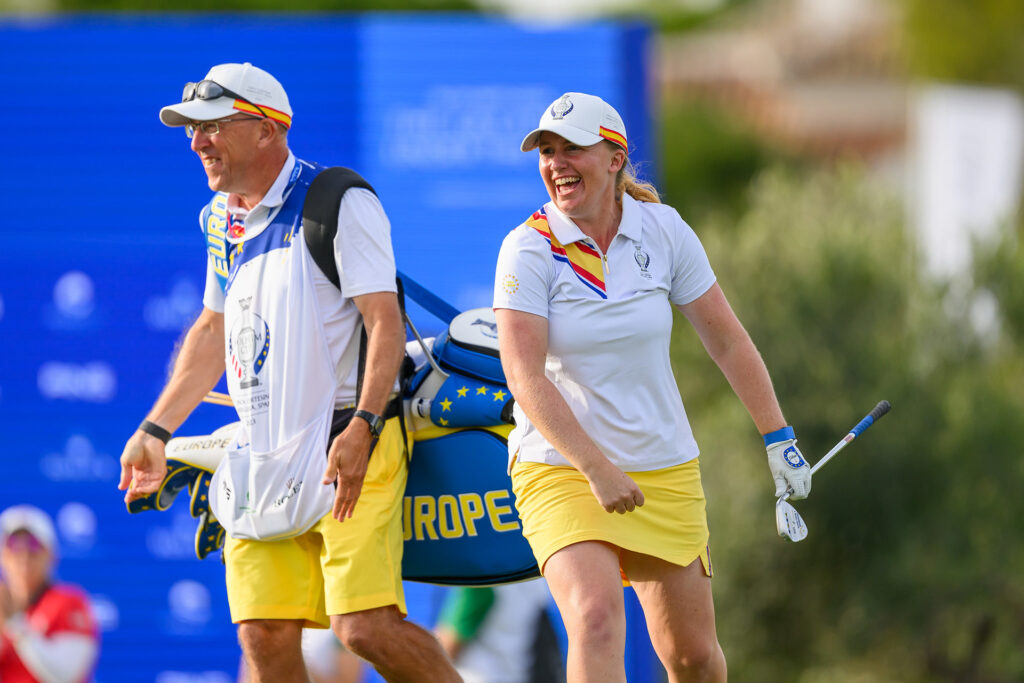 The hard fought match went all the way to 18 but none of the four players was able to hole their birdie opportunities. A well earned 1/2 point for both teams seemed a fitting end. Finally Team Europe had something on the board!
"Halves are huge. I think from past Solheims, you forget how important halves are," said Khang when asked about how important the half-point was for the team. "But, you know, obviously we'd love to get a full point, but Madelene and Gemma played really well and it was a fun match, honestly. Shots were exchanged, a couple tap-ins here and there from both teams, and again, both clutch putts from both, like, Gemma, Madelene, and everyone in the group."
Fourballs Match 6 – Lexi Thompson & Lilia Vu v Leona Maguire & Georgia Hall - 1up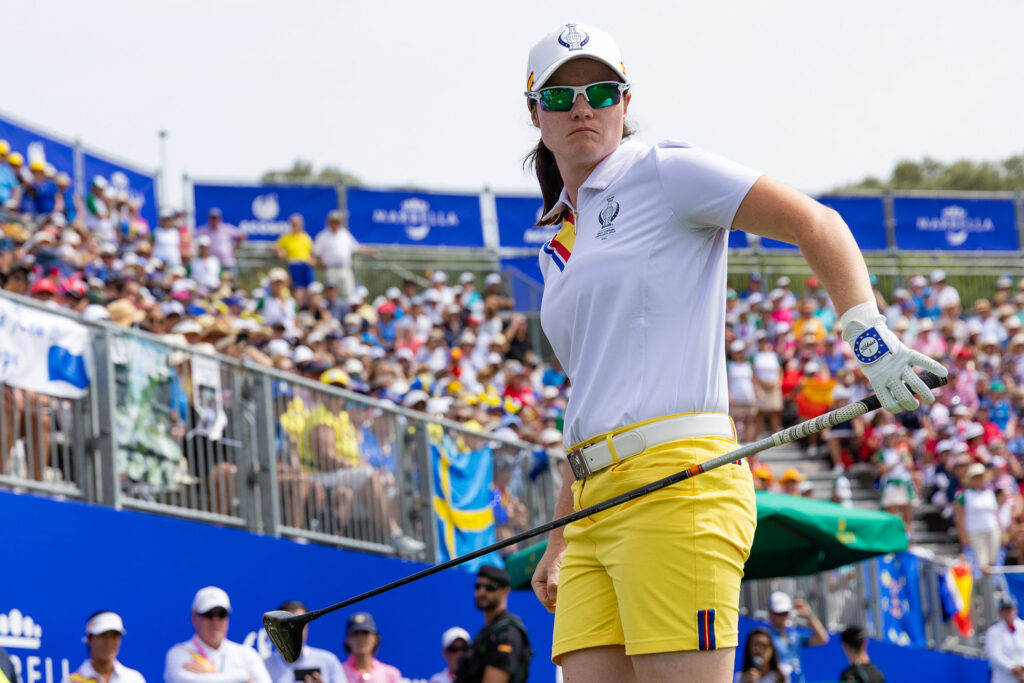 Two time Major champion Lilia Vu was the only player to not have played in the morning. A decision that was not taken lightly by Captain Lewis yesterday:
"I don't see anybody playing all five sessions. So they all needed some rest at some point and just wanted to give her the morning to just kind of regroup and get herself together. She somewhat asked for it a little bit, somewhat didn't. It was kind of my idea. You're going to see her a lot, other than that first session. You don't win two majors and sit on the sideline for very long."
There was hardly anything in it between the two teams. Europe went 1up courtesy of a birdie on the fourth hole and held that before an eagle two from Thompson on 14. Europe answered straight back with a birdie on 15.
With both Maguire and Hall losing their foursomes matches this morning, they both had a point to prove. But they were not able to keep their slender lead with a birdie from Vu on 17 taking the match all square down the last.
As we have come to admire, Maguire, the fearest competitor on the course fought hard until the end, holing a chip from off the green to put all the pressure on the American pair. Thompson had two chips which she could not convert and Vu's putt slide by. Disappointment for USA but a first full point for the Europeans.
"I think our games complement each other really well," Hall said about why she and Maguire make good partners. "Leona's short game, as you saw, is phenomenal. I think having a short iron into some holes that gives us maybe a bit more of an aggressive play. But we get on really well, and I think we know each other's games pretty good. Yeah, it's nice to be undefeated."
Fourballs Match 7 – Jennifer Kupcho & Allisen Corpuz v Emily K. Pedersen & Maya Stark - match halved
Kupcho made her first appearance of this Solheim Cup, teeing it up alongside U.S. Women's Open champion Corpuz. They went 1up quickly after a birdie on the second hole.
Pedersen came into the afternoon fourballs after a disappointing defeat in the morning. The Dane seemed a bit more at ease but was still looking for putts to drop. Stark was also looking to prove her mettle after not quite managing to make the big impact she had hoped to with fellow Swede Linn Grant in the morning.
Stark's birdie on seven got the match back to all square, but it did not last long with Team USA winning the ninth.
If redemption had been on Pedersen's agenda then a shot to a foot on 11 was probably the shot of the day. That was until 27-year-old went one better on the par 3 12th, hitting a shot off the bank on the left side of the green and rolling right down into the hole. Scoring only the second hole-in-one in Solheim Cup history.
Another match to go down 18 after the Europeans brought it back to all square at 16. Corpuz holed a long range putt for birdie and to put the pressure on Stark and Pedersen. Pedersen was unable to match it but Stark held her nerve and holed out to get a vital half point for Europe.
"Yeah, I mean, I made a lot of birdies. She made a lot of birdies. They made a couple of really good shots holing out. So it was a good match. We played really well," said Kupcho of the match.
Fourballs Match 8 – Angel Yin & Ally Ewing v Carlota Ciganda & Linn Grant - 4&2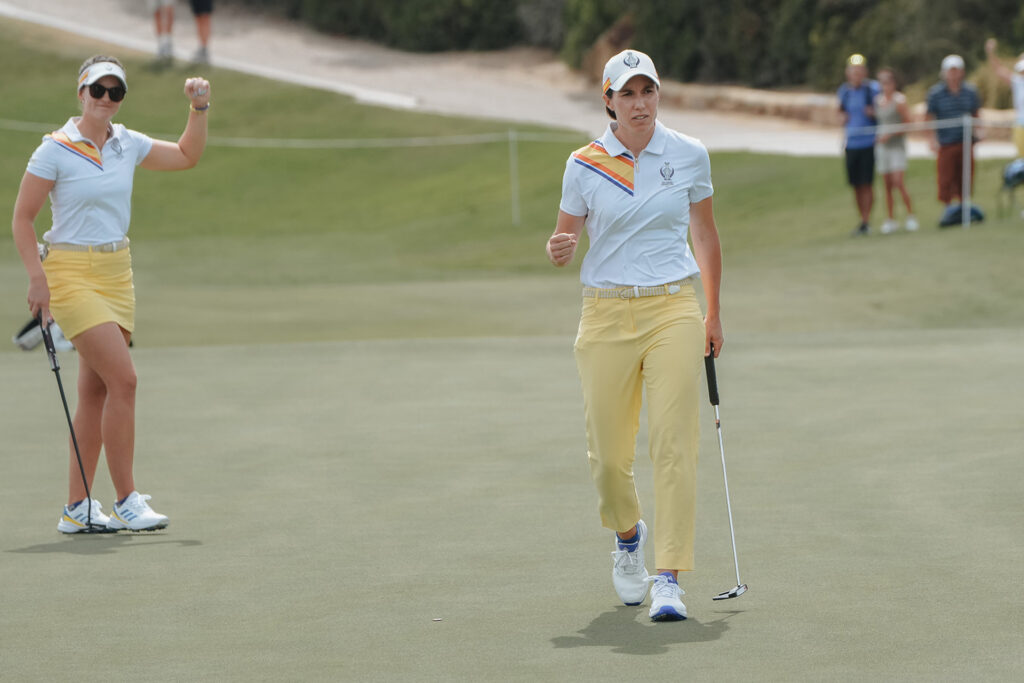 The home fans had had to wait until Friday afternoon to see Spanish star Ciganda and she made sure she started with a bang, getting a birdie to go 1up on the first. The European pair were two up after four holes until Yin won the only hole for the Americans on the sixth.
Grant and Ciganda seemed to manage the tough afternoon conditions and due to the steady play we did not see much coverage of this match. A birdie from Grant on 11 and from Ciganda on 14, had the Europeans three up with four to play.
They could not close out the match on 15 and had to wait until sixteen to give Europe their second point of the day.
A much more impressive showing from the European team in the afternoon has turned around the whitewash from the morning back into a competition. Team USA take a two point lead into Saturday five points to three.
"I was just embracing it and having fun. I think the atmosphere on the first hole, it's amazing. I'm so happy that we get to play here in Spain. It's very special for me. I think, yeah, we played great. I feel very comfortable with Linn. She's an amazing player. I really like how she is on the course and I think that we played a really good four-ball and we were in control all the time. Hopefully, we can keep it the same tomorrow," said Ciganda.
Saturday Foursomes
Here's who will be teeing it up on Saturday morning, first tee time is 8:10am local time.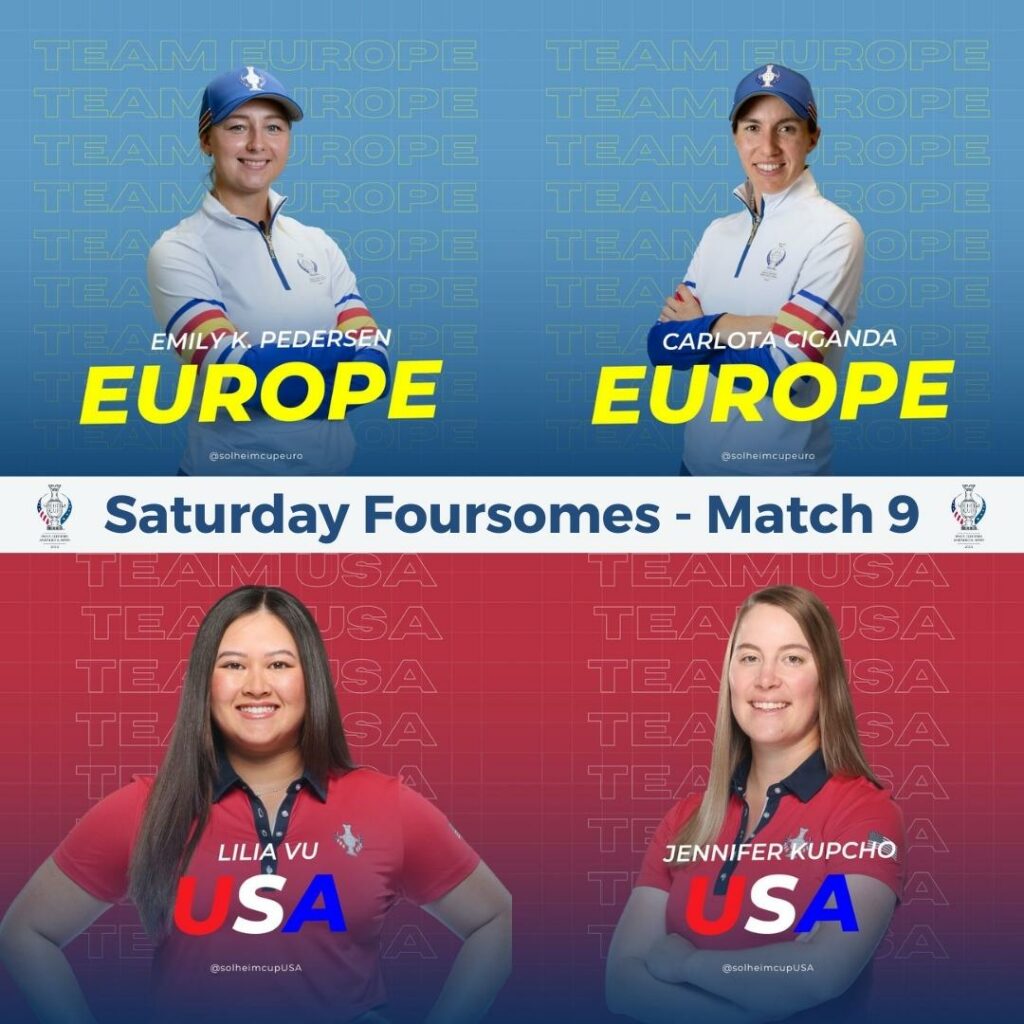 View live scoring here.