Minjee Lee has set the pace heading into the final round of the 77th U.S. Women's Open where she leads by three shots
On a beautiful day at North Carolina's Pine Needles Lodge and Golf Club, it was Australian Minjee Lee who rose to the challenge.
With a four-under-par 67 on Saturday's Moving Day, the 26-year-old Australian set the U.S. Women's Open 54-hole scoring record at 13-under-par 200, breaking the previous mark of 201 set by Juli Inkster in 1999.
Lee will take a three-stroke lead over American Mina Harigae into the final round of the season's second major championship.
A dropped shot of five was cancelled out with a birdie on six. Lee then got into her groove as she turned her attention to the back nine. She reeled off four consecutive birdies, starting with 11-footers at holes 9 and 10. At the par-4 11th, she put her approach to seven feet and rolled in the birdie, and then capped the streak with a 12-footer at 12.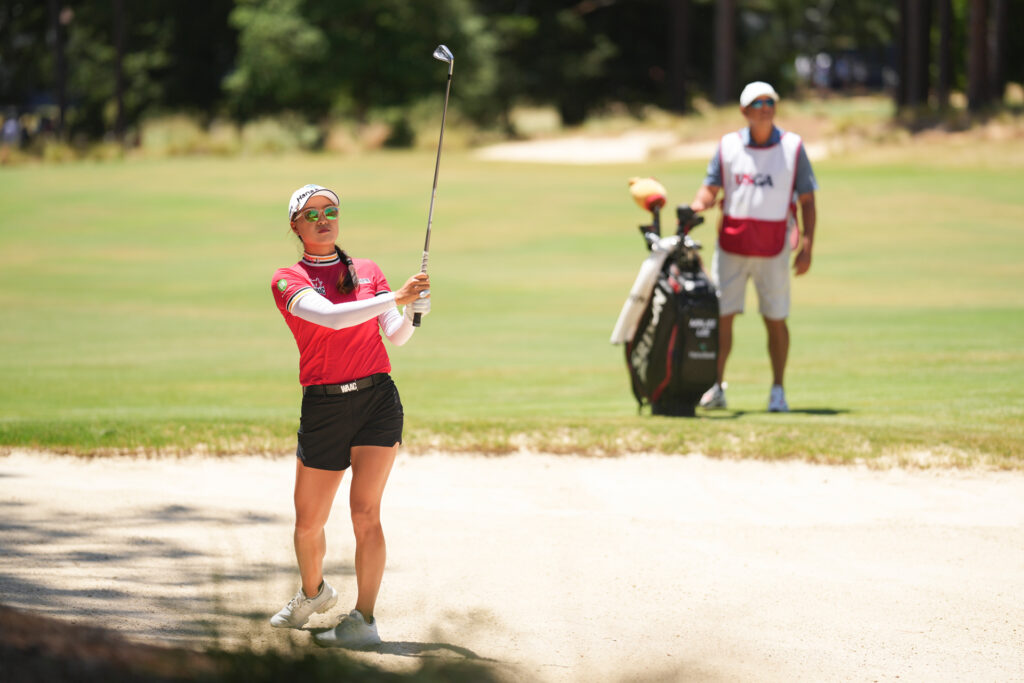 Following in Karrie Webb's footsteps
The reigning Amundi Evian Championship winner, who would become the first player to win majors in consecutive years since In Gee Chun, said:
"When I was on the run of birdies, I wasn't too nervous. I think coming down the stretch a little bit more, just with more people maybe, just a little bit more pressure. I'm pretty calm. My personality is pretty calm anyway. I don't think I get too high or too low. I think that's a strength of mine."
Lee is now 18 holes away from joining her childhood idol and countrywoman Karrie Webb as U.S. Women's Open champions at Pine Needles. Lee said she has already heard from Webb, who sent her a typical patriotic sentiment. "She texted me yesterday actually," she said with a laugh. "She said, keep it going, let's go Aussie."
Mina Harigae three shots back
Playing alongside Lee in the final group, it was actually Harigae who had the stronger opening stretch. She made the turn at two-under-par on the day, sitting at -11 and one stroke clear of Lee. But back-to-back bogeys at 11 and 12, combined with Lee's birdie streak, dropped the 12-year LPGA Tour veteran to four shots off the pace.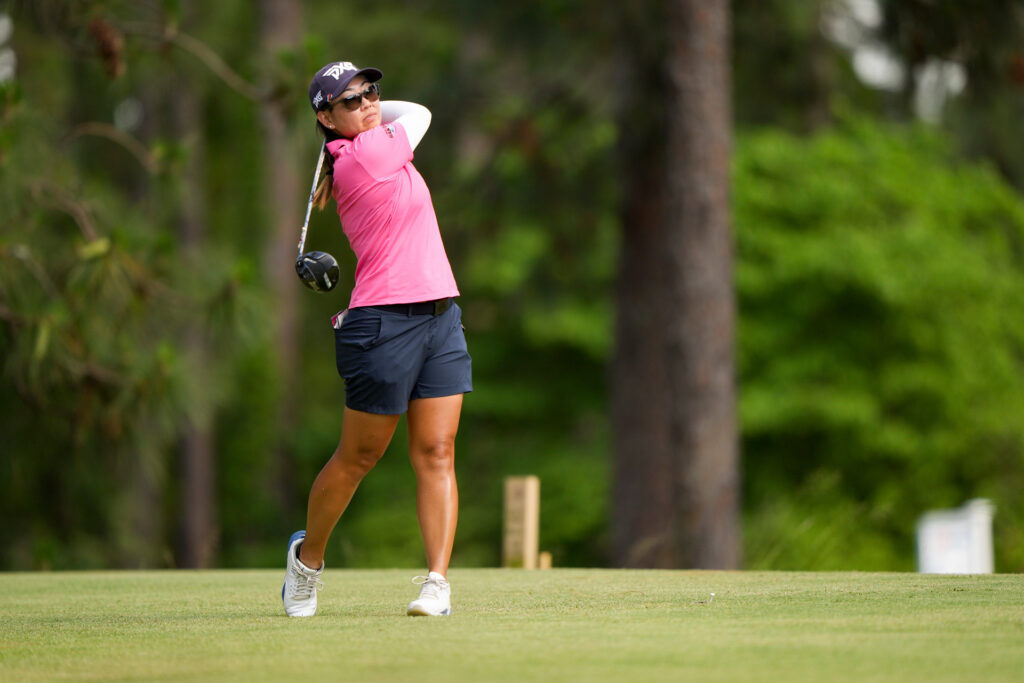 Looking for het first win in 256 starts on the LPGA Tour, Harigae said:
"I was a little nervous in the beginning, but I was able to hit some good shots. My middle was pretty good. Hit (some) little squirrelly shots, but then I made a good birdie on 16. I think overall I'm just happy with the way I was able to hang in there."
Bronte Law top Brit
From a British perspective, Bronte Law surged into solo third at seven-under-par, six shots behind Lee and three short of Harigae. Lydia Ko shot the round of the day with a five-under-par 66 on Saturday. She is one of seven players tied for fourth at -6, a group that includes current World No. 1 Jin Young Ko, three-time major champion Anna Nordqvist and Swedish amateur Ingrid Lindblad.
Lindblad drew on her experience from playing with Annika Sorenstam on the first two days, during a week that she is bound to remember. The 22 year-old-said:
"I remember after the first day I read a few articles. She said I was fearless and she knew that I hit the ball pretty far, but she was really impressed by my short game, especially on this course. You need to be able to hit really good chip shots to get close to the pin, and that's what I did the first day. So it was really cool that she said that because it's Annika!"
It's set to be a thrilling final round at Pine Needles Lodge and Golf Club.
View live scoring from the 77th U.S. Women's Open here.