Columnist Patrick Brennan looks into the impact that LIV Golf will have on creating household names in men's golf
The mass exodus of players who left for LIV Golf sent the golfing world reeling. The timeline from the conception of LIV is well-documented, so I choose to focus instead on what it has enabled. As well as elevated purses and financial security for PGA and Korn Ferry Tour players, we have seen an increased desire for more interesting characters to root for on the PGA Tour.
The LIV defectors started off as manageable; DJ was a loss but no one else was really a surprise. The less popular figures probably wanted a fresh start, the Patrick Reeds and Brysons of this world. The older players could justify the move due to a more efficient effort-reward relationship, so we didn't think much of Pat Perez jumping ship. Then the names really started flowing, Ryder Cup captain Henrik Stenson, youngsters Matt Wolff, Joaquin Niemann, Cam Smith. The leak left a massive hole.
It was temporarily plugged by providing an amplified platform for well-known PGA Tour stalwarts like Rory McIlroy and Justin Thomas, who were firmly set against the rival Tour. Thomas then won the 2022 PGA Championship, and the Claret-Jug shaped cherry on top of the cake was just being set into position as Rory teed off at St Andrews on Sunday, only to find it whisked away by a spellbinding Sunday 63 from none other than Cam Smith. At this point his pending LIV Golf move was known, just not confirmed.
LIV Golf is testing allegiances
It must be difficult for many fans to know where their allegiances lie. Perhaps you're reading this after taking up golf in 2018 or 2019, at a time when Koepka was winning majors for fun.
You like his game, his demeanour, and try to watch when he plays. He is now over on the LIV Tour, so you'll need to watch on YouTube for the foreseeable future. You also like Rory, or Spieth, or Jon Rahm. You'll never see them compete with Brooks Koepka except (hopefully) for four times a year at the majors. You want to watch the best golf, but you don't really know where to look. So you start becoming attached to the players on a personal level as well as their golf swings.
The recent comments from LIV Golf bosses around 'creating more majors' went down like a lead balloon, and the rumours around the Tour only being funded by the Saudi's and the PIF until 2025 makes it hard to commit to watching golf there as it may soon be taken away. I think the overall product is still unsure of its own identity, a sort of compromise between a golf tournament, a team event, a fashion show and a concert.
The best golf in the world
For this reason, the PGA Tour can choose to solely be the platform for good golf. In order to remain the most watchable Tour in the world, there can be no shadow of a doubt that the best, and most attractive golf in the world is being played there as LIV enters the next calendar year.
There is a second reason we have seen an increased desire for interesting personalities on the PGA Tour - and I have alluded to it in previous writings. The desire for characters comes from our focus moving away from the household names and towards underdogs. Some unsuspecting names now find themselves at the front of the queue now some of the big personalities have made room. The word 'legacy' has been thrown around plenty this year, but maybe the role of LIV defectors like Poulter, Perez and DJ was to move aside and allow the next group of players to the fore.
The PGA have to adjust to modern times and advertise the multitude of personalities they have at their disposal, as well as elite golfers. The rise of young players from all around the world leaves an indelible mark on the crowds and something about youngster Tom Kim has resonated with the masses. The PGA Tour seized the opportunity when he was paired with Rory McIlroy at the CJ Cup, to hype up the new friendship as much as possible.
Shortly after, we saw the swings of other lesser-known Korean players in a few Instagram reels and the like. People are starting to take notice, all of these guys are good!
New talent becoming household names
This leads onto a deeper point in terms of who the fans begin to know and warm towards. I've always been interested in the process of a golfer becoming a household name. There are some that just add clout to a field by simply being there. Winning one major doesn't do it. We wouldn't say Jimmy Walker is a relatively big name despite winning the 2016 PGA (he is the third Google search result after the actor and the footballer of the same name).
Longevity is definitely a factor, as well as a run of form that turns heads. One cannot help but become recognizable when they are always in the spotlight, and regularly playing good golf and featuring on the final day of tournaments makes a professional golfer easier to distinguish.
In an era where golfer's overall games are so similar – the PGA Tour driving distance average loiters around 300 yards, course records are regularly broken despite ever increasing course length – I also think immeasurable aspects like aura and character separates the well-known from the lesser. Almost an X factor that draws us to the player, embodied by Tiger when he first burst onto the scene.
Returning to the discussion on big names - Max Homa wasn't one, but now he is. Was it his increased social media presence? Well, perhaps. But then he started playing well. We found out that he is charismatic in interviews because his game made us want to hear from him. Appearing towards the top of the leader board garners a professional respect from fellow players, and provides a platform where we hear from the player more regularly. It is a virtuous circle that starts with good golf but then is reinforced by a chance to showcase a likeable character, then increased interest and more good golf. You never know, the player might find confidence and bag a few wins in succession, as Homa did.
Don't be surprised if we start seeing a few more 'Day in the Life' videos of previously unknown golfers, epitomizing the personalisation of professional sport, where a modern player needs not only to excel on the course, but generate interest off it as well.
Social media means you can't separate profession from personality
The first LIV defectors like Graeme McDowell and Ian Poulter answered questions on the Saudi government with the blanket statement 'We're golfers, not politicians'.
This may be so, but LIV Golf meant that character was drawn into question, and now we care about much more than just the backswing. The next generation of golfers have grown up in 'Gen Z' where social media reigns supreme. Thinking that they could separate their profession from their personality was a rookie error from veterans like GMac; once you're in the spotlight, everything is on the table. Just like politics, where people vote with their hearts, we find connections with professional athletes through their personality just as frequently as we are affected by their performance.
In order to keep things fresh on the PGA Tour, it requires crowds to take regular leaps of faith on new players. It is a quick process from zero to hero in professional sport, and the longevity associated with a golfing career means that a good first impression can go a long way, like Justin Rose back in 1998. Remember, Scottie Scheffler was outside the world's top 1000 in 2020. He won the Masters and three other events in 2022. Our next golfing hero can come from anywhere.
Space for new talent on the big golfing stage
Following the cliché when one door closes another one opens, the mass exodus of LIV Golfers has left a spot on the big stage. If elevated status for the golfers from the rest of the world is a consequence of LIV, then so be it. This is growing the game legitimately. Events such as the President's Cup get better if fans know the players. Professional competition is strengthened by more names from more places providing unpredictable challenges to the norm.
It is not just Americans that take home PGA Tour titles. Tom Kim, Si Woo Kim, K.H Lee, Sungjae Im and Ben An can all attest to that. I think the 2022 President's Cup was more important than most analysts recognise, a fairly close fixture full of players who had something to prove, on both sides.
Golf fans are desperate for some normality within the sport after all the talk of finances and legal disputes in 2022, and perhaps rallying around a new group of players is the way to achieve that.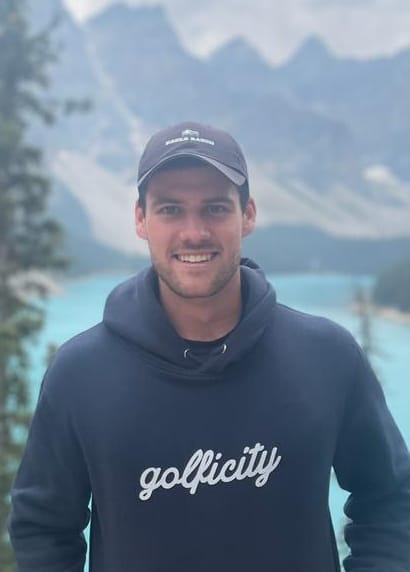 Meet Patrick Brennan
Patrick is originally from the Lake District, UK but moved to British Columbia, Canada after university. He writes for several media outlets, including Golficity, and has been doing so for over six months.
His main writing interests are professional golf tours, the Majors and any good underdog story!
He comes from a sporting family and, when not cycling or skiing, plays off a six handicap - trying and failing to keep the family bragging rights, often due to a streaky driver!