Women & Golf columnist Patrick Brennan takes a look back at the PGA professional from California who provided the story of the week from Oak Hill.
'The man who dared to dream'
Michael Block would hate phrases like that being thrown around in his name. He's just a regular man who loves his golf.
The head pro at Arroya Trabuco Golf Club in California reiterated his message throughout the week. He's a regular guy, with a love of golf. He does office work, submits the payroll, gives swing lessons, goes home to his family, and does it all again. He's 46. Prior to this week, he's entered 24 PGA events, including seven majors.
He had made only four cuts, none of them in majors, with official prize money at $38,038.
But this week the 46-year-old was able to capture the attention of all, promising us that he was here to play, and his game was solid.
He quickly mastered the knack for providing guaranteed smiles throughout.
When he made a putt; we cheered. When he carded a birdie, the crowd went wild. He answered interviews with his heart on his sleeve, his voice catching after finding out he finished ahead of Jon Rahm.
After he made the cut, he was the name on everyone's lips.
Block was announced on the tee on Sunday like a hero, his reception deafening that of World #3 Rory McIlroy.
It was something he said after the third round. He explained that when his life was in a good place, the hole looked bigger. He decided early on that he couldn't live constantly chasing the pro Tour card, as it meant he'd be putting for his mortgage.
With your financial situation and overall mental state hanging on the balance of a 10 foot putt with numerous variables, he figured it wasn't the life he wanted. So he joined the PGA Professionals.
He was very philosophical throughout the week, offering insights into 'the best week of his life' - how he will be retired someday and look back at this as the pinnacle. He said how life moves quickly, and reminded us to stop and enjoy the moment.
His TaylorMade golf ball was stamped with the two word slogan 'Why Not?' He was asked what his biggest 'Why Not?' Moment would be in the week. He answered 'To win. By far'.
The walk matched the talk, and he played his heart out. Three rounds of even par 70 and a Sunday 71 confirmed his $300,000 payday, a T15 finish, and an automatic qualification into the 2024 PGA at Valhalla. He set all kinds of records for a PGA pro.
The attention Block received superseded any discussion regarding LIV golf, notables to miss the cut, how Rory was doing or even who was winning. Something about a down-to-earth guy connects all golf fans. It's someone we can get behind, and believe in.
The 29,000 teaching pros across America, who love this game so much they dedicate their life to improving the games of others - were represented by this man from California who smiled all week like a kid on his birthday.
The fact that his fairytale came to its climax with a slam dunk hole-in-one on a major Sunday almost beggars belief.
Moments like this reaffirm when it really is your time to step up to the plate. Block was hovering at +2 for the day, then slam dunked an ace to a roaring crowd (and roaring Rory) - and was suddenly back in the top 15.
As the cheers from the Oak Hill faithful reached crescendo - I said that the golfing gods had him on a spotlight for the entire week. He took full advantage.
To take a leaf out of Block's philosophical approach - one could argue a stroke of good fortune often comes to those who consistently put themselves in good positions, in golf and in life.
As Brooks Koepka rides off into the sunset with his 5th major, Block will be hands down the happiest man driving out of Oak Hill.
Block seized his golden opportunity to realize his dream. With his consistent message of being a regular guy, having the time of his life, he unconsciously liberated everyone else to do the same.
Why not?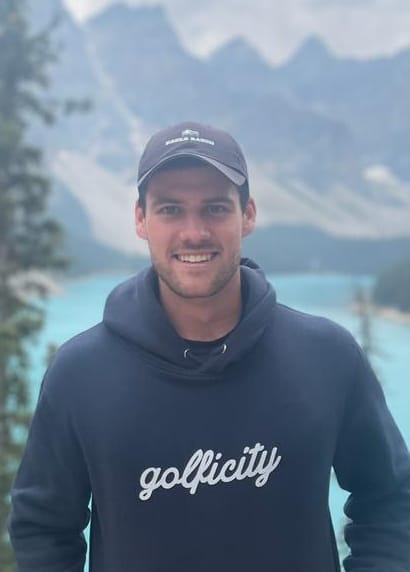 Meet Patrick Brennan
Patrick is originally from the Lake District, UK but moved to British Columbia, Canada after university. He writes for several media outlets, including Golficity, and has been doing so for over six months.
His main writing interests are professional golf tours, the Majors and any good underdog story!
He comes from a sporting family and, when not cycling or skiing, plays off a six handicap - trying and failing to keep the family bragging rights, often due to a streaky driver!