Golf Ireland has launched a new five-year Strategic Plan that will help guide the game from 2022 to 2026.
Titled 'Golf For Everyone', this is the first Strategy of its kind from Golf Ireland, that comes after a lengthy consultation process.
"Golf is a game for everyone - for enjoyment, for health, for life", is the Vision of the Strategic Plan, with five focus areas set out throughout the Strategy.
These five focus areas are:
Securing the Future of Golf – "We will build a positive image of golf that inspires everyone to get involved"
Supporting Our Clubs and Golfers – "We will support all Clubs to be strong, healthy, sustainable & maintain steady growth"
Leading Our Organisation – "We will lead in a professional, effective & cohesive manner"
Delivering Our Events – "We will deliver Worldclass, inclusive and equitable Championships and events"
Nurturing Our Talent – "We will provide access to a performance pathway which delivers success"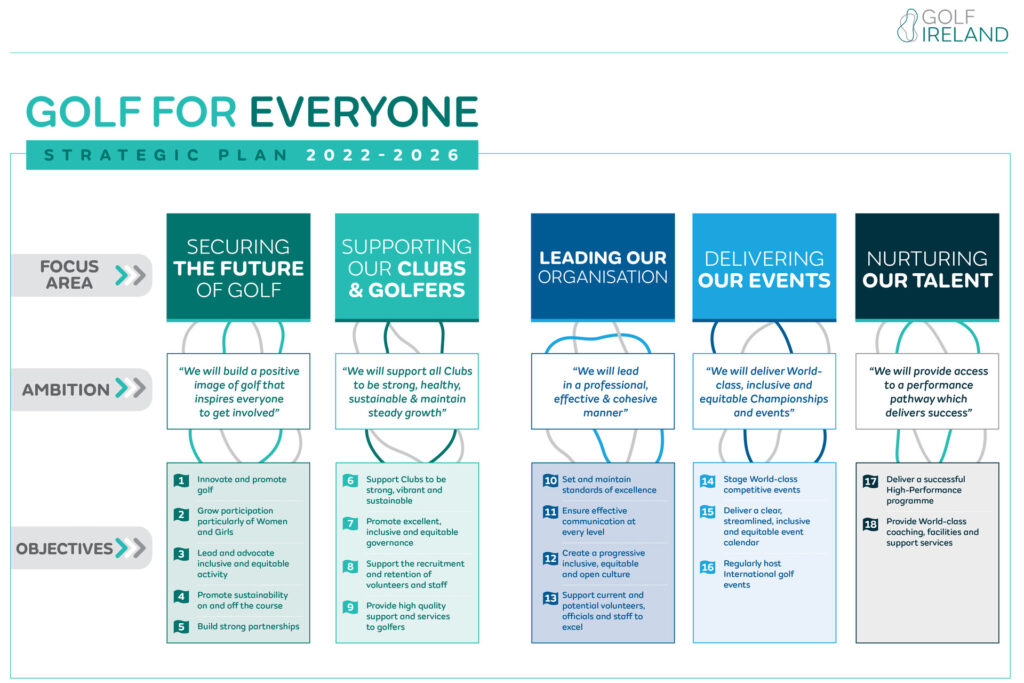 Eighteen objectives form the heart of the Strategic Plan, that sit under the above five focus areas.
The first cohesive strategy
'Golf For Everyone' is the first time in Ireland the sport will have a cohesive strategy which provides a framework to shape and grow the game of golf for men, women, boys and girls of all backgrounds and abilities equally.
The development of the strategy involved consultation with every corner of the golf community through surveys, focus groups and data analysis as well as research with non-golfers to find out more about how the game can be made open, attractive and accessible to them.
The strategy has a specific focus on the future, supporting clubs to retain their current members (the Covid-19 pandemic has resulted in a 12% growth in membership in 2020, membership is currently at the highest level since 2012) and attracting new ones, particularly more women and juniors.
Research conducted by Golf Ireland shows there are 500,000 casual golfers on the island and over 40% of the population are open to the idea of playing the game, therefore the aim is to provide opportunities for more people, to play more golf, more regularly.
Golf is a lifelong game that has proven benefits for both physical and mental health. In an average nine-hole round a player will take over 5,000 steps so it is a great way for people of all ages and abilities to have fun and be active. In addition, the ability to play the game outdoors and in a naturally socially distanced manner has helped participation thrive and in popularity over the last two years.
'Golf For Everyone' Strategy launch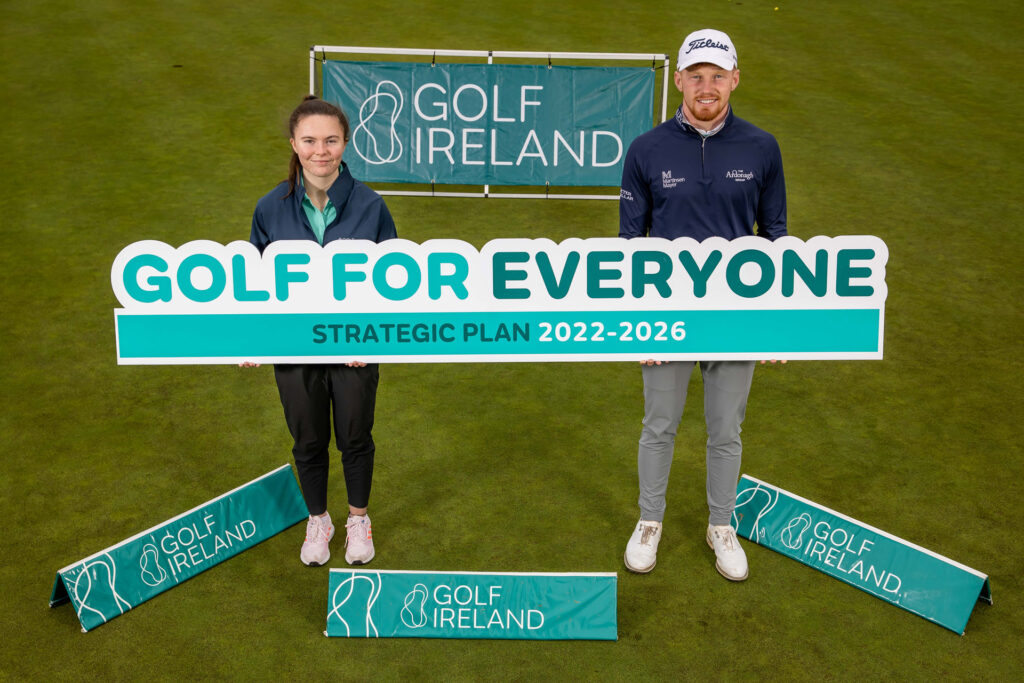 The recently turned professional John Murphy and Ireland international Beth Coulter joined Golf Ireland CEO Mark Kennelly along with representatives from the Golf Community to launch the Strategy (top picture).
Kennelly said:
"The creation of Golf Ireland was, at its core, the bringing together of women and men to work together for the betterment of our great sport.
"That spirit has been very evident in our first year of existence when our fantastic volunteers helped deliver an outstanding programme of top-class events.
"That same spirit will be the key to the success of this first Strategic Plan. We invite the entire golf community - Board, Committees, Regional Executives, Clubs, Players, Volunteers, Staff and Partners - to help us make it a reality."
"It's an ambitious Plan for the sustainable growth of our sport", Golf Ireland Chairperson Paul Haran added. "It places a special emphasis on the place of young people, women and girls in the future of golf in Ireland, and on excellent governance at all levels."
You can view the Golf Ireland Strategic Plan here.