A tribute to former British Girls' Champion, Curtis Cup player and Lancashire Ladies County Golf Association Captain Sheila Maher
Sheila was born to Jack and Mary Vaughan on 9th March 1942 and educated at Huyton College before qualifying as a Radiographer, working at Whiston Hospital, Liverpool until she retired in 1996.
At an early age she started walking round Huyton & Prescot golf course with her parents. It was not long before she joined the golf club. Sheila remained a member there for 71 years. She was their Ladies' Captain in 1977 and elected an honorary life member in 1999.
Showing exceptional ability as a young golfer Sheila's handicap reduced rapidly and in 1954, aged 12, she won the LLCGA Lady Derby Trophy. A wonderful achievement when there were far fewer opportunities for junior golfers.
The same year she played in her first British Girls' Championship. In 1955 and 1957 she reached the semi-finals. Sheila won the Championship in 1959 when she beat her fellow Lancashire player and foursomes partner Julia Greenhalgh in the Final.
Now established as a top junior golfer she was invited to join the first LGU Training Squad in 1960 with John Jacobs at Sandy Lodge Golf Club.
Sheila was a member of the England Girls' team from 1956 – 1959. The following year she moved straight into the England Ladies' team and played in the Home Internationals for five consecutive years. During this time she was twice a semi-finalist in the English Close Championship.
British honours followed for Sheila when she was selected to play against the Rest of Europe in the Vagliano Trophy in 1961 and 1965.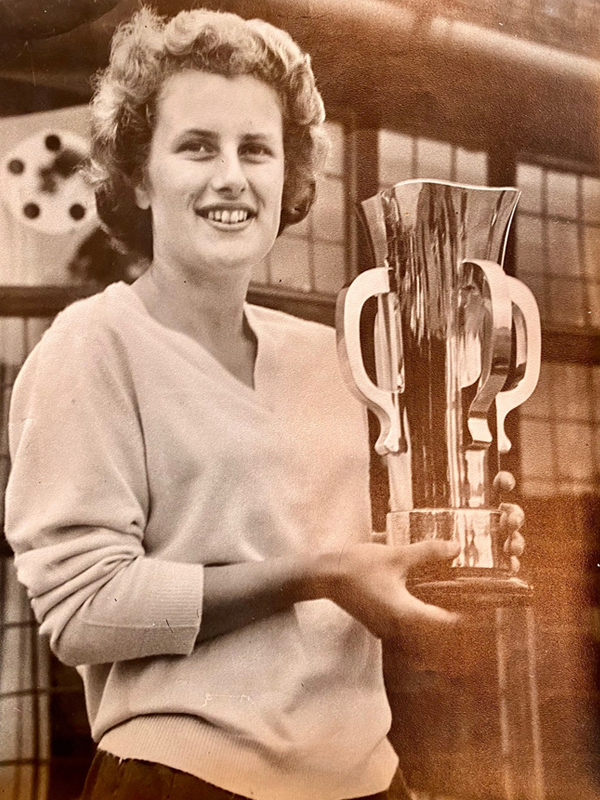 As a member of the 1962 Curtis Cup team she played in the last of the 36 hole matches in America and the first of the 18 hole matches in 1964 at Royal Porthcawl.
In 1963 Sheila was a member of the Great Britain and Ireland team that won the Commonwealth Tournament at Royal Melbourne Golf Club, Australia. Together with Julia Greenhalgh they were joint winners of the Australian Ladies' Foursomes. In New Zealand they had further success winning the New Zealand Ladies' Foursomes. Sheila then won New Zealand Junior Ladies' Stroke Play Championship.
Sheila was Lancashire Champion three times. First aged 16 in 1958 and again in 1963 and 1964. She was a valued member of the County team from 1957 to 1964.
On 19th March 1971 Sheila married Joe Maher. Sadly he passed away in December 2020, a few months before they were to celebrate their Golden Wedding.
From 2004 to 2006 Sheila was a member of the LLCGA Selection Committee before being County Captain in 2008. She and Joe continued to support the Lancashire team at County Match Week where she was a much sought after 'Caddy' by the team members.
Sheila passed away peacefully in her sleep on 23rd April. She will be remembered always as a dear friend to many; a kind and gentle person who was completely modest about her outstanding golfing achievements.
Sheila Maher (nee Vaughan) Born 9.3.42 Died 23.4.22 (age 80)
Many thanks to Sheila's family for sharing this tribute and for the use of the images of Sheila to accompany the article.