Golf Australia's fourth Visionary of the Year winner is Red Cliffs Golf Club, who asked a simple question and acted upon it to grow their community
Red Cliffs Golf Club is Golf Australia's June Visionary of the Year for listening and acting upon a community need to get into golf.
Here's Red Cliffs Golf Club's story...
Deanne Davis, committee member at Red Cliffs Golf Club, on the Victoria-New South Wales border, shares how one simple question sparked a movement that would change the club forever…
It is a club where nine percent of its membership is held by local Pacific Islanders, and where families come to swing, slide, dance and laugh.
This was not always the case…
"About 12 months ago we noticed some men playing who were from the local Cook Islander community," said Deanne.
"Whilst welcoming the group we wanted to understand what brings them to the club, apart from being a friendly club."
Knowing there was a large Pacific Islander population in the area, the club wanted to know how they could encourage more of their family and friends to play.
So, the question was asked "what can the club could do for you?"
The response they got was not expected
For Deanne, this solidified the power of asking people what they want, instead of assuming.
"We had no idea that our clubhouse was not a suitable setting for the Islander families" said Deanne.
"The men therefore asked for a playground and better barbecue facilities so they could gather with their partners and children."
Following this insight, Deanne and the executive team approached Golf Australia to learn more about how to engage a multicultural audience, and possible grants available to fund the playground.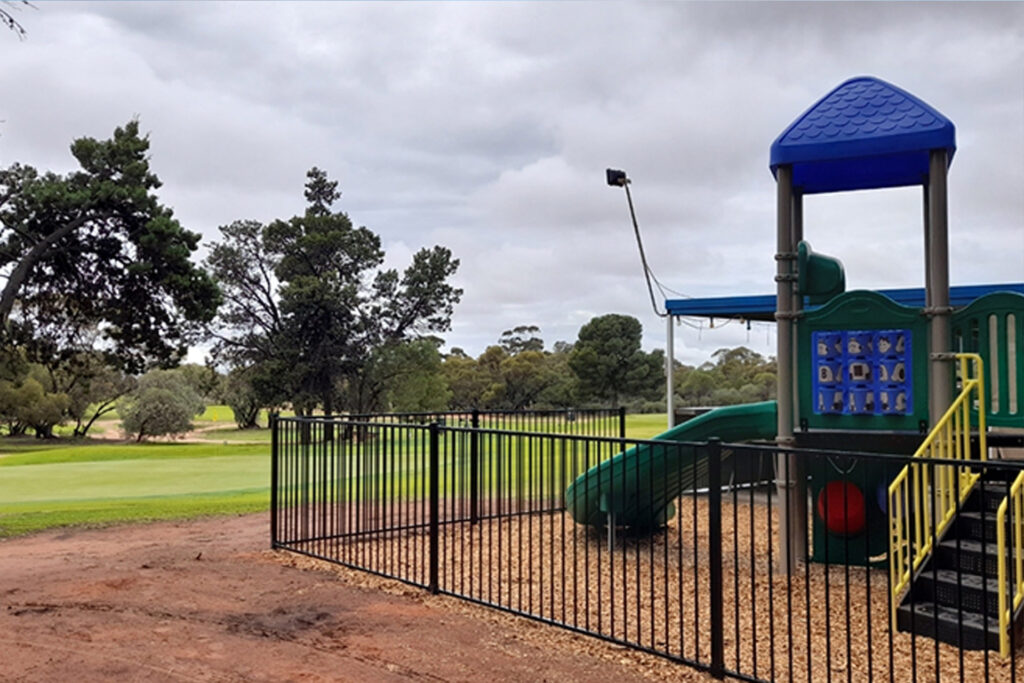 "Working with our Golf Australia contact, Jayne (Smith), has been really valuable," said Deanne.
"She assisted us with applying for the grant and helped us administer a survey to further understand the needs of our community and club members.
"We are thrilled to now have a playground at our club. It has helped us to become the community hub we envisaged."
Getting more Cook Islander families into golf
True to their word, a large group of Cook Islander families now enjoy the club on a regular basis.
Each week this community enjoys fun ambrose events, followed by food, dancing, and singing around the BBQ/playground area.
"Providing the Islander community and our members with this facility has enabled us to attract more women and children to the club," said Deanne.
"We have been able to engage with a group of women we would not have had access to otherwise, and these women are now showing an interest in trying golf themselves."
Having already attracted 80 women to the club's Get into Golf program over the past 12 months, Red Cliffs will now commence programs for the Islander women, as well as MyGolf for their children.
In addition, the club is also running FootGolf, an alternative format to the game using a soccer ball.
"With the success of understanding more about the Pacific Islander culture, we are now keen to promote FootGolf to those cultures where soccer is very popular," said Deanne.
"Our committee members are attending sport inclusion workshops to enable us to understand how we can attract more people, including women to golf of all cultures."
Jayne Smith, Golf Relationship Officer at Golf Australia, has been thrilled with the outcome and encourages other clubs to 'think outside the box' when attracting women to golf.
"It is rewarding to see the outcomes that can be achieved when working closely with clubs," she said.
"Red Cliffs is a wonderful example of what a club can achieve when they research their target market, educate themselves and tap into the support and resources Golf Australia offers."
Learnings and advice from Red Cliffs Golf Club:
"Ask people what they need to help them start golf or come to your club – never assume."
"You don't need a specific welcoming committee when all members are welcoming"
"Use the skillset of your committee and members, such as grant writing."
"Access the resources Golf Australia offers to help your club grow participation."
Useful resources
Red Cliffs Golf Club's prize
Red Cliffs Golf Club wins a $500 Drummond Golf voucher and is now in the running to win up to $10,000 worth of products from the latest Callaway REVA product range, designed specifically for women. Golf Australia's Visionary of the Year will be voted upon and announced towards the end of the year.
Nominations for the remainder of the year are still open. Click here for the nomination form.
Read the original article via Golf Australia's website here.
Learn more about Visionary of the Year, including what other clubs are doing in the gender equality space here Vision 2025 Resources | Golf Australia
Submit a Visionary of the Year nomination here Visionary of the Year Nomination Form 2023 Survey.