North Berwick's Lady Captain has braved a dip in a freezing flooded bunker in aid of charity.
North Berwick isn't known for it's warm waters at the best of times, never mind on a icey day in February.
But, after the course became flooded following a period of snow, ice and heavy rain, Lady Captain Yvonne Keeling decided to use the new 'water feature' on the 9th hole as a way of raising money for charity.
Wading in wearing just a swimming costume (plus a woolly hat and gloves), she successfully became the first member of the East Lothian club to conquer the course's new "cross channel swim".
The flood water was so deep it came up to her waste, and she later reported that the outside temperature was -6 degrees. Just another typical day in Scotland really...
You can see her in action on the video above; we're not sure whether the best bit is the clearly distressed howling dogs or the walkers asking her what on earth she's up to -"it's for charity!" she hollers back.
Now, we know that 'wild swimming' has become very trendy this lockdown, but this is taking it a step further. She's a lot braver than us that's for sure!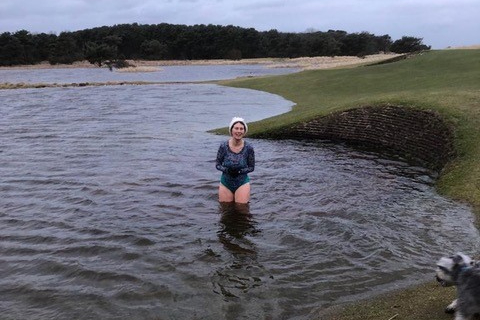 A new legend of North Berwick
You can still sponsor Yvonne for her daring act by visiting her Just Giving Page, set up in aid of Leuchie House National Respite Charity, a cause that provides respite breaks for people and families living with long-term conditions,
Setting out with aim of raising £200, she has already raised over £3,500. Amazing.
"Leuchie House is one of the chosen charities in my capacity as current Lady Captain of North Berwick Golf Club," she explained.
"One of my duties as Lady Captain is to fundraise for charity but for obvious reasons the pandemic has made this difficult. So I decided to set myself an unconventional challenge... Part of the golf course has been flooded by the incessant rain we have been having, so much so, that one fairway and bunker has become swimmable!"
She took the plunge (literally), on the morning of Sunday, February 7, which boasted outside temperatures of minus 6 degrees...
"The water was 2 degrees, I measured it afterwards," she continued.
"Needless to say, once in, I had no difficulty getting out, unlike my usual bunker problem. I hope that the members will forgive the unusual behaviour of the Lady Captain but difficult times call for desperate measures!"
We think it's absolutely brilliant behaviour from the Lady Captain!
Catriona Matthew's dog has a go
However, she's not the only one who's taken a liking to the new 'water feature'.
Team Europe Solheim Cup captain, Catriona Matthew, lives in North Berwick in a house overlooking the course.
The major winner shared a photo on social media of her dog Rio, who can be seen proudly guarding a collection of balls retrieved from the water.
"Rio had a successful swim in the new water hazard today on the 9th hole," she wrote.
Meanwhile, General Manager of North Berwick, Elaine McBride, who W&G interviewed last year, explained that it was unusual to find standing water on coastal courses like North Berwick.
"We have had 121mm of rain this year, which is around double our average for the golf course," she said to the Edinburgh Evening News.
"The ninth fairway is on the edge of Yellowcraig, a site of special scientific interest, which is effectively a flood plain supporting an amazing array of biodiverse species.
"At North Berwick, we are a GEO-certified facility and take our environmental responsibilities extremely seriously.
"Therefore, we have engaged with the relevant authorities with a view to draining the part of the fairway where our lady captain was pictured.
"Should the project be given the go ahead, not only will it improve the area of the West Links where standing water is most problematic, it would further enhance the diversity of the SSSI by extending the wetlands to the west."
You can still sponsor Yvonne here.
More Club