David Thornton details a recent visit to Charnwood Forest Golf Club by LET star Hannah Burke. A visit that proved inspiring to the ladies team and to him personally.
January 2022 - It was the email I was dreading.
"Hi David, I'm really sorry but I need to cancel the ladies session in February..."
I'll rewind.
The ladies team from my own club, Charnwood Forest Golf Club, had qualified for the finals of apparently the only national club matchplay competition sponsored by Annodata. From an entry of over 300 clubs, they had reached the last four. Not bad for a small club with only around 35 active women members. Even better the finals were being held in Spain in March near Jerez - a quick Google revealed average temperatures in March of 21 degrees.
Just the ticket I thought – I can top up the tan before my 60th birthday trip to Costa Navarino in May. Golf, sun and sangria- count me in!
Sophie Walker
I had a chat with Jane the team captain and Diane the club's lady captain. We all agreed that we should celebrate this fantastic achievement but also that the team could do with a bit of extra help to prepare.
I knew of Sophie Walker from her appearances on Sky Sports Golf and YouTube. She ticked lots of boxes: stellar golfing career, a great presenter and role model. When I found out that she also had links with the area courtesy of her degree at nearby Loughborough University I emailed her immediately. Sophie replied promptly and was totally up for it and the anticipation amongst the players began to build.
Fast forward to January 2022
The dreaded email. Unfortunately, Sophie wasn't able to make it due to an eye operation. I flicked through my golf contacts on my iPhone. Golfing mates 42, Ex-Tour male pros 8, Ex-Tour male caddies 2, female golfing contacts 12…female Tour pros 0. I cursed myself.
I called Sophie.
"Totally understand why you can't make it. Any chance you could help find a good substitute as my contacts in the women's golfing arena are not quite on a par with the men's game. Could you possibly give Georgia a try? What's Di Dougherty doing on the 26th February? Silence…followed by..."Ok David, will call a few friends."
Three days later my iPhone pinged, it was Sophie. "Hi David, let me introduce you to my substitute- Hannah Burke."
"Ok great, thanks Sophie."
Replacement
I was relieved that Sophie had sourced a replacement so quickly but, who was Hannah Burke? I follow the women's game and remembered reading a feature about Hannah on Women & Golf last year but didn't know much about her and knew that the ladies at Charnwood would probably be slightly disappointed Sophie wasn't coming.
With some trepidation, I Googled Hannah Burke. Within a few minutes, my concerns were allayed. It was clear she was an experienced player who had a very consistent record with numerous top-ten finishes. In addition, she had won the Czech Open in 2015 and recently the Aramco Team Series event in Saudi Arabia alongside Solheim Cup winner Emily Pedersen, so she certainly knew how to win.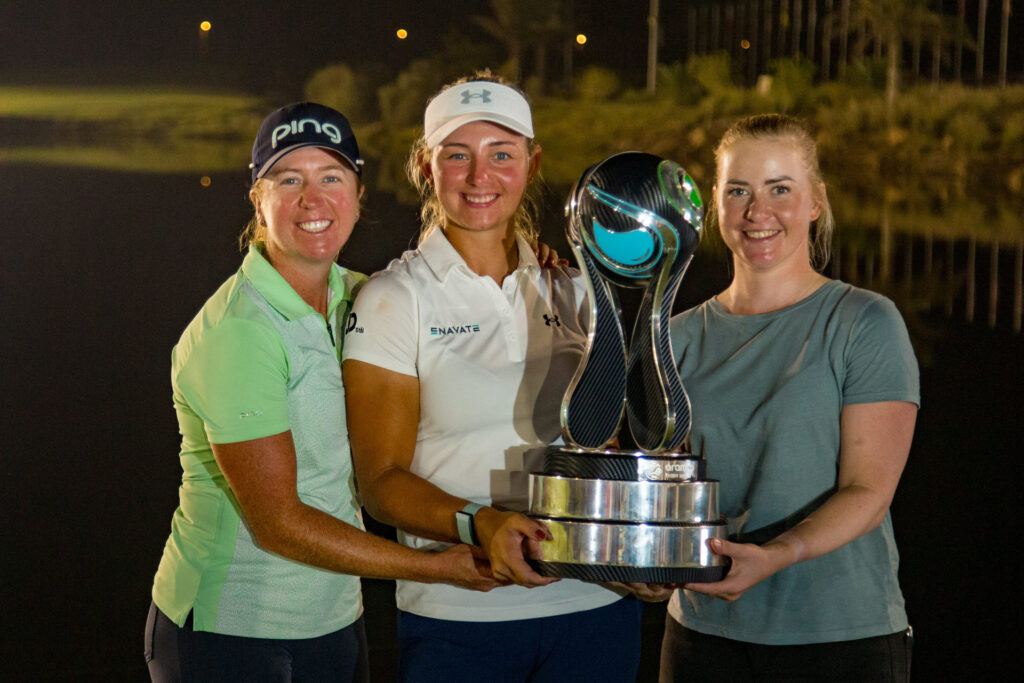 She had been unlucky recently with a painful torn Achilles following an altercation with a sprinkler head. Then there was the emotional story of her battles against a congenital heart problem and her charitable work for The Royal Brampton Hospital.
This was one tough cookie. Immediately I began to sense that Hannah would be an inspired choice.
Saturday 26th February
Hannah pulls into the club car park in her smart sponsored car bang on time. Formalities over I asked her if I could interview her after the coaching session. No problem she replies. Within half an hour she was being grilled by the members eager to pick up some tips to improve their game. It was fascinating to hear her responses.
"What about nerves?" asked one member. "Everyone gets nervous, it's a good sign. Embrace the event, enjoy it, you may never experience anything like it again". On pre-shot routines: "very important, also aim for tiny targets not big ones." On using the practice day wisely: "make copious notes in your course mapbook and when practising putting do it on different areas of the green."
Her advice wasn't anything earth-shattering, it was simple, useful and clear and had been accumulated over a decade of experience in a variety of situations. Hannah also doesn't do self-doubt. Let's be honest, plenty of golfers overthink things and lose clarity of thought, leading to all kinds of inner turmoil. Another question was about caddies and who gets to choose the club if there is a discussion between using either a 6 iron or 7 iron. "I listen, then I choose the club" she replies.
Being inspired
I ask her if she has been inspired by any other golfers. Without hesitation, she became very animated when highlighting Dame Laura Davies and her ability to shape the ball and hit shots that no one else could visualise. Hannah was genuinely funny, she had everyone in stitches when telling the story of how Dame Laura was once fined for watching her beloved Liverpool FC on her mobile in the middle of a particularly slow round.
After her coaching masterclass out on Charnwood Forest's beautiful 9-hole course, I caught up with her in the clubhouse. She had been on the go since early morning but she generously stayed for another half an hour and had plenty to say on the current state of the women's game.
I began by asking her about her goals for the new season. Her main target was to qualify for the AIG Women's Open at Muirfield. She had been gutted to have to withdraw at the last minute from the same event at Woburn in 2019 especially as she had got tickets for all her family. She explained that she needed to be in the Top 25 of the Ladies European Tour (LET) Order of Merit by mid-July and was in good form with a respectable Top 30 finish at the LET season opener, the Magical Kenya Ladies Open.
Parity long way off
I then asked her if she felt the women's game in the UK could do with a global superstar to raise the profile of the women's game like Emma Raducanu is doing for women's tennis. Burke was adamant that we already had at least one in Georgia Hall. The issue was why wasn't Georgia's achievement in winning the AIG Women's Open in 2018 at the age of 23 "celebrated a lot more." She was on a roll now.
We moved on to the inevitable question about the current state of the women's professional game. I expected plenty of positive vibes but Burke, whilst acknowledging many areas of progress, was more hesitant. We talked hard cash. Her Top 30 finish in Kenya – after flights, entry fees, taxes and other expenses was worth a sobering £400, just enough for a couple of tickets at the Emirates to watch her favourite Arsenal FC. It was a reality check – the general public never see the unglamorous side.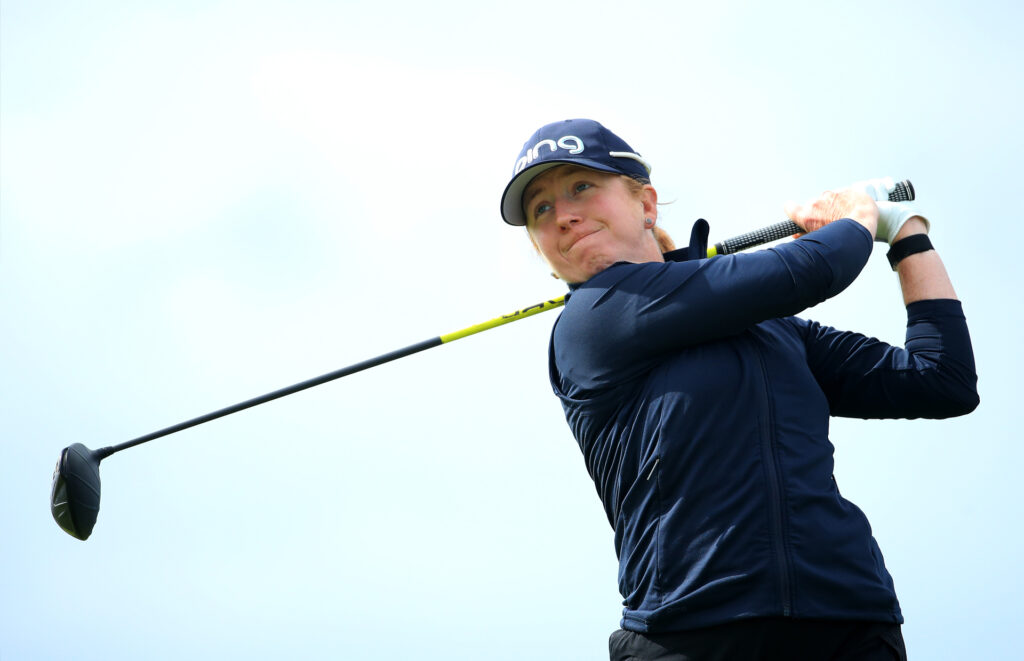 Turning pro - the challenges
Compared to the men, many women turning professional struggle financially and sponsorships were still hard to come by. Burke felt strongly that, unlike amateurs who have the protective cushion of a professional body such as England Golf, on turning pro, women could do with a professional body such as the LPGA in the USA that could offer a "support system." It costs north of £30,000 per year to fund one year on the LET. Before they've hit a ball women have to pay £2,000 for their Q card, on top of that £1,400 for LET membership. Food for thought.
We discussed current TV coverage of women's golf. For Burke, this has the potential to be a game-changer. However, there is a long way to go. There remains a big disparity between the spend on men's golf compared to women's golf which sometimes leads to poor coverage.
I asked her what we could expect in 10 years' time and she remained rather downbeat. She was in favour of shaking things up and trialling new formats, citing the success of the Aramco Team Series.
Women's Sport Trust – Unlocked
Finally, we chatted about her one-year role working with other elite athletes to drive change in women's sport, as part of the Women's Sport Trust's Unlocked programme. She had loved meeting and learning from other athletes in other sports. It was too early to assess the impact of the programme but she was confident that it would be successful.
As we said our goodbyes, I checked my texts:
"Thanks for organising – Hannah was brilliant"
"Got loads of useful tips from Hannah – can't wait for Spain!"
Unfinished business
It was clear that the ladies had responded well to Hannah. As a golfer she may not be the longest hitter, she averages around 250 yards with driver, but she is very straight and has a solid short game. I sensed she had unfinished business and with her consistency allied to her determination and experience. I think she has every chance of qualifying for the AIG Women's Open at Muirfield and achieving her other season goals.
As a person, she is intelligent, articulate and very likeable. She has some interesting things to say on topics such as the amateur/professional transition and the need to continue to fight for more parity with the men's game in many areas.
I checked my contacts list again. I now had 1 female ex-Tour pro and 1 female current pro. Thanks to Sophie for finding such a super substitute and to Hannah for coming to Charnwood Forest and inspiring us. We will now be flying to Spain with renewed self-belief and a determination to enjoy every minute.
Hannah's visit was kindly part sponsored by Niche Motorhomes, a family-owned business based in the Midlands. If you're looking for a luxury Motorhome with lots of extras or a cosy campervan you've come to the right place. 01509 426442 [email protected] www.n-mh.co.uk
Words by David Thornton
---
David Thornton plays golf to stay alive and help him fight Parkinson's. He is an ambassador for social enterprise "Golf in Society" and is passionate about many things - family, cooking, Burnley FC and the need for golf to be genuinely inclusive. David is always looking for opportunities to write more about golf - websites, course reviews, interviews, features, golf travel, blogs… You can find him at [email protected]